Sorafenib with Transarterial Chemoembolization Achieves Improved Survival vs. Sorafenib Alone in Advanced Hepatocellular Carcinoma: A Nationwide Population-Based Cohort Study
1
Division of Medical Oncology, Department of Internal Medicine, Kuang Tien General Hospital, Taichung 43303, Taiwan
2
Disease Informatics Research Group, Department of Bioinformatics and Medical Engineering, Asia University Taiwan, Taichung 41354, Taiwan
3
Cancer Biology and Therapeutics: High-Impact Cancer Research Postgraduate Certificate Program, Harvard Medical School, Boston, MA 02115, USA
4
Department of Gastroenterology, Changhua Christian Medical Foundation Changhua Christian Hospital, Changhua 50006, Taiwan
5
Faculty of Medicine, College of Medicine, Kaohsiung Medical University, Kaohsiung 80708, Taiwan
6
Division of Hematology and Oncology, Department of Internal Medicine, Kaohsiung Medical University Hospital, Kaohsiung 80708, Taiwan
7
Interventional Radiology Unit, Department of Radiology, Kuang Tien General Hospital, Taichung 43303, Taiwan
8
Artificial Intelligence Center for Medical Diagnosis, China Medical University Hospital, Taichung 40447, Taiwan
9
Department of Pathology and Oncology, Juntendo University School of Medicine, Tokyo 113-8421, Japan
10
Faculty of Medical Science, Graduate School Juntendo University, Tokyo 113-8421, Japan
*
Author to whom correspondence should be addressed.
Received: 17 June 2019 / Revised: 6 July 2019 / Accepted: 12 July 2019 / Published: 15 July 2019
Abstract
We hypothesized that sorafenib plus transarterial chemoembolization (TACE) would confer survival benefits over sorafenib alone for advanced hepatocellular carcinoma (aHCC). We investigated this while using the population-based All-Cancer Dataset to assemble a cohort (
n
= 3674; median age, 60; 83% men) of patients receiving sorafenib for aHCC (Child-Pugh A) with macro-vascular invasion or nodal/distant metastases. The patients were classified into the sorafenib-TACE group (
n
= 426) or the propensity score-matched sorafenib-alone group (
n
= 1686). All of the participants were followed up until death or the end of the study. Time-dependent Cox model and the Mantel–Byar test were used for survival analysis. During the median follow-ups of 221 and 133 days for the sorafenib-TACE and sorafenib-alone groups, 164 (39%) and 916 (54%) deaths occurred, respectively; the corresponding median overall survivals (OS) were 381 and 204 days, respectively (hazard ratio, HR: 0.74; 95% confidence interval, CI, 0.63–0.88;
p
= 0.021). The one-year and six-month OS were 53.5% and 80.3% in the sorafenib-TACE group and 32.4% and 54.4% in the sorafenib-alone group, respectively. The major complications were comparable between the two groups. The addition of TACE to sorafenib improves survival, with a 26% reduction in mortality. These findings provide strong real-world evidence that supports this combination strategy for eligible Child-Pugh A aHCC patients.
View Full-Text
►

▼

Figures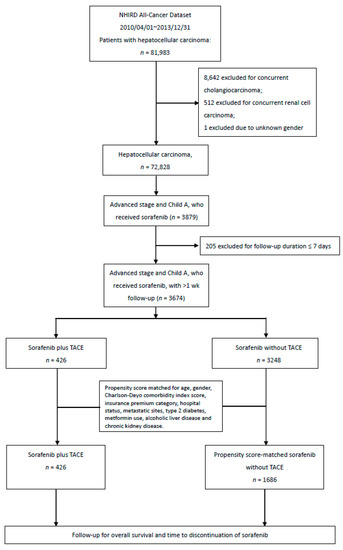 Figure 1
This is an open access article distributed under the
Creative Commons Attribution License
which permits unrestricted use, distribution, and reproduction in any medium, provided the original work is properly cited (CC BY 4.0).

Share & Cite This Article
MDPI and ACS Style
Kok, V.C.; Chen, Y.-C.; Chen, Y.-Y.; Su, Y.-C.; Ku, M.-C.; Kuo, J.-T.; Yoshida, G.J. Sorafenib with Transarterial Chemoembolization Achieves Improved Survival vs. Sorafenib Alone in Advanced Hepatocellular Carcinoma: A Nationwide Population-Based Cohort Study. Cancers 2019, 11, 985.
Note that from the first issue of 2016, MDPI journals use article numbers instead of page numbers. See further details here.
Related Articles
Comments
[Return to top]