Could Circulating Tumor Cells and ARV7 Detection Improve Clinical Decisions in Metastatic Castration-Resistant Prostate Cancer? The Istituto Nazionale dei Tumori (INT) Experience
1
Department of Medical Oncology, Fondazione IRCCS Istituto Nazionale dei Tumori di Milano, 20133 Milano, Italy
2
Biomarker Unit, Department of Applied Research and Technological Development Fondazione IRCCS Istituto Nazionale dei Tumori di Milano, 20133 Milano, Italy
*
Authors to whom correspondence should be addressed.
Received: 4 June 2019 / Revised: 10 July 2019 / Accepted: 11 July 2019 / Published: 13 July 2019
Abstract
Enzalutamide and abiraterone have been shown to improve progression-free survival (PFS) and overall survival (OS) in metastatic castration-resistant prostate cancer (mCRPC) patients. Moreover, some patients may not benefit from the inhibition of androgen receptor (AR) activity or, alternatively, may develop secondary resistance. Detection in patients' circulating tumor cells (CTCs) of ARV7, a splicing variant of AR lacking the ligand-binding domain, showed a link with treatment failure. Independent confirmation of the predictive role of CTC status combined with ARV7 detection is, therefore, a priority for extending personalized biomarker-driven treatments to all patients. In this prospective observational study, CTC status and the expression of AR and ARV7 were measured in 37 mCRPC patients, before starting treatment with enzalutamide or abiraterone, by employing commercially available kits. CTC status was positive in 21/37 patients: 46% and 24% of CTC-positive patients were defined as AR- and ARV7-positive, respectively. Kaplan–Meier estimates showed that positivity for each variable was significantly associated with poorer radiological PFS, PSA-PFS, and OS. All considered treatment outcomes worsened when going from CTC-negative to CTC-positive/ARV7-negative to CTC-positive/ARV7-positive patients, both in the global case series and in patients stratified into three groups based on basal PSA levels. Presently, technical approaches appear to be mature for introducing CTC/ARV7 tests in clinical practice.
View Full-Text
►

▼

Figures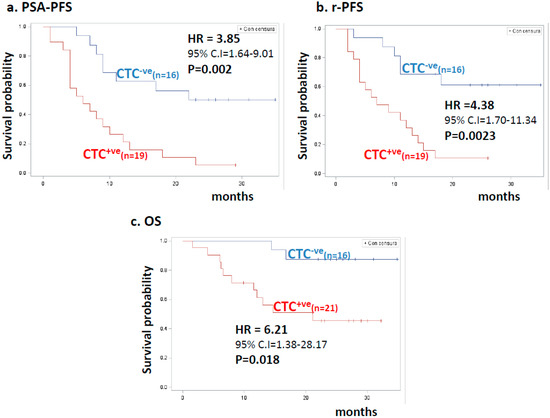 Figure 1
This is an open access article distributed under the
Creative Commons Attribution License
which permits unrestricted use, distribution, and reproduction in any medium, provided the original work is properly cited (CC BY 4.0).

Share & Cite This Article
MDPI and ACS Style
Sepe, P.; Verzoni, E.; Miodini, P.; Claps, M.; Ratta, R.; Martinetti, A.; Mennitto, R.; Sottotetti, E.; Procopio, G.; Cappelletti, V.; Daidone, M.G. Could Circulating Tumor Cells and ARV7 Detection Improve Clinical Decisions in Metastatic Castration-Resistant Prostate Cancer? The Istituto Nazionale dei Tumori (INT) Experience. Cancers 2019, 11, 980.
Note that from the first issue of 2016, MDPI journals use article numbers instead of page numbers. See further details here.
Related Articles
Comments
[Return to top]