Gene Expression Comparison between the Lymph Node-Positive and -Negative Reveals a Peculiar Immune Microenvironment Signature and a Theranostic Role for WNT Targeting in Pancreatic Ductal Adenocarcinoma: A Pilot Study
1
Medical Oncology Unit, IRCCS Cancer Institute "Giovanni Paolo II" of Bari, 70124 Bari, Italy
2
Molecular Diagnostics and Pharmacogenetics Unit, IRCCS Cancer Institute "Giovanni Paolo II", 70124 Bari, Italy
3
Experimental Pharmacology Laboratory, IRCCS Cancer Institute "Giovanni Paolo II", 70124 Bari, Italy
4
Department of Internal Medicine II, Interdisciplinary Center for Clinical Research Laboratory, University Hospital of Würzburg, 97080 Würzburg, Germany
5
Medical Oncology Unit, The Hospital Mons. R. Dimiccoli, 76121 Barletta (Bat), Italy
6
Scientific Direction, IRCCS Cancer Institute "Giovanni Paolo II", 70124 Bari, Italy
7
Department of Biomedical Sciences and Human Oncology, Section of Internal Medicine 'G. Baccelli', University of Bari Medical School, 70124 Bari, Italy
*
Author to whom correspondence should be addressed.
†
These authors contributed equally to this manuscript as first authors.
‡
These authors contributed equally to this manuscript as last authors.
Received: 7 May 2019 / Revised: 25 June 2019 / Accepted: 28 June 2019 / Published: 4 July 2019
Abstract
Over the past several years there has been much debate with regards to the prognostic and clinical significance of pancreatic ductal adenocarcinoma (PDAC) with lymph nodes metastasis. The PDAC gene expression knowledge and the biologic alterations underlying the lymph node involvement convey a clinical implication in dealing with the theranostic window. To this end, we provide an original bioinformatic dissection of the gene expression differences of PDAC according to the nodal involvement from a large public available dataset. Comprehensive transcriptomic analysis from 143 RNA-seq patient's derived samples indicated that WNT increased activation and a peculiar immune microenvironment identify subjects with nodal involvement. In frame of this thinking, we validated the WNT pathway role in increasing the likelihood of lymphatic dissemination in vitro. Moreover, we demonstrated for the first time in a PDAC model the potential therapeutic window that XAV-939—a specific WNT pathway inhibitor—has in re-educating a tumor-permissive immune system. Finally, we outline the potential implication on bystander molecular drivers exerted by WNT molecular inhibition, providing a picture of the proteomic oncogenic landscape changes elicited by XAV-939 on PDAC cells and their clinical implication. Our findings hold the promise to identify novel immune-based therapeutic strategies targeting WNT to enhance PDAC cytotoxicity and restore anti-PDAC immunity in node-positive disease.
View Full-Text
►

▼

Figures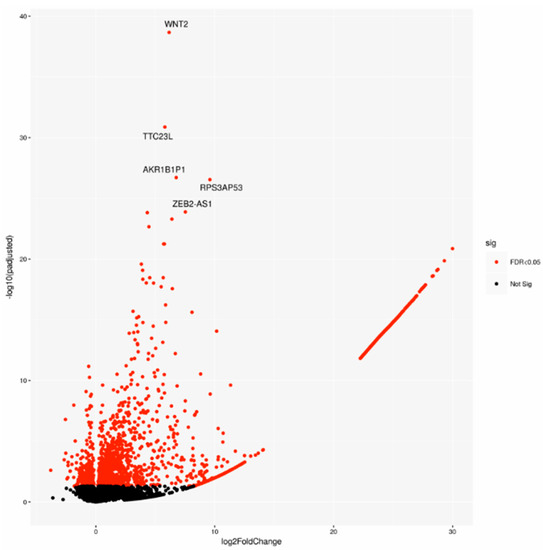 Figure 1
This is an open access article distributed under the
Creative Commons Attribution License
which permits unrestricted use, distribution, and reproduction in any medium, provided the original work is properly cited (CC BY 4.0).

Share & Cite This Article
MDPI and ACS Style
Argentiero, A.; De Summa, S.; Di Fonte, R.; Iacobazzi, R.M.; Porcelli, L.; Da Vià, M.; Brunetti, O.; Azzariti, A.; Silvestris, N.; Solimando, A.G. Gene Expression Comparison between the Lymph Node-Positive and -Negative Reveals a Peculiar Immune Microenvironment Signature and a Theranostic Role for WNT Targeting in Pancreatic Ductal Adenocarcinoma: A Pilot Study. Cancers 2019, 11, 942.
Note that from the first issue of 2016, MDPI journals use article numbers instead of page numbers. See further details here.
Related Articles
Comments
[Return to top]