Combined Treatment with MEK and mTOR Inhibitors is Effective in In Vitro and In Vivo Models of Hepatocellular Carcinoma
1
Pharmacy Faculty, Hubei University of Chinese Medicine Wuhan, Wuhan 430065, China
2
Department of Bioengineering and Therapeutic Sciences and Liver Center, University of California, San Francisco, CA 94143, USA
3
Institute of Pathology, University of Regensburg, Regensburg 93053, Germany
4
Key Laboratory of Biorheological Science and Technology, Ministry of Education, College of Bioengineering, Chongqing University, Chongqing 400044, China
5
Beijing Advanced Innovation Center for Food Nutrition and Human Health, College of Food Science and Nutritional Engineering, China Agricultural University, Beijing 100083, China
6
Department of Hepatic Surgery, the First Aliated Hospital, Sun Yat-sen University, No. 58 Zhongshan 2nd Road, Guangzhou 510080, China
7
Department of Thoracic Oncology II, Key Laboratory of Carcinogenesis and Translational Research (Ministry of Education), Peking University Cancer Hospital & Institute, Beijing 100142, China
8
Department of General Surgery, the Second Hospital of Xi'an Jiaotong University, Xi'an Jiaotong University, Xi'an 710061, China
*
Authors to whom correspondence should be addressed.
†
Xianqiong Liu and Junjie Hu contributed equally to this work.
Received: 28 January 2019 / Revised: 25 June 2019 / Accepted: 27 June 2019 / Published: 3 July 2019
Abstract
Background
: Hepatocellular carcinoma (HCC) is the most common primary liver cancer histotype, characterized by high biological aggressiveness and scarce treatment options. Recently, we have established a clinically relevant murine HCC model by co-expressing activated forms of v-akt murine thymoma viral oncogene homolog (AKT) and oncogene c-mesenchymal-epithelial transition (c-Met) proto-oncogenes in the mouse liver via hydrodynamic tail vein injection (AKT/c-MET mice). Tumor cells from these mice demonstrated high activity of the AKT/ mammalian target of rapamycin (mTOR) and Ras/ Mitogen-activated protein kinase (MAPK) signaling cascades, two pathways frequently co-induced in human HCC. Methods: Here, we investigated the therapeutic efficacy of sorafenib, regorafenib, the MEK inhibitor PD901 as well as the pan-mTOR inhibitor MLN0128 in the AKT/c-Met preclinical HCC model.
Results
: In these mice, neither sorafenib nor regorafenib demonstrated any efficacy. In contrast, administration of PD901 inhibited cell cycle progression of HCC cells in vitro. Combined PD901 and MLN0128 administration resulted in a pronounced growth constraint of HCC cell lines. In vivo, treatment with PD901 or MLN0128 alone moderately slowed HCC growth in AKT/c-MET mice. Importantly, the simultaneous administration of the two drugs led to a stable disease with limited tumor progression in mice. Mechanistically, combined mitogen-activated extracellular signal-regulated kinase (MEK) and mTOR inhibition resulted in a stronger cell cycle inhibition and growth arrest both in vitro and in vivo.
Conclusions
: Our study indicates that combination of MEK and mTOR inhibitors might represent an effective therapeutic approach against human HCC.
View Full-Text
►

▼

Figures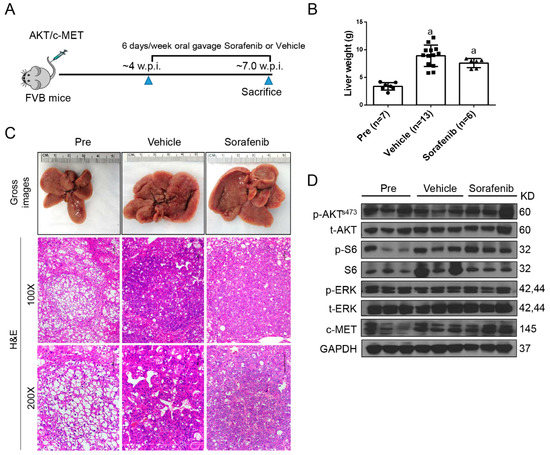 Figure 1
This is an open access article distributed under the
Creative Commons Attribution License
which permits unrestricted use, distribution, and reproduction in any medium, provided the original work is properly cited (CC BY 4.0).

Share & Cite This Article
MDPI and ACS Style
Liu, X.; Hu, J.; Song, X.; Utpatel, K.; Zhang, Y.; Wang, P.; Lu, X.; Zhang, J.; Xu, M.; Su, T.; Che, L.; Wang, J.; Evert, M.; Calvisi, D.F.; Chen, X. Combined Treatment with MEK and mTOR Inhibitors is Effective in In Vitro and In Vivo Models of Hepatocellular Carcinoma. Cancers 2019, 11, 930.
Note that from the first issue of 2016, MDPI journals use article numbers instead of page numbers. See further details here.
Related Articles
Comments
[Return to top]