The Antiviral Agent Cidofovir Induces DNA Damage and Mitotic Catastrophe in HPV-Positive and -Negative Head and Neck Squamous Cell Carcinomas In Vitro
1
Department of Otorhinolaryngology, Head and Neck Surgery, GROW-school for Oncology and Development Biology, Maastricht University Medical Centre, PO Box 5800, 6202 AZ Maastricht, The Netherlands
2
Department of Pathology, GROW-school for Oncology and Development Biology, Maastricht University Medical Centre, PO Box 5800, 6202 AZ Maastricht, The Netherlands
*
Author to whom correspondence should be addressed.
Received: 29 May 2019 / Revised: 22 June 2019 / Accepted: 26 June 2019 / Published: 30 June 2019
Abstract
Cidofovir (CDV) is an antiviral agent with antiproliferative properties. The aim of our study was to investigate the efficacy of CDV in HPV-positive and -negative head and neck squamous cell carcinoma (HNSCC) cell lines and whether it is caused by a difference in response to DNA damage. Upon CDV treatment of HNSCC and normal oral keratinocyte cell lines, we carried out MTT analysis (cell viability), flow cytometry (cell cycle analysis), (immuno) fluorescence and western blotting (DNA double strand breaks, DNA damage response, apoptosis and mitotic catastrophe). The growth of the cell lines was inhibited by CDV treatment and resulted in γ-H2AX accumulation and upregulation of DNA repair proteins. CDV did not activate apoptosis but induced S- and G2/M phase arrest. Phospho-Aurora Kinase immunostaining showed a decrease in the amount of mitoses but an increase in aberrant mitoses suggesting mitotic catastrophe. In conclusion, CDV inhibits cell growth in HPV-positive and -negative HNSCC cell lines and was more profound in the HPV-positive cell lines. CDV treated cells show accumulation of DNA DSBs and DNA damage response activation, but apoptosis does not seem to occur. Rather our data indicate the occurrence of mitotic catastrophe.
View Full-Text
►

▼

Figures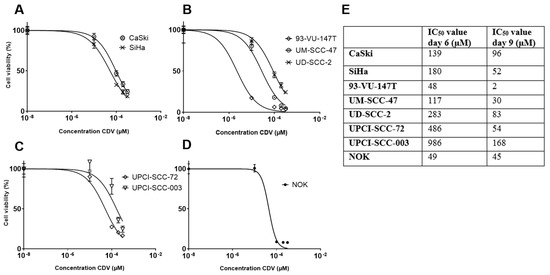 Figure 1
This is an open access article distributed under the
Creative Commons Attribution License
which permits unrestricted use, distribution, and reproduction in any medium, provided the original work is properly cited (CC BY 4.0).

Share & Cite This Article
MDPI and ACS Style
Verhees, F.; Legemaate, D.; Demers, I.; Jacobs, R.; Haakma, W.E.; Rousch, M.; Kremer, B.; Speel, E.J. The Antiviral Agent Cidofovir Induces DNA Damage and Mitotic Catastrophe in HPV-Positive and -Negative Head and Neck Squamous Cell Carcinomas In Vitro. Cancers 2019, 11, 919.
Note that from the first issue of 2016, MDPI journals use article numbers instead of page numbers. See further details here.
Related Articles
Comments
[Return to top]