Urinary Metabolic Signatures Detect Recurrences in Non-Muscle Invasive Bladder Cancer
1
Unidad Mixta de Investigación en Nanomedicina y Sensores, Universitat Politècnica de València-Instituto de Investigación Sanitaria La Fe, 46026 Valencia, Spain
2
Instituto Interuniversitario de Investigación de Reconocimiento Molecular y Desarrollo Tecnológico, Universitat Politècnica de València, Universitat de València, 46022 Valencia, Spain
3
CIBER de Bioingeniería, Biomateriales y Nanomedicina (CIBER-BBN), 28029 Madrid, Spain
4
Departamento de Química Física, Facultad de Químicas, Universitat de València, 46100 Burjassot, Spain
5
Analytical Unit, Instituto de Investigación Sanitaria La Fe, 46026 Valencia, Spain
6
Health & Biomedicine, Leitat Technological Center, 08225 Terrassa, Spain
7
Departamento de Química Orgánica, Facultad de Químicas, Universitat de València, 46100 Burjassot, Spain
8
Departamento de Química, Universitat Politècnica de València, 46022 Valencia, Spain
9
Unidad Mixta UPV-CIPF de Investigación en Mecanismos de Enfermedades y Nanomedicina, Universitat Politècnica de València, Centro de Investigación Príncipe Felipe, 46012 Valencia, Spain
10
Servicio de Urología, Hospital Universitario y Politécnico La Fe, 46026 Valencia, Spain
11
Departamento de Cirugía, Facultad de Medicina y Odontología, Universitat de València, 46010 Valencia, Spain
*
Authors to whom correspondence should be addressed.
Received: 27 May 2019 / Revised: 19 June 2019 / Accepted: 27 June 2019 / Published: 29 June 2019
Abstract
Patients with non-muscle invasive bladder cancer (NMIBC) undergo lifelong monitoring based on repeated cystoscopy and urinary cytology due to the high recurrence rate of this tumor. Nevertheless, these techniques have some drawbacks, namely, low accuracy in detection of low-grade tumors, omission of pre-neoplastic lesions and carcinomas in situ (CIS), invasiveness, and high costs. This work aims to identify a urinary metabolomic signature of recurrence by proton Nuclear Magnetic Resonance (
1
H NMR) spectroscopy for the follow-up of NMIBC patients. To do this, changes in the urinary metabolome before and after transurethral resection (TUR) of tumors are analyzed and a Partial Least Square Discriminant Analysis (PLS-DA) model is developed. The usefulness of this discriminant model for the detection of tumor recurrences is assessed using a cohort of patients undergoing monitoring. The trajectories of the metabolomic profile in the follow-up period provide a negative predictive value of 92.7% in the sample classification. Pathway analyses show taurine, alanine, aspartate, glutamate, and phenylalanine perturbed metabolism associated with NMIBC. These results highlight the potential of
1
H NMR metabolomics to detect bladder cancer (BC) recurrences through a non-invasive approach.
View Full-Text
►

▼

Figures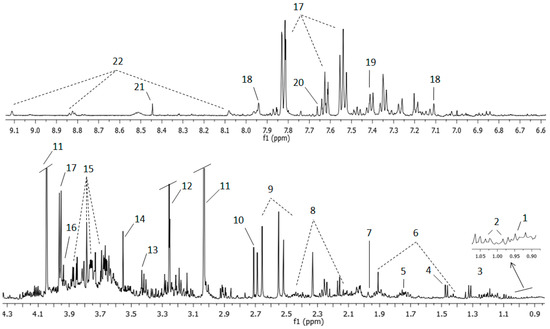 Figure 1
This is an open access article distributed under the
Creative Commons Attribution License
which permits unrestricted use, distribution, and reproduction in any medium, provided the original work is properly cited (CC BY 4.0).

Share & Cite This Article
MDPI and ACS Style
Loras, A.; Martínez-Bisbal, M.C.; Quintás, G.; Gil, S.; Martínez-Máñez, R.; Ruiz-Cerdá, J.L. Urinary Metabolic Signatures Detect Recurrences in Non-Muscle Invasive Bladder Cancer. Cancers 2019, 11, 914.
Note that from the first issue of 2016, MDPI journals use article numbers instead of page numbers. See further details here.
Related Articles
Comments
[Return to top]