Wnt-11 as a Potential Prognostic Biomarker and Therapeutic Target in Colorectal Cancer
1
Cancer Heterogeneity Lab, CIC bioGUNE, 48160 Derio, Spain
2
Research Unit, Galdakao-Usansolo Hospital, 48960 Galdakao, Spain
3
Kronikgune Institute, Health Services Research on Chronic Patients Network (REDISSEC), 48902 Bilbao, Spain
4
Research Unit, Basurto University Hospital, Osakidetza, 48013 Bilbao, Spain
5
Department of Pathology, Galdakao-Usansolo Hospital and Biocruces-Bizkaia Institute, 48960 Galdakao, Spain
6
Department of Surgery and Cancer, Imperial College London, W12 0NN London, UK
*
Author to whom correspondence should be addressed.
Received: 8 April 2019 / Revised: 20 June 2019 / Accepted: 22 June 2019 / Published: 28 June 2019
Abstract
The expression of the secreted factor Wnt-11 is elevated in several types of cancer, including colorectal cancer, where it promotes cancer cell migration and invasion. Analysis of colorectal cancer gene expression databases associated WNT11 mRNA expression with increased likelihood of metastasis in a subset of patients. WNT11 expression was correlated with the expression of the Wnt receptors FZD6, RYK, and PTK7, and the combined expression of WNT11, FZD6 and RYK or PTK7 was associated with an increased risk of 5-year mortality rates. Immunohistochemical analysis of Wnt-11 in a cohort of 357 colorectal cancer patients found significantly higher Wnt-11 levels in tumors, compared with benign tissue. Elevated Wnt-11 levels occurred more frequently in rectal tumors than in colonic tumors and in tumors from women than men. In univariate analysis, increased Wnt-11 expression was also associated with tumor invasion and increased 5-year mortality. High Wnt-11 levels were not associated with high levels of nuclear β-catenin, suggesting Wnt-11 is not simply an indicator for activation of β-catenin-dependent signaling. Expression of Wnt-11 in colorectal cancer cell lines expressing low endogenous Wnt-11 inhibited β-catenin/Tcf activity and increased ATF2-dependent transcriptional activity. WNT11 gene silencing and antibody-mediated inhibition of Wnt-11 in colorectal cancer cell lines expressing high Wnt-11 reduced their capacity for invasion. Together, these observations suggest that Wnt-11 could be a potential target for the treatment of patients with invasive colorectal cancer.
View Full-Text
►

▼

Figures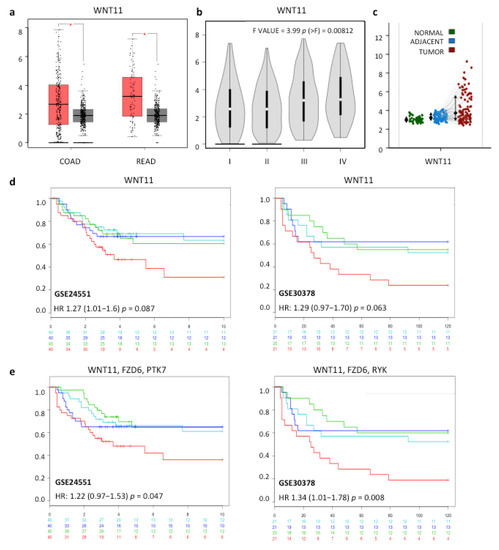 Figure 1
This is an open access article distributed under the
Creative Commons Attribution License
which permits unrestricted use, distribution, and reproduction in any medium, provided the original work is properly cited (CC BY 4.0).

Share & Cite This Article
MDPI and ACS Style
Gorroño-Etxebarria, I.; Aguirre, U.; Sanchez, S.; González, N.; Escobar, A.; Zabalza, I.; Quintana, J.M.; Vivanco, M.D.; Waxman, J.; Kypta, R.M. Wnt-11 as a Potential Prognostic Biomarker and Therapeutic Target in Colorectal Cancer. Cancers 2019, 11, 908.
Note that from the first issue of 2016, MDPI journals use article numbers instead of page numbers. See further details here.
Related Articles
Comments
[Return to top]