Open Access This article is
freely available
re-usable
Review
Exo-miRNAs as a New Tool for Liquid Biopsy in Lung Cancer
Tumor Genomics Unit, Department of Research, Fondazione IRCCS Istituto Nazionale dei Tumori, via Venezian 1, 20133 Milan, Italy
*
Authors to whom correspondence should be addressed.
Received: 10 May 2019 / Accepted: 24 June 2019 / Published: 25 June 2019
Abstract
:
Lung cancer is the predominant cause of cancer-related deaths. The high mortality rates are mainly due to the lack of diagnosis before the cancer is at a late stage. Liquid biopsy is a promising technique that could allow early diagnosis of lung cancer and better treatment selection for patients. Cell-free microRNAs have been detected in biological fluids, such as serum and plasma, and are considered interesting biomarkers for lung cancer screening and detection. Exosomes are nanovesicles of 30–150 nm and can be released by different cell types within the tumor microenvironment. Their exosomal composition reflects that of their parental cells and could be potentially useful as a biomarker for lung cancer diagnosis. This review summarizes the state-of-the-art of circulating microRNAs (miRNAs) in lung cancer, focusing on their potential use in clinical practice. Moreover, we describe the importance of exosomal miRNA cargo in lung cancer detection and their potential role during lung carcinogenesis. Finally, we discuss our experience with the analysis of circulating exosomal miRNAs in the bioMILD screening trial.
Keywords:
microRNA; lung cancer; exosomes
1. Introduction
This review is intended to summarize the potential role of exosomes-miRNAs for liquid biopsy in NSCLC detection. We first focus here on elucidating the potential role of circulating miRNAs in lung cancer clinical practice, as reported by critical studies. Then, we address the prospective use of exosomes as diagnostic and/or prognostic biomarkers and describing their function as active players in lung carcinogenesis. Finally, we illustrate our data, obtained by investigating exosomes and their miRNA cargo in bioMILD screening trials, consolidating their important impact in detection, definition, diagnosis, and clinical management in lung malignancies.
2. Circulating miRNA as a Biomarker for NSCLC
3. Functional Role of Exosomal miRNAs in Lung Carcinogenesis
These presented works show that exosomal-miRNAs reflects miRNAs expression patterns of the cell from which they derive from, suggesting an active release of these molecules by tumor cells for the modulation of lung microenvironment. However, the patho-physiological roles of extracellular vesicles remain unclear. To this regard, phenotype characterization of vesicles, sorting mechanisms for the content into exosomes, secretion mechanisms into the blood and the uptake system of recipient cells has not been fully investigated in any of these studies. Also, use of in vitro approaches alone, together with a small size of analyzed clinical samples, create limitation and weaknesses to these studies. Understanding the functional role of exosomes in cell to cell communication and in particular in the onset of the disease, are crucial points that need to be addressed.
4. Exosomal miRNA for NSCLC Detection
Growing evidence has reinforced the hypothesis that exosomes and, in particular, their miRNA cargo, have an essential impact on intercellular communication and that their identification could be employed as a promising diagnostic and/or prognostic biomarker in lung cancer detection.
5. Circulating miRNAs in Exosomes: The bioMILD Experience
6. Conclusions
In conclusion, this review summarizes the current state-of-the-art of exosomes and, in particular, their miRNA cargo for liquid biopsy in lung cancer. Additional studies are needed to better characterize the role of exosomes in lung cancer, but they can already be considered promising biomarkers for clinical use.
Author Contributions
O.F., P.G., M.B., and G.S. contributed to writing the manuscript. All authors approved the final version of the manuscript.
Funding
The work was supported by the Italian Association for Cancer Research [Investigator Grants No., 14318 and 18812 to G.S., 12162 to G.S. (Special Program "Innovative Tools for Cancer Risk Assessment and early Diagnosis", 5x1000)]. O.F. was supported by Cariplo Foundation Young Investigator Grant 2015 n.2015-0901. P.G. was supported by Italian Ministry of Health (RF-2013-02357982).
Conflicts of Interest
The authors declare no conflict of interest.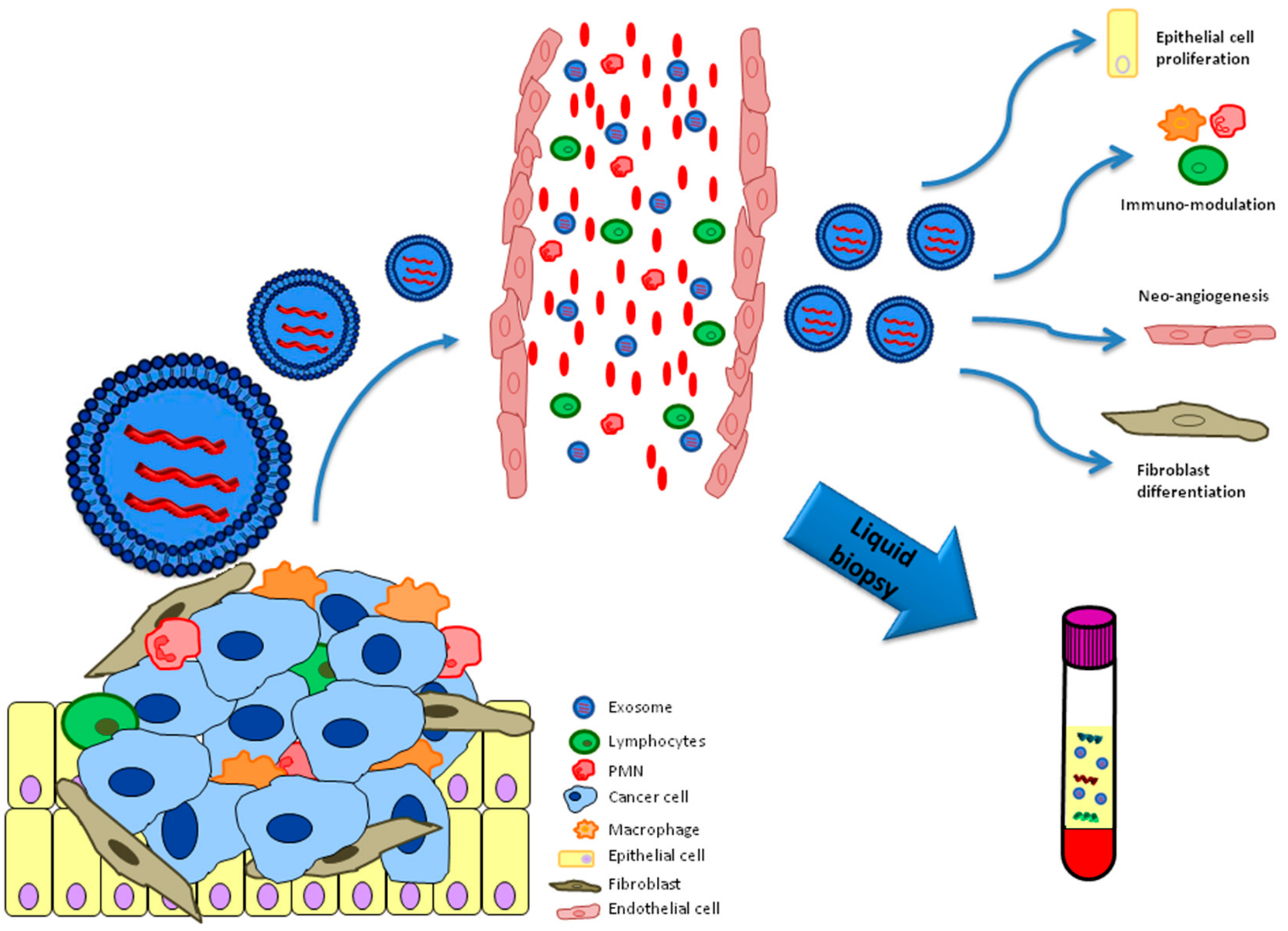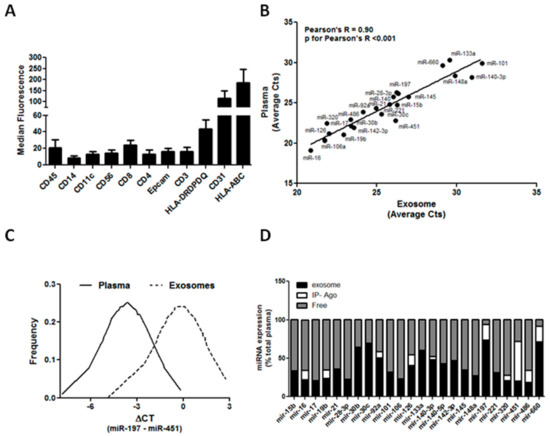 Figure 2.
Exosomal miRNAs in the bioMILD trial. (
A
) Graphs show the surface markers on circulating exosomes in heavy smokers (
n
= 5). (
B
) Correlation of miRNA levels in plasma and in exosomes (
n
= 19 heavy-smokers volunteers and 8 lung cancer patients). (
C
) Normal distribution data for miR-197 and miR-451 in exosomes and plasma. (
D
) Physical status of circulating miRNAs in the plasma of heavy smokers (
n
= 5).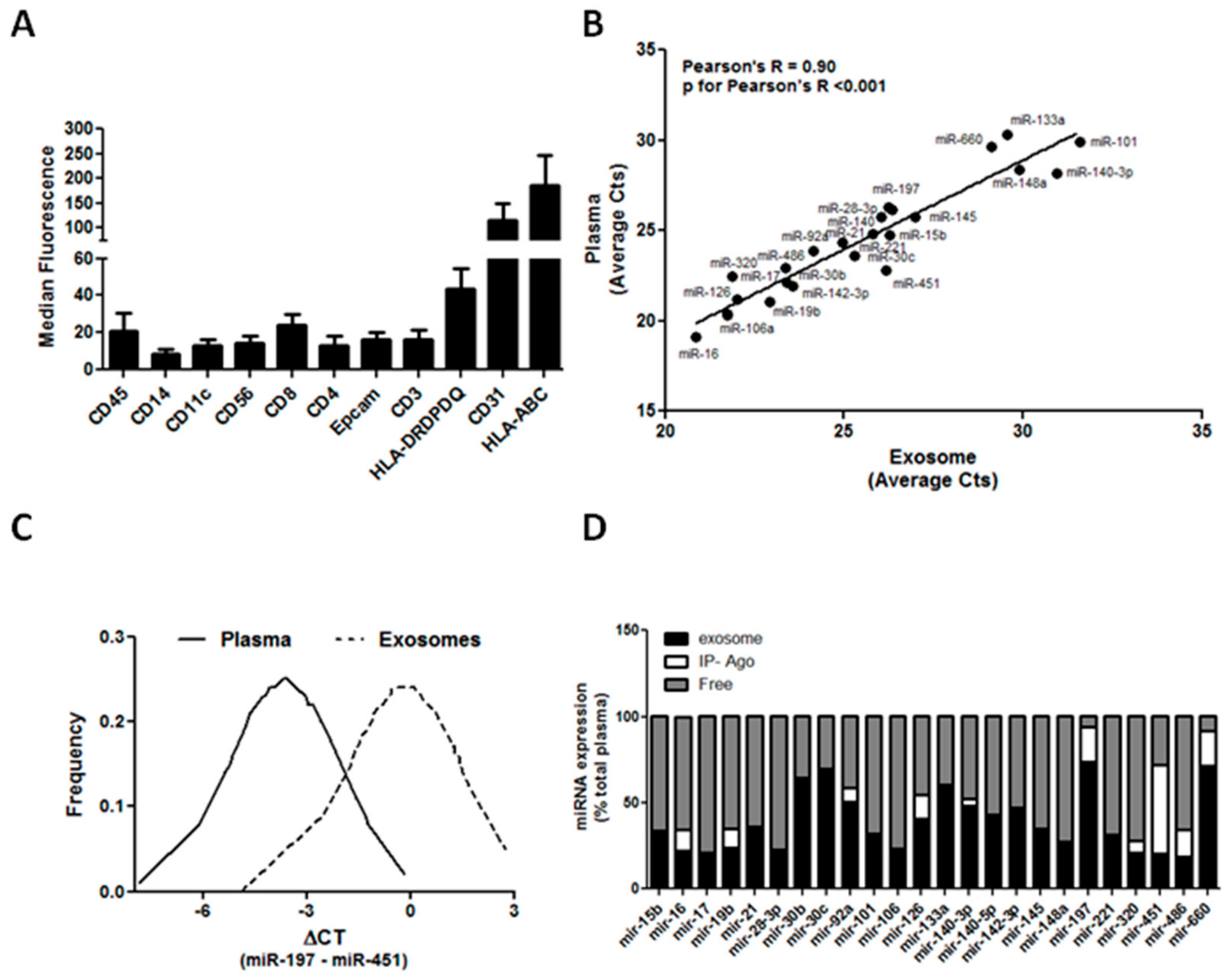 miRNA Signature
Specimen
Performance
Patients Enrolled
Ref.
miR-29/miR-146b/miR-221/let-7a/miR-155/miR-17/miR-27a/miR-106a
Serum
AUC 1 of 0.60
220 cases (Stage I–II), 220 Controls
[36]
miR-21/miR-126/miR-210/miR-486
Plasma
86.2% sensitivity 96.6% specificity
58 cases (30 Stage I–II, 28 Stage III–IV), 29 Controls
[37]
miR-155/miR-197/miR-182
Plasma
81.3% sensitivity 86.8% specificity
74 cases (33 Stage I–II, 41 Stage III–IV), 68 Controls
[38]
miR-483/miR-193a-3p/miR-25/miR-214/miR-7
Serum
AUC of 0.979
221 cases (83 Stage I–II, 130 Stage III–IV, 8 NA), 161 Controls
[39]
24 miRNAs
Plasma
87% sensitivity
81% specificity
69 cases (37 Stage I, 12 Stage II–III, 19 Stage IV), 870 Controls
[40]
13 miRNAs
Serum
77.8% sensitivity 74.8% specificity
74 cases (42 Stage I–II, 32 Stage II–III), 1115 Controls
[41]
24 miRNAs
Plasma
AUC of 0.92
100 cases (42 Stage I–II–III), 100 Controls
[42]
miR-21/miR-223/miR-155/miR-126
Serum
83% sensitivity 84% specificity
6919 cases, 7064 Controls
[43]
1 AUC: area under the curve.
| Exosomal-miRNA | Target | Function | Ref. |
| --- | --- | --- | --- |
| miR-21/miR-29a | TLRs | Support lung tumor growth and metastasis | [33] |
| miR-23 | PHD, ZO-1 | Enhance angiogenesis and vascular permeability | [52] |
| miR-103 | PTEN | Promote tumor progression and angiogenesis | [21] |
| miR-210 | TIMP1 | Increase angiogenesis and tumor progression | [53] |
| miR-494/miR-542-3p | cadherin-17 | Modulate pre-metastatic niche | [54] |
| miR-512/miR-373 | TEAD4, RelA, PIK3CA | Cisplatin sensitivity and suppression of tumor growth | [55] |
| miR-23 | CD107 | Inhibit NK cell function | [56] |
| miR-302b | TGFBRII | Block proliferation and migration | [57] |
| miR-9 | SOCS5 | Promote endothelial migration and angiogenesis | [58] |
| miR-21 | STAT3 | Promote angiogenesis and tumor growth | [59] |
TLRs: Toll-like receptors; PHD: prolyl hydroxylase; ZO-1: zonula occludens-1; PTEN: phosphatase and tensin homolog; TIMP1: Tissue inhibitor of metalloproteinase 1; TGFBRII: transforming growth factor beta receptor II; SOCS5 suppressor of cytokine signaling 5.
| miRNAs | Specimen | Clinical significance | Ref. |
| --- | --- | --- | --- |
| miR-17-3p/miR-21/miR-106a/miR-146/miR-155/miR-191/miR-192/miR-203/miR-205/miR-210/miR-212/miR-214 | Plasma | Diagnostic | [64] |
| let-7f/miR-20b/miR-30e-3p/miR-223/miR-301 | Plasma | Diagnostic/prognostic | [65] |
| miR-378a/miR-379/miR-139/miR-200 | Plasma | Diagnostic | [66] |
| miR-151a/miR-30a-3p/miR-200b/miR-629/miR-100/miR-154-3p | Plasma | Diagnostic | [66] |
| miR-30b/miR-30c/miR-103/miR-122/miR-195/miR-203/miR-221/miR-222 | Plasma | Diagnostic | [67] |
| let-7b/let-7e/miR-23a-3p/miR-486 | Plasma | Diagnostic | [68] |
| miR-96 | Plasma | Diagnostic | [69] |
| miR-205/miR-19a/miR-19b/miR-30b/miR-20a | Plasma | Diagnostic | [70] |
| miR-21/miR-4257 | Plasma | Prognostic/predictor | [71] |
| miR-23b-3p/miR-10b/miR-21 | Plasma | Prognostic | [72] |
| miR-25/miR-122/miR-195/miR-21/miR-125b | Plasma | Prognostic | [73] |
| miR-221 and miR-222 | Plasma | Predictor of response | [18] |

© 2019 by the authors. Licensee MDPI, Basel, Switzerland. This article is an open access article distributed under the terms and conditions of the Creative Commons Attribution (CC BY) license (http://creativecommons.org/licenses/by/4.0/).