FBXW5 Promotes Tumorigenesis and Metastasis in Gastric Cancer via Activation of the FAK-Src Signaling Pathway
1
Department of Haematology-Oncology, National University Hospital of Singapore, Singapore 119228, Singapore
2
Cancer Science Institute of Singapore, National University of Singapore, Singapore 117599, Singapore
3
Lowy Cancer Research Centre, University of New South Wales, Sydney 20152, Australia
4
Mechanobiology Institute, National University of Singapore, Singapore 117411, Singapore
5
Cancer Research UK Cambridge Institute, University of Cambridge, Cambridge CB2 0RE, UK
6
Institut Jacques Monod, Centre National de la Recherche Scientifique, CNRS UMR 7592, Université Paris-Diderot, CEDEX 13, 75205 Paris, France
*
Authors to whom correspondence should be addressed.
†
These authors share equal contribution.
Received: 2 May 2019 / Revised: 10 June 2019 / Accepted: 14 June 2019 / Published: 17 June 2019
Abstract
F-box/WD repeat-containing protein 5 (FBXW5) is a member of the FBXW subclass of F-box proteins. Despite its known function as a component of the Skp1-Cullin-F-box (SCF) ubiquitin ligase complex, the role of FBXW5 in gastric cancer tumorigenesis and metastasis has not been investigated. The present study investigates the role of FBXW5 in tumorigenesis and metastasis, as well as the regulation of key signaling pathways in gastric cancer; using in-vitro FBXW5 knockdown/overexpression cell line and in-vivo models. In-vitro knockdown of FBXW5 results in a decrease in cell proliferation and cell cycle progression, with a concomitant increase in cell apoptosis and caspase-3 activity. Furthermore, knockdown of FBXW5 also leads to a down regulation in cell migration and adhesion, characterized by a reduction in actin polymerization, focal adhesion turnover and traction forces. This study also delineates the mechanistic role of FBXW5 in oncogenic signaling as its inhibition down regulates RhoA-ROCK 1 (Rho-associated protein kinase 1) and focal adhesion kinase (FAK) signaling cascades. Overexpression of FBXW5 promotes in-vivo tumor growth, whereas its inhibition down regulates in-vivo tumor metastasis. When considered together, our study identifies the novel oncogenic role of FBXW5 in gastric cancer and draws further interest regarding its clinical utility as a potential therapeutic target.
View Full-Text
►

▼

Figures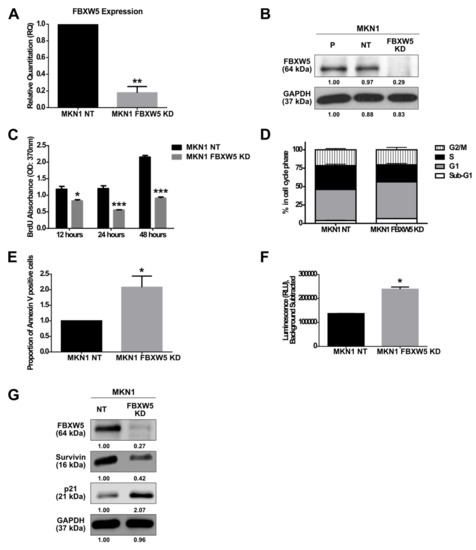 Figure 1
This is an open access article distributed under the
Creative Commons Attribution License
which permits unrestricted use, distribution, and reproduction in any medium, provided the original work is properly cited (CC BY 4.0).

Share & Cite This Article
MDPI and ACS Style
Yeo, M.S.; Vijay Subhash, V.; Suda, K.; Emrah Balcıoğlu, H.; Zhou, S.; Thuya, W.L.; Loh, X.Y.; Jammula, S.; Peethala, P.C.; Tan, S.H.; Xie, C.; Wong, F.Y.; Ladoux, B.; Ito, Y.; Yang, H.; Goh, B.C.; Wang, L.; Yong, W.P. FBXW5 Promotes Tumorigenesis and Metastasis in Gastric Cancer via Activation of the FAK-Src Signaling Pathway. Cancers 2019, 11, 836.
Note that from the first issue of 2016, MDPI journals use article numbers instead of page numbers. See further details here.
Related Articles
Comments
[Return to top]