Determination of PD-L1 Expression in Circulating Tumor Cells of NSCLC Patients and Correlation with Response to PD-1/PD-L1 Inhibitors
1
Department of Oncology, Hematology and Bone Marrow Transplantation with section Pneumology, Hubertus Wald University Comprehensive Cancer Center Hamburg, University Medical Center Hamburg-Eppendorf, 20246 Hamburg, Germany
2
Department of Tumor Biology, Center of Experimental Medicine, University Medical Center Hamburg-Eppendorf, 20246 Hamburg, Germany
3
Institute of Hematopathology Hamburg HpH, 22547 Hamburg, Germany
4
Boehringer Ingelheim Pharma GmbH & Co. KG, 88397 Biberach, Germany
5
Institute of Pathology, University Medical Center Hamburg-Eppendorf, 20246 Hamburg, Germany
6
Lung Clinic Grosshansdorf, Airway Research Center North, German Center of Lung Research, 22927 Grosshansdorf, Germany
*
Author to whom correspondence should be addressed.
†
These authors contributed equally to this work.
‡
Current address: AstraZeneca GmbH, 22880 Wedel, Germany.
Received: 27 May 2019 / Revised: 11 June 2019 / Accepted: 12 June 2019 / Published: 17 June 2019
Abstract
Circulating tumor cells (CTCs) hold great potential to answer key questions of how non-small cell lung cancer (NSCLC) evolves and develops resistance upon anti-PD-1/PD-L1 treatment. Currently, their clinical utility in NSCLC is compromised by a low detection rate with the established, Food and Drug Administration (FDA)-approved, EpCAM-based CellSearch
®
System. We tested an epitope-independent method (Parsortix
TM
system) and utilized it to assess PD-L1 expression of CTCs from NSCLC patients. We prospectively collected 127 samples, 97 of which were analyzed with the epitope-independent system in comparison to the CellSearch system. CTCs were determined by immunocytochemistry as intact, nucleated, CD45
−
, pankeratins (K)
+
cells. PD-L1 status of CTCs was evaluated from 89 samples. With the epitope-independent system, ≥1 CTC per blood sample was detected in 59 samples (61%) compared to 31 samples (32%) with the EpCAM-based system. Upon PD-L1 staining, 47% of patients harbored only PD-L1
+
CTCs, 47% had PD-L1
+
and PD-L1
−
CTCs, and only 7% displayed exclusively PD-L1
−
CTCs. The percentage of PD-L1
+
CTCs did not correlate with the percentage of PD-L1
+
in biopsies determined by immunohistochemistry (
p
= 0.179). Upon disease progression, all patients showed an increase in PD-L1
+
CTCs, while no change or a decrease in PD-L1
+
CTCs was observed in responding patients (
n
= 11;
p
= 0.001). Our data show a considerable heterogeneity in the PD-L1 status of CTCs from NSCLC patients. An increase of PD-L1
+
CTCs holds potential to predict resistance to PD-1/PD-L1 inhibitors.
View Full-Text
►

▼

Figures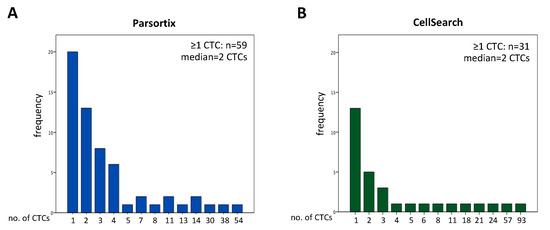 Figure 1
This is an open access article distributed under the
Creative Commons Attribution License
which permits unrestricted use, distribution, and reproduction in any medium, provided the original work is properly cited (CC BY 4.0).

Share & Cite This Article
MDPI and ACS Style
Janning, M.; Kobus, F.; Babayan, A.; Wikman, H.; Velthaus, J.-L.; Bergmann, S.; Schatz, S.; Falk, M.; Berger, L.-A.; Böttcher, L.-M.; Päsler, S.; Gorges, T.M.; O'Flaherty, L.; Hille, C.; Joosse, S.A.; Simon, R.; Tiemann, M.; Bokemeyer, C.; Reck, M.; Riethdorf, S.; Pantel, K.; Loges, S. Determination of PD-L1 Expression in Circulating Tumor Cells of NSCLC Patients and Correlation with Response to PD-1/PD-L1 Inhibitors. Cancers 2019, 11, 835.
Note that from the first issue of 2016, MDPI journals use article numbers instead of page numbers. See further details here.
Related Articles
Comments
[Return to top]