RAC1B Suppresses TGF-β1-Dependent Cell Migration in Pancreatic Carcinoma Cells through Inhibition of the TGF-β Type I Receptor ALK5
1
First Department of Medicine, University Hospital Schleswig-Holstein, Campus Lübeck, D-23538 Lübeck, Germany
2
Clinic for General Surgery, Visceral, Thoracic, Transplantation and Pediatric Surgery, University Hospital Schleswig-Holstein, Campus Kiel, D-24105 Kiel, Germany
3
Departments of Physiology and Pharmacology and Medicine, Inflammation Research Network, Snyder Institute for Chronic Diseases, University of Calgary, Cumming School of Medicine, Calgary, AB T2N 4N1, Canada
4
Department of Oncology, University Hospital Schleswig-Holstein, Campus Lübeck, D-23538 Lübeck, Germany
*
Author to whom correspondence should be addressed.
‡
These authors contributed equally to this work.
Received: 4 April 2019 / Revised: 10 May 2019 / Accepted: 15 May 2019 / Published: 17 May 2019
Abstract
The small GTPase Ras-related C3 botulinum toxin substrate 1B (RAC1B) has been shown previously by RNA interference-mediated knockdown (KD) to function as a powerful inhibitor of transforming growth factor (TGF)-β1-induced cell migration and epithelial-mesenchymal transition in epithelial cells, but the underlying mechanism has remained enigmatic. Using pancreatic carcinoma cells, we show that both KD and Clustered Regularly Interspaced Short Palindromic Repeats (CRISPR)/Cas9-mediated knockout (KO) of RAC1B increased the expression of the TGF-β type I receptor ALK5 (activin receptor-like kinase 5), but this effect was more pronounced in CRISPR-KO cells. Of note, in KO, but not KD cells, ALK5 upregulation was associated with resensitization of
TGFBR1
to induction by TGF-β1 stimulation. RAC1B KO also increased TGF-β1-induced C-terminal SMAD3 phosphorylation, SMAD3 transcriptional activity, growth inhibition, and cell migration. The KD of ALK5 expression by RNA interference or inactivation of the ALK5 kinase activity by dominant-negative interference or ATP-competitive inhibition rescued the cells from the RAC1B KD/KO-mediated increase in TGF-β1-induced cell migration, whereas the ectopic expression of kinase-active ALK5 mimicked this RAC1B KD/KO effect. We conclude that RAC1B downregulates the abundance of ALK5 and SMAD3 signaling, thereby attenuating TGF-β/SMAD3-driven cellular responses, such as growth inhibition and cell motility.
View Full-Text
►

▼

Figures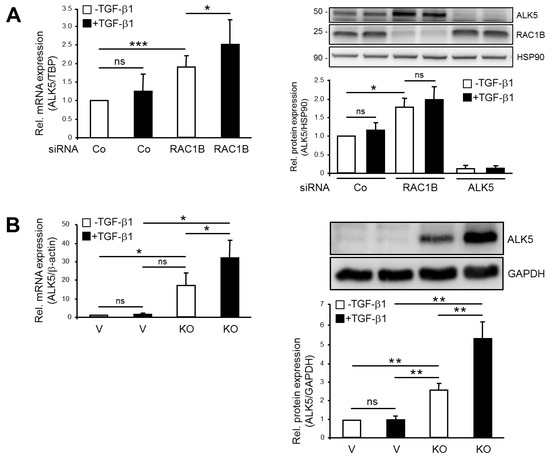 Figure 1
This is an open access article distributed under the
Creative Commons Attribution License
which permits unrestricted use, distribution, and reproduction in any medium, provided the original work is properly cited (CC BY 4.0).

Share & Cite This Article
MDPI and ACS Style
Ungefroren, H.; Otterbein, H.; Fiedler, C.; Mihara, K.; Hollenberg, M.D.; Gieseler, F.; Lehnert, H.; Witte, D. RAC1B Suppresses TGF-β1-Dependent Cell Migration in Pancreatic Carcinoma Cells through Inhibition of the TGF-β Type I Receptor ALK5. Cancers 2019, 11, 691.
Note that from the first issue of 2016, MDPI journals use article numbers instead of page numbers. See further details here.
Related Articles
Comments
[Return to top]