Fibroblast-Mediated Immunoregulation of Macrophage Function Is Maintained after Irradiation
1
Department of Clinical Medicine, Faculty of Health Sciences, UiT-The Arctic University of Norway, 9037 Tromsø, Norway
2
Department of Radiation Oncology, University Hospital of Northern Norway, 9038 Tromsø, Norway
*
Author to whom correspondence should be addressed.
Cancers 2019, 11(5), 689; https://doi.org/10.3390/cancers11050689 (registering DOI)
Received: 23 April 2019 / Revised: 13 May 2019 / Accepted: 14 May 2019 / Published: 17 May 2019
Abstract
The abilities of cancer-associated fibroblasts (CAFs) to regulate immune responses in the context of radiotherapy remain largely unknown. This study was undertaken to determine whether ionizing radiation alters the CAF-mediated immunoregulatory effects on macrophages. CAFs were isolated from freshly-resected non-small cell lung cancer tumors, while monocyte-derived macrophages were prepared from peripheral blood of healthy donors. Experimental settings included both (CAF-macrophage) co-cultures and incubations of M0 and M1-macrophages in the presence of CAF-conditioned medium (CAF-CM). Functional assays to study macrophage polarization/activation included the expression of cell surface markers, production of nitric oxide, secretion of inflammatory cytokines and migratory capacity. We show that CAFs promote changes in M0-macrophages that harmonize with both M1-and M2-phenotypes. Additionally, CAFs inhibit pro-inflammatory features of M1-macrophages by reducing nitric oxide production, pro-inflammatory cytokines, migration, and M1-surface markers expression. Radiation delivered as single-high dose or in fractioned regimens did not modify the immunoregulatory features exerted by CAFs over macrophages in vitro. Protein expression analyses of CAF supernatants showed that irradiated and non-irradiated CAFs produce approximately the same protein levels of immunoregulators. Thus, CAF-derived soluble factors mediate measurable changes on uncommitted macrophages and down-regulate pro-inflammatory features of M1-polarized macrophages. Notably, ionizing radiation does not curtail the CAF-mediated immunosuppressive effects.
View Full-Text
►

▼

Figures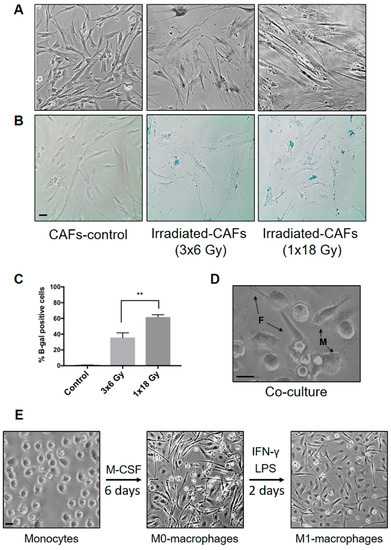 Figure 1
This is an open access article distributed under the
Creative Commons Attribution License
which permits unrestricted use, distribution, and reproduction in any medium, provided the original work is properly cited (CC BY 4.0).
Share & Cite This Article
MDPI and ACS Style
Berzaghi, R.; Ahktar, M.A.; Islam, A.; Pedersen, B.D.; Hellevik, T.; Martinez-Zubiaurre, I. Fibroblast-Mediated Immunoregulation of Macrophage Function Is Maintained after Irradiation. Cancers 2019, 11, 689.
Note that from the first issue of 2016, MDPI journals use article numbers instead of page numbers. See further details here.
Related Articles
Comments
[Return to top]