Oligodeoxynucleotides ODN 2006 and M362 Exert Potent Adjuvant Effect through TLR-9/-6 Synergy to Exaggerate Mammaglobin-A Peptide Specific Cytotoxic CD8+T Lymphocyte Responses against Breast Cancer Cells
1
Department of Biological Sciences, Tennessee State University, 3500 John A Merritt Blvd, Nashville, TN 37209, USA
2
Department of Medicine, St Thomas Hospital-Midtown, Nashville, TN 37203, USA
3
Department of Public Health, Health Administration & Health Sciences, Tennessee State University, Nashville, TN 37209, USA
4
Medicine, Cell & Developmental Biology, Vanderbilt University School of Medicine. Veterans Affairs Medical Center, Nashville, TN 37212, USA
5
Department of Pathology, Microbiology, and Immunology, Vanderbilt University Medical Center, Nashville, TN 37212, USA
6
Department of Pharmacology, Vanderbilt University, Nashville, TN 37212, USA
*
Author to whom correspondence should be addressed.
Received: 27 April 2019 / Revised: 10 May 2019 / Accepted: 13 May 2019 / Published: 14 May 2019
Abstract
Mammaglobin-A (MamA) is overexpressed in 40–80% of all human breast cancers. Recent phase I clinical trials of the MamA DNA vaccine showed encouraging safety outcomes. However, this vaccine elicited only a modest increase in MamA specific CD8+T lymphocyte (CTL) activation. As vaccine adjuvants play a critical role in enhancing the immunotherapeutic efficiency of vaccines, we tested the potential role of three synthetic CpG oligodeoxynucleotides (ODN2216—class A ODN, ODN2006—class B ODN, and ODN M362—class C ODN) to further enhance MamA specific CTL responses. Towards this, naïve CD8+T cells were obtained from healthy HLA-A2+ human donors. The HLA-A2 specific immunodominant epitope of MamA, MamA2.1 (LIYDSSLCDL), was utilized to activate naïve CD8+T cells. The THP-1 (HLA-A2+) cells were used as antigen presenting cells to stimulate naïve CD8+T cells along with (or without) co-treatment of various ODNs mentioned above. Activation of naïve CD8+T cells with the MamA2.1 peptide along with ODNs demonstrated enhanced MamA specific CTL mediated cytotoxicity on AU565 (HLA-A
+
/MamA
+
) breast cancer cells following co-treatment with ODN2006 and M362 compared to ODN2216 or MamA2.1 peptide alone. However, no significant cytotoxicity was noted upon treatment of MamA2.1 activated CTLs on MCF7 (HLA-A
+
/MamA
−
) cells, suggesting that the activation of CTLs is specific to the MamA antigen. Functional characterization studies demonstrated specific IL-12 mediated cross-talk between TLR-6 and -9 in THP-1 cells following stimulation with ODN2006 and M362, which was critical for the final cytotoxic activation of CD8+T lymphocytes. Based on these data, we conclude that ODN2006 and ODN M362 exerted a strong adjuvant effect through induction of the initial innate immune response through TLR9 upregulation followed by enhanced MamA specific CTL dependent adaptive immune responses. Our current data provide evidence for the application of Class-B/-C-CpG-ODNs as potential vaccine adjuvants towards enhancing the success of MamA based breast cancer vaccination.
View Full-Text
►

▼

Figures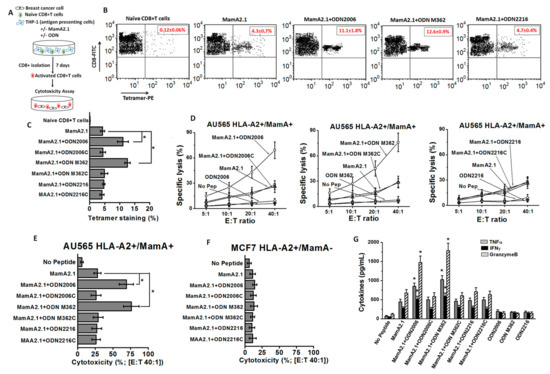 Figure 1
This is an open access article distributed under the
Creative Commons Attribution License
which permits unrestricted use, distribution, and reproduction in any medium, provided the original work is properly cited (CC BY 4.0).

Share & Cite This Article
MDPI and ACS Style
Babaer, D.; Amara, S.; McAdory, B.S.; Johnson, O.; Myles, E.L.; Zent, R.; Rathmell, J.C.; Tiriveedhi, V. Oligodeoxynucleotides ODN 2006 and M362 Exert Potent Adjuvant Effect through TLR-9/-6 Synergy to Exaggerate Mammaglobin-A Peptide Specific Cytotoxic CD8+T Lymphocyte Responses against Breast Cancer Cells. Cancers 2019, 11, 672.
Note that from the first issue of 2016, MDPI journals use article numbers instead of page numbers. See further details here.
Related Articles
Comments
[Return to top]