The Function of Non-Coding RNAs in Lung Cancer Tumorigenesis
1
Research Center for Functional Genomics, Biomedicine and Translational Medicine, "Iuliu Hatieganu" University of Medicine and Pharmacy, 23 Marinescu Street, 400337 Cluj-Napoca, Romania
2
MEDFUTURE-Research Center for Advanced Medicine, "Iuliu Hatieganu" University of Medicine and Pharmacy, 23 Marinescu Street, 400337 Cluj-Napoca, Romania
3
"Leon Daniello" Pneumophtisiology Clinic, 6 Bogdan Petriceicu Hasdeu Street, 400332 Cluj-Napoca, Romania
4
Tumor Biology Department, The Oncology Institute "Prof. Dr. Ion Chiricuta", 34-36 Republicii Street, 400015 Cluj-Napoca, Romania
5
11th Department of Oncological Surgery and Gynecological Oncology, "Iuliu Hatieganu" University of Medicine and Pharmacy, 34-36 Republicii Street, 400015 Cluj-Napoca, Romania
6
Department of Surgery, The Oncology Institute "Prof. Dr. Ion Chiricuta", 34-36 Republicii Street, 400015 Cluj-Napoca, Romania
7
"Iuliu Hatieganu" University of Medicine and Pharmacy, 4 Louis Pasteur Street, 400349 Cluj-Napoca, Romania
8
Department of Radiotherapy with High Energies and Brachytherapy, The Oncology Institute "Prof. Dr. Ion Chiricuta", 34-36 Republicii Street, 400015 Cluj-Napoca, Romania
9
Department of Functional Genomics and Experimental Pathology, The Oncology Institute "Prof. Dr. Ion Chiricuta", 34-36 Republicii Street, 400015 Cluj-Napoca, Romania
*
Authors to whom correspondence should be addressed.
†
These authors contributed equally to this work.
Received: 26 March 2019 / Revised: 18 April 2019 / Accepted: 25 April 2019 / Published: 30 April 2019
Abstract
Lung cancer is the most prevalent and deadliest cancer worldwide. A significant part of lung cancer studies is dedicated to the expression alterations of non-coding RNAs. The non-coding RNAs are transcripts that cannot be translated into proteins. While the study of microRNAs and siRNAs in lung cancer received a lot of attention over the last decade, highly efficient therapeutic option or the diagnostic methods based on non-coding RNAs are still lacking. Because of this, it is of utmost importance to direct future research on lung cancer towards analyzing other RNA types for which the currently available data indicates that are essential at modulating lung tumorigenesis. Through our review of studies on this subject, we identify the following non-coding RNAs as tumor suppressors: ts-46, ts-47, ts-101, ts-53, ts-3676, ts-4521 (tRNA fragments), SNORD116-26, HBII-420, SNORD15A, SNORA42 (snoRNAs), piRNA-like-163, piR-35127, the piR-46545 (piRNAs), CHIAP2, LOC100420907, RPL13AP17 (pseudogenes), and uc.454 (T-UCR). We also found non-coding RNAs with tumor-promoting function: tRF-Leu-CAG, tRNA-Leu, tRNA-Val (tRNA fragments), circ-RAD23B, circRNA 100146, circPVT1, circFGFR3, circ_0004015, circPUM1, circFLI1, circABCB10, circHIPK3 (circRNAs), SNORA42, SNORA3, SNORD46, SNORA21, SNORD28, SNORA47, SNORD66, SNORA68, SNORA78 (snoRNAs), piR-65, piR-34871, piR-52200, piR651 (piRNAs), hY4 5' fragments (YRNAs), FAM83A-AS1, WRAP53, NKX2-1-AS1 (NATs), DUXAP8, SFTA1P (pseudogene transcripts), uc.338, uc.339 (T-UCRs), and hTERC.
View Full-Text
►

▼

Figures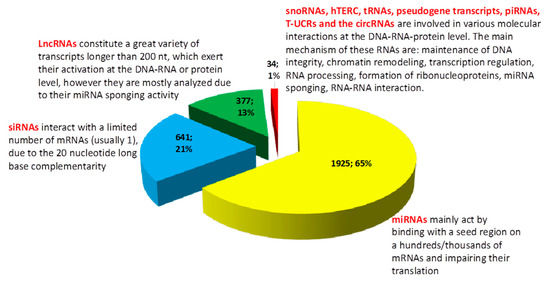 Figure 1
This is an open access article distributed under the
Creative Commons Attribution License
which permits unrestricted use, distribution, and reproduction in any medium, provided the original work is properly cited (CC BY 4.0).

Share & Cite This Article
MDPI and ACS Style
Braicu, C.; Zimta, A.-A.; Harangus, A.; Iurca, I.; Irimie, A.; Coza, O.; Berindan-Neagoe, I. The Function of Non-Coding RNAs in Lung Cancer Tumorigenesis. Cancers 2019, 11, 605.
Note that from the first issue of 2016, MDPI journals use article numbers instead of page numbers. See further details here.
Related Articles
Comments
[Return to top]