Comprehensive Serum Glycopeptide Spectra Analysis (CSGSA): A Potential New Tool for Early Detection of Ovarian Cancer
1
Department of Obstetrics and Gynecology, Tokai University School of Medicine, Kanagawa 2591193, Japan
2
Division of Gynecologic Oncology, Department of Obstetrics and Gynecology, University of Southern California, Los Angeles, CA 90033, USA
3
Norris Comprehensive Cancer Center, University of Southern California, Los Angeles, CA 90033, USA
4
Medical Solution Promotion Department, LSI Medience Corporation, Tokyo 1748555, Japan
5
Department of Molecular Life Science, Division of Basic Medical Science and Molecular Medicine, Tokai University School of Medicine, Kanagawa 2591193, Japan
6
Division of Maternal-Fetal Medicine, Department of Obstetrics and Gynecology, University of Southern California, Los Angeles, CA 90027, USA
*
Author to whom correspondence should be addressed.
Received: 22 March 2019 / Revised: 13 April 2019 / Accepted: 25 April 2019 / Published: 27 April 2019
Abstract
Objectives: To conduct a comprehensive glycopeptide spectra analysis of serum between cancer and non-cancer patients to identify early biomarkers of epithelial ovarian cancer (EOC). Methods: Approximately 30,000 glycopeptide peaks were detected from the digested serum glycoproteins of 39 EOC patients (23 early-stage, 16 advanced-stage) and 45 non-cancer patients (27 leiomyoma and ovarian cyst cases, 18 endometrioma cases) by liquid chromatography mass spectrometry (LC–MS). The differential glycopeptide peak spectra were analyzed to distinguish between cancer and non-cancer groups by employing multivariate analysis including principal component analysis (PCA), orthogonal partial least squares discriminant analysis (OPLS-DA) and heat maps. Results: Examined spectral peaks were filtered down to 2281 serum quantitative glycopeptide signatures for differentiation between ovarian cancer and controls using multivariate analysis. The OPLS-DA model using cross-validation parameters R2 and Q2 and score plots of the serum samples significantly differentiated the EOC group from the non-cancer control group. In addition, women with early-stage clear cell carcinoma and endometriomas were clearly distinguished from each other by OPLS-DA as well as by PCA and heat maps. Conclusions: Our study demonstrates the potential of comprehensive serum glycoprotein analysis as a useful tool for ovarian cancer detection.
View Full-Text
►

▼

Figures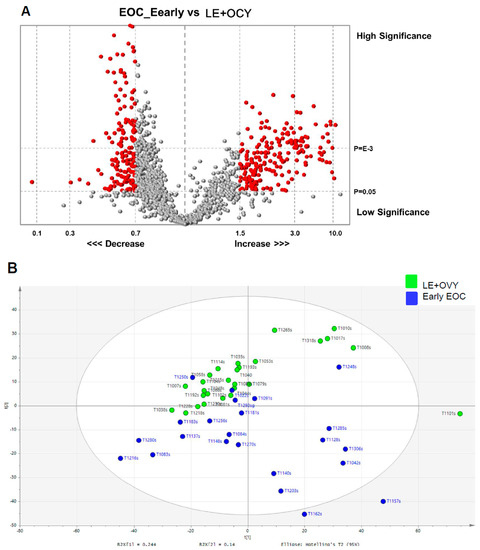 Figure 1
This is an open access article distributed under the
Creative Commons Attribution License
which permits unrestricted use, distribution, and reproduction in any medium, provided the original work is properly cited (CC BY 4.0).

Share & Cite This Article
MDPI and ACS Style
Hayashi, M.; Matsuo, K.; Tanabe, K.; Ikeda, M.; Miyazawa, M.; Yasaka, M.; Machida, H.; Shida, M.; Imanishi, T.; Grubbs, B.H.; Hirasawa, T.; Mikami, M. Comprehensive Serum Glycopeptide Spectra Analysis (CSGSA): A Potential New Tool for Early Detection of Ovarian Cancer. Cancers 2019, 11, 591.
Note that from the first issue of 2016, MDPI journals use article numbers instead of page numbers. See further details here.
Related Articles
Comments
[Return to top]