Oxaliplatin-Based Chemotherapy in Patients with Metastatic Colorectal Cancer Aged at Least 75 Years: A Post-Hoc Subgroup Analysis of Three Phase II Trials
1
U.O. Oncologia Medica, Azienda Ospedaliera S. Carlo, 85100 Potenza, Italy
2
Struttura Complessa di Oncologia Medica, Ospedale Garibaldi, 95122 Catania, Italy
3
Biostatistics and Data Management Unit, Medi Service S.r.l., 16149 Genova, Italy
4
Dipartimento di Oncologia Clinica, Ospedale San Bortolo, AULSS8, 36100 Vicenza, Italy
5
U.O. Oncologia Medica, Ospedale S. Giovanni di Dio, 92100 Agrigento, Italy
6
Struttura Complessa di Oncologia Clinica Sperimentale Addome, Dipartimento Assistenziale e di Ricerca dei Percorsi Oncologici del Distretto Addominale, Istituto Nazionale per lo Studio e la Cura dei Tumori "Fondazione Giovanni Pascale" — IRCCS, 80131 Napoli, Italy
7
U.O. Oncologia Medica, ASL NA3 Sud, 80035 Nola (NA), Italy
8
U.O. Oncologia Medica, Azienda Ospedaliero-Universitaria "Vittorio Emanuele", 95124 Catania, Italy
9
U.O. Oncologia Medica, Istituto Oncologico del Mediterraneo, 95029 Viagrande (CT), Italy
10
U.O. Oncologia Medica, Azienda Ospedaliera Gravina, 95041 Caltagirone, Italy
*
Author to whom correspondence should be addressed.
Received: 26 March 2019 / Revised: 17 April 2019 / Accepted: 21 April 2019 / Published: 24 April 2019
Abstract
Patients older than 75 years of age are usually excluded from metastatic colorectal cancer studies based on a combination chemotherapy containing oxaliplatin. Our group conducted three phase II trials in elderly patients in recent years. A post-hoc subgroup analysis of 67 patients aged at least 75 years was included in this study. Oxaliplatin was combined with capecitabine in two trials and with uracil-tegafur (UFT) plus folinic acid in the third trial. In one study, bevacizumab was also added to chemotherapy. The median age of patients was 77 years, and all had a good performance status (0 to 1). The observed overall response rate was 45%, comparable to younger patients (51%,
p
= 0.49). The estimated median progression-free survival (PFS) time and overall survival (OS) time were 8.7 and 19.3 months, respectively. These results did not significantly differ from those in younger patients (8.0 months for PFS (
p
= 0.58) and 19.7 months for OS (
p
= 0.94), respectively). The most common grade 3–4 adverse events included diarrhea (13%), fatigue (13%), peripheral neuropathy (10%), and neutropenia (7%). Moreover, the toxicity was never statistically different from that in younger patients. The efficacy of oxaliplatin-based combination was maintained in fit elderly patients ≥75 years.
View Full-Text
►

▼

Figures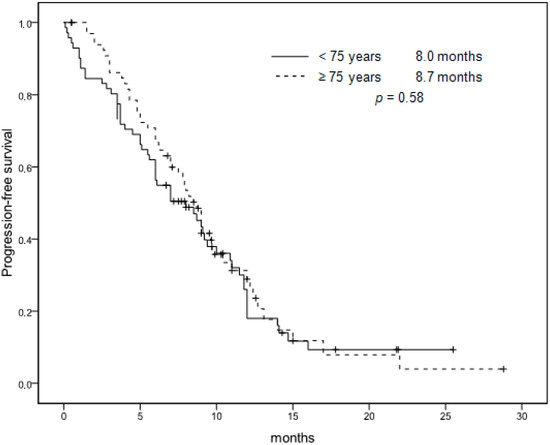 Figure 1
This is an open access article distributed under the
Creative Commons Attribution License
which permits unrestricted use, distribution, and reproduction in any medium, provided the original work is properly cited (CC BY 4.0).

Share & Cite This Article
MDPI and ACS Style
Rosati, G.; Cordio, S.; Reggiardo, G.; Aprile, G.; Butera, A.; Avallone, A.; Tucci, A.; Novello, G.; Blanco, G.; Caputo, G.; Bilancia, D.; Bordonaro, R. Oxaliplatin-Based Chemotherapy in Patients with Metastatic Colorectal Cancer Aged at Least 75 Years: A Post-Hoc Subgroup Analysis of Three Phase II Trials. Cancers 2019, 11, 578.
Note that from the first issue of 2016, MDPI journals use article numbers instead of page numbers. See further details here.
Related Articles
Comments
[Return to top]