Integrative In Vivo Drug Testing Using Gene Expression Signature and Patient-Derived Xenografts from Treatment-Refractory HER2 Positive and Triple-Negative Subtypes of Breast Cancer
1
Center for Breast cancer, National Cancer Center, Goyang 10408, Korea
2
Division of Translational Science, National Cancer Center, Goyang 10408, Korea
3
Department of Cancer Biomedical Science, Graduate School of Cancer Science and Policy, Goyang 10408, Korea
4
Division of Convergence Technology, National Cancer Center, Goyang 10408, Korea
5
Department of Laboratory Medicine, Center for Diagnostic Oncology, National Cancer Center, Goyang 10408, Korea
*
Authors to whom correspondence should be addressed.
†
These authors contributed equally to this work.
Received: 15 March 2019 / Revised: 16 April 2019 / Accepted: 19 April 2019 / Published: 23 April 2019
Abstract
Patient-derived xenografts (PDXs) are powerful tools for translational cancer research. Here, we established PDX models from different molecular subtypes of breast cancer for in vivo drug tests and compared the histopathologic features of PDX model tumors with those of patient tumors. Predictive biomarkers were identified by gene expression analysis of PDX samples using Nanostring nCount cancer panels. Validation of predictive biomarkers for treatment response was conducted in established PDX models by in vivo drug testing. Twenty breast cancer PDX models were generated from different molecular subtypes (overall success rate, 17.5%; 3.6% for HR
+
/HER2
−
, 21.4% for HR
+
/HER2
+
, 21.9% for HR
−
/HER2
+
and 22.5% for triple-negative breast cancer (TNBC)). The histopathologic features of original tumors were retained in the PDX models. We detected upregulated HIF1A, RAF1, AKT2 and VEGFA in TNBC cases and demonstrated the efficacy of combined treatment with sorafenib and everolimus or docetaxel and bevacizumab in each TNBC model. Additionally, we identified upregulated HIF1A in two cases of trastuzumab-exposed HR
−
/HER2
+
PDX models and validated the efficacy of the HIF1A inhibitor, PX-478, alone or in combination with neratinib. Our results demonstrate that PDX models can be used as effective tools for predicting therapeutic markers and evaluating personalized treatment strategies in breast cancer patients with resistance to standard chemotherapy regimens.
View Full-Text
►

▼

Figures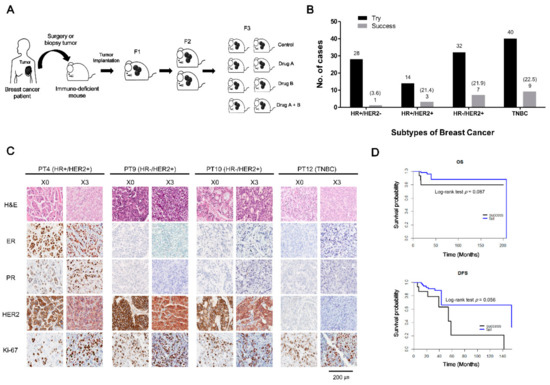 Figure 1
This is an open access article distributed under the
Creative Commons Attribution License
which permits unrestricted use, distribution, and reproduction in any medium, provided the original work is properly cited (CC BY 4.0).

Share & Cite This Article
MDPI and ACS Style
Ryu, J.-S.; Sim, S.H.; Park, I.H.; Lee, E.G.; Lee, E.S.; Kim, Y.-H.; Kwon, Y.; Kong, S.-Y.; Lee, K.S. Integrative In Vivo Drug Testing Using Gene Expression Signature and Patient-Derived Xenografts from Treatment-Refractory HER2 Positive and Triple-Negative Subtypes of Breast Cancer. Cancers 2019, 11, 574.
Note that from the first issue of 2016, MDPI journals use article numbers instead of page numbers. See further details here.
Related Articles
Comments
[Return to top]