Open Access This article is
freely available
re-usable
Review
The Role of HOX Transcription Factors in Cancer Predisposition and Progression
1
Shandong Provincial Key Laboratory of Animal Cell and Developmental Biology, School of Life Sciences, Shandong University, Qingdao 266237, China
2
Faculty of Biochemistry and Molecular Medicine, Biocenter Oulu, University of Oulu, 90220 Oulu, Finland
*
Authors to whom correspondence should be addressed.
Received: 18 March 2019 / Accepted: 10 April 2019 / Published: 12 April 2019
Abstract
:
Homeobox (HOX) transcription factors, encoded by a subset of homeodomain superfamily genes, play pivotal roles in many aspects of cellular physiology, embryonic development, and tissue homeostasis. Findings over the past decade have revealed that mutations in HOX genes can lead to increased cancer predisposition, and HOX genes might mediate the effect of many other cancer susceptibility factors by recognizing or executing altered genetic information. Remarkably, several lines of evidence highlight the interplays between HOX transcription factors and cancer risk loci discovered by genome-wide association studies, thereby gaining molecular and biological insight into cancer etiology. In addition, deregulated HOX gene expression impacts various aspects of cancer progression, including tumor angiogenesis, cell autophagy, proliferation, apoptosis, tumor cell migration, and metabolism. In this review, we will discuss the fundamental roles of HOX genes in cancer susceptibility and progression, highlighting multiple molecular mechanisms of HOX involved gene misregulation, as well as their potential implications in clinical practice.
Keywords:
HOX; cancer susceptibility; risk SNP; coding mutation; regulatory SNP; mechanism
Author Contributions
Conceptualization, B.L, Q.H. and G.-H.W.; Writing—Original Draft Preparation, B.L, Q.H. and G.-H.W.; Writing—Review & Editing, Q.H. and G.-H.W.; Visualization, B.L, Q.H. and G.-H.W.; Funding Acquisition, Q.H. and G.-H.W.
Funding
This work was supported by the grants Shandong Provincial Natural Science Foundation, China, ZR2016CM50, the Academy of Finland, the Finnish Cancer Foundation, and the Jane and Aatos Erkkos Foundation.
Conflicts of Interest
The authors declare no conflict of interest. The funders played no role in the design of the study; in the collection, analyses, or interpretation of data; in the writing of the manuscript, or in the decision to publish the results.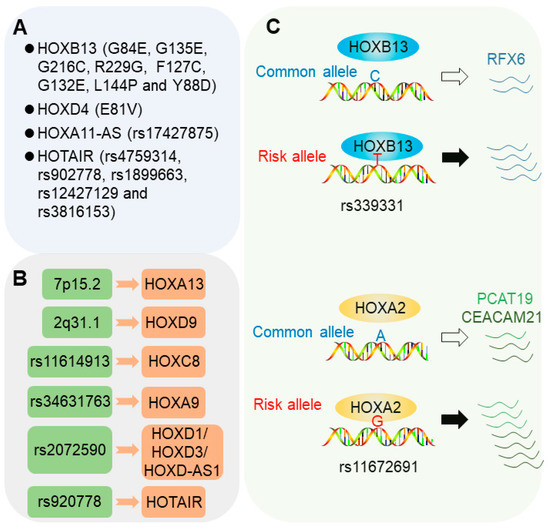 Figure 1.
Involvement of
HOX
genes in cancer susceptibility. (
A
) Coding mutations in HOX transcription factors and HOX locus long non-coding RNAs (lncRNA) conferring increased cancer risk. (
B
) Risk loci conferring increased cancer predisposition through
HOX
deregulation. Several known cancer risk loci harboring transcriptional regulatory regions can subsequently regulate the expression of
HOX
genes. (
C
) HOX transcription factors deciphering altered regulatory genetic information of risk single nucleotide polymorphism (SNP). The HOX transcription factors, HOXB13 and HOXA2, bind the risk allele with higher affinity compared to the protective allele, thereby leading to the upregulated expression of
RFX6
and
PCAT19
/
CEACAM21
, respectively, and conferring prostate cancer susceptibility.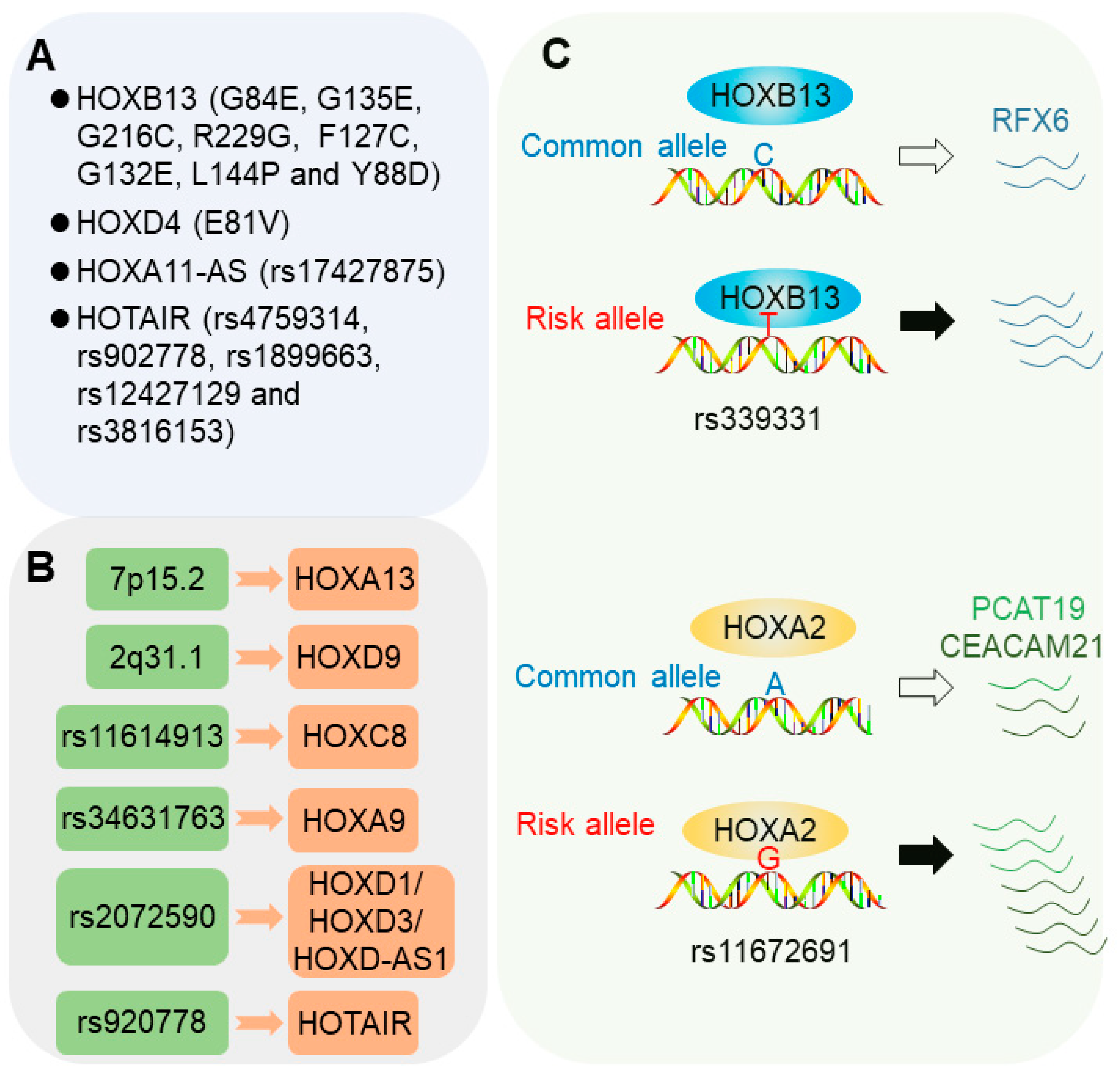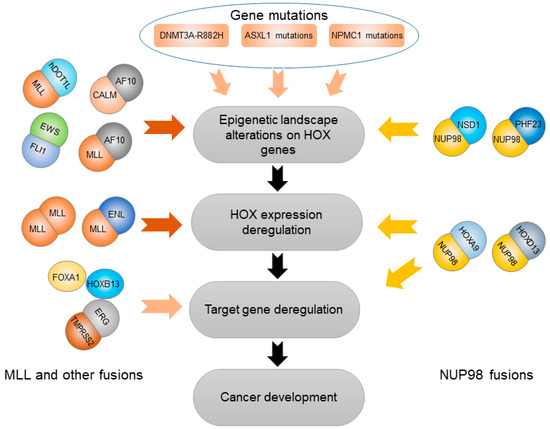 Figure 2.
HOX
gene-involved functional somatic variations in cancer development. Deregulation of
HOX
gene expression resulting from somatic variations plays an important role in cancer development. These somatic variations mainly include epigenetic alteration, gene mutations, and gene fusions induced by chromatin translocation.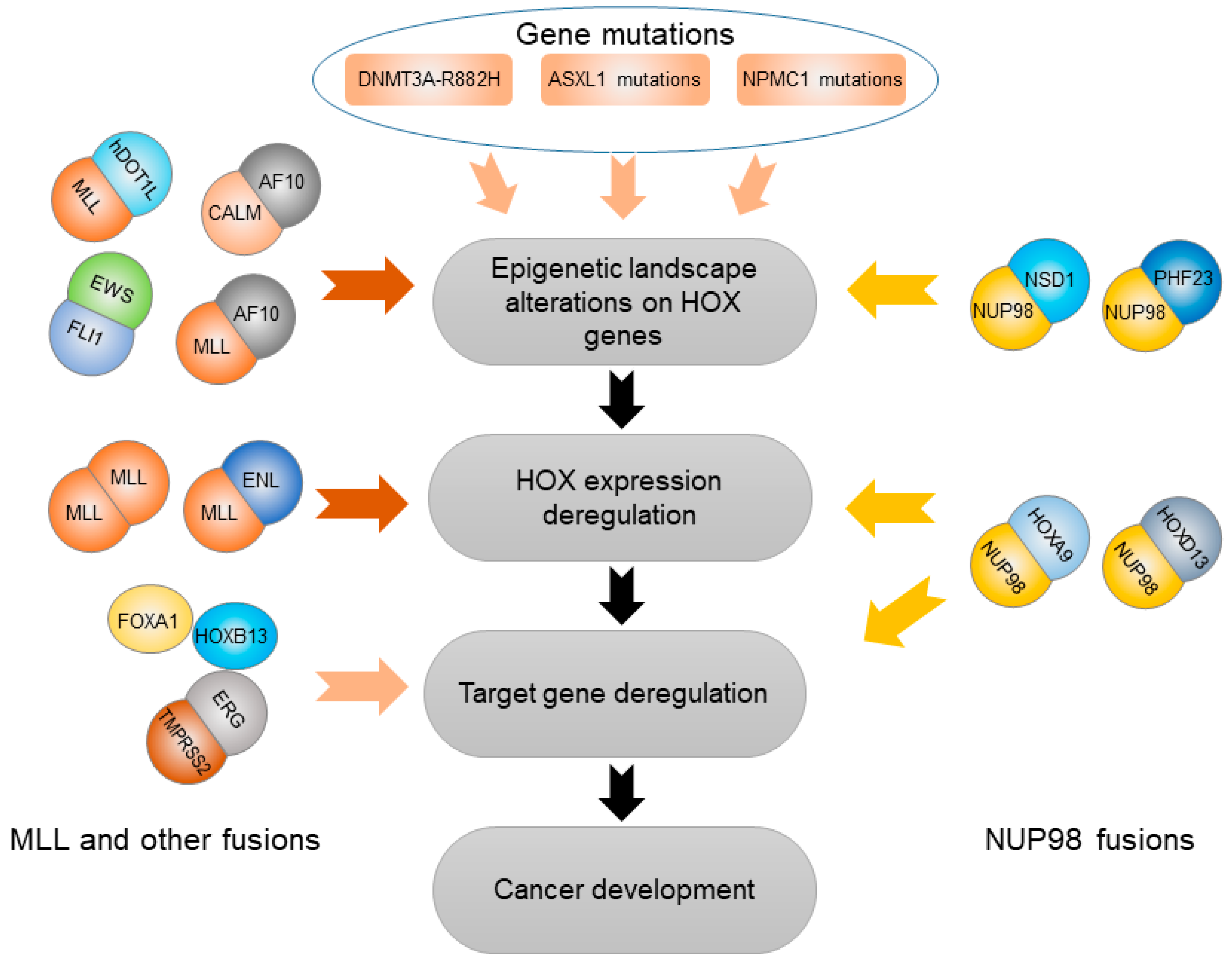 Table 1.
Overview of
HOX
genes that contribute to the seven aspects of cancer development and progression.
Progression

HOX

Gene
Tumor Cells Type
Function
Angiogenesis

HOXB7

[111,112,113]
Breast cancer
Multiple myeloma
Upregulated HOXB7 drives angiogenic gene expression

HOXB9

[114,115]
Ovarian cancer
Renal cancer
Breast cancer
Downregulated HOXB9 attenuates angiogenic gene expression

HOXA11

-

AS

[116]
NSCLC
Upregulated HOXA11-AS promotes angiogenesis

HOXA5

[117,118]
ECs
Sustained HOXA5 expression downregulates angiogenic genes and upregulates anti-angiogenic genes
Autophagy

HOXC9

[119,120]
Glioblastoma
HOXC9 acts as a transcription inhibitor to directly binding to the promoter of

DAPK1

HOXC6

[121]
NPC
Downregulated HOXC6 promotes apoptosis and autophagy by inhibiting the TGF-β1/mTOR pathway

HOTAIR

[122,123]
Cervical cancer;
Breast cancer; Chondrosarcoma
Downregulated HOTAIR inhibits autophagy
Differentiation

HOXA

clusters (except

HOXA2

and

HOXA5

) [124]
Hematopoietic cells

HOXA

genes except

HOXA2

and

HOXA5

induce delayed hematopoietic differentiation

HOXA9

[98,125,126,127]
Hematopoietic and lymphoid cancer.
HOXA9 involves in blocking differentiation
NUP98–HOXA9 fusion, cooperation of HOXA9 with either Meis1 or FOXC1 inhibit differentiation

HOXA10

[128,129]
Prostate cancer;
OEA
HOXA10 blocks or promotes differentiation in a cancer-type-dependent manner

HOXB8

[130]
HL-60 cells
HOXB8 blocks DMSO-induced granulocytic differentiation

HOXC9

[131]
Neuroblastoma
HOXC9 promotes neuronal differentiation

HOXA5

[132,133]
Colon cancer
Upregulated HOXA5 promotes differentiation of cancer stem cells

HOTAIR

[134]
Urothelial carcinoma
HOTAIR overexpression may affect differentiation state
Apoptosis

HOXA5

[135,136,137,138,139,140,141,142]
Breast cancer; Leukemia; Osteosarcoma; Lung and cervical cancer
HOXA5 could activate apoptosis by upregulating p53 expression or activating caspase 2 and caspase 8;
HOXA5 is involved in RA-mediated apoptosis

HOXA10

[143]
Breast cancer
HOXA10 could activate apoptosis by upregulating p53 expression

HOXC6

[144,145,146]
HNSCC;
Cervical cancer; Prostate cancer
HOXC6 plays an important anti-apoptotic role through regulating the expression of bcl-2 or suppressing

NEP

/

MME

and

IGFBP

-3 genes

HOXA9

[126,147]
Leukemia
HOXA9 functions as an apoptosis suppressor by cooperating with JAK3/STAT5;
HOXA9 could eliminate Meis1a-mediated apoptosis
Proliferation

HOXA1

[148,149]
Breast cancer
HOXA1 promotes cell proliferation and survival by activating p44/42 MAPK signaling pathway or NF-κB pathway;

HOXA9

[150]
Leukemia
HOXA9 upregulates Igf1 to promote proliferation and survival

HOXB7

[151,152]
Colorectal cancer
Hepatocellular carcinoma
HOXB7 promotes cell proliferation and growth by accelerating G1-S transitions

HOXC6

[153]
Gastrointestinal carcinoids cells
HOXC6 promotes cell proliferation by activating the oncogenic AP-1 signaling pathway

HOXB3

[154]
NCI-H1437 cells
A549 cells
HOXB3 promotes cell proliferation through silencing gene

RASSFA1

HOXD3

[155]
Hepatocellular carcinoma
HOXD3 promotes proliferation and anti-apoptosis by activating MAPK/AKT cell signaling pathways

HOXB9

[156]
HL cell lines
HOXB9 upregulated by ERK5 signal promotes proliferation and anti-apoptosis

HOXC5

[157,158]
Thymoma;
TGCT
HOXC5 inhibits proliferation by inhibiting hTERT expression

HOXA10

[159,160]
Myeloid leukemia;
Testicular cancer
Overexpressed HOXA10 stimulates the proliferation in myeloid leukemia;
HOXA10 also inhibits cell proliferation during G2/M phases in testicular cancer cells
Invasion and Metastasis

HOXA9

[161]
Breast cancer cell
HOXA9 expression could reduce bone metastasis

HOXA10

[162]
Endometrial carcinoma
HOXA10 suppresses invasion by inhibiting EMT

HOXB1

and

HOXB3

[163]
Pancreatic cancer
HOXB1 and HOXB3 downregulation facilitates invasion and metastasis

HOXD10


[156,164,165,166,167]
Breast cancer
HOXD10 downregulation suppresses invasion

HOXB7

[168,169,170]
Breast cancer
HOXB7 overexpression induces invasive and metastatic by activating the TGFβ signaling pathway

HOXA11

-

AS

[171]
Gastric cancer
HOXA11-AS expression promotes metastasis and invasion
Metabolism

HOXA9

[172]
cSCC
HOXA9 inhibits glycolysis by negatively regulating HIF-1α

HOXC8

[173]
Nasopharyngeal carcinoma
HOXC8 downregulates glycolysis-related genes and upregulates TCA cycle-related genes
Abbreviations: HOXA11-AS, HOXA11 antisense RNA; NSCLC, non-small cell lung cancer; ECs, endothelial cells; DAPK1,Death Associated Protein Kinase 1; NPC, nasopharyngeal carcinoma; TGF-β, transforming growth factor-β; mTOR, mammalian target of rapamycin; HOTAIR, HOX transcript antisense RNA; OEA, ovarian endometrioid adenocarcinoma; RA, retinoic acid; HNSCC, head and neck squamous cell carcinoma; MAPK, mitogen-activated protein kinase; Igf1, insulin-like growth factor 1; AP-1, activator protein-1; TGCT, testicular germ cell tumor; hTERT, telomerase reverse transcriptase; EMT, epithelial-mesenchymal transition; TGF-β, Transforming growth factor β; cSCC, cutaneous squamous cell carcinoma; HIF-1α, hypoxia inducible factor-1.

© 2019 by the authors. Licensee MDPI, Basel, Switzerland. This article is an open access article distributed under the terms and conditions of the Creative Commons Attribution (CC BY) license (http://creativecommons.org/licenses/by/4.0/).