Establishment and Characterization of a New Intrahepatic Cholangiocarcinoma Cell Line Resistant to Gemcitabine
1
Department of Oncology, University of Turin, 10100 Torino, Italy
2
Laboratory of Tumor Inflammation and Angiogenesis, Department of Oncology, Center for Cancer Biology, KU Leuven, B3000 Leuven, Belgium
3
Cancer Genomics Lab, Fondazione Edo ed Elvo Tempia, 13900 Biella, Italy
4
Division of Medical Oncology, Candiolo Cancer Institute, FPO-IRCCS, 10060 Candiolo, Torino, Italy
5
Center for Autoimmune Liver Diseases, Humanitas Clinical and Research Center, 20089 Rozzano, Italy
6
Dept. Medicina Sperimentale e Clinica, Università di Firenze, 50100 Florence, Italy
7
Flow Cytometry Center, Candiolo Cancer Institute FPO-IRCCS, 10060 Candiolo, Torino, Italy
8
Molecular Pathology Lab, Unit of Pathology, Candiolo Cancer Institute FPO-IRCCS, 10060 Candiolo, Torino, Italy
9
Department of Medical Sciences, University of Turin, Corso Dogliotti 14, 10126 Turin, Italy
*
Author to whom correspondence should be addressed.
†
These authors contributed equally to this work as co-first authors.
‡
These authors contributed equally to this work as co-last authors.
Received: 7 March 2019 / Revised: 5 April 2019 / Accepted: 7 April 2019 / Published: 11 April 2019
Abstract
Intrahepatic cholangiocarcinoma (ICC) is one of the most lethal liver cancers. Late diagnosis and chemotherapy resistance contribute to the scarce outfit and poor survival. Resistance mechanisms are still poorly understood. Here, we established a Gemcitabine (GEM) resistant model, the MT-CHC01R1.5 cell line, obtained by a GEM gradual exposure (up to 1.5 µM) of the sensitive counterpart, MT-CHC01. GEM resistance was irreversible, even at high doses. The in vitro and in vivo growth was slower than MT-CHC01, and no differences were highlighted in terms of migration and invasion. Drug prediction analysis suggested that Paclitaxel and Doxycycline might overcome GEM resistance. Indeed, in vitro MT-CHC01R1.5 growth was reduced by Paclitaxel and Doxycycline. Importantly, Doxycycline pretreatment at very low doses restored GEM sensitivity. To assess molecular mechanisms underlying the acquisition of GEM resistance, a detailed analysis of the transcriptome in MT-CHC01R1.5 cells versus the corresponding parental counterpart was performed. Transcriptomic analysis showed that most up-regulated genes were involved in cell cycle regulation and in the DNA related process, while most down-regulated genes were involved in the response to stimuli, xenobiotic metabolism, and angiogenesis. Furthermore, additional panels of drug resistance and epithelial to mesenchymal transition genes (
n
= 168) were tested by qRT-PCR and the expression of 20 genes was affected. Next, based on a comparison between qRT-PCR and microarray data, a list of up-regulated genes in MT-CHC01R1.5 was selected and further confirmed in a primary cell culture obtained from an ICC patient resistant to GEM. In conclusion, we characterized a new GEM resistance ICC model that could be exploited either to study alternative mechanisms of resistance or to explore new therapies.
View Full-Text
►

▼

Figures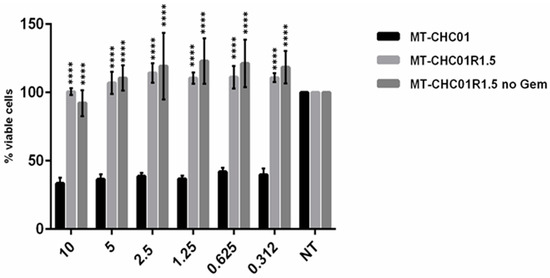 Figure 1
This is an open access article distributed under the
Creative Commons Attribution License
which permits unrestricted use, distribution, and reproduction in any medium, provided the original work is properly cited (CC BY 4.0).

Share & Cite This Article
MDPI and ACS Style
Varamo, C.; Peraldo-Neia, C.; Ostano, P.; Basiricò, M.; Raggi, C.; Bernabei, P.; Venesio, T.; Berrino, E.; Aglietta, M.; Leone, F.; Cavalloni, G. Establishment and Characterization of a New Intrahepatic Cholangiocarcinoma Cell Line Resistant to Gemcitabine. Cancers 2019, 11, 519.
Note that from the first issue of 2016, MDPI journals use article numbers instead of page numbers. See further details here.
Related Articles
Comments
[Return to top]