Annexin A2 Regulates AKT Upon H2O2-Dependent Signaling Activation in Cancer Cells
1
Centre for Biomedical Research (CBMR), Campus of Gambelas, University of Algarve, Building 8, Room 2.22, 8005-139 Faro, Portugal
2
Department of Medicine, Dalhousie University, Halifax, Nova Scotia B3H 4R2, Canada
3
Brain Tumour Research Centre of Excellence, Institute of Biomedical and Biomolecular Sciences, University of Portsmouth, PO1 2DT Portsmouth, UK
*
Author to whom correspondence should be addressed.
†
Current Address: VIB Center for Cancer Biology and KU Leuven Department of Oncology, University of Leuven, 3000 Leuven, Belgium.
Received: 14 March 2019 / Revised: 31 March 2019 / Accepted: 3 April 2019 / Published: 7 April 2019
Abstract
Hydrogen peroxide (H
2
O
2
) is a main second messenger in oncogenic signaling networks including the Ras and the growth factor receptor pathways. This is achieved predominantly through the oxidation of redox-sensitive cysteine (Cys) residues in proteins resulting in changes to their structure and function. We previously identified annexin A2 (ANXA2) as a redox regulatory protein that plays an important cellular role during oxidative stress and also promoting tumorigenesis. Here we investigated the role of ANXA2 in the regulation of H
2
O
2
-dependent signaling that drives tumor progression. We show that depletion of ANXA2 leads to the enhanced activation of AKT following either EGF/EGFR stimulation or oncogenic Ras transformation. The phosphatase and tensin homologue (PTEN) protein negatively regulates the PI3K/AKT pathway. We demonstrate that ANXA2 via its reactive Cys-8 residue, binds to PTEN and that the co-expression of PTEN and ANXA2, but not ANXA2 Cys-8-Ala mutant, inhibits AKT phosphorylation on Ser 473. These results indicate that ANXA2 is important for PTEN regulation within the PI3K/AKT signaling cascade. Furthermore, we also reveal that ANXA2 inversely regulates the expression of the peroxidase, peroxiredoxin 2, in a reactive oxygen species dependent manner.
View Full-Text
►

▼

Figures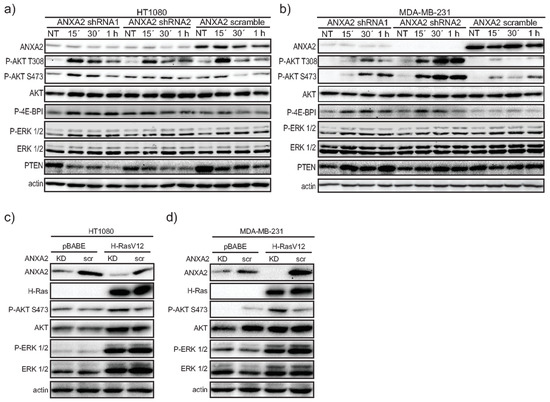 Figure 1
This is an open access article distributed under the
Creative Commons Attribution License
which permits unrestricted use, distribution, and reproduction in any medium, provided the original work is properly cited (CC BY 4.0).

Share & Cite This Article
MDPI and ACS Style
Castaldo, S.A.; Ajime, T.; Serrão, G.; Anastácio, F.; Rosa, J.T.; Giacomantonio, C.A.; Howarth, A.; Hill, R.; Madureira, P.A. Annexin A2 Regulates AKT Upon H2O2-Dependent Signaling Activation in Cancer Cells. Cancers 2019, 11, 492.
Note that from the first issue of 2016, MDPI journals use article numbers instead of page numbers. See further details here.
Related Articles
Comments
[Return to top]