Open Access This article is
freely available
re-usable
Review
Regulation of Cell Signaling Pathways by Berberine in Different Cancers: Searching for Missing Pieces of an Incomplete Jig-Saw Puzzle for an Effective Cancer Therapy
1
Department of Molecular Oncology, Institute of Biomedical and Genetic Engineering (IBGE), Islamabad 44000, Pakistan
2
Department of Chemistry, GCU, 54000 Lahore, Pakistan
3
Department of Bioinformatics and Biotechnology, International Islamic University, Islamabad 44000, Pakistan
4
Department of Obstetrics and Gynecology, Yeditepe University Hospital, 34755 Istanbul, Turkey
5
Istituto Italiano di Tecnologia, Smart Bio-Interfaces, Pontedera, 56025 Pisa, Italy
6
Department of Postgraduate Education and Research, Kazakhstan Medical University KSPH, Almaty 050004, Kazakhstan
7
Department of General Surgery, Kazakhstan Medical University KSPH, Almaty 050004, Kazakhstan
8
Department of Biomedical Science, Institute of Biomedicine and Molecular Immunology "A. Monroy", National Research Council, 90146 Palermo, Italy
9
Department of Agrifood, National Research Council Italy Institute of Sciences of Food Productions (CNR-ISPA) Via Lecce-Monteroni km 7, 73100 Lecce, Italy
10
Food Science and Technology Program, Division of Science and Technology, Beijing Normal University-Hong Kong Baptist University United International College, Zhuhai 519087, China
*
Author to whom correspondence should be addressed.
Received: 7 March 2019 / Accepted: 25 March 2019 / Published: 4 April 2019
Abstract
:
There has been a renewed interest in the identification of natural products having premium pharmacological properties and minimum off-target effects. In accordance with this approach, natural product research has experienced an exponential growth in the past two decades and has yielded a stream of preclinical and clinical insights which have deeply improved our knowledge related to the multifaceted nature of cancer and strategies to therapeutically target deregulated signaling pathways in different cancers. In this review, we have set the spotlight on the scientifically proven ability of berberine to effectively target a myriad of deregulated pathways.
Keywords:
berberine; signaling pathways; oncogenic cascades; TRAIL; microRNAs; cancer therapy
1. Introduction
Berberine, a natural alkaloid compound, is found in several medicinal plants. Typically, berberine is commercially produced from a Chinese medicinal plant
Coptis chinensis
. Berberine has captivated a substantial proportion of appreciation because of its remarkable pharmacological properties. Recent advancements in high-throughput techniques have helped us to demystify various hierarchically organized signaling complexes which play an instrumental role in cancer development and progression. Basic reviews related to the ability of berberine to improve worsening conditions in different diseases have previously been published, so our aim is not to summarize pharmacological importance of berberine in different diseases, but we have restricted our discussion specifically to berberine mediated targeting of signaling cascades in different cancers. In this review, we present current views related to how berberine effectively targets different deregulated oncogenic cascades and highlight key practical and conceptual questions that will be helpful to shape the next dimension of investigation into the ability of berberine to efficiently target different signaling cascades. We will start our overview with one of the most widely investigated cancer killing molecules: TNF-related apoptosis-inducing ligand (TRAIL).
2. Berberine Mediated Restoration of TRAIL-Mediated Apoptosis
There has always been a quest to identify the molecules having significant cancer killing activity and minimal off-target effects. In accordance with this view, the discovery of TRAIL revolutionized the field of molecular oncology [
1
,
2
]. However, initial claims were partially challenged by contemporary researchers because TRAIL was ineffective against different cancers. In-depth studies revealed that TRAIL transduced the signals intracellularly through death receptors (DR4, DR5) [
3
,
4
]. However, loss of cell surface appearance of death receptors was a frequently noted mechanism in TRAIL-resistance cancers. Moreover, imbalance of pro- and anti-apoptotic proteins was also reported in TRAIL resistant cancers. The advent of high-throughput technologies has helped us to uncover the highly orchestrated nature of TRAIL mediated signaling, which is initialized through extrinsic and intrinsic pathways. In this section, we will summarize recent developments and discuss unresolved and outstanding research questions.
Berberine has been shown to potently induce AMP-activated protein kinase (AMPK) in cancer cells [
5
]. Expectedly, berberine mediated apoptosis inducing effects were severely impaired in AMPKα-dominant negative (DN) expressing or AMPKα knockdown cancer cells. Knockdown of DR5 significantly abrogated TRAIL-berberine-induced apoptosis [
5
]. TRAIL and berberine combinatorially enhanced p38-MAPK phosphorylation [
6
]. p38-MAPK inhibition enhanced apoptosis in EGFR (epidermal growth factor receptor)-overexpressing MDA-MB-468 TNBC cells [
6
].
TRAIL and berberine significantly activated caspase-3 and cleavage of PARP in TRAIL-resistant MDA-MB-468 BCa cells [
7
]. In a murine 4T1 BCa model, berberine potentiated the efficaciousness of the anti-DR5 antibody and effectively blocked tumor growth and lung metastases [
7
]. Mcl-1 and c-FLIP have been shown to negatively regulate TRAIL-mediated apoptosis. Berberine dose-dependently induced degradation of Mcl-1 and c-FLIP [
8
]. However, treatment with a proteasome inhibitor MG132 interfered with berberine-mediated downregulation of Mcl-1 and c-FLIP [
8
].
While great efforts over the past few years have advanced our understanding of the berberine mediated regulation of the TRAIL-mediated pathway, much of this work has focused on preliminary information about the ability of berberine to improve TRAIL-induced killing activity. There are still many questions which need detailed research, for example, how berberine mechanistically regulates expression of death receptors in different cancers. Does it inhibit receptor degradation, or does it interfere with epigenetic silencing to restore expression of death receptors? How does berberine improve formation of death inducing signaling complex (DISC) while simultaneously targeting negative regulators which inhibit DISC formation? In the following section, we will discuss how berberine modulates the WNT/β-catenin pathway to inhibit cancer.
3. Regulation of WNT Pathway by Berberine
Levels of cytoplasmic β-catenin are controlled by a multi-proteins destruction complex which induces β-catenin phosphorylation, which is required for β-catenin ubiquitination and its subsequent degradation by proteasomes [
9
]. Berberine efficiently inhibited nuclear accumulation of β-catenin. Co-immunoprecipitation studies revealed that berberine increased the interaction between APC (adenomatous polyposis coli) and β-catenin [
9
] (shown in
Figure 1
). These findings shed light on the ability of berberine to stimulate the expression of APC and negatively regulate β-catenin by increasing physical interaction between these proteins.
There is evidence of mechanistic regulation of the WNT pathway by berberine in hepatocellular carcinoma cell line (SMMC-7721). However, these findings should be tested in other cancers. In a report, researchers demonstrated that berberine worked synergistically with HMQ1611, a taspine derivative and suppressed the phosphorylation of LRP5/6 and GSK3β [
10
]. Berberine and HMQ1611 combinatorially downregulated WNT5A, Frizzled8, CK1 (casein kinase 1) and APC. Overall this study uncovered distinct steps of β-catenin phosphorylation and degradation by berberine and HMQ1611 [
10
]. Importantly, berberine was unable to significantly inhibit tumor growth individually in mice xenografted with SMMC-7721 cells.
Berberine decreased levels of WNT5A and cytoplasmic β-catenin in both SGC7901 and AGS cells [
11
]. Treatment with berberine and galangin decreased β-catenin and WNT3A in esophageal carcinoma cells [
12
]. Berberine concentration-dependently downregulated mRNA expression of β-catenin in colon cancer cells [
13
]. RXRα (retinoid X receptor α) agonists have been shown to promote RXRα binding to β-catenin to induce ubiquitination and degradation of β-catenin [
14
]. Berberine dose-dependently enhanced physical association of RXRα with β-catenin. Berberine induced nuclear translocation of E3 ubiquitin ligase c-Cbl which modulated degradation of β-catenin [
14
] (shown in
Figure 1
). Overall, these findings clearly suggested that berberine enhanced degradation of β-catenin by promoting its interaction with c-Cbl.
It seems clear that berberine has potential to regulate the WNT pathway in different cancers, but it needs to be tested tactically in xenografted mice. Future studies must converge on identification of the modes opted by berberine to inhibit the WNT pathway in different cancers. Does it interfere with importin and exportin proteins to inhibit nuclear accumulation? Are there further previously unexplored ubiquitin ligases which can target β-catenin? Can berberine effectively target LRP5/6 and Frizzled receptors in other cancers to also efficiently inhibit cancer proliferation? In the upcoming section we will highlight how berberine regulates the Janus kinases-signal transducer and activator of transcription proteins (JAK-STAT) pathway in different cancers.
4. Targeting of JAK-STAT Pathway
Kinases of the Janus kinase (JAK) family and transcriptional factors of the STAT (signal transducer and activator of transcription) family form a highly dynamic and orchestrated membrane-to-nucleus signaling module that has been extensively investigated, and an overwhelmingly increasing list of scientific reports have provided evidence of natural products mediated targeting of the JAK-STAT pathway in different cancers. More importantly and excitingly, coupling of massively parallel DNA sequencing with chromatin-immunoprecipitation has enabled researchers to capture thousands of STAT-binding sites.
5. Targeting of the mTOR Pathway: Could Berberine Modify Extracellular Vesicle-Composition?
It will be interesting to see if berberine demonstrated potent activity to promote release of exosomes loaded with tumor suppressor microRNAs and proteins.
6. Regulation of Epigenetic Modulators by Berberine
7. Regulation of microRNAs by Berberine
OncomiRs are oncogenic due to their ability to support cell proliferation, apoptosis inhibition, cell stemness, while tumor suppressor miRNAs are involved in nodes or networks leading to differentiation, cell cycle inhibition and growth arrest and apoptosis.
Berberine was shown to exert an anti-apoptotic role in development of preimplantation embryos in vitro, by maintaining high levels of miR-21. Berberine up-regulated Bcl-2, in 2- and 4-cell embryos and blastocysts, and down-regulated caspase-3 and PTEN.
In liver cancers, berberine inhibited cell proliferation and viability in HepG2, Hep3B, and SNU-182 lines. Berberine treatment increased the expression of tumor suppressor such as Kruppel-like factor 6 (KLF6), activating transcription factor 3 (ATF3) and p21, a cell cycle inhibitor, and down-regulated the oncogene E2F transcription factor 1 (E2F1). A possible mechanism of the upregulation of protein coding genes may be hypothesized through downregulation of the respective miRNAs.
8. Nanotechnological Strategies to Improve the Delivery of Berberine
9. Conclusions
Berberine has emerged as an excellent natural product having significant biological activity [
90
]. It has demonstrated premium activity against different cancers. Increasingly sophisticated cutting-edge research has uncovered tremendous chemopreventive ability of berberine to modulate signaling pathways [
91
,
92
].
In the last few years, many studies have been focused on unraveling intrinsic properties of berberine and its ability to interfere with intracellular pathways. In particular, there is an increasing interest in exploiting this natural compound as an effective anticancer drug. Although some issues remain to be solved, such as its poor water solubility/stability and low bioavailability, many nanotechnological approaches have allowed the design of ad hoc delivery systems, making berberine application for cancer treatment feasible. Many different nanocarriers, based both on inorganic and organic materials, have been developed and proven to be effective in overcoming some of the above-mentioned issues and in delivering berberine in an extremely efficient manner in many different cancer experimental models. In the near future, further research will provide crucial answers needed to pave the way to berberine clinical application.
Funding
This research received no external funding.
Conflicts of Interest
The authors declare no conflict of interest.
Abbreviations
| | |
| --- | --- |
| Breast cancer cells | MDA-MB-231, MCF-7, MDA-MB-468 |
| hepatocellular carcinoma cells | SNU-182, HepG2, Hep3B, H22 SMMC-7721 |
| gastric cancer cells | SGC7901, AGS |
| lung carcinoma | A549 |
| myeloma | U266 cell line |
| ovarian cancer cell line | SKOV3 |
| Akt | protein kinase B |
| AMPK | AMP-activated protein kinase |
| AQP-1 | aquaporin 1 |
| APC | adenomatous polyposis coli |
| Bcl-2 | B-cell lymphoma 2 |
| CCND1 | cyclin D1 |
| c-FLIP | cellular FADD like interdeukin-1-p-converting enzyme inhibitory protein |
| CK1 | casein kinase 1 |
| COX2 | cyclooxygenase-2 |
| CREB | cAMP response element-binding protein |
| DISC | death inducing signaling complex |
| DNMT1 | DNA (cytosine-5)-methyltransferase 1 |
| DR | death receptor |
| EGFR | epidermal growth factor receptor |
| ERK | extracellular signal-regulated kinases |
| EVs | extracellular vesicles |
| GADD45α | growth arrest and DNA damage 45α |
| GLUT1 | glucose transporter 1 |
| HIF-1α | hypoxia-inducible factor 1α |
| HK2 | hexokinase 2 |
| HUVECs | human umbilical vein endothelial cells |
| IO | iron oxide |
| JAK-STAT | Janus kinases-signal transducer and activator of transcription proteins |
| LDHA | lactate dehydrogenase A |
| lncRNAs | long noncoding RNA |
| LRP | low-density lipoprotein receptor-related protein |
| MAPK | mitogen-activated protein kinases |
| MARCKS | myristoylated alanine-rich C-kinase substrate |
| MMP | matrix metalloproteinases |
| mTOR | mammalian target of rapamycin |
| NF-κB | nuclear factor kappa-light-chain-enhancer of activated B cells |
| NLC | nanostructured lipid carriers |
| NP | nanoparticles |
| NPC | nasopharyngeal carcinoma |
| PI3K | phosphoinositide 3-kinases |
| RXRα | retinoid X receptor α |
| SIRT1 | sirtuin 1 |
| SLN | solid lipid nanoparticles |
| T2D | type 2 diabetes |
| TAFs | tumor-associated fibroblasts |
| TARID | TCF21 antisense RNA inducing demethylation |
| TNF | tumor necrosis factor |
| TRAIL | TNF-related apoptosis-inducing ligand |
| ULK1 | Unc-51 like autophagy activating kinase |
| VEGF | vascular endothelial growth factor |
| ZnO | zinc oxide. |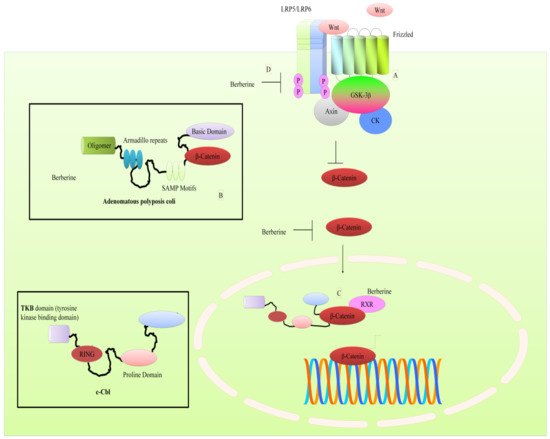 Figure 1. (A) WNT/ β-catenin mediated intracellular signaling. β-catenin moved into the nucleus to stimulate expression of target genes. (B) Berberine promoted interaction of β-catenin and APC to enhance degradation of β-catenin. (C) Berberine also promoted interaction of β-catenin with c-Cbl in nucleus that also induced degradation of β-catenin. (D) Berberine inhibited phosphorylation of LRP5/6 and GSK-3β. Abbreviations: c-Cbl (CASITAS B-lineage lymphoma protooncogene), LRP5/6 (Low density lipoprotein receptor-related protein), CK (Casein Kinase), GSK-3β (Glycogen synthase kinase), RXR (Retinoid X-receptor), WNT (Wingless/Integrase), SAMP (Ser-Ala-Met-Pro motif), RING (Really interesting new gene).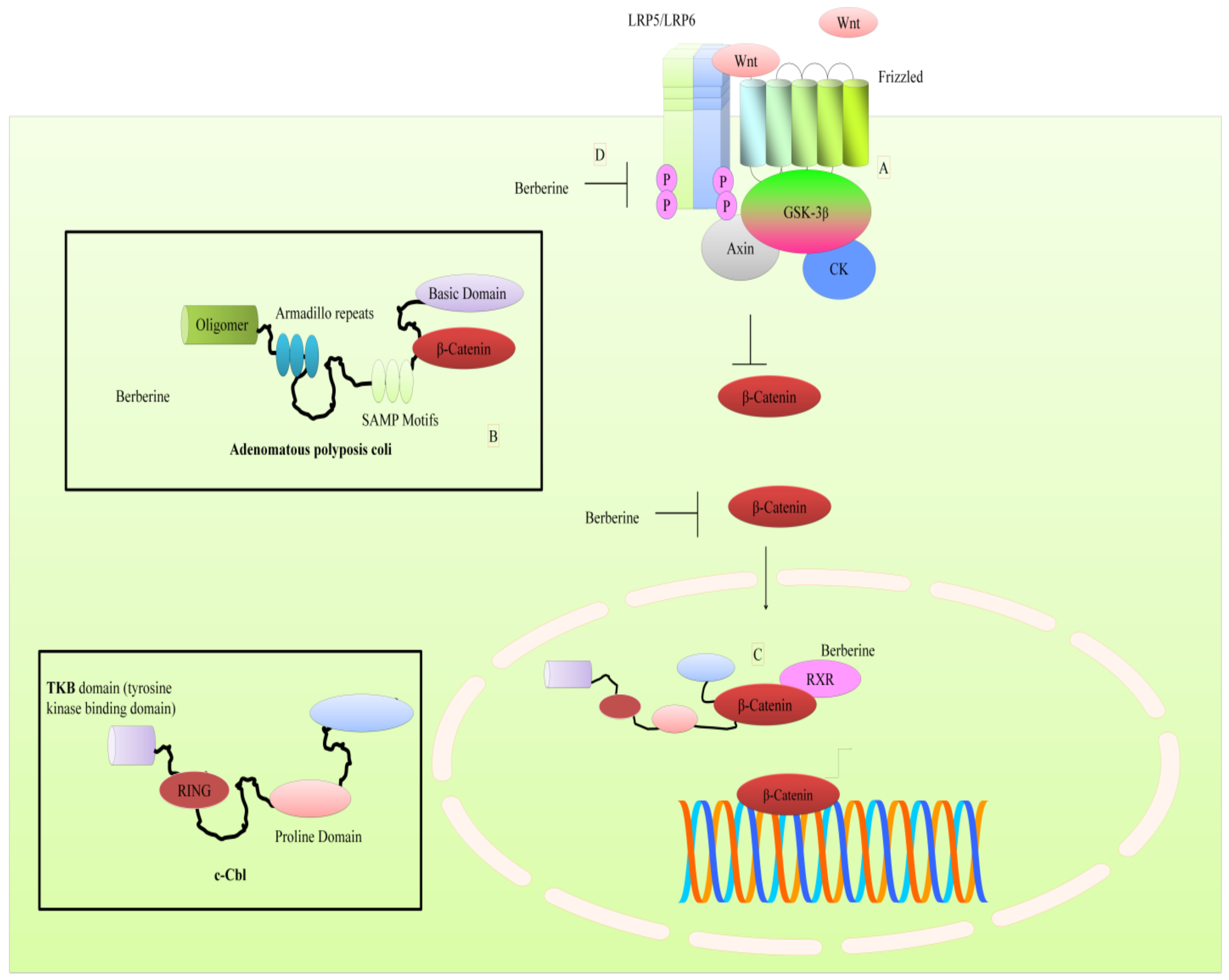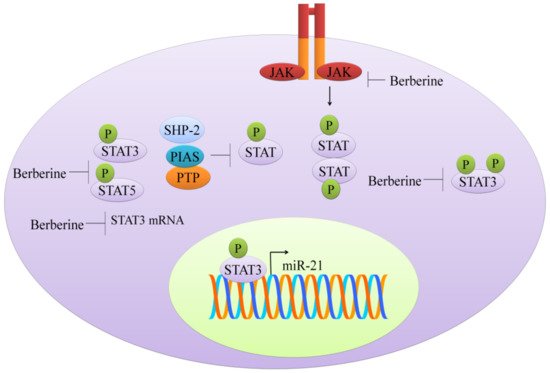 Figure 2. JAK-STAT signaling. Berberine has been shown to inhibit phosphorylation of STAT3 and STAT5. Berberine markedly reduced mRNA levels of STAT3. Functionally active STAT3 moved into the nucleus and stimulated expression of miR-21. Abbreviations: STAT (signal transducer and activator of transcription), JAK (Janus kinase), PIAS (Protein inhibitors of activated STATs), PTP (Protein-tyrosine phosphatase), SHP-2 (Src homology phosphatase-2).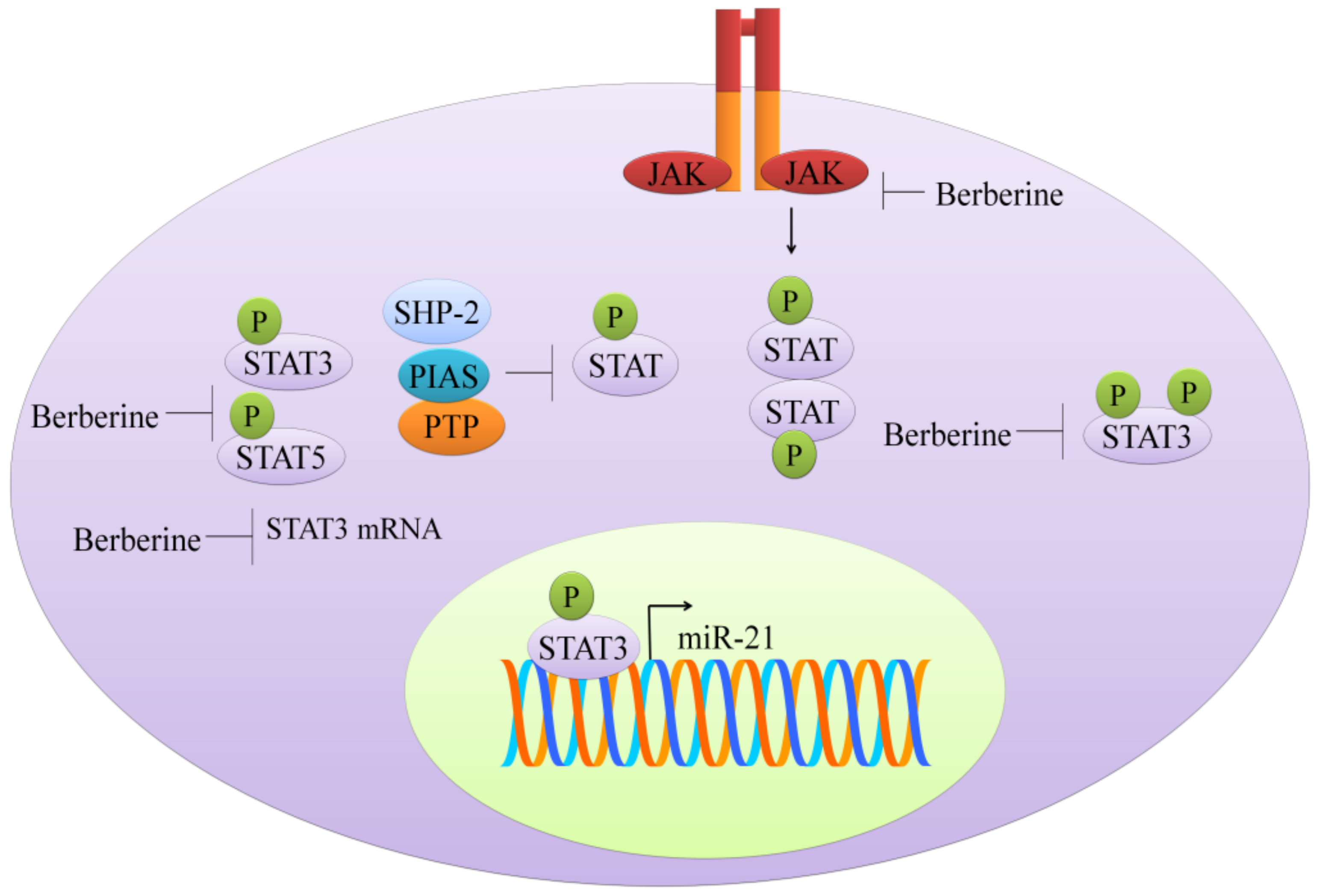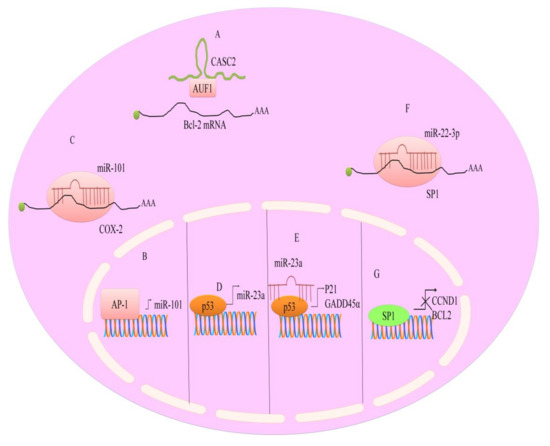 Figure 3.
Regulation of non-coding RNAs by berberine. (
A
) CASC2 interacted with AUF1 and prevented its binding to AU rich sequences present within mRNA of Bcl-2. (
B
,
C
) AP-1 transcriptionally upregulated miR-101. miR-101 directly targeted COX-2. (
D
–
G
) P53 induced transcriptional upregulation of miR-23a. Additionally, miR-23a worked synchronously and stimulated the expression of GADD45a and p21. miR-22-3p directly targeted SP1. SP1 mediated upregulation of CCND1 and BCL2. Abbreviations: AUF1 (AU-rich element RNA-binding protein-1), BCL2 (B-cell CLL/lymphoma-2),
GADD45α
(Growth arrest- and DNA damage-inducible gene), CCND1 (Cyclin D1), CASC2 (long non-coding RNA), SP1 (specificity protein-1), AP-1 (Activator protein-1).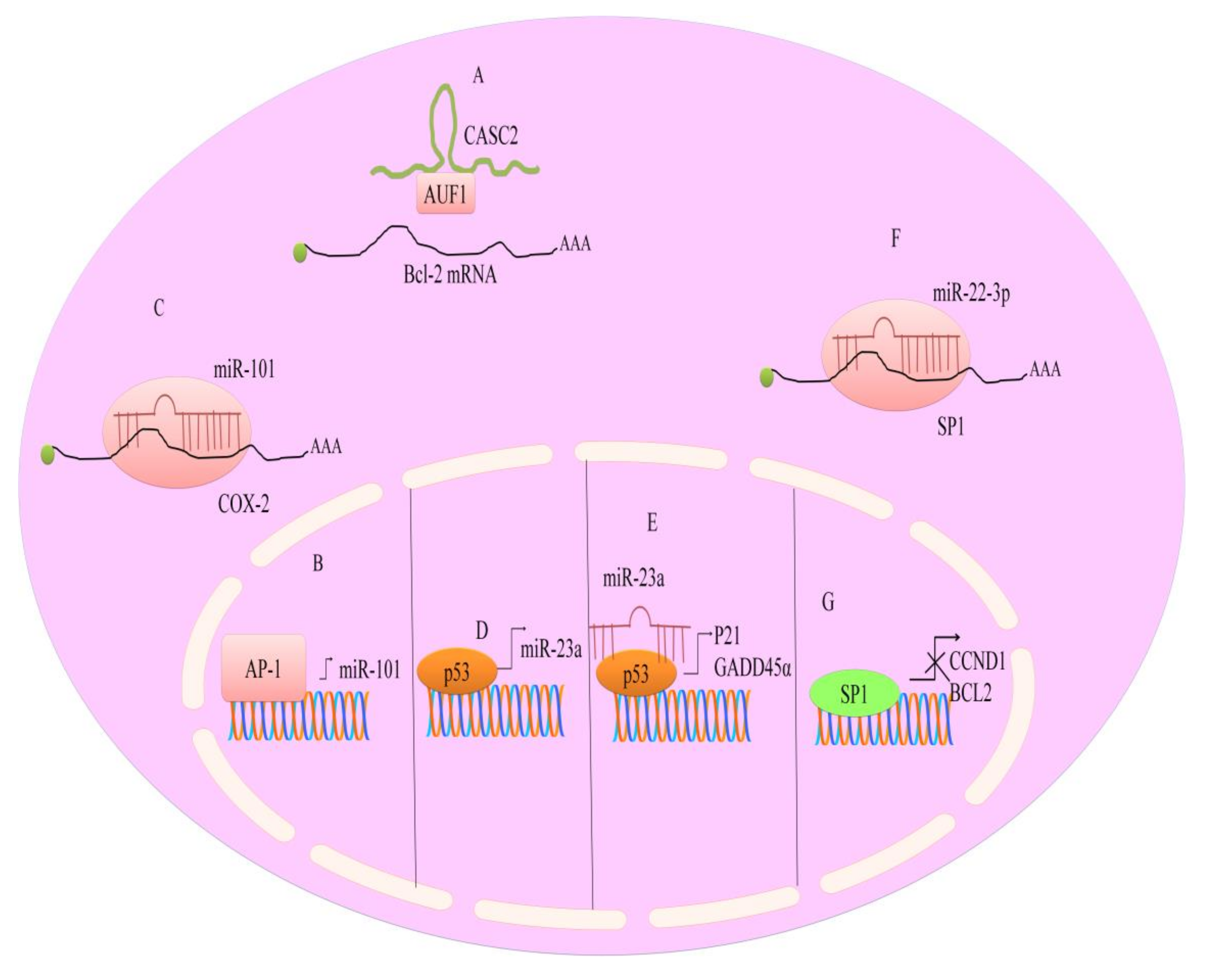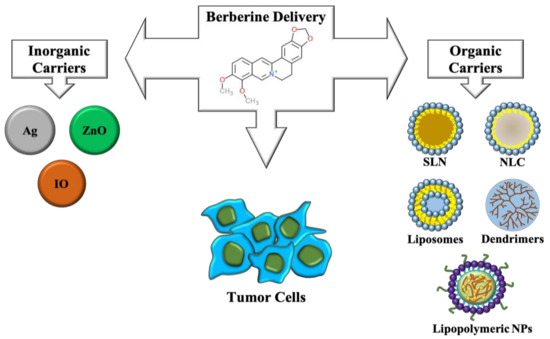 Figure 4. Berberine delivery strategies. On the left, inorganic nanocarriers are shown: Ag, Silver nanoparticles; ZnO, zinc oxide nanoparticles; IO, Iron oxide nanoparticles. On the right, organic nanocarriers are shown: SLN, solid lipid nanoparticles; NLC, nanostructured lipid carriers; Liposomes; Dendrimers; Lipopolymeric nanoparticles.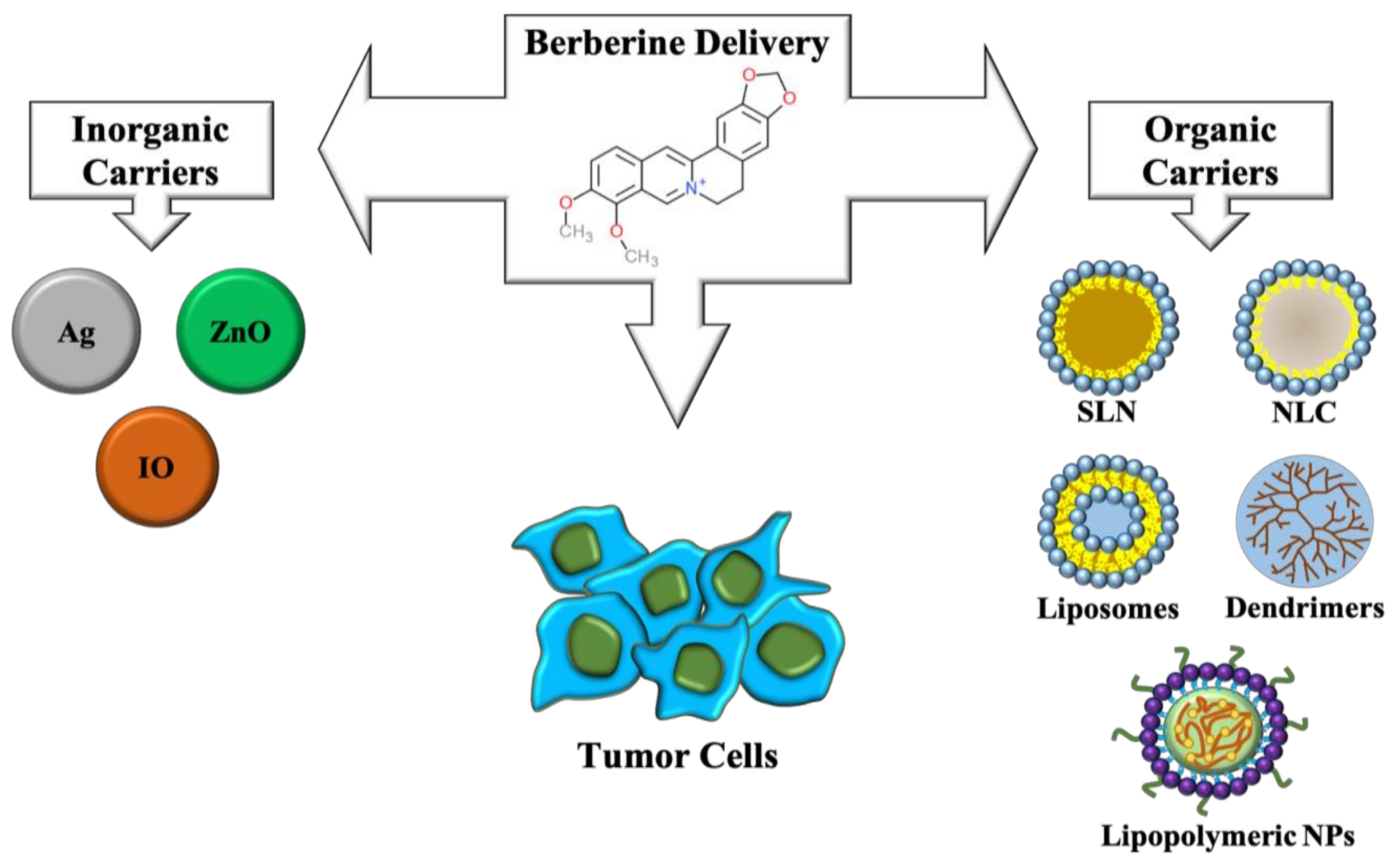 © 2019 by the authors. Licensee MDPI, Basel, Switzerland. This article is an open access article distributed under the terms and conditions of the Creative Commons Attribution (CC BY) license (http://creativecommons.org/licenses/by/4.0/).