Cx43 Expression Correlates with Breast Cancer Metastasis in MDA-MB-231 Cells In Vitro, In a Mouse Xenograft Model and in Human Breast Cancer Tissues
1
Department of Anatomy, Cell Biology and Physiological Sciences, Faculty of Medicine, American University of Beirut, Beirut 1107 2020, Lebanon
2
Department of Biology, Faculty of Sciences, Lebanese University, Hadath 1003, Lebanon
3
Department of Biological and Chemical Sciences, Faculty of Arts and Sciences, Lebanese International University, Beirut 1105, Lebanon
4
Department of Biological and Environmental Sciences, Faculty of Science, Beirut Arab University, Beirut 1107 2809, Lebanon
5
PRASE and Biology Department, Faculty of Sciences, Lebanese University, Hadath 1003, Lebanon
*
Authors to whom correspondence should be addressed.
†
These authors Contributed equally to this work.
‡
Current Address: Department of Biochemistry, McGill University, Montreal, QC H3G 1Y6, Canada.
§
Current Address: Tulane Center for Stem Cell Research & Regenerative Medicine, Tulane University, New Orleans, LA 70112, USA.
‖
Current Address: Genomic Medicine Institute, Lerner Research Institute, Cleveland Clinic, Cleveland, OH 44195, USA.
Received: 21 January 2019 / Revised: 22 February 2019 / Accepted: 27 February 2019 / Published: 1 April 2019
Abstract
Connexins regulate multiple cellular functions and are considered tumor suppressors. Connexin43 (Cx43) is frequently down-regulated in breast tumors. However, Cx43 regulation during cancer onset and metastasis is complex and context-dependent. We investigated the effect of Cx43 over-expression or knock-down on the metastatic potential of MDA-MB-231 breast cancer cells in vitro and in vivo and in human breast cancer tissues. MDA-MB-231 cells over-expressing (Cx43D) or down-regulating Cx43 (shCx43) were generated and used in proliferation, migration, and invasion assays. The regulation of genes/proteins implicated in progression, invasion and metastasis was assessed in vitro and in immune-compromized mice injected with MDA-MB-231, Cx43D or shCx43 cells. Primary tumor onset/growth, metastasis and overall survival of these animals was monitored and evaluated. In addition, Cx43 expression in human breast carcinoma samples was assessed by qPCR. Cx43 over-expression increased protein levels of epithelial markers E-cadherin and zonula occludens 1 expression and resulted in the sequestration of β-catenin at the cell membrane, while Cx43 knock-down induced protein expression of the mesenchymal marker N-cadherin and an increased invasive potential of shCx43 cells. In vivo, in mice xenografted with breast cancer cells, Cx43 over-expression decreased tumor volume, attenuated cell metastasis to lungs and liver and increased overall mice survival. Importantly, the expression of Cx43 in triple negative human breast cancer tissues is also down-regulated. Collectively, Cx43 over-expression induced an epithelial-like phenotype in MDA-MB-231 cells and suppressed tumor growth and metastasis to secondary organs in vivo. In contrast, Cx43 knock-down in MDA-MB-231 cells induced a mesenchymal phenotype with increased cell invasion leading to an enhanced metastatic phenotype. These data provide evidence for a pivotal role of Cx43 in breast cancer metastasis and support the potential targeting of connexins in breast cancer therapy.
View Full-Text
►

▼

Figures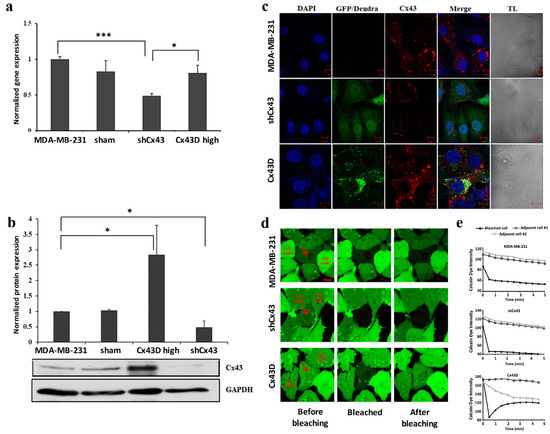 Figure 1
This is an open access article distributed under the
Creative Commons Attribution License
which permits unrestricted use, distribution, and reproduction in any medium, provided the original work is properly cited (CC BY 4.0).

Share & Cite This Article
MDPI and ACS Style
Kazan, J.M.; El-Saghir, J.; Saliba, J.; Shaito, A.; Jalaleddine, N.; El-Hajjar, L.; Al-Ghadban, S.; Yehia, L.; Zibara, K.; El-Sabban, M. Cx43 Expression Correlates with Breast Cancer Metastasis in MDA-MB-231 Cells In Vitro, In a Mouse Xenograft Model and in Human Breast Cancer Tissues. Cancers 2019, 11, 460.
Note that from the first issue of 2016, MDPI journals use article numbers instead of page numbers. See further details here.
Related Articles
Comments
[Return to top]