Circulating Cell-Free DNA and RNA Analysis as Liquid Biopsy: Optimal Centrifugation Protocol
1
Center for Oncological Research Antwerp (CORE), University of Antwerp (UAntwerp), 2610 Wilrijk, Belgium
2
Laboratory of Pathological Anatomy, Antwerp University Hospital (UZA), 2650 Edegem, Belgium
3
Biobank UZA/UAntwerpen, Antwerp University Hospital (UZA), 2650 Edegem, Belgium
4
Biomedical Quality Assurance Research Unit, KU Leuven, 3000 Leuven, Belgium
5
Hepatobiliary Transplantation and Endocrine Surgery, Antwerp University Hospital (UZA), 2650 Edegem, Belgium
6
Department of Oncology, Multidisciplinary Oncological Center Antwerp, Antwerp University Hospital (UZA), 2650 Edegem, Belgium
7
Department of Pulmonology and Thoracic Oncology, Antwerp University Hospital (UZA), 2650 Edegem, Belgium
8
Thoracic Medical Oncology and Early Clinical Trials, Marlene and Steward Greenebaum Comprehensive Cancer Center, Baltimore, MD 21201, USA
*
Author to whom correspondence should be addressed.
Received: 23 January 2019 / Revised: 15 March 2019 / Accepted: 27 March 2019 / Published: 30 March 2019
Abstract
The combined analysis of circulating cell-free (tumor) DNA (cfDNA/ctDNA) and circulating cell-free (tumor) RNA (cfRNA/ctRNA) shows great promise in determining the molecular profile of cancer patients. Optimization of the workflow is necessary to achieve consistent and reproducible results. In this study, we compared five centrifugation protocols for the optimal yield of both cfDNA/ctDNA and cfRNA/ctRNA. These protocols varied in centrifugation speed, ambient temperature, time, and number of centrifugation steps. Samples from 33 participants were collected in either BD Vacutainer K
2
EDTA (EDTA) tubes or cell-free DNA BCT
®
(Streck) tubes. cfDNA concentration and fragment size, and cfRNA concentration were quantitated in all samples by digital droplet PCR (ddPCR) and quantitative PCR (qPCR). The
KRAS
-mutated ctDNA and ctRNA fraction was determined via ddPCR. In EDTA tubes, the protocol generating both plasma and platelets was found to produce high quality cfDNA and cfRNA concentrations. Two-step, high-speed centrifugation protocols were associated with high cfDNA but low cfRNA concentrations. High cfRNA concentrations were generated by a one-step, low-speed protocol. However, this coincided with a high amount of genomic DNA (gDNA) contamination. In Streck tubes, two-step, high-speed centrifugation protocols also generated good quality, high cfDNA concentration. However, these tubes are not compatible with cfRNA analysis.
View Full-Text
►

▼

Figures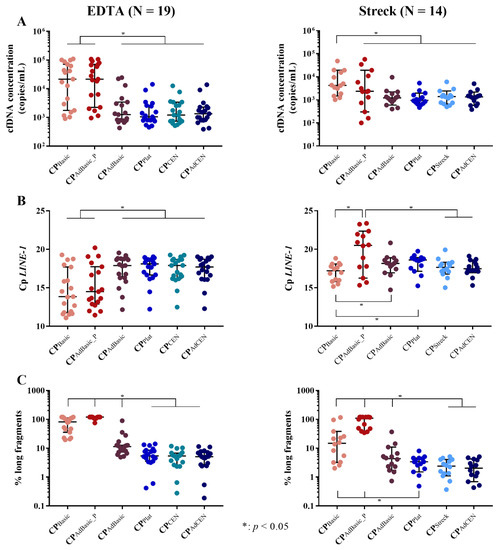 Figure 1
This is an open access article distributed under the
Creative Commons Attribution License
which permits unrestricted use, distribution, and reproduction in any medium, provided the original work is properly cited (CC BY 4.0).

Share & Cite This Article
MDPI and ACS Style
Sorber, L.; Zwaenepoel, K.; Jacobs, J.; De Winne, K.; Goethals, S.; Reclusa, P.; Van Casteren, K.; Augustus, E.; Lardon, F.; Roeyen, G.; Peeters, M.; Van Meerbeeck, J.; Rolfo, C.; Pauwels, P. Circulating Cell-Free DNA and RNA Analysis as Liquid Biopsy: Optimal Centrifugation Protocol. Cancers 2019, 11, 458.
Note that from the first issue of 2016, MDPI journals use article numbers instead of page numbers. See further details here.
Related Articles
Comments
[Return to top]