Contribution of Anoctamins to Cell Survival and Cell Death
Institut für Physiologie, Universität Regensburg, Universitätsstraße 31, D-93053 Regensburg, Germany
*
Author to whom correspondence should be addressed.
Received: 19 February 2019 / Revised: 13 March 2019 / Accepted: 16 March 2019 / Published: 19 March 2019
Abstract
Before anoctamins (TMEM16 proteins) were identified as a family of Ca
2+
-activated chloride channels and phospholipid scramblases, the founding member anoctamin 1 (ANO1, TMEM16A) was known as DOG1, a marker protein for gastrointestinal stromal tumors (GIST). Meanwhile, ANO1 has been examined in more detail, and the role of ANO1 in cell proliferation and the development of different types of malignomas is now well established. While ANO5, ANO7, and ANO9 may also be relevant for growth of cancers, evidence has been provided for a role of ANO6 (TMEM16F) in regulated cell death. The cellular mechanisms by which anoctamins control cell proliferation and cell death, respectively, are just emerging; however, the pronounced effects of anoctamins on intracellular Ca
2+
levels are likely to play a significant role. Recent results suggest that some anoctamins control membrane exocytosis by setting Ca
2+
i
levels near the plasma membrane, and/or by controlling the intracellular Cl
−
concentration. Exocytosis and increased membrane trafficking induced by ANO1 and ANO6 may enhance membrane expression of other chloride channels, such as CFTR and volume activated chloride channels (VRAC). Notably, ANO6-induced phospholipid scrambling with exposure of phosphatidylserine is pivotal for the sheddase function of disintegrin and metalloproteinase (ADAM). This may support cell death and tumorigenic activity of IL-6 by inducing IL-6 trans-signaling. The reported anticancer effects of the anthelminthic drug niclosamide are probably related to the potent inhibitory effect on ANO1, apart from inducing cell cycle arrest through the Let-7d/CDC34 axis. On the contrary, pronounced activation of ANO6 due to a large increase in intracellular calcium, activation of phospholipase A2 or lipid peroxidation, can lead to ferroptotic death of cancer cells. It therefore appears reasonable to search for both inhibitors and potent activators of TMEM16 in order to interfere with cancer growth and metastasis.
View Full-Text
►

▼

Figures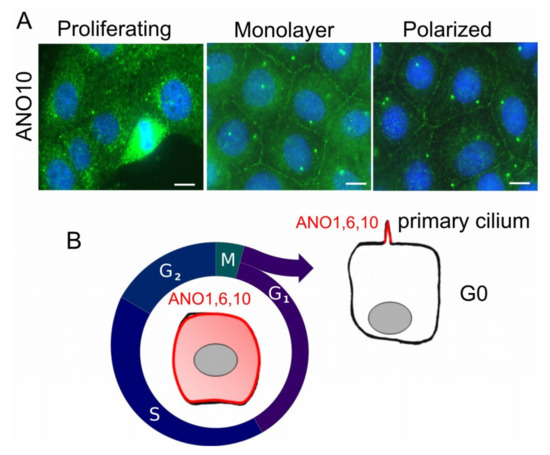 Figure 1
This is an open access article distributed under the
Creative Commons Attribution License
which permits unrestricted use, distribution, and reproduction in any medium, provided the original work is properly cited (CC BY 4.0).

Share & Cite This Article
MDPI and ACS Style
Kunzelmann, K.; Ousingsawat, J.; Benedetto, R.; Cabrita, I.; Schreiber, R. Contribution of Anoctamins to Cell Survival and Cell Death. Cancers 2019, 11, 382.
Note that from the first issue of 2016, MDPI journals use article numbers instead of page numbers. See further details here.
Related Articles
Comments
[Return to top]