Combination Therapy of Chloroquine and C2-Ceramide Enhances Cytotoxicity in Lung Cancer H460 and H1299 Cells
1
Department of Biotechnology, Kaohsiung Medical University, Kaohsiung 807, Taiwan
2
Institute of Biomedical Science, National Sun Yat-Sen University, Kaohsiung 804, Taiwan
3
Department of Physiology, College of Medicine, Kaohsiung Medical University, Kaohsiung 807, Taiwan
4
Graduate Institute of Medicine, College of Medicine, Kaohsiung Medical University, Kaohsiung 807, Taiwan
5
Department of Biological Sciences, National Sun Yat-Sen University, Kaohsiung 804, Taiwan
6
Department of Biomedical Science and Environment Biology, Kaohsiung Medical University, Kaohsiung 807, Taiwan
7
Center for Research Resources and Development, Kaohsiung Medical University, Kaohsiung 807, Taiwan
8
Department of Biochemistry, College of Medicine, Kaohsiung Medical University, Kaohsiung 807, Taiwan
9
Research Center for Environment Medicine, Kaohsiung Medical University, Kaohsiung 807, Taiwan
10
Translational Research Center, Cancer Center and Department of Medical Research, Kaohsiung Medical University Hospital, Kaohsiung 807, Taiwan
*
Author to whom correspondence should be addressed.
†
These authors contributed equally to this study.
Received: 11 November 2018 / Revised: 27 February 2019 / Accepted: 7 March 2019 / Published: 15 March 2019
Abstract
Non-small cell lung cancer (NSCLC) is a type of malignant cancer, and 85% of metastatic NSCLC patients have a poor prognosis. C
2
-ceramide induces G2/M phase arrest and cytotoxicity in NSCLC cells. In this study, the autophagy-inducing effect of C
2
-ceramide was demonstrated, and cotreatment with the autophagy inhibitor chloroquine (CQ) was investigated in NSCLC H460 and H1299 cells. The results suggested that C
2
-ceramide exhibited dose-dependent anticancer effects in H460 and H1299 cells and autophagy induction. Zebrafish-based acridine orange staining confirmed the combined effects in vivo. Importantly, the combination of a sublethal dose of C
2
-ceramide and CQ resulted in additive cytotoxicity and autophagy in both cell lines. Alterations of related signaling factors, including Src and SIRT1 inhibition and activation of the autophagic regulators LAMP2 and LC3-I/II, contributed to the autophagy-dependent apoptosis. We found that C
2
-ceramide continuously initiated autophagy; however, CQ inhibited autophagosome maturation and degradation during autophagy progression. Accumulated and non-degraded autophagosomes increased NSCLC cell stress, eventually leading to cell death. This study sheds light on improvements to NSCLC chemotherapy to reduce the chemotherapy dose and NSCLC patient burden.
View Full-Text
►

▼

Figures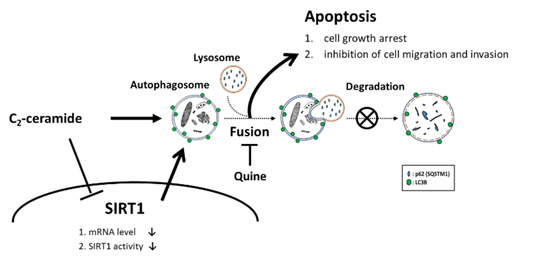 Graphical abstract
This is an open access article distributed under the
Creative Commons Attribution License
which permits unrestricted use, distribution, and reproduction in any medium, provided the original work is properly cited (CC BY 4.0).

Share & Cite This Article
MDPI and ACS Style
Chou, H.-L.; Lin, Y.-H.; Liu, W.; Wu, C.-Y.; Li, R.-N.; Huang, H.-W.; Chou, C.-H.; Chiou, S.-J.; Chiu, C.-C. Combination Therapy of Chloroquine and C2-Ceramide Enhances Cytotoxicity in Lung Cancer H460 and H1299 Cells. Cancers 2019, 11, 370.
Note that from the first issue of 2016, MDPI journals use article numbers instead of page numbers. See further details here.
Related Articles
Comments
[Return to top]