A Feedback Loop Formed by ATG7/Autophagy, FOXO3a/miR-145 and PD-L1 Regulates Stem-Like Properties and Invasion in Human Bladder Cancer
Nelson Institute of Environmental Medicine, New York University School of Medicine, New York, NY 10010, USA
*
Author to whom correspondence should be addressed.
Received: 14 January 2019 / Revised: 8 March 2019 / Accepted: 8 March 2019 / Published: 12 March 2019
Abstract
Programmed cell death protein 1 (PD-1) and its ligand PD-L1 blockade have been identified to target immune checkpoints to treat human cancers with durable clinical benefit. Several studies reveal that the response to PD-1-PD-L1 blockade might correlate with PD-L1 expression levels in tumor cells. However, the mechanistic pathways that regulate PD-L1 protein expression are not understood. Here, we reported that PD-L1 protein is regulated by ATG7-autophagy with an ATG7-initiated positive feedback loop in bladder cancer (BC). Mechanistic studies revealed that ATG7 overexpression elevates PD-L1 protein level mainly through promoting autophagy-mediated degradation of FOXO3a, thereby inhibiting its initiated miR-145 transcription. The lower expression of miR-145 increases
pd-l1
mRNA stability due to the reduction of its direct binding to 3′-UTR of
pd-l1
mRNA, in turn leading to increasing in
pd-l1
mRNA stability and expression, and finally enhancing stem-like property and invasion of BC cells. Notably, overexpression of PD-L1 in ATG7 knockdown cells can reverse the defect of autophagy activation, FOXO3A degradation, and miR-145 transcription attenuation. Collectively, our results revealed a positive feedback loop to promoting PD-L1 expression in human BC cells. Our study uncovers a novel molecular mechanism for regulating
pd-l1
mRNA stability and expression via ATG7/autophagy/FOXO3A/miR-145 axis and reveals the potential for using combination treatment with autophagy inhibitors and PD-1/PD-L1 immune checkpoint blockade to enhance therapeutic efficacy for human BCs.
View Full-Text
►

▼

Figures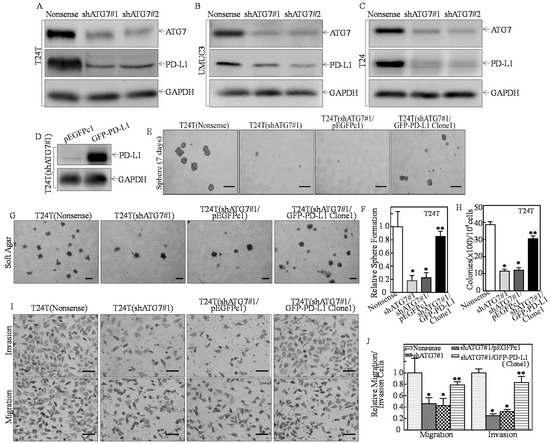 Figure 1
This is an open access article distributed under the
Creative Commons Attribution License
which permits unrestricted use, distribution, and reproduction in any medium, provided the original work is properly cited (CC BY 4.0).

Share & Cite This Article
MDPI and ACS Style
Zhu, J.; Li, Y.; Luo, Y.; Xu, J.; Liufu, H.; Tian, Z.; Huang, C.; Li, J.; Huang, C. A Feedback Loop Formed by ATG7/Autophagy, FOXO3a/miR-145 and PD-L1 Regulates Stem-Like Properties and Invasion in Human Bladder Cancer. Cancers 2019, 11, 349.
Note that from the first issue of 2016, MDPI journals use article numbers instead of page numbers. See further details here.
Related Articles
Comments
[Return to top]