Bone Marrow CX3CL1/Fractalkine is a New Player of the Pro-Angiogenic Microenvironment in Multiple Myeloma Patients
1
Department of Medicine and Surgery, University of Parma, 43126 Parma, Italy
2
Center for Autoinflammatory Diseases and Immunedeficiencies, IRCCS "Istituto Giannina Gaslini", 16147 Genoa, Italy
3
Center of Excellence for Biomedical Research (CEBR), University of Study of Genoa, 16132 Genoa, Italy
4
Hematology, "Azienda Ospedaliero-Universitaria di Parma", 43126 Parma, Italy
5
"U.O. di Anatomia Patologica, Azienda Ospedaliero-Universitaria di Parma", 43126 Parma, Italy
6
Department of Basic Medical Sciences, Neurosciences and Sensory Organs, University of Bari, 70124 Bari, Italy
7
Department of Biomedical Science and Human Oncology, University of Bari, 70124 Bari, Italy
8
Immunology Area, "Ospedale Pediatrico Bambino Gesù", 00165 Roma, Italy
*
Author to whom correspondence should be addressed.
Received: 6 February 2019 / Revised: 28 February 2019 / Accepted: 28 February 2019 / Published: 6 March 2019
Abstract
C-X3-C motif chemokine ligand 1 (CX3CL1)/fractalkine is a chemokine released after cleavage by two metalloproteases, ADAM metallopeptidase domain 10 (ADAM10) and ADAM metallopeptidase domain 17 (ADAM17), involved in inflammation and angiogenesis in the cancer microenvironment. The role of the CX3CL1/ C-X3-C motif chemokine receptor 1(CX3CR1) axis in the multiple myeloma (MM) microenvironment is still unknown. Firstly, we analyzed bone marrow (BM) plasma levels of CX3CL1 in 111 patients with plasma cell disorders including 70 with active MM, 25 with smoldering myeloma (SMM), and 16 with monoclonal gammopathy of undetermined significance (MGUS). We found that BM CX3CL1 levels were significantly increased in MM patients compared to SMM and MGUS and correlated with BM microvessel density. Secondly, we explored the source of CX3CL1 in MM and BM microenvironment cells. Primary CD138
+
cells did not express CXC3L1 but up-regulated its production by endothelial cells (ECs) through the involvement of tumor necrosis factor alpha (TNFα). Lastly, we demonstrated the presence of CX3CR1 on BM CD14
+
CD16
+
monocytes of MM patients and on ECs, but not on MM cells. The role of CX3CL1 in MM-induced angiogenesis was finally demonstrated in both in vivo chick embryo chorioallantoic membrane and in vitro angiogenesis assays. Our data indicate that CX3CL1, present at a high level in the BM of MM patients, is a new player of the MM microenvironment involved in MM-induced angiogenesis.
View Full-Text
►

▼

Figures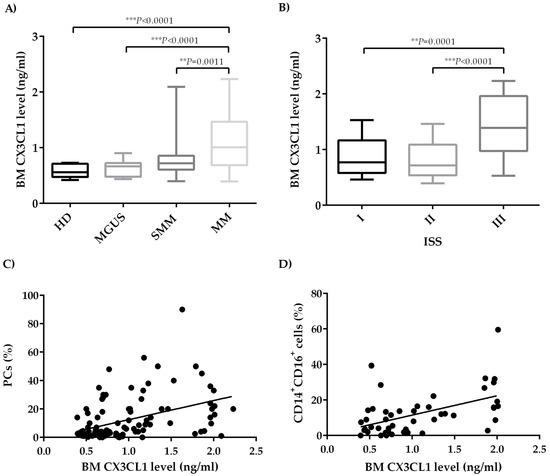 Figure 1
This is an open access article distributed under the
Creative Commons Attribution License
which permits unrestricted use, distribution, and reproduction in any medium, provided the original work is properly cited (CC BY 4.0).

Share & Cite This Article
MDPI and ACS Style
Marchica, V.; Toscani, D.; Corcione, A.; Bolzoni, M.; Storti, P.; Vescovini, R.; Ferretti, E.; Dalla Palma, B.; Vicario, E.; Accardi, F.; Mancini, C.; Martella, E.; Ribatti, D.; Vacca, A.; Pistoia, V.; Giuliani, N. Bone Marrow CX3CL1/Fractalkine is a New Player of the Pro-Angiogenic Microenvironment in Multiple Myeloma Patients. Cancers 2019, 11, 321.
Note that from the first issue of 2016, MDPI journals use article numbers instead of page numbers. See further details here.
Related Articles
Comments
[Return to top]