Open Access This article is
freely available
re-usable
Review
Oncogenic Deregulation of Cell Adhesion Molecules in Leukemia
1
Department of Transfusion Medicine, Cell Therapeutics and Hemostaseology, University Hospital, LMU Munich, 81377 Munich, Germany
2
Institute for Transfusion Medicine and Immunohematology, Johann-Wolfgang-Goethe University and German Red Cross Blood Service, 60528 Frankfurt am Main, Germany
3
Institute for Tumor Biology and Experimental Therapy, Georg-Speyer-Haus, 60596 Frankfurt am Main, Germany
*
Author to whom correspondence should be addressed.
Received: 30 January 2019 / Accepted: 28 February 2019 / Published: 5 March 2019
Abstract
:
Numerous cell–cell and cell–matrix interactions within the bone marrow microenvironment enable the controlled lifelong self-renewal and progeny of hematopoietic stem and progenitor cells (HSPCs). On the cellular level, this highly mutual interaction is granted by cell adhesion molecules (CAMs) integrating differentiation, proliferation, and pro-survival signals from the surrounding microenvironment to the inner cell. However, cell–cell and cell–matrix interactions are also critically involved during malignant transformation of hematopoietic stem/progenitor cells. It has become increasingly apparent that leukemia-associated gene products, such as activated tyrosine kinases and fusion proteins resulting from chromosomal translocations, directly regulate the activation status of adhesion molecules, thereby directing the leukemic phenotype. These observations imply that interference with adhesion molecule function represents a promising treatment strategy to target pre-leukemic and leukemic lesions within the bone marrow niche. Focusing on myeloid leukemia, we provide a current overview of the mechanisms by which leukemogenic gene products hijack control of cellular adhesion to subsequently disturb normal hematopoiesis and promote leukemia development.
Keywords:
adhesion; leukemia; oncogene; integrin; CAM
1. Introduction
1.1. Cell Adhesion Molecule Families
Cellular adhesion plays a vital role in many physiological and pathological processes, including developmental morphogenesis, differentiation, inflammatory responses, angiogenesis, wound healing, tumor progression, and metastasis [
1
]. Cellular adhesion is mediated by CAMs, which are found in metazoans ranging from sponges to complex mammals. CAMs also further modulate intracellular signal transduction, thereby regulating self-renewal, differentiation, and apoptosis. The three conserved CAM domains include an intracellular domain (which interacts with the cytoskeleton), a transmembrane domain, and an extracellular domain. Junctional adhesion mechanisms, which mainly grant intercellular tight junctions in cell assemblies, are distinct from non-junctional adhesion mechanisms, such as integrin- and selectin-mediated adhesion. Based on the protein sequences and structures, CAMs have been classified into four major types: the cadherin superfamily, the immunoglobulin superfamily (IgCAM), selectins, and integrins (
Figure 1
).
1.1.1. The Cadherin Superfamily
The cadherin superfamily, named for "calcium-dependent adhesion", includes cadherins, protocadherins, desmogleins, and desmocollins. Structurally, all types share the so-called cadherin repeats, an extracellular Ca
2+
-binding domain. Cadherins grant the maintenance of adult tissue architecture and play an important role in junctional adhesion to bind cells within tissues together. Structurally, cadherins fold homophilic interactions, although heterotypic binding has also been observed [
2
]. The various classes of cadherin molecules are associated with different tissue types: epithelial (E)-cadherin, placental (P)-cadherin, and neural (N)-cadherin [
3
]. Cells containing the same cadherin tissue subtype tend to cluster together, both in cell culture and during development. Disruption of cadherin-mediated cell–cell adhesion is a common feature of several solid and hematological tumor types. P-cadherin seems to play an important role in solid cancer progression and metastasis and thus is considered as a promising therapeutic antibody target [
4
]. The E-cadherin locus has been suggested as a common target for hypermethylation in leukemia [
5
,
6
]. Low expression of E-cadherin has been found in acute myeloid leukemia (AML) and chronic myeloid leukemia (CML) cells and is associated with loss of adhesion and density-dependent contact inhibition, thus promoting cell growth [
7
]. However, in erythroid leukemia, E-cadherin is expressed in myeloid blasts and displays a specific cell surface marker signature including CD34+ and CD117+ [
8
]. N-cadherin appears to play a crucial role in sustaining leukemic stem cell self-renewal, thus further evading the effects of chemotherapy. Etoposide-treated human KG1a AML cells grown on N-cadherin-Fc chimera-coated plates have shown increased IC
50
compared with controls. Furthermore, transplantation of the N-cadherin-positive CD34+/CD38− cell fraction from AML samples into NOD/SCID mice has revealed stronger leukemic engraftment and enhanced self-renewal capacity compared with N-cadherin-negative control cells [
9
]. Moreover, upregulation of N-cadherin expression levels has been found in t(8;21)+ AML-M2 samples, with increased self-renewal properties of leukemic progenitor cells [
10
].
1.1.2. The Immunoglobulin Superfamily
1.1.3. Mucin-like CAMs
Selectins are a group of CAMs involved in lymphocyte homing, atherosclerosis, lupus erythematosus, cancer metastasis, and acute and chronic inflammation in kidney, muscle, heart, and skin [
26
]. Selectins are single-chain transmembrane glycoproteins, which bind sugar polymers in a calcium-dependent manner. The three subsets of selectins display distinct expression patterns: E-selectin is mainly expressed on endothelial cells, L-selectin is expressed on leucocytes, and P-selectin is primarily expressed on platelets and endothelial cells. P-selectin is stored intracellularly in storage granules, which enables rapid activation [
27
,
28
], E-selectin requires de novo transcription, and L-selectin is constitutively expressed on almost all leukocyte subpopulations.
P-selectin glycoprotein ligand-1 (PSGL-1, SELPLG, or CD162), the best-characterized ligand of the three selectins, is a 220-kDa disulfide-linked homodimeric sialomucin expressed on activated endothelial cells, myeloid cells, and lymphoid cells. PSGL-1 plays a critical role in tethering white blood cells to activated platelets or endothelia-expressing P-selectin. PSGL-1 binds all three members of the selectin family, although it displays highest affinity to P-selectin. White blood cells do not typically interact with the endothelium of blood vessels. However, inflammation causes the expression of P-selectin on the blood vessel wall [
29
]. Tethering is initiated when PSGL-1 interacts with P-selectin and/or E-selectin on endothelial cells and adherent platelets. This interaction induces rolling on the endothelial cell surface and subsequent stable adhesion and transmigration of the white blood cell into the inflamed tissue [
30
]. PSGL-1 also harbors binding sites for the chemokines CCL19 and CCL21 and efficiently regulates homing of T-cells to secondary lymphoid organs [
31
].
Selectins also play an important role in cancer progression and metastasis in particular [
26
,
32
]. For example, selectin ligands are highly expressed on endothelial vessels at the site of tumor metastasis, thereby yielding a potential entry site for circulating tumor cells [
33
]. Additionally, E-selectin, the glycoprotein to which leukemia-initiating cells adhere [
34
], is upregulated in the bone marrow vasculature in leukemia, thereby encouraging survival signaling and provoking chemoresistance via binding to PSGL-1 and CD44. In mice, xenotransplanted
CD44
−/−
PSGL-1
−/−
AML cells were 100-times more sensitive to high-dose cytarabine chemotherapy than wild-type AML control cells. While the E-selectin antagonist GMI-1271 has been shown to enhance chemosensitivity to cytarabine in control mice, enhanced chemosensitivity was not observed in mice transplanted with
CD44
−/−
PSGL-1
−/−
AML cells. Importantly, E-selectin inhibition has resulted in downregulation of components of the PI3K/AKT/NF-κB pathway. Downregulation was due to a lack of phosphorylated AKT(Ser
473
) and NF-κB/p65(Ser
536
), which rapidly takes place after adhesion to E-selectin by AML blasts in vitro, thereby suggesting that AKT phosphorylation may be a potential mechanism to promote chemoresistance [
35
]. E-selectin is upregulated via activated STAT3 in endothelial cells, thereby triggering adhesion and tumor cell invasion, as recently demonstrated [
36
]. Furthermore, monocytes attracted to cancerous lesions also induce E-selectin through secretion of soluble CCL2, thereby promoting tumor cell metastasis [
37
].
1.1.4. The Integrin Family
Integrins comprise a large and complex family of transmembrane glycoproteins. These molecules transmit signals via inside-out and outside-in signaling. Integrins are composed of alpha- and beta-chains that form non-covalent heterodimers [
38
]. Currently, 18 alpha-subunits, 8 beta-subunits, and 24 unique heterodimers have been described. Integrins are widely expressed in many tissues, including hematopoietic cells, and form heterophilic interactions by binding various members of the CAM family. They are crucial for the interaction of hematopoietic cells with stromal cells and secreted or insoluble components of the extracellular matrix. Integrins, such as VLA-4 (α4/β1), play an essential role in several cellular processes, including homing of bone marrow-derived blood cells to various organs, controlling cellular shape and movement, cell proliferation, and lineage commitment.
VLA-4
is typically expressed on leukocytes including monocytes, lymphocytes, eosinophils, basophils, and CD34+ hematopoietic precursor cells.
VLA-4
expression on CD34+ cells is upregulated by the cytokines interleukin-3 (IL-3) and stem cell factor (SCF). By contrast,
VLA-4
is downregulated by granulocytic colony stimulating factor (G-CSF). As G-CSF mobilizes CD34+ cells from the bone marrow, it is used in peripheral blood cell apheresis for autologous and allogenic stem cell transplantation [
39
]. In the bone marrow, integrins are further required for the proper interaction of stem and progenitor cells with molecules of the extracellular niche matrix, such as fibronectin or periostin, to ensure lifelong self-renewal. Expression and activation of integrins therefore require careful regulation. As these processes are actively abused by cancer cells, integrins also seem to be involved in malignant cell growth and metastasis [
40
] and have therefore been evaluated as targets for cancer therapy [
41
,
42
].
1.2. Adhesion Molecules of the Hematopoietic Stem Cell Niche
Hematopoiesis involves a tightly regulated interaction between HSPCs and other cell types including sinusoidal endothelial cells, mesenchymal stromal cells (MSCs), osteoblasts, macrophages, and sympathetic nerve fibers in the HSC niche [
43
,
44
,
45
,
46
]. The HSC niche regulates the proliferation, self-renewal, and differentiation of HSCs by producing positive and negative bi-directional cues, which are induced by adhesion molecule-mediated cell–cell and cell–matrix interactions [
47
,
48
]. A schematic illustration of the HSPC homotypic and heterotypic interactions in the HSC niche is presented in
Figure 2
. HSPCs express numerous cell adhesion molecules, including integrins VLA-4 (α4/β1, a receptor of VCAM-1 and fibronectin), VLA-5 (α5/β1, a receptor of fibronectin), and LFA-1 (αL/β2, a receptor of ICAM-1), which are also expressed on both hematopoietic and stromal cells. HSPCs also express the c-KIT receptor tyrosine kinase, which both exerts kinase activity and functions as an adhesion molecule, as the receptor binds cell surface-bound SCF. Of note, c-KIT-mediated niche anchorage is kinase independent and does not respond to the kinase inhibitor imatinib [
49
]. Additionally, PSGL-1, N-cadherin, and glycoprotein CD44, which is recognized by hyaluronan, osteopontin (secreted phosphoprotein 1, SPP1), and E-selectin, are all expressed on HSPCs [
50
,
51
]. The interactions between the ß1 integrins VLA-4 and VLA-5 expressed on HSPCs and the bone marrow niche are important to maintain steady state hematopoiesis. For example, the interaction between VLA-4 and fibronectin is essential for both maintaining HSC self-renewal capacity and regulating HSC differentiation. Interestingly, administering VLA-4-specific antibodies augments the G-CSF-induced mobilization of long-term repopulating HSCs from the bone marrow into the peripheral blood [
52
,
53
,
54
]. VLA-4 may also play a role in chemotherapy resistance, functioning presumably via pro-survival signals to leukemia cells [
55
]. Similarly, VLA-5 is important for HSPC homing and proliferation [
56
]. The understanding of the molecular mechanisms of HSC anchorage in the bone marrow niche has led to the development of several inhibitors targeting critical adhesion molecules, such as VLA-4, PSGL-1, and CXCR4, to mobilize CD34+ hematopoietic progenitors [
57
]. These inhibitors enable the collection of HSPCs via apheresis techniques for autologous and allogeneic stem cell transplantation [
58
,
59
]. Furthermore, targeting adhesion may represent an additional therapeutic option to clear the bone marrow stem cell niche of resistant leukemia cells.
1.3. Oncogenic Lesions in Myeloid Leukemia
Mutations of proto-oncogenes, which are typically dominant in nature, cause normal cells to become cancerous. Proto-oncogenes encode proteins that stimulate cell division, regulate self-renewal, inhibit differentiation, and impede cell death. Each of these processes is important for normal cellular development and maintenance of tissues and organs. Oncogenes, however, typically exhibit increased protein production or activity, thereby prompting malignant growth [
60
]. As a result, oncogenes represent major targets in drug design [
61
]. In myeloid leukemia, two major classes of oncogenic events have been described, namely, chromosomal translocations resulting in novel fusion proteins and activated receptor tyrosine kinases [
62
]. Chromosomal translocations often involve transcription factors that normally regulate cellular differentiation. The translocation product then disrupts normal transcription factor function leading to a block in cellular differentiation and enhanced self-renewal. By contrast, activating mutations in receptor tyrosine kinases disrupt cellular signaling leading to enhanced cell growth and evasion of apoptosis. Results from the last decades uncovered an evolutionary leukemia model in which chromosomal translocation products and hyperactivated kinases play a critical role in a stepwise transformation process [
63
,
64
]. The mutational oncogenic activation mechanisms of CAMs have not yet been described. Compared with genes such as
c-KIT
and
FLT3
(FMS-like tyrosine kinase 3), CAMs are much less frequently found to be mutated in cancer cells (
Table 1
). However, adhesion molecule expression and function are frequently deregulated in leukemia. Oncogene-mediated activation of cell adhesion affects interactions within the stem cell niche and within other tissues. The latter aspect may account for the complications associated with leukostasis including leukemic meningitis, leukemia cutis, extra-medullary leukemia, and formation of myeloid sarcoma. In the following chapter, we summarize recent findings concerning the mechanisms by which leukemogenic gene products control adhesion and migration and discuss the consequences of direct CAM regulation on leukemia development.
2. Oncogenes Directly Deregulate Cellular Adhesion
3. Summary and Conclusions
Increasing evidence suggests that oncogenes directly regulate the activity of adhesion molecules to control malignant hematopoietic progenitor cell proliferation, self-renewal, survival, and differentiation in cooperation with stromal cells within the bone marrow microenvironment. Dependencies on adhesion molecule function therefore represent "Achilles heels" for targeted treatment strategies. The frequency of detected mutations in adhesion molecules is, however, much lower compared with other molecules such as hyperactivated kinases, thereby suggesting that adhesion molecules do not directly exert oncogenic activity. In a few cases, the deciphered mechanisms of regulation suggest that oncogenic deregulation of cell adhesion can take place at several levels in the adhesion molecule-signaling cascade. Described and hypothesized mechanisms of CAM regulation include proteasomal degradation, activation by co-receptors, interference with composition of the adhesion molecule complex, and superactivation of pre-activated adhesion molecule pathways (
Figure 4
). Several oncogenes activate adhesion molecules such as integrins and selectins, which are critically involved in interaction with bone marrow niche cells. However, it remains unclear whether oncogene-mediated dysregulation of a particular adhesion molecule pathway represents a disease progression factor in every case. As mentioned, BCR-ABL1-induced
PSGL-1
downregulation dampens leukemic cell engraftment in CML and presumably does not accelerate the BCR-ABL1-induced transformation process. These observations suggest that, in certain cases, adhesion molecule regulation might be accidentally deregulated without providing growth advantage for the leukemic progeny. Therefore, the role that oncogene-mediated adhesion molecule regulation plays in leukemia development requires further investigation.
Funding
This research was funded by the Wilhelm Sander Stiftung (2014.162.2).
Acknowledgments
The authors wish to thank Sandra Moore (University of Aix-Marseille, Marseille) for critical comments on the manuscript.
Conflicts of Interest
The authors declare no conflict of interest.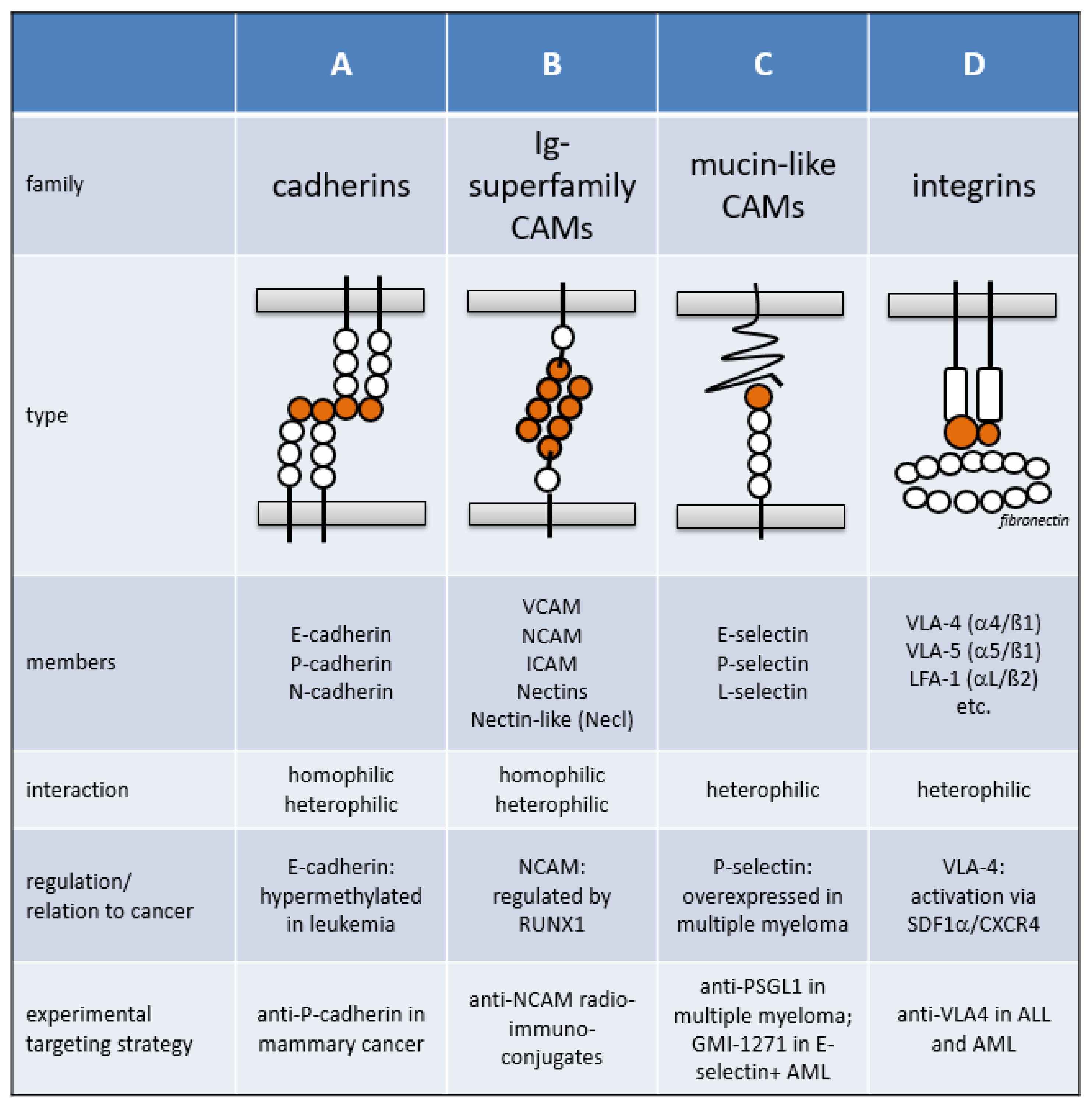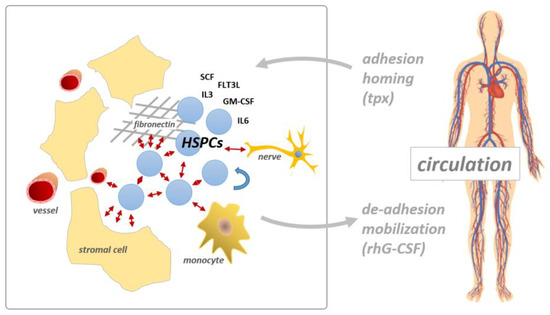 Figure 2. Adhesion molecule-mediated cell–cell interactions in the hematopoietic stem cell niche. Hematopoietic stem and progenitor cells (HSPCs) are able to assemble homotypic and heterotypic cell–cell and cell–matrix interactions (red arrows), via cell adhesion molecules (CAMs), such as VLA-4, VLA-5 and LFA-1, thereby regulating proliferation, self-renewal and differentiation. tpx, transplantation; rhG-CSF, recombinant human G-CSF.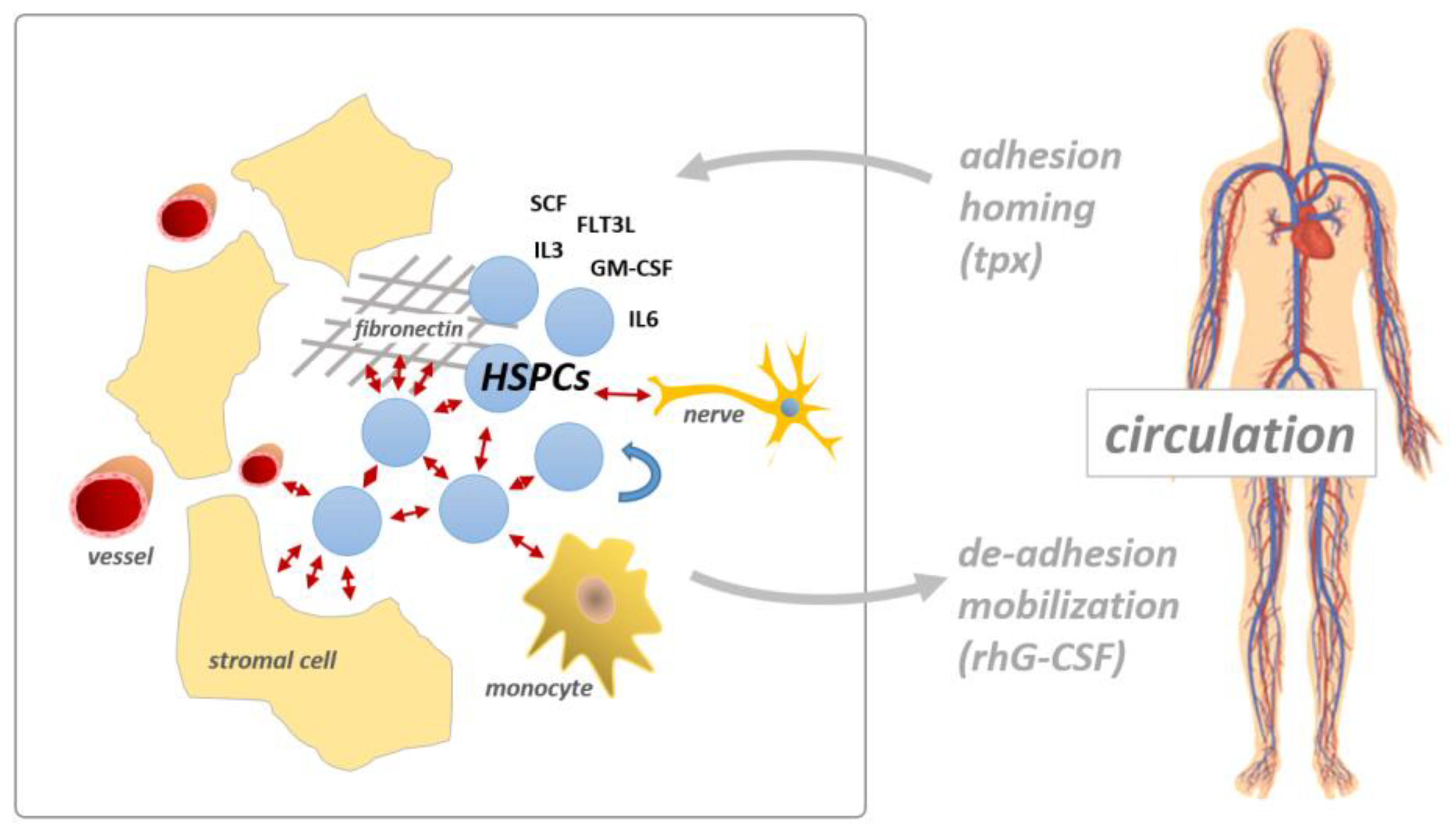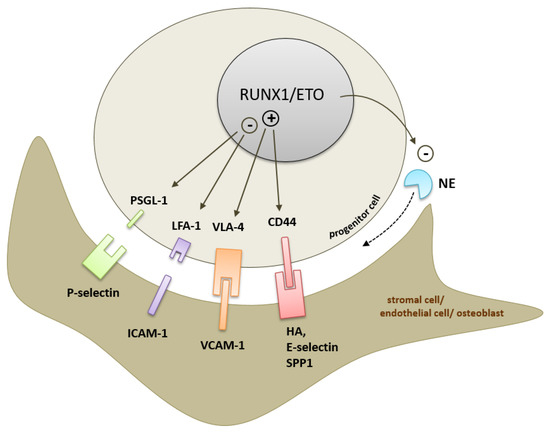 Figure 3.
RUNX1/ETO-induced CAM signature within the bone marrow microenvironment. The cell adhesion molecules PSGL-1, LFA-1, CD44, and VLA-4 have been described as target genes directly regulated by RUNX1/ETO [
100
,
104
,
105
,
107
]. Neutrophil elastase (NE) has been described as a RUNX1/ETO-repressed target gene [
114
].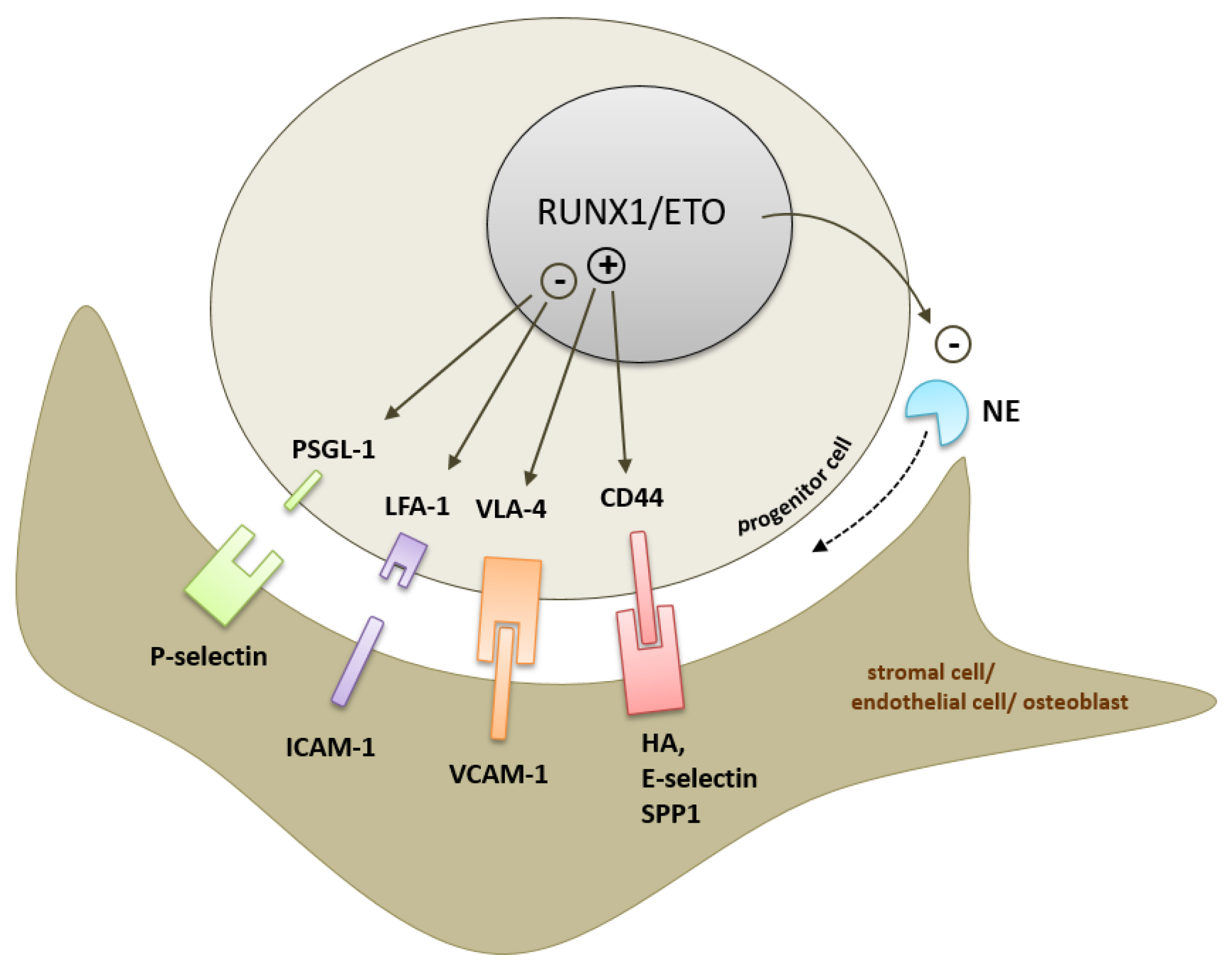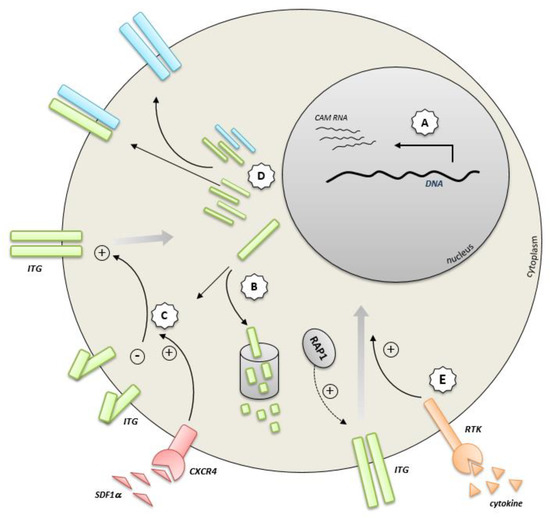 Figure 4.
Described and hypothesized mechanisms of oncogenic interference with adhesion molecule function. (
A
) Transcriptional deregulation of adhesion molecule expression by aberrant transcription factors (e.g., RUNX1/ETO [
100
] or TAL1) [
51
]. (
B
) Interference with cellular destruction of adhesion molecules through proteasomal degradation. (
C
) Activation of integrin receptors by co-receptors (e.g., the SDF1α/CXCR4/VLA4 axis) and modulators thereof (e.g., CEBPα) [
89
]. (
D
) Interference with the composition of the adhesion molecule complex. (
E
) Superactivation of pre-activated adhesion molecule signaling pathways (e.g., by receptor tyrosine kinases) [
73
]. ITG, integrin; RTK, receptor tyrosine kinase.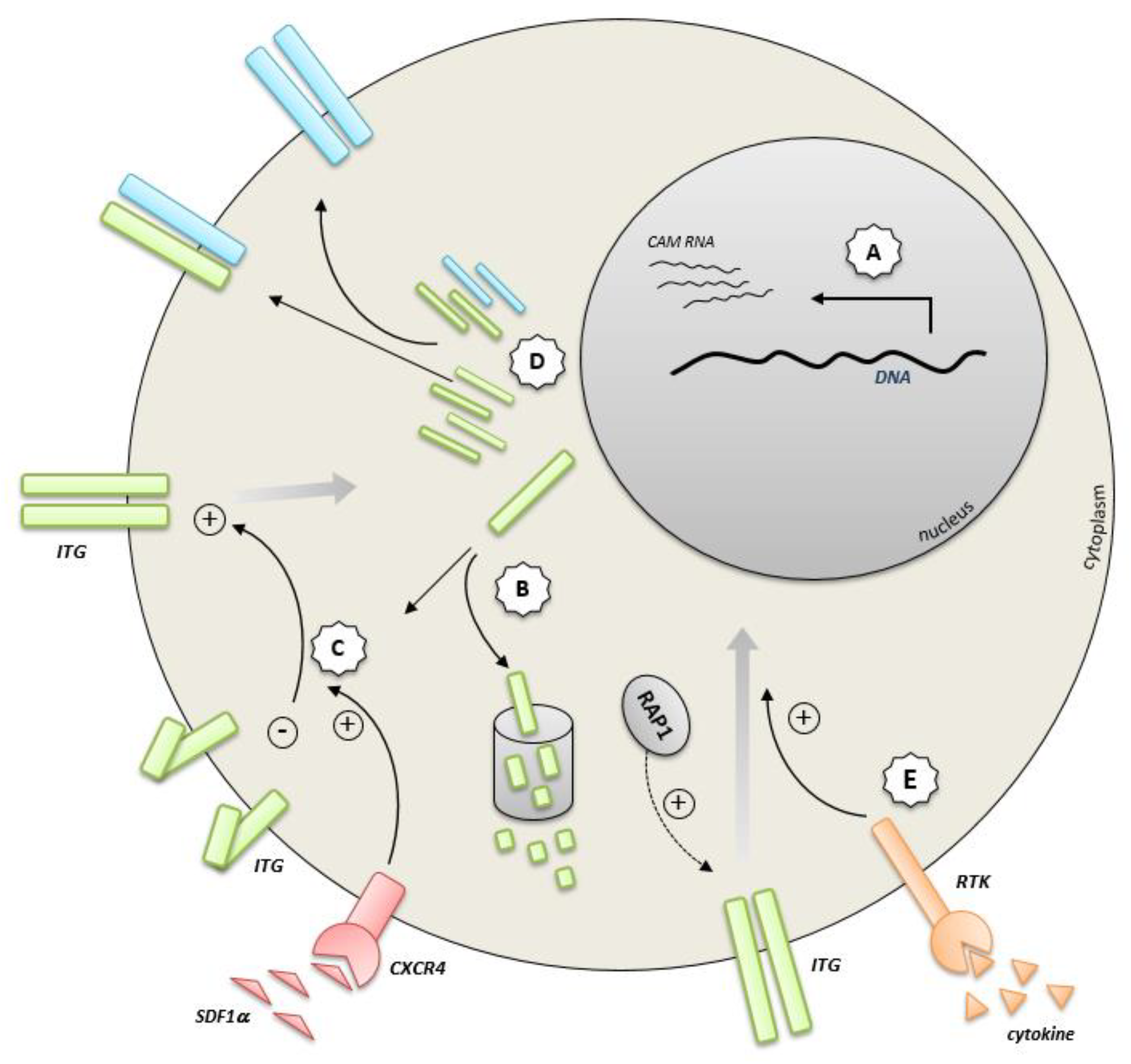 Table 1.
Detected somatic mutations of selected tyrosine kinases (TKs) and cell adhesion molecules (CAMs) typically expressed in hematopoietic stem and progenitor cells. The depicted genes were analyzed using the COSMIC database software (
http://cancer.sanger.ac.uk/cancergenome/projects/cosmic/
).
TKs
CAMs
Gene
Mutant Samples
Gene
Mutant Samples

c-KIT

9.073

PSGL1

140

FLT3

17.467

CXCR4

472

JAK2

50.613

CD34

119

ABL1

1.961

ITGα4

430

© 2019 by the authors. Licensee MDPI, Basel, Switzerland. This article is an open access article distributed under the terms and conditions of the Creative Commons Attribution (CC BY) license (http://creativecommons.org/licenses/by/4.0/).