Pre-Operative Versus Post-Operative Radiosurgery of Brain Metastases—Volumetric and Dosimetric Impact of Treatment Sequence and Margin Concept
1
Department of Radiation Oncology, University Hospital of Heidelberg, Im Neuenheimer Feld 400, 69120 Heidelberg, Germany
2
National Center for Radiation Oncology (NCRO), Heidelberg Institute for Radiation Oncology (HIRO), Im Neuenheimer Feld 400, 69120 Heidelberg, Germany
3
Institute of Medical Biometry and Informatics (IMBI), University of Heidelberg, Im Neuenheimer Feld 130.3, 69120 Heidelberg, Germany
4
Heavy Ion Therapy Center (HIT), Heidelberg University Hospital, Im Neuenheimer Feld 450, 69120 Heidelberg, Germany
5
Clinical Cooperation Unit Radiation Oncology (E050), German Cancer Research Center (DKFZ), Im Neuenheimer Feld 280, 69120 Heidelberg, Germany
*
Author to whom correspondence should be addressed.
Received: 14 January 2019 / Revised: 18 February 2019 / Accepted: 25 February 2019 / Published: 1 March 2019
Abstract
Background: Pre-operative radiosurgery (SRS) preceding the resection of brain metastases promises to circumvent limitations of post-operative cavity SRS. It minimizes uncertainties regarding delineation and safety margins and could reduce dose exposure of the healthy brain (HB). Methods: We performed a systematic treatment plan comparison on 24 patients who received post-operative radiosurgery of the resection cavity at our institution. Comparative treatment plans were calculated for hypofractionated stereotactic radiotherapy (7 × 5 Gray (Gy)) in a hypothetical pre-operative (pre-op) and two post-operative scenarios, either with (extended field, post-op-E) or without the surgical tract (involved field, post-op-I). Detailed volumetric comparison of the resulting target volumes was performed, as well as dosimetric comparison focusing on targets and the HB. Results: The resection cavity was significantly smaller and different in morphology from the pre-operative lesion, yielding a low Dice Similarity Coefficient (DSC) of 53% (
p
= 0.019). Post-op-I and post-op-E targets showed high similarity (DSC = 93%), and including the surgical tract moderately enlarged resulting median target size (18.58 ccm vs. 22.89 ccm,
p
< 0.001). Dosimetric analysis favored the pre-operative treatment setting since it significantly decreased relevant dose exposure of the HB (Median volume receiving 28 Gy: 6.79 vs. 10.79 for pre-op vs. post-op-E,
p
< 0.001). Dosimetrically, pre-operative SRS is a promising alternative to post-operative cavity irradiation that could furthermore offer practical benefits regarding delineation and treatment planning. Comparative trials are required to evaluate potential clinical advantages of this approach.
View Full-Text
►

▼

Figures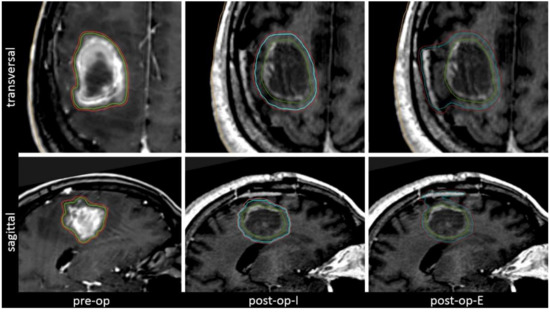 Figure 1
This is an open access article distributed under the
Creative Commons Attribution License
which permits unrestricted use, distribution, and reproduction in any medium, provided the original work is properly cited (CC BY 4.0).

Share & Cite This Article
MDPI and ACS Style
El Shafie, R.A.; Tonndorf-Martini, E.; Schmitt, D.; Weber, D.; Celik, A.; Dresel, T.; Bernhardt, D.; Lang, K.; Hoegen, P.; Adeberg, S.; Paul, A.; Debus, J.; Rieken, S. Pre-Operative Versus Post-Operative Radiosurgery of Brain Metastases—Volumetric and Dosimetric Impact of Treatment Sequence and Margin Concept. Cancers 2019, 11, 294.
Note that from the first issue of 2016, MDPI journals use article numbers instead of page numbers. See further details here.
Related Articles
Comments
[Return to top]