Role of Calcium Signaling in GA101-Induced Cell Death in Malignant Human B Cells
1
Institut Bergonié, Comprehensive Cancer Centre, F-33000 Bordeaux, France
2
Department of Life and Health Sciences, University of Bordeaux, F-33076 Bordeaux, France
3
INSERM, U1218 ACTION, F-33000 Bordeaux, France
4
Institut Roche, 92100 Boulogne-Billancourt, France
*
Authors to whom correspondence should be addressed.
Received: 11 January 2019 / Revised: 15 February 2019 / Accepted: 22 February 2019 / Published: 1 March 2019
Abstract
GA101/obinutuzumab is a novel type II anti-CD20 monoclonal antibody (mAb), which is more effective than rituximab (RTX) in preclinical and clinical studies when used in combination with chemotherapy. Ca
2+
signaling was shown to play a role in RTX-induced cell death. This report concerns the effect of GA101 on Ca
2+
signaling and its involvement in the direct cell death induced by GA101. We reveal that GA101 triggered an intracellular Ca
2+
increase by mobilizing intracellular Ca
2+
stores and activating Orai1-dependent Ca
2+
influx in non-Hodgkin lymphoma cell lines and primary B-Cell Chronic Lymphocytic Leukemia (B-CLL) cells. According to the cell type, Ca
2+
was mobilized from two distinct intracellular compartments. In Raji, BL2, and B-CLL cells, GA101 induced a Ca
2+
release from lysosomes, leading to the subsequent lysosomal membrane permeabilization and cell death. Inhibition of this calcium signaling reduced GA101-induced cell death in these cells. In SU-DHL-4 cells, GA101 mobilized Ca
2+
from the endoplasmic reticulum (ER). Inhibition of ER replenishment, by blocking Orai1-dependent Ca
2+
influx, led to an ER stress and unfolded protein response (UPR) which sensitized these cells to GA101-induced cell death. These results revealed the central role of Ca
2+
signaling in GA101's action mechanism, which may contribute to designing new rational drug combinations improving its clinical efficacy.
View Full-Text
►

▼

Figures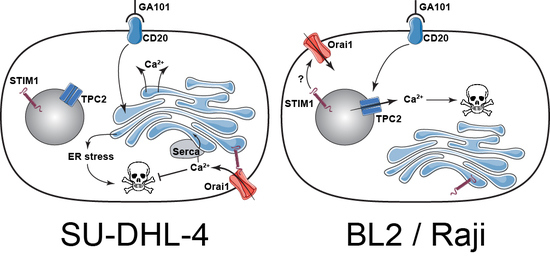 Graphical abstract
This is an open access article distributed under the
Creative Commons Attribution License
which permits unrestricted use, distribution, and reproduction in any medium, provided the original work is properly cited (CC BY 4.0).

Share & Cite This Article
MDPI and ACS Style
Latour, S.; Zanese, M.; Le Morvan, V.; Vacher, A.-M.; Menard, N.; Bijou, F.; Durrieu, F.; Soubeyran, P.; Savina, A.; Vacher, P.; Bresson-Bepoldin, L. Role of Calcium Signaling in GA101-Induced Cell Death in Malignant Human B Cells. Cancers 2019, 11, 291.
Note that from the first issue of 2016, MDPI journals use article numbers instead of page numbers. See further details here.
Related Articles
Comments
[Return to top]