Nucleotide Weight Matrices Reveal Ubiquitous Mutational Footprints of AID/APOBEC Deaminases in Human Cancer Genomes
1
National Center for Biotechnology Information, National Library of Medicine, National Institutes of Health, Bethesda, MD 20894-6075, USA
2
Center for Collaborative Research in Health Disparities–RCMI Program, Medical Sciences Campus, University of Puerto Rico, San Juan, PR 00936, USA
3
Department Microbiology and Molecular Genetics, University of California, Davis, CA 95616, USA
4
Institute of Cytology and Genetics, Novosibirsk 630090, Russia
5
Department of Biomedical Informatics, University of Arkansas for Medical Sciences, Little Rock, AR 72205, USA
6
Institute of Medical Genetics, Cardiff University, Cardiff CF14 4AY, UK
7
Departments of Microbiology and Pathology; Biochemistry and Molecular Biology; Genetics, Cell Biology and Anatomy, University of Nebraska Medical Center, Omaha, NE 68198, USA
8
Eppley Institute for Research in Cancer and Allied Diseases, Omaha, NE 68198, USA
*
Authors to whom correspondence should be addressed.
†
These authors contributed equally.
Received: 11 January 2019 / Revised: 30 January 2019 / Accepted: 30 January 2019 / Published: 12 February 2019
Abstract
Cancer genomes accumulate nucleotide sequence variations that number in the tens of thousands per genome. A prominent fraction of these mutations is thought to arise as a consequence of the off-target activity of DNA/RNA editing cytosine deaminases. These enzymes, collectively called activation induced deaminase (AID)/APOBECs, deaminate cytosines located within defined DNA sequence contexts. The resulting changes of the original C:G pair in these contexts (mutational signatures) provide indirect evidence for the participation of specific cytosine deaminases in a given cancer type. The conventional method used for the analysis of mutable motifs is the consensus approach. Here, for the first time, we have adopted the frequently used weight matrix (sequence profile) approach for the analysis of mutagenesis and provide evidence for this method being a more precise descriptor of mutations than the sequence consensus approach. We confirm that while mutational footprints of APOBEC1, APOBEC3A, APOBEC3B, and APOBEC3G are prominent in many cancers, mutable motifs characteristic of the action of the humoral immune response somatic hypermutation enzyme, AID, are the most widespread feature of somatic mutation spectra attributable to deaminases in cancer genomes. Overall, the weight matrix approach reveals that somatic mutations are significantly associated with at least one AID/APOBEC mutable motif in all studied cancers.
View Full-Text
►

▼

Figures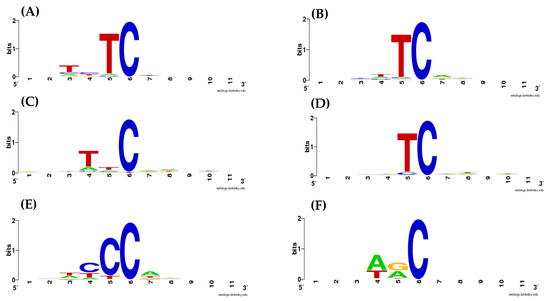 Figure 1
This is an open access article distributed under the
Creative Commons Attribution License
which permits unrestricted use, distribution, and reproduction in any medium, provided the original work is properly cited (CC BY 4.0).

Share & Cite This Article
MDPI and ACS Style
Rogozin, I.B.; Roche-Lima, A.; Lada, A.G.; Belinky, F.; Sidorenko, I.A.; Glazko, G.V.; Babenko, V.N.; Cooper, D.N.; Pavlov, Y.I. Nucleotide Weight Matrices Reveal Ubiquitous Mutational Footprints of AID/APOBEC Deaminases in Human Cancer Genomes. Cancers 2019, 11, 211.
Note that from the first issue of 2016, MDPI journals use article numbers instead of page numbers. See further details here.
Related Articles
Comments
[Return to top]