Open Access This article is
freely available
re-usable
Review
Optic Pathway Glioma in Type 1 Neurofibromatosis: Review of Its Pathogenesis, Diagnostic Assessment, and Treatment Recommendations
1
Clinical Genetics Unit, Department of Women's and Children's Health, University of Padova, 35128 Padova, Italy;
2
Istituto di Ricerca Pediatrica—IRP, Città della Speranza, 35127 Padova, Italy
3
IRCCS-Istituto di Ricovero e Cura a Carattere Scientifico—Fondazione Bietti, 00198 Rome, Italy
4
Hematology Oncology Division, Department of Women's and Children's Health, University of Padova, 35128 Padova, Italy
5
Paediatric Oncology, Blood, Cell, and Cancer Department, Great Ormond Street Hospital, London WC1N 3JH, UK
6
Department of Ophthalmology, University of Padova, 35128 Padova, Italy
†
Matteo Cassina and Luisa Frizziero contributed equally to this work.

Received: 22 October 2019 / Accepted: 12 November 2019 / Published: 14 November 2019
Abstract
:
Type 1 neurofibromatosis (NF1) is a dominantly inherited condition predisposing to tumor development. Optic pathway glioma (OPG) is the most frequent central nervous system tumor in children with NF1, affecting approximately 15–20% of patients. The lack of well-established prognostic markers and the wide clinical variability with respect to tumor progression and visual outcome make the clinical management of these tumors challenging, with significant differences among distinct centers. We reviewed published articles on OPG diagnostic protocol, follow-up and treatment in NF1. Cohorts of NF1 children with OPG reported in the literature and patients prospectively collected in our center were analyzed with regard to clinical data, tumor anatomical site, diagnostic workflow, treatment and outcome. In addition, we discussed the recent findings on the pathophysiology of OPG development in NF1. This review provides a comprehensive overview about the clinical management of NF1-associated OPG, focusing on the most recent advances from preclinical studies with genetically engineered models and the ongoing clinical trials.
Keywords:
type 1 neurofibromatosis; NF1; optic pathway glioma; brain/orbit MRI; clinical trials
1. Introduction
In this review we will summarize and discuss the clinical features of OPG, the current diagnostic and therapeutic protocols and the most recent advances on its pathophysiology obtained from preclinical models.
2. Optic Pathway Gliomas in NF1
2.1. Prevalence, Clinical Features and Natural History of OPG
The prevalence of symptomatic OPG is comparable to that reported in other previous studies. However, we could not calculate the prevalence of asymptomatic OPG in our cohort since brain MRI was not systematically performed in all patients for screening purpose.
2.2. Genotype-phenotype Correlations in OPG
The mutational spectrum at the
NF1
locus has been examined by a number of studies in order to evaluate the risk of OPG in NF1 asymptomatic patients. Despite the small number of recurrent mutations and the well-known intrafamilial variability in the expressivity of the disease, advances in molecular technologies in the last 20 years, with an increasing number of genotyped patients, have allowed to establish a growing number of genotype-phenotype correlations, with relevant consequences for the clinical management [
40
,
41
,
42
,
43
,
44
,
45
,
46
]. However, the variable timing, nature and location of
NF1
somatic mutations on the other allele significantly contribute to disease severity, making identification of such correlations challenging.
The relationship between OPG development and
NF1
genotype is still under debate. Some pathogenic variants in
NF1
, including the p.Met992del deletion detected in 170 individuals and the substitutions at codon 1809 identified in 98 patients, have never been reported in association with symptomatic OPG [
41
,
43
]; conversely, these tumors were found to be more prevalent in patients harboring missense variants affecting codons 844–848 [
44
]. Previous works focused on the risk of OPG in NF1 patients and reported conflicting results on the association between tumor development and mutation position, with some studies reporting an increased risk of OPG in patients harboring mutations in the 5′tertile of
NF1
(exons 1–21) [
47
,
48
], while others not confirming this finding [
49
]. In order to bypass limitations attributed to the small sample size, further adequately powered analyses on combined studies finally confirmed the correlation between the presence of 5′-end gene mutations and the likely of developing OPG (OR 2%, CI: 1.22–3.29;
p
= 0.006) [
50
,
51
,
52
]. Moreover, Xu and colleagues [
51
] elegantly showed that mutations clustering in specific regions of neurofibromin confer different risks of OPG: pathogenic variants correlate with a higher or lower risk of developing these tumors when located in the cysteine/serine-rich (CSRD, amino acids 543–909) or HEAT-like repeat region (HLR, amino acids 1825–2428) domains, respectively, despite the specific mutation type. These findings indicate that the
NF1
germline mutation might become a useful biomarker to predict OPG development and emphasize the importance of a better comprehension of the functions of neurofibromin. However, sensitivity and specificity of these correlations are currently not sufficient to provide an actual utility in the clinical setting [
52
], and further studies, evaluating other risk factors beyond the germline mutation, are warranted.
3. Screening and Diagnostic Protocol for OPG
3.1. The Role of Brain and Orbit MRI
Arguments supporting the current recommendations of not performing screening MRI are: (i) a single negative MRI does not exclude later onset of OPG; (ii) treatment is not required in the absence of progressive visual disturbance or other symptoms (including proptosis); (iii) periodic follow up MRI, often requiring sedation, needs to be carried out to detect the radiologic progression of the tumor; (iv) the vast majority of OPGs does not progress and does not require any treatment; (v) newly diagnosed OPG and follow up evaluations may raise parental anxiety; (vi) UBOs (unidentified bright objects) are frequent in children with NF1 but, although benign, may be difficult to differentiate from low-grade tumors; therefore, yearly follow-up brain imaging may be required after their detection.
Screening brain MRI is not recommended also in adult patients with NF1. In fact, despite the overall prevalence of brain tumors is higher than in the general population, the absolute risk does not support screening in asymptomatic patients. Moreover, OPGs arise during childhood and rarely progress after 10 years of age.
3.2. Ophthalmological Assessment
Recommendations for screening in patients with NF1 include annual eye examination in all children less than 8 years of age, and at least every 2 years until 18 years of age [
20
,
27
]. The main goal is to obtain a reliable age-appropriate assessment of visual acuity (VA). Anterior segment examination with slit lamp and ocular fundus examination by indirect ophthalmoscopy are also indicated. Conversely, visual field testing is most often unreliable in young children and optic disc pallor does not predict vision outcome [
20
,
27
]. Optical coherence tomography (OCT) has been recently introduced as an objective modality in the diagnosis and follow-up of NF1-associated OPG. This diagnostic tool measures retinal nerve fiber layer (RNFL) thickness, recording the secondary loss of optic nerve fibers, a reliable surrogate marker for visual loss in children with NF1 [
56
,
57
]. The use of this objective measure may circumvent some of the problems associated with an accurate vision assessment, especially in children with NF1 whose co-morbidity in terms of attention and cognitive disabilities have already been reported [
20
,
27
].
Once an OPG has been confirmed at MRI, the frequency of neuroimaging and ophthalmological assessment depends on the site of the tumor, the degree of visual impairment and the associated symptoms, as well as evidence of progressive disease [
20
]. In most experienced centers, eye examinations and VA testing are performed every 3 months for the first year after diagnosis, then every 6 months for 2 years until the age of 8, then annually until the age of 18, if stable [
58
].
3.2.1. Visual Function Assessment
Visual Field Testing
Visual field testing has been proposed as complementary to VA, since it may better define a VA loss in NF1-associated OPGs. Moreover, its results may be biased more than VA testing by attention deficits, typical of children, particularly if affected by NF1, being such test monotonous and time consuming [
27
,
56
]. Therefore, it is usually reserved to older or more collaborative children, to obtain a more precise definition and follow-up of the optic nerve related functional deficit [
27
,
58
]. Nevertheless, confrontation visual field, performed using finger counting or toys, may provide an initial indication for the clinician of the functional deficit in young children (<5 years old) [
27
,
70
]. Recently, defined reference values for visual field testing in children have been reported [
71
]. Unfortunately, in our experience, results of visual field testing are most often unreliable under the age of seven, and therefore we do not recommend performing this test routinely, reserving it for selected cases only.
Visual Evoked Potentials
The use of visual evoked potentials (VEPs), which measure cortical activity in response to a visual stimulus using electrodes over the scalp, has been proposed as a screening test [
58
]. Prolonged VEP latency or decreased amplitude may indicate damage to the visual pathway, identifying OPGs with high sensitivity (70–90%). However, specificity is low (58–69%) and VEP cannot distinguish between symptomatic and asymptomatic OPGs, giving results not corresponding to VA in a significant percentage of cases [
58
,
62
]. Moreover, each test takes a considerable amount of time (up to 30 min), making it bothersome in young children and requiring skilled clinical operators and clinicians to perform and interpret it. Therefore, its inapplicability in detecting functional worsening and monitor visual response to treatment does not support its use in standard practice [
27
,
56
,
72
].
Eye Movements Assessment
Strabismus and nystagmus, when caused by OPG, are also usually associated with VA loss. Nystagmus has been reported in 2–19% of OPG cases [
71
]. It may be present in chiasmatic or postchiasmatic OPG patients and may be horizontal or rotational, and asymmetric or monocular, also as presenting features. It may be associated with other neurological signs, proptosis and restrictive eye movement deficits [
73
,
74
].
OPG in children with NF1 is associated with an increased onset of strabismus, usually sensorial in nature. Although exotropia is the most common ocular misalignment associated with OPG, the direction of strabismus cannot be used as an accurate predictor for its presence [
75
].
Pupil reactions to light should be always performed in OPG patients and may be helpful in distinguishing an OPG-related VA loss from amblyopia and refractive errors, that are not associated with an afferent pupillary defect [
71
].
3.2.2. Optical Coherence Tomography (OCT)
3.2.3. Optic Disc Evaluation
Optic disc evaluation should be performed by an experienced pediatric ophthalmologist using indirect ophthalmoscopy, after mydriasis and after VA and RNFL assessment. Signs of optic disc swelling, pallor, atrophy, asymmetry, or excavation should be reported [
56
]. Their incidence in OPG patients varies widely among studies and they may be associated (or not) with VA loss, but do not predict it. Therefore, their appearance alone should not constitute evidence of clinical progression nor an indication for treatment [
27
,
63
,
70
].
4. Preclinical Models of OPG
No single model has been found to fully recapitulate the human tumor phenotype, but the combination of different research approaches (ranging from the employment of animal models with increasing complexity to the molecular characterization of human brain tumors and the use of engineered patient's modified iPSC cells) has allowed to generate a fertile ground for future translational research projects. Hopefully, results obtained from these models will be applied in the clinical setting in order to stratify patients, to better define the prognosis and to promote novel clinical trials with biological drugs or other innovative therapies.
Although translation from mouse models to patients remains challenging, these preclinical studies provide the bases to outline clinical trials in NF1 children. An effective treatment undoubtedly requires a better definition of tumor molecular signatures and probably needs a multiple-stage intervention, targeting both glioma cells and stromal non-neoplastic cells.
5. Oncologic Treatment of Children with NF1-OPG
5.1. Standard Treatment
Systemic cytotoxic chemotherapy has been the mainstay of treatment in children with progressive NF1-OPG, with the combination of vincristine/carboplatin (VC) as the most used, and effective regimen, leading to an excellent overall survival, and satisfactory long-term tumor control.
5.2. MEK Inhibitors
Recent data on preclinical models have confirmed the constitutional activation of the MAPK/ERK/MEK pathway as a direct consequence of NF1-associated loss of neurofibromin function, prompting recent clinical trials employing inhibitors of mitogen-activated protein kinase (MEK) for the treatment children with NF1-associated tumors, including OPG [
92
]. Selumetinib (AZD6244) is a potent, selective, orally available, non-ATP competitive small molecule inhibitor of MEK-1/2, which has shown in vivo significant growth inhibition in NF1-associated plexiform neurofibromas [
116
]. A recently published phase II clinical trial with the use of selumetinib in relapsed LGG, including NF1-associated OPG, showed that ten (40%) of 25 NF1-LGG patients achieved a sustained partial response after a median follow-up of 48 months, and only one patient progressed while on therapy. The 2-year PFS was 96 ± 4% [
115
].
A prospective randomized phase 3 study, with the aim of comparing the efficacy of selumetinib vs. carboplatin-vincristine in terms of event-free survival (EFS) and visual function (primarily assessed by Teller Acuity Cards), in previously untreated progressive NF1-OPG, might be soon launched as a result of a joint collaboration between pharma, US (COG), as well as European (SIOP) brain tumor experts.
Furthermore, a phase I/II trial (INSPECT) will further assess dosing, toxicity, and preliminary efficacy of an intermittent on/off schedule of selumetinib in children with relapsed NF1-OPG in selected centers.
While selumetinib is the most advanced drug in terms of efficacy and toxicity data in the NF1 population, other MEK inhibitors (MEKi) such as trametinib, cobimetinib, or binimetinib, are currently being tested in early phase clinical trials, or as compassionate use, in children with OPG, with or without NF1, and may be also considered.
Skin toxicity is the most commonly observed side effect from MEKi, and it is more frequent in adolescent and post pubertal children, as acneiform, follicular rash or paronychia. While toxicity is usually mild and reversible, it requires prompt diagnosis and timely treatment to avoid the need for therapy interruption. Prevention of acneiform rash includes the regular use of thick emollient creams. Other less frequent side effects include diarrhea, edema, fatigue, hypertension, constipation, pain, pneumonitis, as well as asymptomatic CPK elevation. Retinal findings (e.g., retinal pigment epithelial detachment (RPED) due to subretinal fluid accumulation or retinal vein occlusion (RVO) are both associated with MEKi [
117
,
118
]. If RPED is diagnosed, treatment with MEKi should be discontinued until resolution, or permanently if RVO occurs. Both RPED and RVO should be monitored with fundoscopic exam and/or OCT.
Although MEKi proved to be effective in NF1-associated tumors including OPG, several questions remain unanswered, including the possible occurrence of resistance mechanisms, the effect durability, how to overcome and most importantly, the long term side effects, especially in comparison with current chemotherapy.
5.3. Other Potential Treatments for NF1-OPG
A randomized trial from Falsini et al. [
119
], showed that the regular use of nerve growth factor (NGF) eyedrops could possibly improve visual fields, VEPs and/or other electrophysiological parameters in 13 patients with NF1-OPG who received experimental NGF after the end of chemotherapy. A phase II trial will hopefully confirm the potential benefit of this innovative approach, with potentially very few, if any, systemic side effects.
Genetically engineered mouse (GEM) models with NF1 associated tumors showed that pharmacologic elevation of cAMP, by the use of PDE4 inhibitors (rolipram) resulted in a dramatically reduction of optic glioma growth. Unfortunately, these exciting preclinical data have not undergone further translation into clinical trials yet [
120
].
6. Conclusions
The current treatment for progressive OPG in NF1, based on systemic chemotherapy is not optimal, at least in terms of visual outcome. [
120
] New and more effective strategies should include objective biomarkers of vision loss to better evaluate
who and when
children with NF1-OPG need treatment, and to assess treatment response particularly in terms of functional outcome. New insight into MRI volumetric measures may further help to stratify the risk of visual loss from NF1-OPG by predicting axonal degeneration, as initially described by Avery et al. [
77
]. The next generation of NF1-OPG trials incorporating visual outcome as a primary outcome will likely provide more robust and evidence-based data on the role of these new agents for the treatment of NF1-OPG.
Author Contributions
Conceptualization, M.C. (Matteo Cassina), R.P., M.C. (Maurizio Clementi) and E.T.; methodology, M.C. (Matteo Cassina), L.F., R.P., E.O., E.V. and E.T.; writing—original draft preparation, M.C. (Matteo Cassina), R.P., E.O., L.F., U.S., G.M. and E.T.; writing—review and editing, E.M., E.T. and M.C. (Maurizio Clementi); supervision, M.C. (Maurizio Clementi)
Funding
This research received no external funding.
Acknowledgments
The research contribution by the G.B. Bietti Foundation was supported by Fondazione Roma and Ministry of Health.
Conflicts of Interest
Enrico Opocher received travel reimbursements for advisory board participation from Astra Zeneca. The other authors declare no conflict of interest.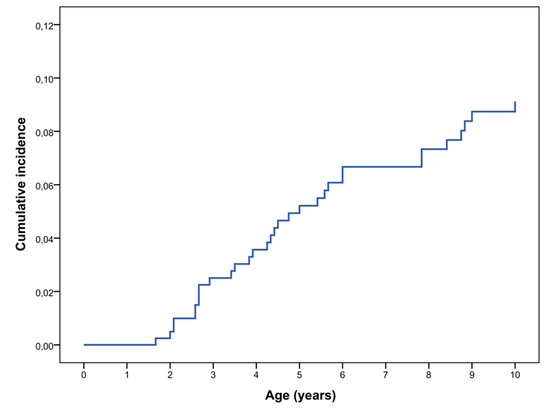 Figure 1. Cumulative incidence of symptomatic OPG in NF1 diagnosed patients in the first decade of life (N = 414) (Kaplan–Meier analysis).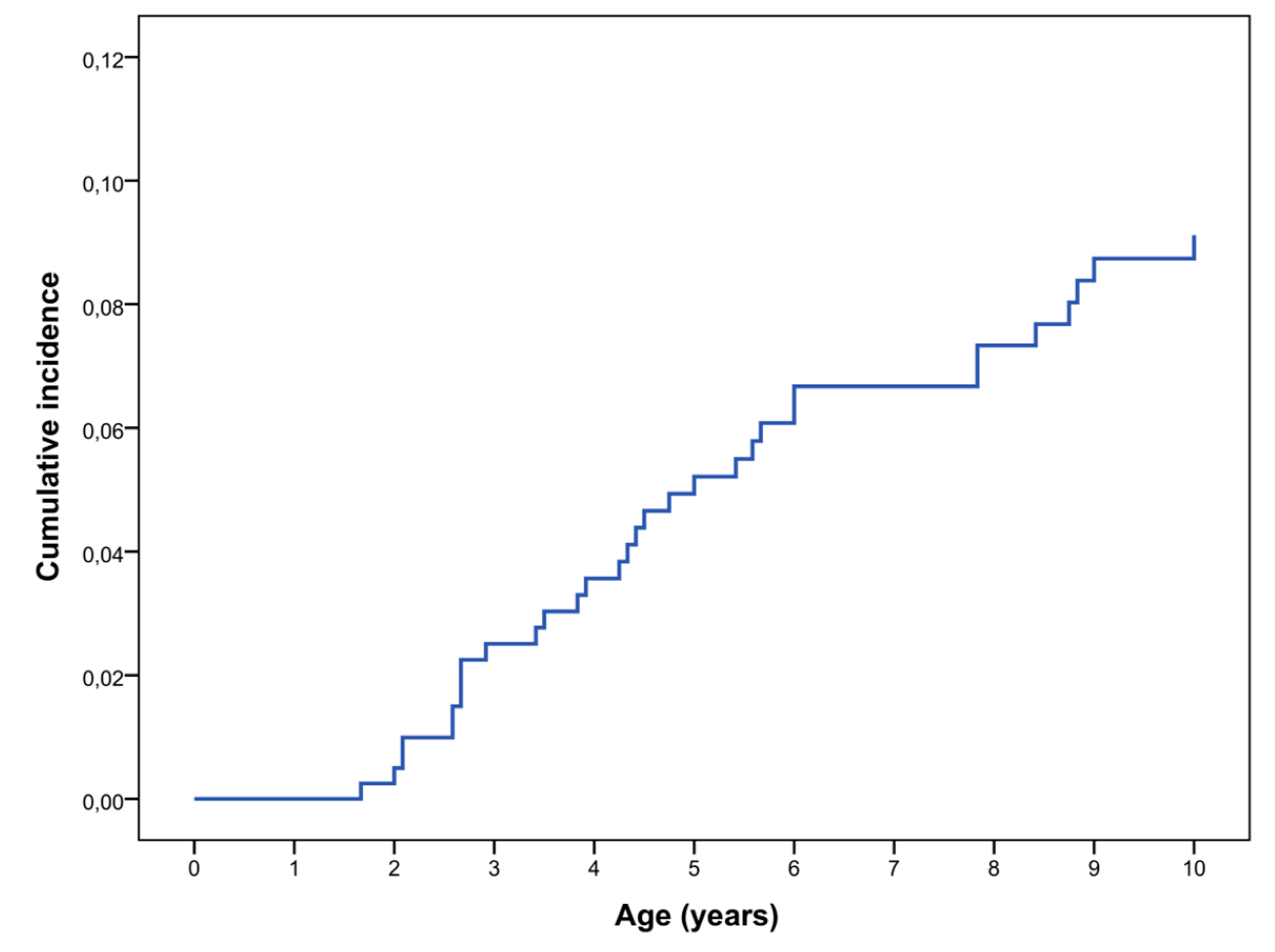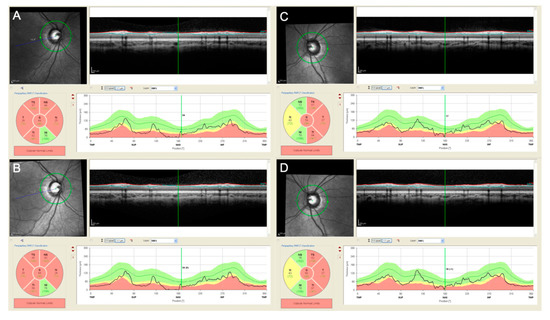 Figure 2. Peripapillary retinal nerve fiber layer (pRNFL) analysis performed in both eyes (A–B right eye, C–D, left eye) with spectral domain optical coherence tomography (SD-OCT, HRA+OCT Spectralis, Heidelberg Engineering, Heidelberg, Germany) in a 4 years old patient affected by neurofibromatosis type 1 (NF-1) and a optic chiasmatic-hypothalamic glioma. The patient was already treated with systemic chemotherapy and during the follow-up the visual acuity remained stable (0.52 logMAR in the right eye and 0.10 logMAR in the left eye). The pRNFL analysis performed in both eyes at the end of the chemotherapy (A,C) and 6 months after (B,D) confirm the stability of the pRNFL thickness during time.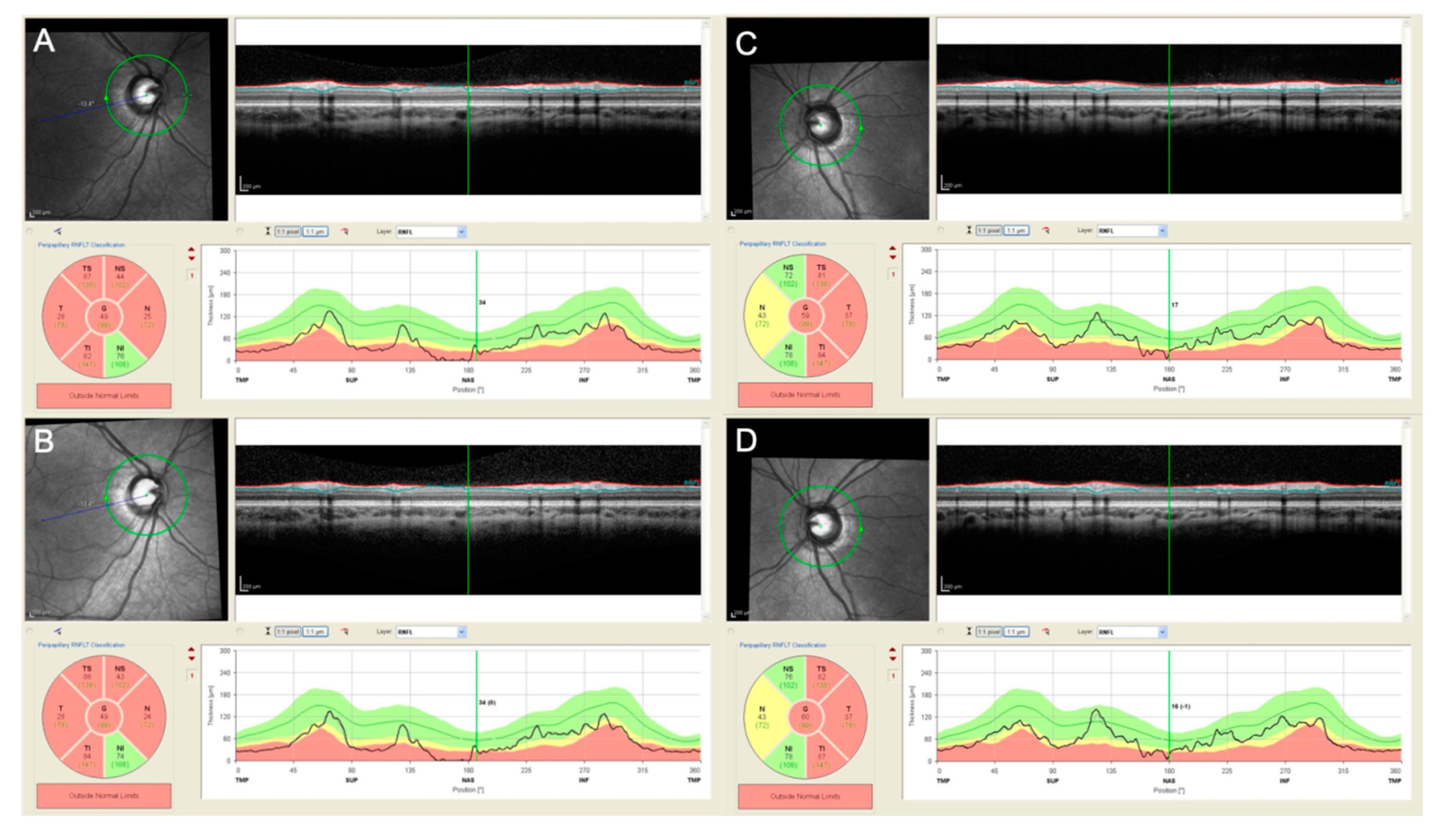 | Test | Authors | Age (Years) | Mean Visual Acuity | logMAR Equivalent | Approximate Snellen Fraction |
| --- | --- | --- | --- | --- | --- |
| Teller acuity cards | Mayer et al. [64] | (1 month) | 1 cycle per degree | 1.5 | 6/180 |
| | | (6 months) | 6 cycles per degree | 0.70 | 6/30 |
| | | 4 | 25 cycles per degree | 0.07 | 6/7 |
| | Hargdon et al. [65] | 5–6 | 24.5 cycles per degree | 0.10 | 6/7.5 |
| Single Lea symbol | Becker et al. [66] | 2–6 | 0.88 Snellen decimal | 0.07 | 6/7 |
| Crowded Lea symbols | Becker et al. [66] | 2–6 | 0.74 Snellen decimal | 0.12 | 6/8 |
| | Chen et al. [67] | 4.5–8.5 | | 0.08 ± 0.09 | 6/7.5 |
| HOTV crowded | Drover et al. [68] | 3–4 | | 0.08 | 6/7.5 |
| | Drover et al. [68] | 5 | | 0.03 | 6/6 |
| | Drover et al. [68] | 6 | | −0.03 | 6/6 |
| | Pan et al. [69] | 3–4 | | 0.17 ± 0.13 | 6/9 |
| | | 4–6 | | 0.08 ± 0.11 | 6/7.5 |
* Modified from Anstice et al. [60]. Mean (± standard deviation where data were available) values for visual acuity are shown in the units published, as well as logMAR and Snellen equivalents, where appropriate.

Table 2. Best balanced and most sensitive cut-off values of each RNFL analyzed sector predicting visual acuity in OPG pediatric patients *.
| RNFL Thickness | Cut-off | SE | SP | PPV | NPP |
| --- | --- | --- | --- | --- | --- |
| RNFL thickness (G) | | | | | |
| Most sensitive | 88 µm | 100.0% | 55.8% | 54.8% | 100.0% |
| Best balanced | 76 µm | 91.3% | 76.7% | 67.7% | 94.3% |
| RNFL thickness (T) | | | | | |
| Most sensitive | 59 µm | 100.0% | 60.5% | 57.5% | 100.0% |
| Best balanced | 49 µm | 87.0% | 76.7% | 66.7% | 91.7% |
| RNFL thickness (S) | | | | | |
| Most sensitive | 115 µm | 100.0% | 41.9% | 47.9% | 100.0% |
| Best balanced | 95 µm | 87.0% | 81.4% | 71.4% | 92.1% |
| RNFL thickness (N) | | | | | |
| Most sensitive | 111 µm | 100.0% | 2.3% | 35.4% | 100.0% |
| Best balanced | 54 µm | 78.3% | 72.1% | 60.0% | 86.1% |
| RNFL thickness (I) | | | | | |
| Most sensitive | 117 µm | 100.0% | 51.2% | 52.3% | 100.0% |
| Best balanced | 99 µm | 87.0% | 79.1% | 69.0% | 91.9% |
* Modified from Parrozzani et al. [57] SE: specificity; SP: sensibility; PPV: positive predictive value; NPV: negative predictive value: retinal nerve fiber layer; G: Global; T: temporal; S: superior; N: nasal; I: Inferior.

© 2019 by the authors. Licensee MDPI, Basel, Switzerland. This article is an open access article distributed under the terms and conditions of the Creative Commons Attribution (CC BY) license (http://creativecommons.org/licenses/by/4.0/).