Open Access This article is
freely available
re-usable
Review
Potential Role of MSC/Cancer Cell Fusion and EMT for Breast Cancer Stem Cell Formation
1
Biochemistry and Tumor Biology Lab, Department of Obstetrics and Gynecology, Hannover Medical School, 30625 Hannover, Germany
2
First Department of Medicine, University Hospital Schleswig-Holstein, Campus Lübeck, 23538 Lübeck, Germany
3
Department of General Surgery, Visceral, Thoracic, Transplantation and Pediatric Surgery, University Hospital Schleswig-Holstein, Campus Kiel, 24105 Kiel, Germany
*
Author to whom correspondence should be addressed.
Received: 22 August 2019 / Accepted: 24 September 2019 / Published: 25 September 2019
Abstract
:
Solid tumors comprise of maturated cancer cells and self-renewing cancer stem-like cells (CSCs), which are associated with various other nontumorigenic cell populations in the tumor microenvironment. In addition to immune cells, endothelial cells, fibroblasts, and further cell types, mesenchymal stroma/stem-like cells (MSC) represent an important cell population recruited to tumor sites and predominantly interacting with the different cancer cells. Breast cancer models were among the first to reveal distinct properties of CSCs, however, the cellular process(es) through which these cells are generated, maintained, and expanded within neoplastic tissues remains incompletely understood. Here, we discuss several possible scenarios that are not mutually exclusive but may even act synergistically: fusion of cancer cells with MSC to yield hybrid cells and/or the induction of epithelial-mesenchymal transition (EMT) in breast cancer cells by MSC, which can relay signals for retrodifferentiation and eventually, the generation of breast CSCs (BCSCs). In either case, the consequences may be promotion of self-renewal capacity, tumor cell plasticity and heterogeneity, an increase in the cancer cells' invasive and metastatic potential, and the acquisition of resistance mechanisms towards chemo- or radiotherapy. While specific signaling mechanisms involved in each of these properties remain to be elucidated, the present review article focusses on a potential involvement of cancer cell fusion and EMT in the development of breast cancer stem cells.
Keywords:
epithelial-mesenchymal transition; mesenchymal stem cells; retrodifferentiation; cancer cell fusion; cancer stem cells; tumor therapy
1. Introduction
Tumor tissue and its microenvironment harbors a variety of different cell types which are interacting, proliferating, and differentiating. Among these populations are cancer cells at different stages of malignant development, including a potential subset of proliferation-active cells and cancer cells with self-renewal capacity and stem-like features. Moreover, various immune cell populations, such as CD4
+
T
H
1 and T
H
2 cells, CD8
+
cytotoxic T cells, T
reg
cells, B lymphocytes, dendritic cells, natural killer cells, and monocytes/macrophages, are attracted to the tumor site due to the proinflammatory environment of invasive cancer cell growth [
1
,
2
]. An important cell type in the tumor microenvironment is mesenchymal stroma/stem-like cells (MSC), also termed multipotent mesenchymal stromal cells or medicinal signaling cells [
3
,
4
]. These cells relay transcellular signaling among the different tumor-associated cell populations by the production and release of trophic factors. In addition, MSC can differentiate into various tumor-associated phenotypes. In general, MSC represent a heterogenous stroma/stem-like phenotype with the capacity to differentiate along the mesodermal lineage by expression of common surface markers, such as CD73, CD90, and CD105 [
5
,
6
,
7
,
8
]. While MSC primarily reside in perivascular niches of nearly all kinds of human tissues [
9
,
10
,
11
,
12
,
13
], these cells differ from pericytes which appear in the vascular walls in the vicinity of endothelial cells and also express some markers in common with MSC [
14
]. The tissue-specific origins of MSC provide distinct functional characteristics and differences. For instance, bone marrow-derived (BM-)MSC are involved in the regulation of hematopoietic stem cell homeostasis and expansion by providing a hematopoietic stem cell niche [
15
]. Other physiological functions of MSC include the support of tissue repair [
16
] and neovascularization [
17
] at sites of tissue damage. The supportive repair functions of MSC also affect pathophysiological conditions with invasive tumor growth and metastasis and further involve immune-suppressive and anti-inflammatory effects. Mechanistically, MSC in the tumor tissue can interact with immune cells via surface adhesion molecules or cytokines and lectins to down-modulate T cell and natural killer cell activity. Moreover, MSC-mediated release of the macrophage inflammatory proteins MIP-1α/CCL3 and MIP-2α/CXCL2 as well as prostaglandin E2 (PGE
2
) and kynurenine contribute to the conversion of inflammatory M1 macrophages to alternatively activated, immunosuppressive M2 macrophages [
18
]. In addition, MSC can interact with cancer cells and differentiate into cancer-associated fibroblasts (CAFs) and myofibroblasts, which are important to stabilize tumor tissue at primary and metastatic sites and contribute to chemoresistance [
19
,
20
]. MSC also support neovascularization of the tumor tissue [
21
] via the release of transforming growth factor beta (TGFβ). This growth factor is known to promote invasion and metastasis through the induction of epithelial-mesenchymal transition (EMT), a morphogenetic program during which the epithelial phenotype of the carcinoma cells is lost and replaced with a mesenchymal one [
22
]. Other reports demonstrated the capacity of MSC to acquire an endothelial phenotype, which is mediated by TGF-β/JNK signaling and negatively regulated by p38α [
23
,
24
]. Altogether, enhanced recruitment of MSC and localization in a tumorigenic microenvironment contribute to immune modulation [
25
], tumor angiogenesis, and various modes of direct and indirect interactions of MSC with tumor cells followed by mutual alterations of their functionalities [
26
,
27
,
28
,
29
,
30
].
2. Interaction and Cell Fusion of MSC with Breast Cancer Cells
3. EMT and the Formation of Breast Cancer Stem Cells (BCSCs)
4. Breast Cancer Stem Cell Properties and Corresponding Carcinoma Stem Cell Niche
Transformation of normal stem or progenitor cells in the mammary gland by the deregulation of self-renewal pathways including Hedgehog, Notch, and Wnt/β-catenin signaling via the transcription factor Bmi-1 can promote the appearance of tumorigenic BCSCs [
95
]. In addition, development of cancer stem-like cells including those from liver and breast tissue may involve retrodifferentiation, fusion or EMT of maturated tumor cells or tumor-associated cells by acquisition of self-renewal capacity, and exhibiting anti-apoptotic mechanisms for maintenance of a neoplastic environment [
34
,
96
]. The process of retrodifferentiation describes a reversion of all differentiated markers by the development of a stem-like phenotype which includes retrograde senescence [
97
]. As a consequence, retrodifferentiated and rejuvenated stem-like cancer cells display the potential of self-renewal (
Figure 1
). Likewise, BCSCs of the CD24
low
/CD44
high
phenotype display tumorigenic potential and self-renewal capacity [
91
,
98
] and may evolve by retrodifferentiation. Moreover, increased ALDH-1 activity was identified in HMEC associated with stem/progenitor properties whereby tumorigenic breast cell subsets with increased ALDH-1 expression and activity exhibit self-renewal capacity and initiation of tumor growth [
99
] (
Figure 1
).
The development of cancer cell stemness can occur by different mechanisms, such as fusion or EMT which involve (epi)genetic alterations and chromosomal re-arrangements, eventually triggering a retrodifferentiation program. The subsequent release of trophic factors and a variety of cytokines and chemokines by MSC contribute to enhanced proliferation of breast cancer cells, including an elevated amount of BCSCs. Maintenance and progressive expansion of BCSCs may require the establishment of a cancer stem cell niche (CSCN) with a timely available concentration of trophic factors predominantly provided by appropriately primed MSC populations [
100
] (
Figure 1
). Certain metabolic and regulatory requirements have been suggested which favor the establishment of a CSCN. Therefore, PGE
2
production by MSC, paralleled by cancer cell- and immune cell-derived IL1, further stimulates MSC to secrete a panel of cytokines, which, in turn, together with PGE
2
, builds a local gradient to confer Wnt/Frizzled/β-catenin signaling in the cancer cells, thereby contributing to the development of CSCs [
101
]. Moreover, IL8 signaling via the receptor CXCR1 appears crucial for the maintenance of certain BCSC subtypes since inhibition of the receptor downstream signaling by interfering agents for ligand binding was associated with massive apoptosis/necroptosis and a subsequent decrease in the breast cancer stem-like cell population [
102
] (
Figure 1
,
Figure 2
). The activation of IL8 signaling in BCSCs is substantiated by visualizing the formation of a putative breast CSCN. Long-term cultivation of primary human breast cancer epithelial cells (HBCEC) derived from breast cancer patient's biopsies [
103
] is developing small proliferative active cells as putative BCSCs which are circularly surrounded by larger growth-reduced and senescent cells demonstrating an exchange of small vesicles [
100
]. Moreover, marked IL8 expression was detectable in these human in vitro breast CSCN in contrast to nontumorigenic normal HMEC, suggesting that interfering with CXCR1 expression and/or activation represents a potential therapeutic approach in targeting BCSCs (
Figure 2
).
Of interest, these mechanisms of DNA re-structure and cellular changes can also lead to apoptosis/necroptosis. Thus, genetic alterations and chromosomal instabilities can induce DNA repair processes via ATM/ATR and downstream signaling eventually resulting in p53- or DNA damage-mediated cell death. Moreover, cell fusion requires chromosomal and functional nuclear re-organization whereby the majority of the generated new cancer hybrid cells are dying during a post-fusion selection process due to regulatory incompatibility of the two nuclei.
5. Conclusions
Although it is commonly accepted that BCSCs are crucially involved in driving tumor progression and resistance to therapy, mechanistic insights into how these cells are generated and maintained in the cancer tissue are comparatively scarce. Here, we discussed a contribution of MSC to enhanced breast cancer proliferation which may also promote BCSC generation by several mechanisms including fusion with cancer cells, retrodifferentiation of differentiated cancer cells or hybrids, or, indirectly, via EMT induction. Moreover, maintenance and expansion of BCSCs may require the establishment of a cancer stem cell niche with potential involvement of MSC.
Although CSC generation is thought to be closely associated with EMT on the one hand and self-renewal, metastasis, and therapy resistance on the other hand, it is still a matter of debate whether EMT is a prerequisite for metastasis to occur. Elucidating the precise role of EMT or cell fusion in CSC formation, and how MSC impact both processes, may provide novel opportunities to target BCSCs in breast cancer therapy. Certain therapeutic strategies against BCSCs are a matter of debate [
31
,
105
,
106
,
107
,
108
,
109
].
Author Contributions
R.H. and H.U. drafted the manuscript, J.v.d.O. contributed figures. All authors critically read and approved the final manuscript.
Funding
This work was supported by a grant from the Erich und Gertrud Roggenbuck-Stiftung for Cancer Research to Ralf Hass and the APC was supported by the German Research Foundation and the Open Access Publication Fund of Hannover Medical School (MHH).
Conflicts of Interest
The authors declare no conflict of interest.
Abbreviations
| | |
| --- | --- |
| ALDH-1 | aldehyde dehydrogenase-1 |
| α-SMA | α-smooth muscle actin |
| (B)CSCs | (breast) cancer stem cells |
| CA+-MSC | cancer-associated and -supporting MSC |
| CA--MSC | cancer-associated and -suppressing MSC |
| CCL5 | CC-chemokine ligand 5 |
| CSCN | cancer stem cell niche |
| CXCR1 | CXC-motif chemokine receptor 1 |
| DKK-1 | Dickkopf-related protein 1 |
| EMT | epithelial-mesenchymal transition |
| EGF | epidermal growth factor |
| Fsp 1 | fibroblast-specific protein 1 |
| GAPDH | glyceraldehyde-3-phosphate-dehydrogenase |
| HBCEC | human breast cancer-derived epithelial cells |
| HGF | hepatocyte growth factor |
| HMEC | human mammary epithelial cells |
| IFNβ | interferon β |
| IL1 | interleukin 1 |
| IL8 | interleukin 8 |
| MSC | mesenchymal stroma/stem-like cells |
| MET | mesenchymal-epithelial transition |
| microRNA | miRNA |
| PDAC | pancreatic ductal adenocarcinoma |
| PGE2 | prostaglandin E2 |
| RUNX1, 2 | runt-related transcription factor 1, 2 |
| TAMs | tumor-associated macrophages |
| TGFβ | transforming growth factor-beta |
| TNFα | tumor necrosis factor alpha |
| Zeb | Zinc-finger E-box homeobox |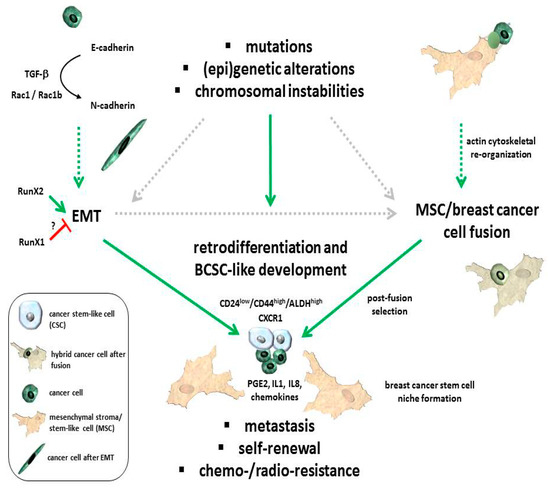 Figure 1.
Schematic diagram for a potential development of breast cancer stem cells (BCSCs) via: (1) changes in the DNA structure (mutations, (epi)genetic alterations, chromosomal instabilities); (2) changes in cell fate by epithelial-mesenchymal transition (EMT) including a transforming growth factor beta (TGFβ)-mediated switch of E-cadherin to N-cadherin expression and subsequent induction of EMT-related factors (e.g., Snail, Twist, Vimentin); (3) generation of new cancer cell populations by cell fusion (formation of a fusion-permissive environment by cytoskeletal re-arrangement and distinct physico-chemical parameters (low pH, ionic strength, hydrophilic and lipophilic fluidity etc.) and appropriate arrangement of (glyco)proteins and (glycol)lipids; (4) maintenance of BCSCs in a dynamic breast cancer stem cell niche requiring prostaglandin E2 (PGE
2)
, IL1, IL8, and chemokines among others [
101
].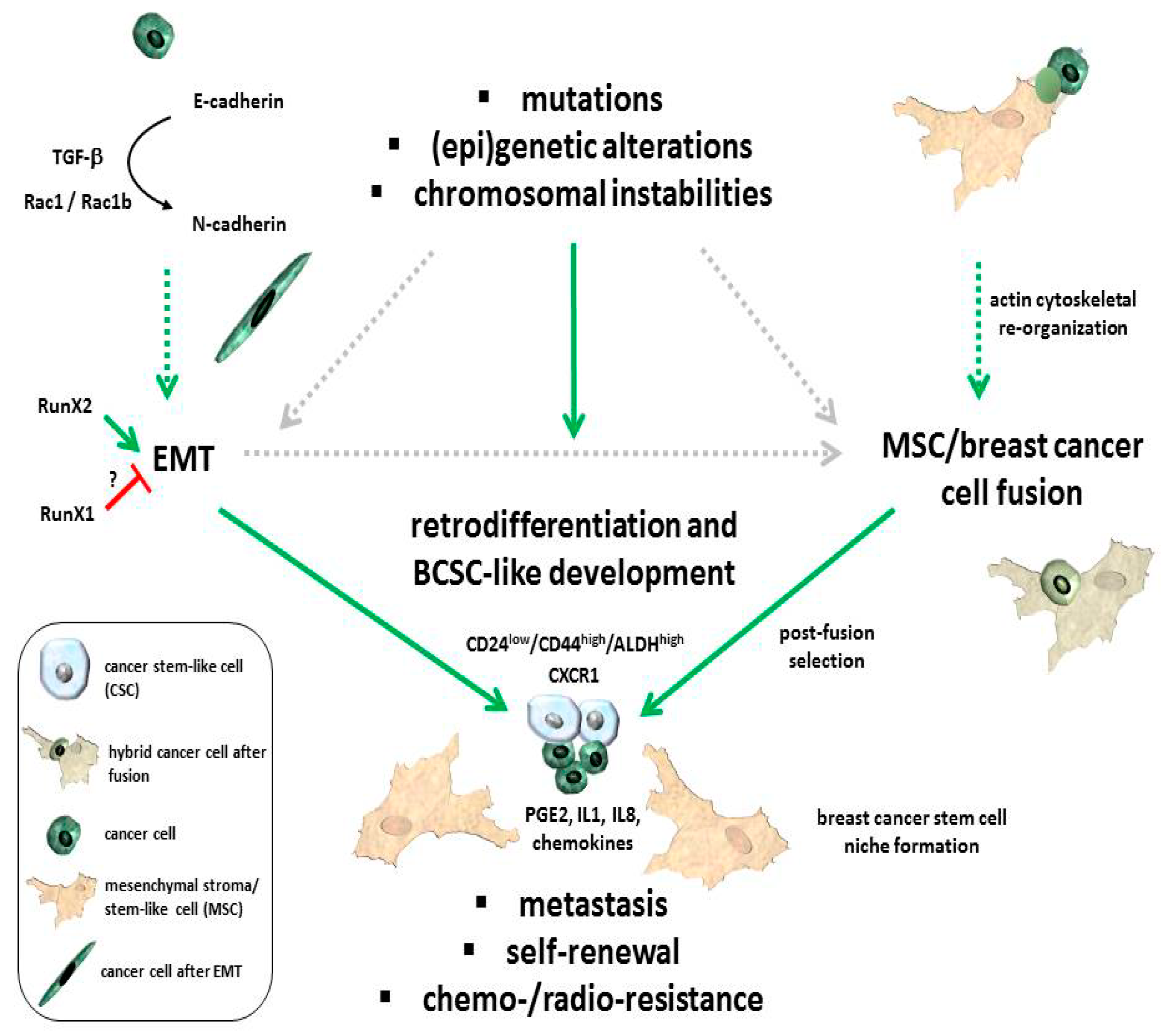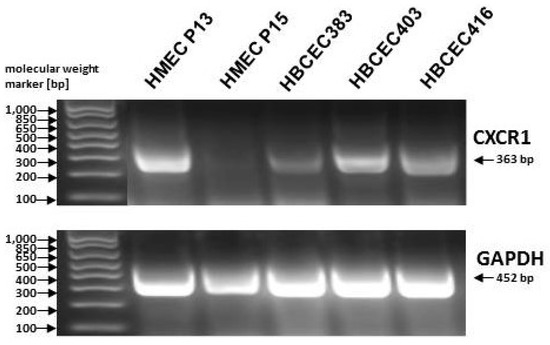 Figure 2.
Detection of the IL-8 receptor, CXCR1, by RT-PCR in young proliferating human mammary epithelial cells (HMEC) in passage 13 and in three different patient-derived human breast cancer epithelial cell (HBCEC) populations in contrast to growth-arrested senescent HMEC in passage 15 [
104
]. The expression of CXCR1 is a phenotypic feature of BCSCs since these cells were reported to depend on IL8 signaling for survival [
102
]. Amplification of glyceraldehyde-3-phosphate-dehydrogenase (GAPDH) transcripts (amplification product: 452 bp, [
28
]) served as a control. The PCR primers used were: CXCR1 sense: 5′-GGG GCC ACA CCA ACC TTC-3′, antisense: 5′-AGT GCC TGC CTC AAT GTC TCC-3′, amplification product: 363 base pairs (bp). Molecular weight is represented by the DNA ladder standard (Invitrogen/ThermoFisher Scientific, Carlsbad, CA, USA).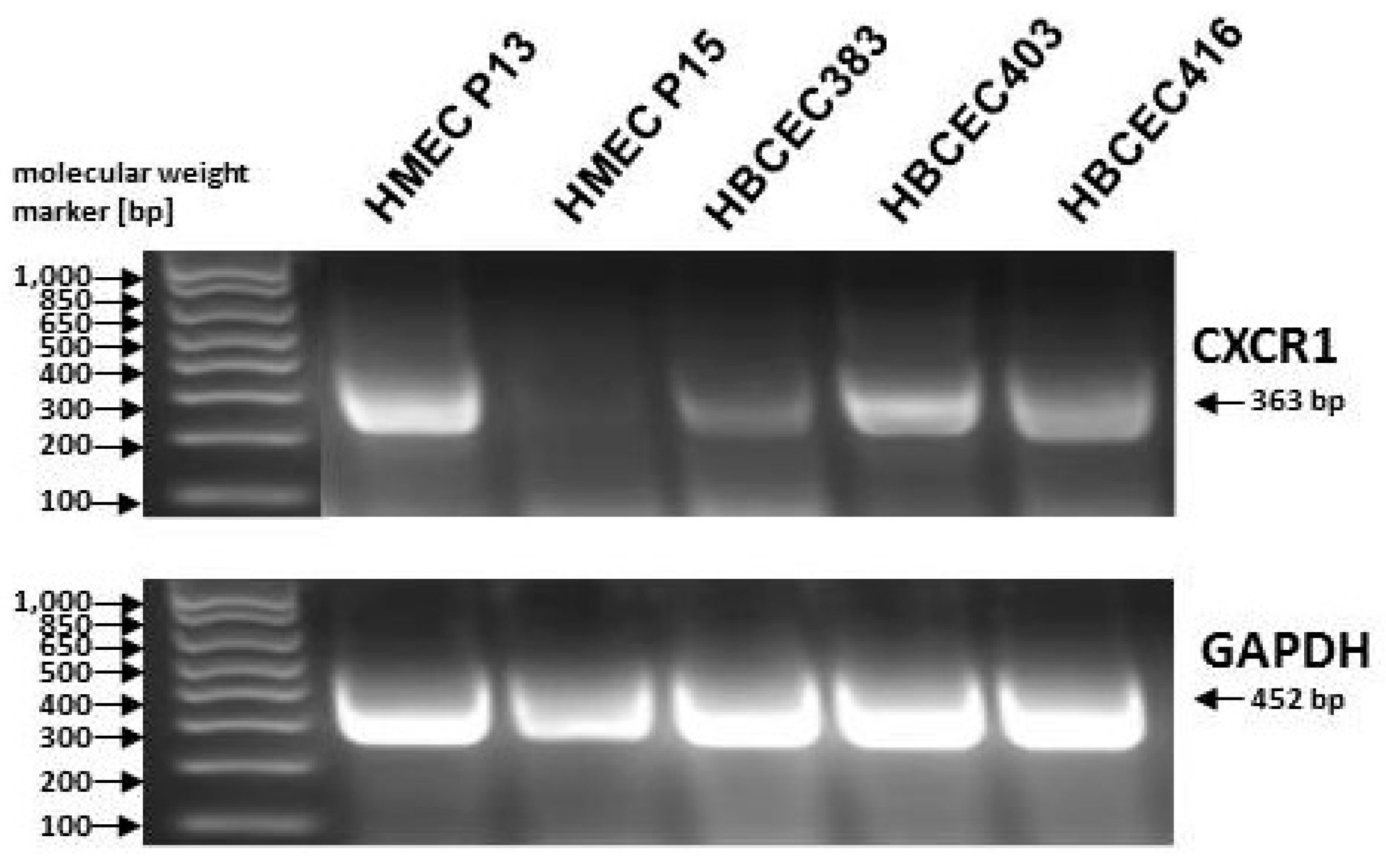 © 2019 by the authors. Licensee MDPI, Basel, Switzerland. This article is an open access article distributed under the terms and conditions of the Creative Commons Attribution (CC BY) license (http://creativecommons.org/licenses/by/4.0/).