Open Access This article is
freely available
re-usable
Review
Endothelial Protein C Receptor (EPCR), Protease Activated Receptor-1 (PAR-1) and Their Interplay in Cancer Growth and Metastatic Dissemination
1
Department of Oncology, Medical University of Bialystok, 15-089 Bialystok, Poland
2
Department of Clinical Oncology, Comprehensive Cancer Center in Bialystok, 15-027 Bialystok, Poland
3
Department of Radiotherapy, Comprehensive Cancer Center in Bialystok, 15-027 Bialystok, Poland
4
Bioactive Lipids Research Program, Department of Pathology-School of Medicine, Wayne State University, Detroit, MI 48202, USA
5
Karmanos Cancer Institute, Detroit, MI 48201, USA
6
Department of Chemistry, Wayne State University, Detroit, MI 48202, USA
7
Department of Oncology, Wayne State University, Detroit, MI 48202, USA
*
Author to whom correspondence should be addressed.
Received: 7 December 2018 / Accepted: 28 December 2018 / Published: 8 January 2019
Abstract
:
Endothelial protein C receptor (EPCR) and protease activated receptor 1 (PAR-1) by themselves play important role in cancer growth and dissemination. Moreover, interactions between the two receptors are essential for tumor progression. EPCR is a cell surface transmembrane glycoprotein localized predominantly on endothelial cells (ECs). It is a vital component of the activated protein C (APC)—mediated anticoagulant and cytoprotective signaling cascade. PAR-1, which belongs to a family of G protein–coupled cell surface receptors, is also widely distributed on endothelial and blood cells, where it plays a critical role in hemostasis. Both EPCR and PAR-1, generally considered coagulation-related receptors, are implicated in carcinogenesis and dissemination of diverse tumor types, and their expression correlates with clinical outcome of cancer patients. Existing data explain some mechanisms by which EPCR/PAR-1 affects cancer growth and metastasis; however, the exact molecular basis of cancer invasion associated with the signaling is still obscure. Here, we discuss the role of EPCR and PAR-1 reciprocal interactions in cancer progression as well as potential therapeutic options targeted specifically to interact with EPCR/PAR-1-induced signaling in cancer patients.
Keywords:
EPCR; APC; PAR-1; cancer; metastasis
3. PAR-1 and Cancer
Noncanonical PAR activation has also been documented for FXa, which leads to tunica intima endothelial receptor tyrosine kinase 2 (Tie2) activation in an EPCR-dependent manner, and ultimately endothelial barrier enforcement by upregulation of zona occludens 1 (ZO-1) to stabilize cell-cell junctions.
4. EPCR and PAR-1 Interactions
4.2. B-Arrestin
Although some mechanisms of triggering protein Gi instead of G12/13 and Gq as a result of APC-EPCR/PAR-1 interactions explain the cytoprotective role of PAR-1, it still remains unclear whether Gi is totally responsible for these effects. There are interesting data that explain the phenomenon of PAR-1 activation by two different proteases. The PAR1-induced cytoprotective activity of APC may not be mediated through either one of the G-proteins, but rather via β-arrestin-2-biased signaling [
77
]. It has been demonstrated that APC occupancy by EPCR leads to the recruitment of G-protein-coupled receptor kinase 5 (GRK5) to the plasma membrane and phosphorylation of the PAR-1 cytoplasmic domain. This phosphorylation suppresses PAR-1-dependent activation of G proteins resulting in β-arrestin-2 biased PAR-1 cytoprotective signaling independent of the protease cleavage site and protein Gi coupling. Interestingly, thrombin also exerts PAR-1-dependent cytoprotective effects by β-arrestin-2-induced recruitment of disheveled 2 (Dvl-2) scaffolding protein and Rac1 signaling.
4.3. Factor VII/VIIa and Factor Xa (FXa)
Other serine proteases that may occupy EPCR in a Ca
2+
-dependent mechanism and exert protective effects on the endothelial barrier are factor VII/VIIa and factor X/Xa (FXa), which bind EPCR through the 4-carboxyglutamic acid domains [
14
,
33
,
78
]. The cytoprotective properties mediated by FVIIa binding to EPCR depend on PAR-1 and β-arrestin-1 activation (
Figure 3
). FVIIa-treated ECs in vitro had reduced expression of cellular adhesion molecules and adherence of monocytes to ECs. These effects were dependent on PAR-1-mediated suppression of tumor necrosis factor α (TNF-α). PAR-1 antibodies or small interfering RNA abolished TNF-α-induced activation of ERK1/2, p38 MAPK, JNK, NF-κB, and C-Jun factors as well as lipopolysaccharide (LPS)-mediated in vivo inflammatory responses in lungs of mice overexpressing EPCR. Additionally, FVIIa in the PAR-1/MAPK/Rac1-dependent pathway has been shown to reduce LPS- as well as vascular endothelial growth factor (VEGF)-induced vascular leakage thereby revealing FVIIa barrier-protective features [
79
,
80
]. EPCR serves as a receptor for FVIIa on endothelial cells and has recently been found to bind FVIIa on human platelets, which have been widely described to play a role in cancer progression [
81
,
82
]. PAR-1 cleavage by FXa is also highly enhanced in the presence of EPCR, which, similar to APC, dissociates from caveolin-1 after FXa binding [
78
]. Unfortunately, FVIIa and FXa/EPCR-mediated PAR-1 activation is not well explored in cancer tissues.
4.4. Tissue Factor
Tissue factor is the main procoagulant protein expressed on cancer cells, and is responsible for thrombin generation in the tumor microenvironment independently of blood coagulation. Thrombin is pivotal for APC activation. Apart from thrombin generation, TF plays a role in EPCR-mediated PAR-1 activation via complex formation with coagulation factors TF/VIIa/Xa, and is regarded as an EPCR cofactor [
33
]. The activation of p44/42 MAPK signaling induced by TF/FVIIa/FXa on activated endothelial cells is EPCR-dependent [
83
].
There is evidence that APC/EPCR/PAR-1 cooperate in the up-regulation of TF to increase cancer cell invasiveness [
59
]. APC also mediates degradation of TFPI, an inhibitor of TF-dependent coagulation, and through this "procoagulant" pathway surprisingly regulates the pro-metastatic potential of thrombin generated due to TF expression on cancer cells [
84
].
The complexity of APC/EPCR/PAR-1 and TF interactions was shown in an animal model of malignant pleural mesothelioma (MPM) [
52
]. Intrapleural injection of mesothelioma cells expressing PAR-1 and TF, but that were EPCR negative, led to larger tumor growth, while ectopic expression of EPCR in aggressive mesothelioma cells attenuated their proliferative potential. Interestingly, EPCR inhibition in non-aggressive MPM cells that overexpressed TF increased their tumorgenicity, thus demonstrating the protective role of EPCR in cancer promotion.
4.5. Thrombomodulin, TM
Thrombomodulin is a tumor suppressive protein that when expressed in several types of cancer cells decreased tumor invasiveness and improved patient survival [
85
,
86
]. The level of soluble TM shed from cancer cells to the plasma correlates with disease advancement and is associated with poor prognosis [
87
,
88
]. Expression of TM on cancer cells was associated with better differentiation in patients with squamous cell carcinoma of the oral cavity [
88
]. Furthermore, TM decreases PAR-1 and NF-κB activation and significantly suppresses pancreatic cancer tumor growth [
89
].
4.6. Hematopoietic Stem Cells
Gur and Cohen [
7
,
8
] demonstrated that long-term repopulating hematopoietic stem cells (LT-HSCs) originating from adult murine bone marrow (BM) and that expressed EPCR and PAR-1 had the highest repopulation and self-renewal potential. The EPCR-positive LT-HSCs accumulate in close proximity to BM endothelial subpopulations expressing elevated thrombomodulin, which in the presence of thrombin induces APC-mediated PAR-1 activation. EPCR/PAR-1 signal activation and restriction of nitric oxide (NO) production induces LT-HSC BM repopulation, retention, and chemotherapy resistance to induce anti-apoptotic effects and prolong cell survival.
PAR-1-associated signaling in LT-HSCs also results in their recruitment to the blood circulation and allows them to retain developmental potential. The PAR-1-dependent signaling pathway results in nitric oxide (NO) reduction leading to Cdc42 downregulation and increased adhesion associated with VLA4. The integrin VLA4 binds fibronectin and VCAM-1 and is crucial for CXCL12/CXCR4-mediated BM HSC retention. The balance between retention of LT-HSCs in BM or trafficking to the blood is dependent on PAR-1 activation by APC or thrombin, levels of NO, and surface CXCR4 expression.
Additionally, the thrombin-PAR-1-activated signaling cascade plays a role in BM cell trafficking under conditions of stress or inflammation, when increased levels of thrombin are generated and rapidly enter the BM. This induces PAR1-dependent hematopoietic stem and progenitor cell mobilization, motility and recruitment of LT-HSCs into the bloodstream.
Summing up, along with pro- and anticoagulant signaling, which has also been widely described for malignancies, factors of the coagulation system cooperate within the bones in non-hemostatic pathways to regulate bone-remodeling processes, stem cell interactions, BM cell retention or release to the blood stream during both steady-state and inflammatory conditions. The expression of PAR-1 has been detected in acute myeloid leukemia cells as well as leukemia stem cells [
90
]. Therefore, the hypothesis that EPCR and PAR-1-dependent signaling is implicated in development of hematopoetic malignancies is justified, especially in light of the fact that myeloid cells such as osteoclasts express TF and prothrombin.
4.7. Microbiome and EPCR/PARs Interactions
4.8. EPC/PAR-1 and Neurons
The altered nerve function orchestrated by PAR-1-dependent signaling in the central nervous system and in peripheral nerves has been intensively investigated as an important pathogenic factor of many inflammatory and neurodegenerative diseases [
100
,
101
]. The influence of inflammation in cancer is undeniable. Thus the molecular connections between neurotoxicity and malignancy are interesting [
102
]. Data show that neurons within the inflamed central nervous system and peripheral tissues (lung, intestine) overexpress PAR-1, and in this way are exposed to neurotoxic inflammatory mediators resulting in brain atrophy or enteritis [
99
,
100
,
103
].
Neurons are another cell population where the activation of PAR-1 either by thrombin or the anticoagulant APC has differential effects [
104
]. It has been documented that thrombin/PAR-1/N-methyl-
d
-aspartate receptors (NMDAR) regulate long-term potentiation (LTP) in the hippocampus thus causing persistent strengthening of synapses and production of long-lasting increases in signal transmission between neurons. Activated protein C may increase synaptic plasticity in a mechanism that requires the activation of S1P1R and intracellular Ca
2+
stores. These APC/EPCR/PAR-1-mediated effects on hippocampus functions may be useful in the therapy of neurodegenerative disease and may also be due to antiapoptotic effects exerted by APC in neurons [
105
]. Moreover, there are findings that APC reduces the nuclear level of NF-κB p65 in hippocampal neurons from glutamate-induced excitotoxicity via binding to EPCR and subsequent PAR-1-activated signaling [
106
]. Although there is a lack of direct evidence of APC/APCR/PAR-1-dependent signaling in brain tumors the findings of their reciprocal interactions in neuronal tissue suggest that such processes may exist.
5. Treatment
The fact that the results of in vitro and in vivo cancer models assessing the role of APC/EPCR/PAR-1 in tumor progression are contradictory makes the discoveries of therapeutic drugs very difficult. The basic question of whether there are inhibitors or activators of the APC/EPCR/PAR-1 cascade that inhibit cancer development and dissemination remains unanswered.
The APC/EPCR/PAR-1 axis has been demonstrated to reduce organ damage in models of multiple pathologies like stroke, sepsis and autoimmune disease so that a clinical trial (NCT00533546) with APC treatment in ischemic stroke has been initiated (
http://www.clinicaltrials.gov
). Moreover, APC has been approved by the Food and Drug Administration (FDA) for the treatment of severe sepsis due to results from the PROWESS clinical trial that drotrecogin alfa (DrotAA), recombinant human APC, reduces mortality in patients with severe sepsis [
36
,
37
,
40
,
107
]. Although DrotAA has been withdrawn from ischemic patient therapy, the clinical trials with APC variants (e.g., 3K3A-APC) are conducted based on cytoprotective, not anticoagulant (like with DrotAA) properties of APC [
108
].
Based on the cytoprotective effects exerted by APC in the above-mentioned diseases it has been suggested that exogenous APC administration might also serve as a new therapeutic option for cancer patients to protect from or treat metastasis. Unfortunately, the very short half-life of APC, approximately 15-min, requires continuous infusion of the drug, which may be problematic for cancer patients.
Additionally, the bleeding complication frequently observed during APC therapy may limit use of this drug in practice. The in vitro and in vivo studies that demonstrate the potential of APC and PAR1-based peptides (e.g., TR47 given at a dose of 125 μg/animal) to enhance endothelial barrier function, to decrease transendothelial migration of malignant cells, and finally reduce metastasis to distant organs, has stimulated a search for activators of the APC/EPCR/PAR-1 axis that might be a valuable therapeutic approach to prevent metastasis.
It is now accepted that thrombin facilitates the interaction between tumor cells and platelets and endothelial cells, thereby enabling malignant cells to seed and metastasize. Therefore, this is an important target for therapeutic research [
109
]. Dabigatran, a thrombin inhibitor, delivered in combination with gemcitabine, inhibited primary tumor growth and prevented tumor cell dissemination from pancreatic cancer in mice [
110
]. Additionally, there are data that inhibition of APC/EPCR or the PAR-1 cascade is effective for killing cancer. Inhibition of the thrombin-induced PAR-1/Rho GTPase signaling pathway activation by ALEX1 (a novel tumor suppressor gene, and member of the armadillo family) limits gastric cancer metastasis [
1
]. Importantly, the expression of ALEX1 may be decreased in a variety of solid tumors correlated with clinical features, such as cell differentiation and staging. The anticancer activity of some chemotherapeutic agents has also been shown to be associated with membrane receptors [
111
]. Namely, doxycycline inhibits breast cancer migration and metastatic potential through the PAR-1/NF-κB/miR-17/E-cadherin pathway.
The newest study reporting the inhibitory role of PAR-1 in pancreatic ductal cancer growth and all studies presenting an inhibitory role for EPCR in cancer progression suggests that the contribution of APC/EPCR/PAR-1 signaling in cancer biology differs between tumor subtypes. Thus, targeting should be applied with care as this area still remains unexplored.
6. Conclusions
The interactions between EPCR and PAR-1 are complex and pleiotropic. Understanding of the mechanisms induced by these receptors improved considerably over the last several years, which creates a chance for future pharmacological interventions that affect receptor system.
Funding
This review received no external funding.
Conflicts of Interest
The authors declare no conflict of interest.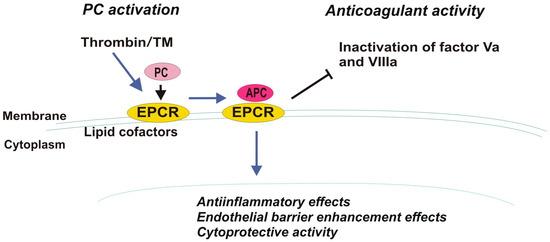 Figure 1. Protein C (PC) activation mediated by thrombin, thrombomodulin (TM) and EPCR (endothelial protein C receptor) and its diverse biological functions (anticoagulant and cellular effects).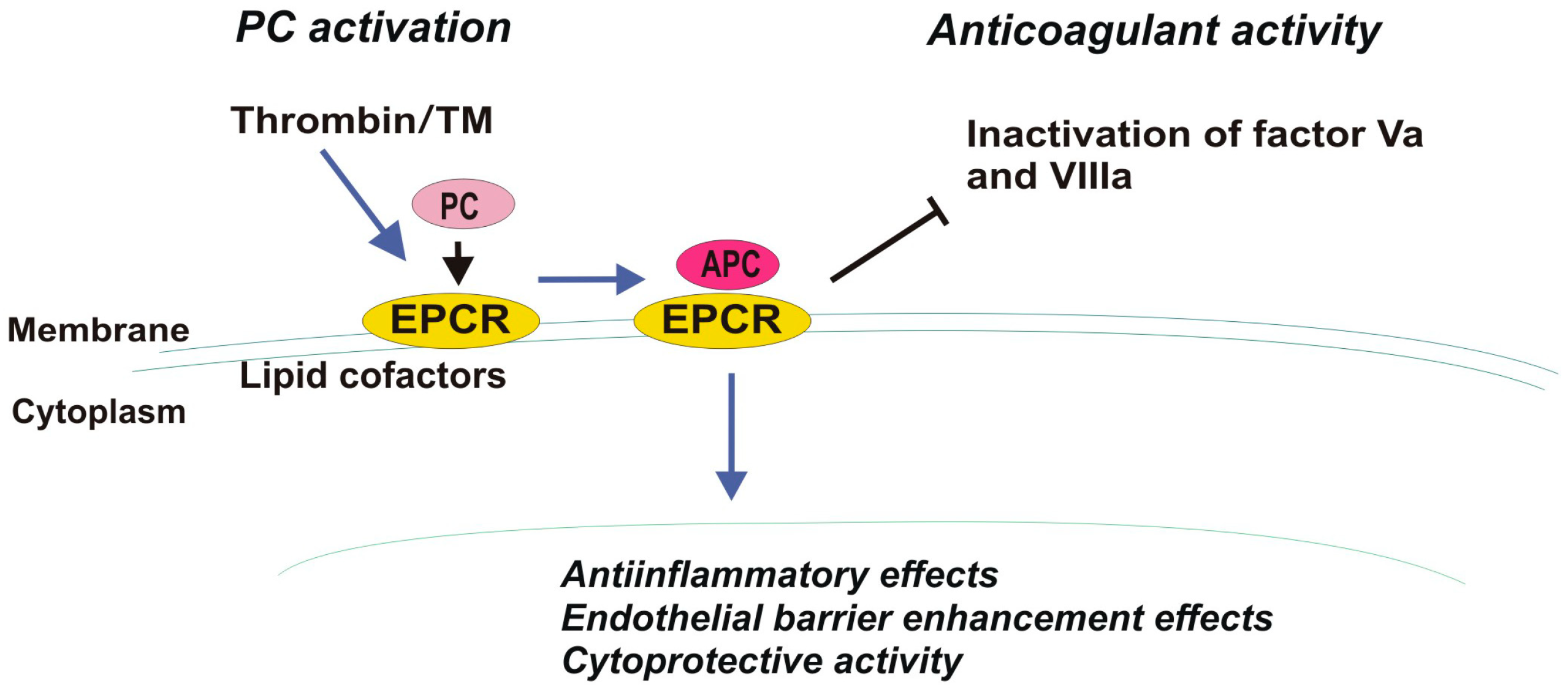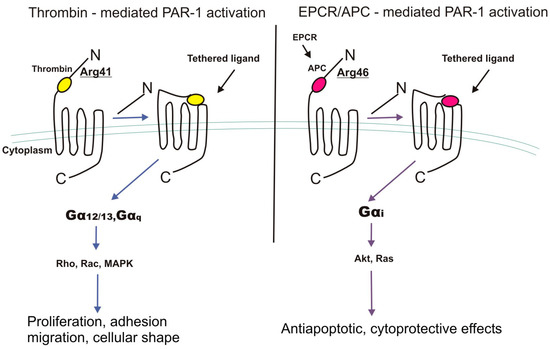 Figure 2. Distinct mechanisms of PAR-1 (protease-activated receptor 1) activation by thrombin- and activated protein C (APC)/endothelial protein C receptor (EPCR) complex resulting in different biological effects. MAPK, mitogen activated protein kinase, proteins Rho, Rac, Akt, Ras.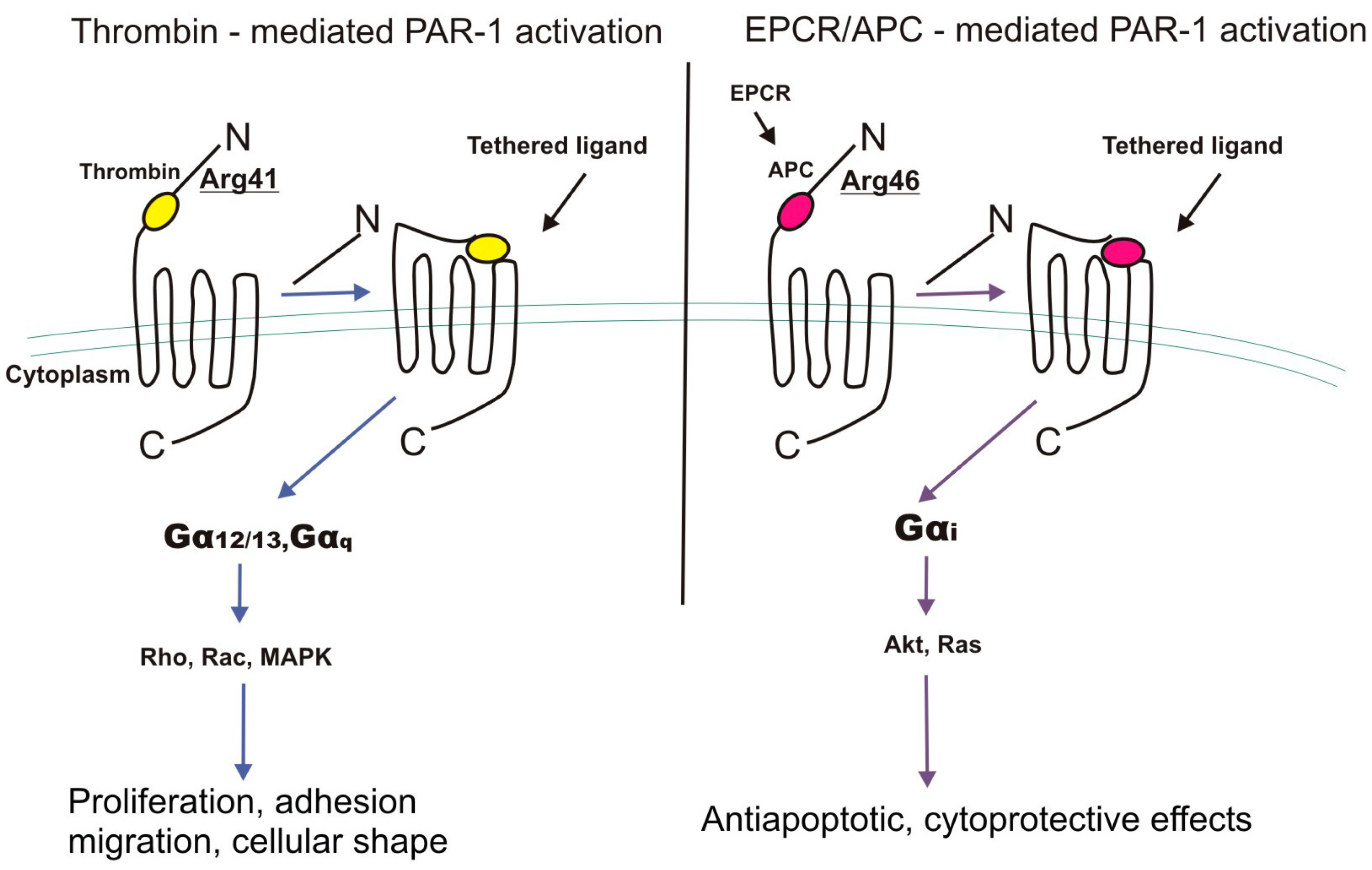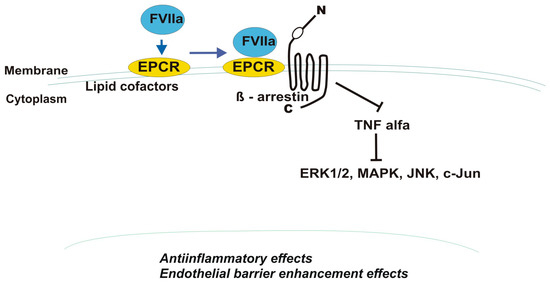 Figure 3. Factor VIIa—mediated activation of endothelial protein C receptor (EPCR) and protease-activated receptor 1 (PAR-1) leading to suppression of tumor necrosis factor alfa (TNF-α)—dependent signaling. ERK—extracellular signal-regulated kinase; MAPK—mitogen activated protein kinase, c-Jun, JNK—N-terminal kinase.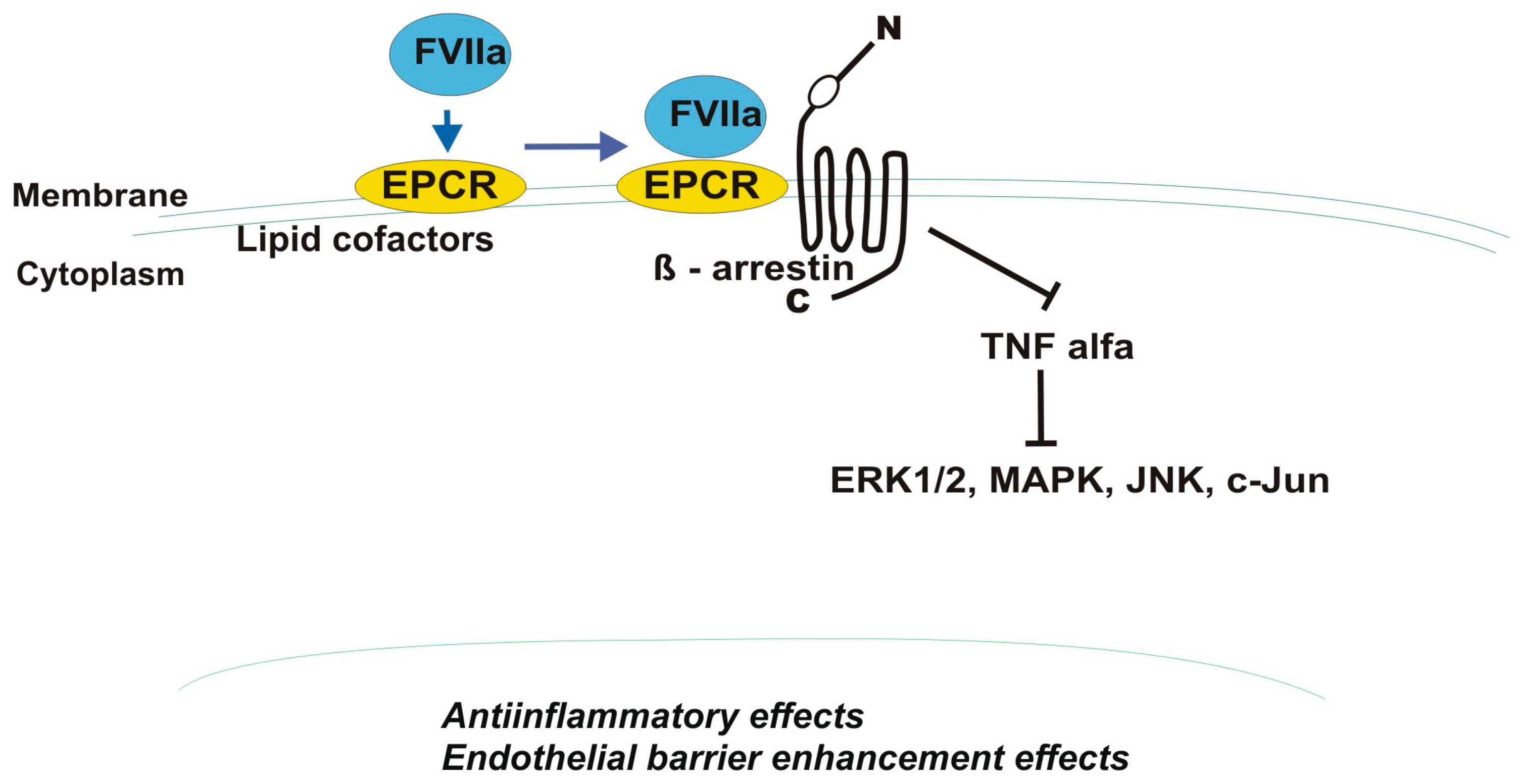 Receptor
EPCR
PAR-1
Ligand
Factor VIIa
Factor Xa
TF-VIIa-Xa
TF-VIIa


Plasmodium falciparum

erythrocyte membrane protein
T-cell receptor present on a subset of Vδ2neg γδ T cells
Thrombin
Factor Xa
TF-VIIa-Xa
APC
Plasmin
Granzyme A
Gingipains-R
Trypsin
MMP-1, -9, -2, -13, -14

Table 2. Distinct cellular effects mediated by endothelial protein C receptor (EPCR) in different cancer settings.
Cancer Cell Line/Xenograft
Mechanism
Cellular Effects
Colorectal cancer [41]
ERK/AKT-dependent signaling
Inhibition of migration
A375 melanoma cells
B16F10 melanoma cells [11,48]
ERK1/2—dependent signaling
Reduction of metastatic foci by inhibition of transendothelial migration
Malignant Pleural Mesothelioma [44]
ERK/AKT-dependent signaling;
BAX, BCL2 factors
Inhibition of proliferation and migration Promotion of apoptosis
MGC803 gastric cancer cells [42]
ERK1/2—dependent signaling
Increased proliferation and migration
Breast cancer cells line [43,45,49,52]
SPOCK1/testican 1-mediated signaling
MAPK-signaling
Increased expression of integrins, proliferation, 3D tumor growth and cells survival
Angiogenesis
Lung adenocarcinoma [50]
ERK/AKT-dependent signaling
Inhibition of apoptosis

© 2019 by the authors. Licensee MDPI, Basel, Switzerland. This article is an open access article distributed under the terms and conditions of the Creative Commons Attribution (CC BY) license (http://creativecommons.org/licenses/by/4.0/).