Expression of Proteolytic Enzymes by Small Cell Lung Cancer Circulating Tumor Cell Lines
1
Department of Vascular Surgery, Medical University of Vienna, A-1090 Vienna, Austria
2
Center for Pathophysiology, Infectiology and Immunology, Medical University of Vienna, A-1090 Vienna, Austria
3
Respiratory Oncology Unit, Otto Wagner Hospital, A-1140 Vienna, Austria
4
Hospital Horn, A-3580 Horn, Austria
5
Molecular Oncology Group, Department of Obstetrics and Gynecology, Comprehensive Cancer Center-Gynecological Cancer Unit, Medical University of Vienna, A-1090 Vienna, Austria
*
Author to whom correspondence should be addressed.
Received: 28 December 2018 / Revised: 16 January 2019 / Accepted: 17 January 2019 / Published: 19 January 2019
Abstract
Small cell lung cancer (SCLC) is an aggressive type of lung cancer which disseminates vigorously and has a dismal prognosis. Metastasis of SCLC is linked to an extremely high number of circulating tumor cells (CTCs), which form chemoresistant spheroids, termed tumorospheres. Intravasation and extravasation during tumor spread requires the activity of a number of proteases to disintegrate the stroma and vascular tissue. Generation of several permanent SCLC CTC lines allowed us to screen for the expression of 35 proteases using Western blot arrays. Cell culture supernatants of two CTC lines, namely BHGc7 and 10, were analyzed for secreted proteases, including matrix metalloproteinases (MMPs), ADAM/TS, cathepsins, kallikreins, and others, and compared to proteases expressed by SCLC cell lines (GLC14, GLC16, NCI-H526 and SCLC26A). In contrast to NCI-H526 and SCLC26A, MMP-9 was highly expressed in the two CTC lines and in GLC16 derived of a relapse. Furthermore, cathepsins (S, V, X/Z/P, A and D) were highly expressed in the CTC lines, whereas ADAM/TS and kallikreins were not detectable. In conclusion, SCLC CTCs express MMP-9 and a range of cathepsins for proteolysis and, aside from tissue degradation, these enzymes are involved in cell signaling, survival, and the chemoresistance of tumor cells.
View Full-Text
►

▼

Figures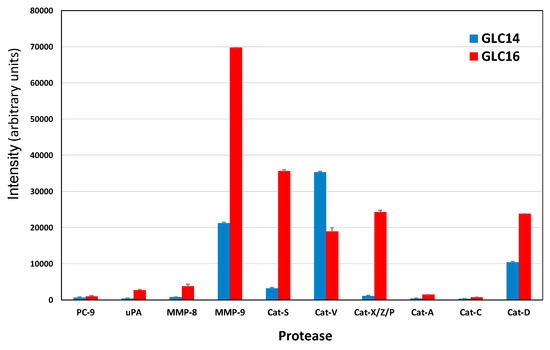 Figure 1
This is an open access article distributed under the
Creative Commons Attribution License
which permits unrestricted use, distribution, and reproduction in any medium, provided the original work is properly cited (CC BY 4.0).

Share & Cite This Article
MDPI and ACS Style
Rath, B.; Klameth, L.; Plangger, A.; Hochmair, M.; Ulsperger, E.; Huk, I.; Zeillinger, R.; Hamilton, G. Expression of Proteolytic Enzymes by Small Cell Lung Cancer Circulating Tumor Cell Lines. Cancers 2019, 11, 114.
Note that from the first issue of 2016, MDPI journals use article numbers instead of page numbers. See further details here.
Related Articles
Comments
[Return to top]