Prognostic Role of High-Grade Tumor Budding in Pancreatic Ductal Adenocarcinoma: A Systematic Review and Meta-Analysis with a Focus on Epithelial to Mesenchymal Transition
1
ARC-Net Research Center, University and Hospital Trust of Verona, 37134 Verona, Italy
2
National Institute of Gastroenterology-Research Hospital, IRCCS "S. de Bellis", 70013 Castellana Grotte, Italy
3
Department of Surgery, Section of Pathology, San Bortolo Hospital, 36100 Vicenza, Italy
4
Department of General and Pancreatic Surgery, The Pancreas Institute, University and Hospital Trust of Verona, 37142 Verona, Italy
5
Cambridge Centre for Sport and Excercise Sciences, Anglia Ruskin University, Cambridge CB1 1PT, UK
6
Primary Care Department, Azienda USL Toscana Sud Est, 58100 Grosseto, Italy
7
Department of Pathology and Laboratory Medicine, Indiana University School of Medicine, Indianapolis, IN 46202, USA
8
Department of Pathology, The Sol Goldman Pancreatic Cancer Research Center, The Johns Hopkins University School of Medicine, Baltimore, MD 21231, USA
9
Medical Oncology Unit, IRCCS Cancer Institute "Giovanni Paolo II" of Bari, 70124 Bari, Italy
10
Department of Diagnostics and Public Health, Section of Pathology, University of Verona, 37134 Verona, Italy
*
Author to whom correspondence should be addressed.
†
These Authors contributed equally to this work.
Received: 11 December 2018 / Revised: 15 January 2019 / Accepted: 17 January 2019 / Published: 19 January 2019
Abstract
This study aims at clarifying the prognostic role of high-grade tumor budding (TB) in pancreatic ductal adenocarcinoma (PDAC) with the first systematic review and meta-analysis on this topic. Furthermore, we analyzed with a systematic review the relationship between TB and a recently suggested TB-associated mechanism: the epithelial to mesenchymal transition (EMT). Analyzing a total of 613 patients, 251 of them (40.9%) with high grade-TB, we found an increased risk of all-cause mortality (RR, 1.46; 95% CI, 1.13–1.88,
p
= 0.004; HR, 2.65; 95% CI, 1.79–3.91;
p
< 0.0001) and of recurrence (RR, 1.61; 95% CI, 1.05–2.47,
p
= 0.03) for PDAC patients with high-grade TB. Moreover, we found that EMT is a central process in determining the presence of TB in PDAC. Thanks to this meta-analysis, we demonstrate the potential clinical significance of high-grade TB for prognostic stratification of PDAC. TB also shows a clear association with the process of EMT. Based on the results of the present study, TB should be conveyed in pathology reports and taken into account by future oncologic staging systems.
View Full-Text
►

▼

Figures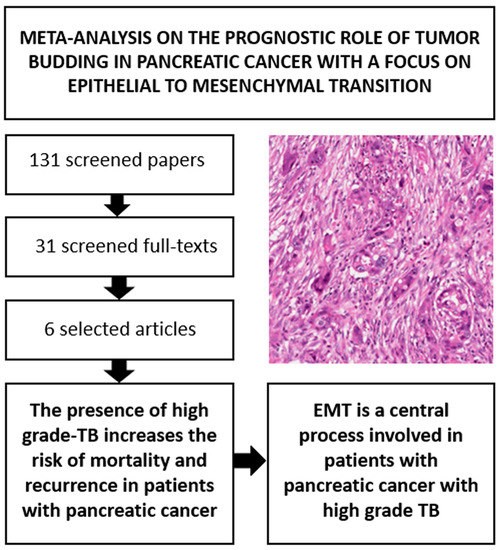 Graphical abstract
This is an open access article distributed under the
Creative Commons Attribution License
which permits unrestricted use, distribution, and reproduction in any medium, provided the original work is properly cited (CC BY 4.0).

Share & Cite This Article
MDPI and ACS Style
Lawlor, R.T.; Veronese, N.; Nottegar, A.; Malleo, G.; Smith, L.; Demurtas, J.; Cheng, L.; Wood, L.D.; Silvestris, N.; Salvia, R.; Scarpa, A.; Luchini, C. Prognostic Role of High-Grade Tumor Budding in Pancreatic Ductal Adenocarcinoma: A Systematic Review and Meta-Analysis with a Focus on Epithelial to Mesenchymal Transition. Cancers 2019, 11, 113.
Note that from the first issue of 2016, MDPI journals use article numbers instead of page numbers. See further details here.
Related Articles
Comments
[Return to top]