Open Access This article is
freely available
re-usable
Article
Expression of Proteolytic Enzymes by Small Cell Lung Cancer Circulating Tumor Cell Lines
1
Department of Vascular Surgery, Medical University of Vienna, A-1090 Vienna, Austria
2
Center for Pathophysiology, Infectiology and Immunology, Medical University of Vienna, A-1090 Vienna, Austria
3
Respiratory Oncology Unit, Otto Wagner Hospital, A-1140 Vienna, Austria
4
Hospital Horn, A-3580 Horn, Austria
5
Molecular Oncology Group, Department of Obstetrics and Gynecology, Comprehensive Cancer Center-Gynecological Cancer Unit, Medical University of Vienna, A-1090 Vienna, Austria
*
Author to whom correspondence should be addressed.
Received: 28 December 2018 / Accepted: 17 January 2019 / Published: 19 January 2019
Abstract
:
Small cell lung cancer (SCLC) is an aggressive type of lung cancer which disseminates vigorously and has a dismal prognosis. Metastasis of SCLC is linked to an extremely high number of circulating tumor cells (CTCs), which form chemoresistant spheroids, termed tumorospheres. Intravasation and extravasation during tumor spread requires the activity of a number of proteases to disintegrate the stroma and vascular tissue. Generation of several permanent SCLC CTC lines allowed us to screen for the expression of 35 proteases using Western blot arrays. Cell culture supernatants of two CTC lines, namely BHGc7 and 10, were analyzed for secreted proteases, including matrix metalloproteinases (MMPs), ADAM/TS, cathepsins, kallikreins, and others, and compared to proteases expressed by SCLC cell lines (GLC14, GLC16, NCI-H526 and SCLC26A). In contrast to NCI-H526 and SCLC26A, MMP-9 was highly expressed in the two CTC lines and in GLC16 derived of a relapse. Furthermore, cathepsins (S, V, X/Z/P, A and D) were highly expressed in the CTC lines, whereas ADAM/TS and kallikreins were not detectable. In conclusion, SCLC CTCs express MMP-9 and a range of cathepsins for proteolysis and, aside from tissue degradation, these enzymes are involved in cell signaling, survival, and the chemoresistance of tumor cells.
Keywords:
small cell lung cancer; circulating tumor cells; proteases; MMP-9; cathepsin S; metastasis
4. Materials and Methods
4.1. Cell Lines and Tissue Culture
GLC14 and GLC16 were obtained from Department of Radiation Biology, the Finsen Centre, National University Hospital, Copenhagen, Denmark and NCI-H526 was obtained from the American Tissue Culture Collection (ATCC, Rockville, MD, USA). GLC14, GLC16, and GLC19 constitute a series of three cell lines which have been established from biopsies of a single SCLC patient [
24
]. In detail, the GLC14 cell line was from a right supraclavicular node metastasis of the patient and, following treatment with several cycles of cyclophosphamide, doxorubicin, and etoposide, the chemoresistant GLC16 cell line was established from a biopsy of the relapsing tumor [
31
,
32
]. SCLC26A was established in our laboratory from pleural effusion of an SCLC patient before treatment and the two CTC cell lines, BHGc7 and BHGc10, were grown from peripheral blood samples of two refractory SCLC patients [
10
]. Cell lines were cultured in RPMI-1640 (Sigma-Aldrich, St. Louis, MO, USA) medium supplemented with 10% fetal bovine serum (Seromed, Berlin, Germany) and antibiotics (Sigma-Aldrich, penicillin-streptomycin-neomycin solution). All cell lines were grown in suspension or loosely attached and were subcultivated by replacing part of the medium. All other reagents were from Sigma-Aldrich.
4.2. Western Blot Protease Screening Array
For assessment of the proteases expressed, cell culture supernatants were processed using a Human Proteome Profiler Protease Kit according to the manufacturer's instructions (R&D Systems, Minneapolis, MN, USA). In brief, this Western blot array comprised reagents to detect 35 proteases, including ADAM/TS, kallikreins, MMPs, cathepsins, uPA, neprilysin (CD10), presenilin-1, DPPIV (CD26), and proprotein convertase 9 (PC-9). Assays were performed in duplicate. The different arrays contain several control spots to calibrate for protein content of the samples applied. Conditioned medium of the respective cell lines (500 µL) were used for performing the assay and the spots detected by chemoluminescence were analyzed using Origin 9.0 software (OriginLab, Northampton, MA, USA).
4.3. ECM Invasion Assay
Tumorospheres of BHGc10 cell line were isolated by sedimentation and resuspended in Matrigel (Sigma-Aldrich). Matrigel was thawed overnight at 2–8 °C before use, mixed with medium containing the spheroids (1:1) and dispensed to 18-well plates (Greiner, Kremsmuenster, Austria) using pre-cooled pipettes. Outgrowth of tumor cells was observed by light microscopy and areas covered by the original cluster and the invaded cells quantitated using Image J.
4.4. Statistics
Results were evaluated using unpaired
t
tests, using Origin 9.0 software.
p
< 0.05 was regarded as statistically significant.
5. Conclusions
Due to the high heterogeneity of the CTCs, detection of the expression of proteases has been limited to demonstration of increased levels of MMP-9 compared to normal blood cell types [
84
]. Our screens have shown the expression of MMP-9 and cathepsins by pure populations of CTC lines for the first time. This analysis has allowed for the differentiation of the protease expression of tumor and normal cells, respectively [
88
,
89
]. Detection of Cathepsin S in SCLC CTCs may be of special importance for this tumor in respect to frequent occurrence of brain metastases. Invasion of ECM by SCLC CTCs may constitute an important model for studying the participating cellular factors.
Author Contributions
B.R., experimentation and writing of the manuscript; L.K., experimentation; A.P., tissue culture; M.H. and E.U., discussion of the results; I.H. and R.Z., designing of the project; G.H. interpretation of the data and discussion.
Acknowledgments
The author thank Theo Hohenheim (retired) for continuing support.
Conflicts of Interest
The authors declare no conflict of interest.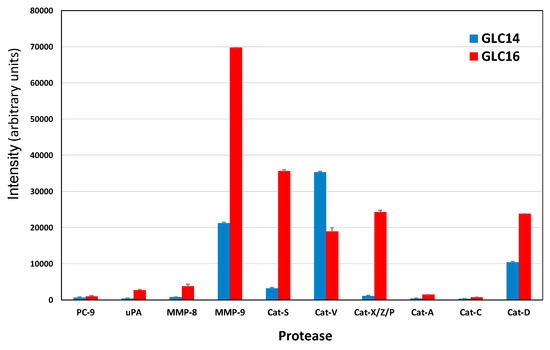 Figure 1. Selected proteases expressed by GLC14 and GLC16 small cell lung cancer (SCLC) cell lines, established from the same patient before therapy and following relapse, respectively. Values represent mean ± SD (arbitrary intensity units) and all differences are statistically significant, except for PC-9 and Cat-C.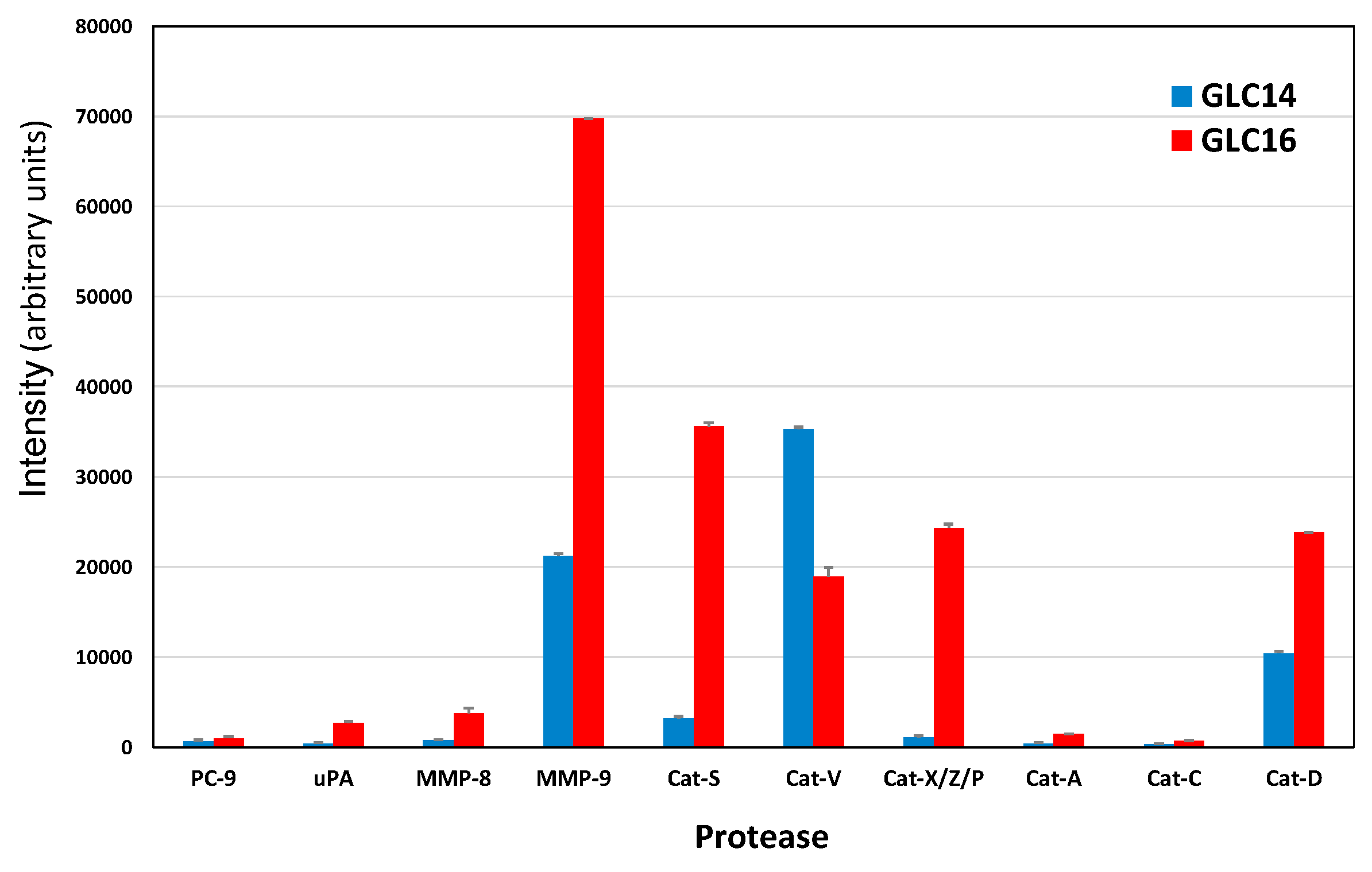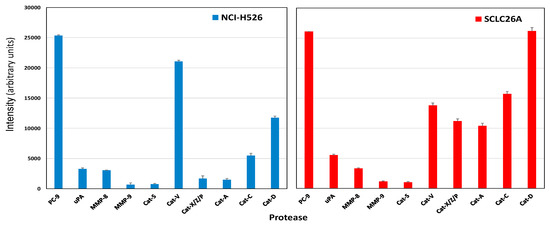 Figure 2. The figure shows selected proteases expressed by NCI-H526 (left side) and SCLC26A (right side) SCLC cell lines, established from a bone metastasis and from pleural effusion, respectively. Values represent mean ± SD.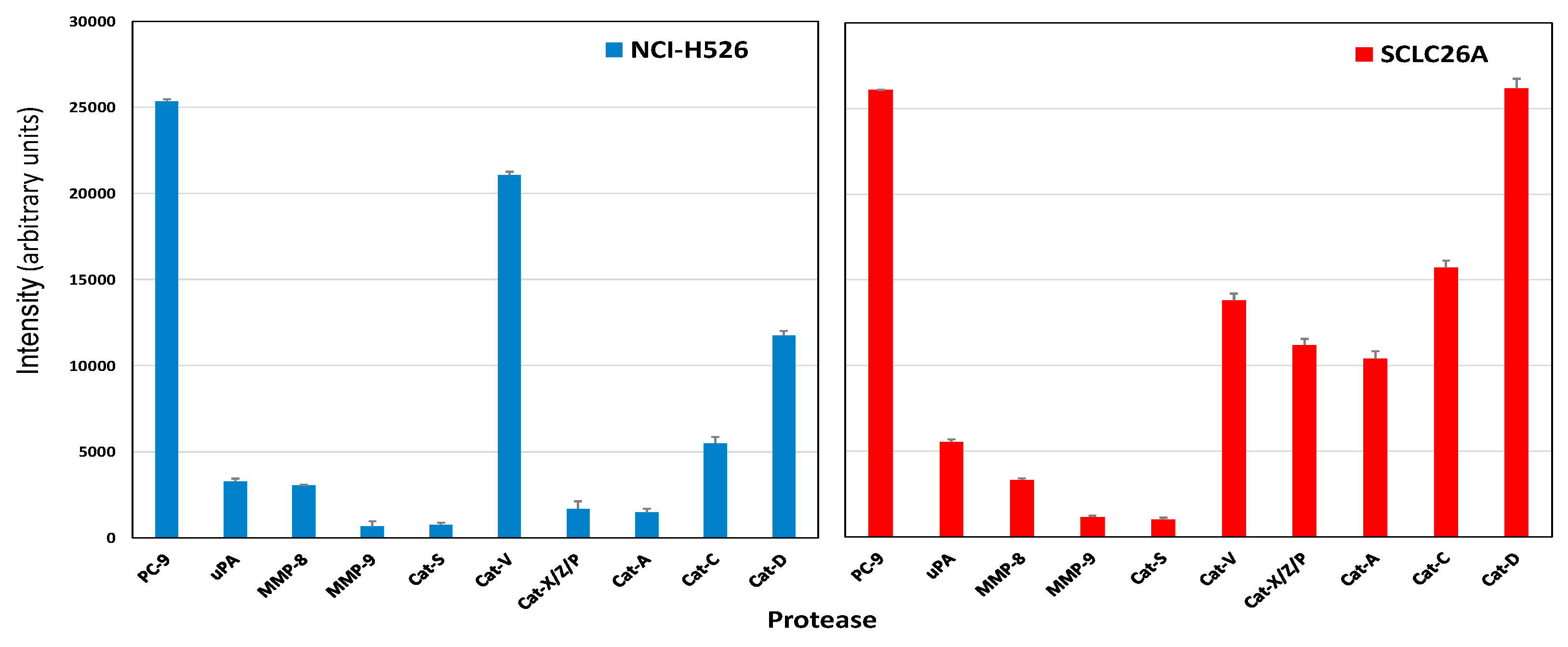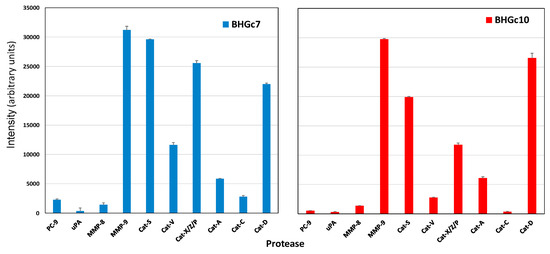 Figure 3. Selected proteases expressed by BHGc7 (left side) and BHGc10 (right side) SCLC CTC lines, established from blood samples of two refractory SCLC patients, respectively. Values represent mean ± SD.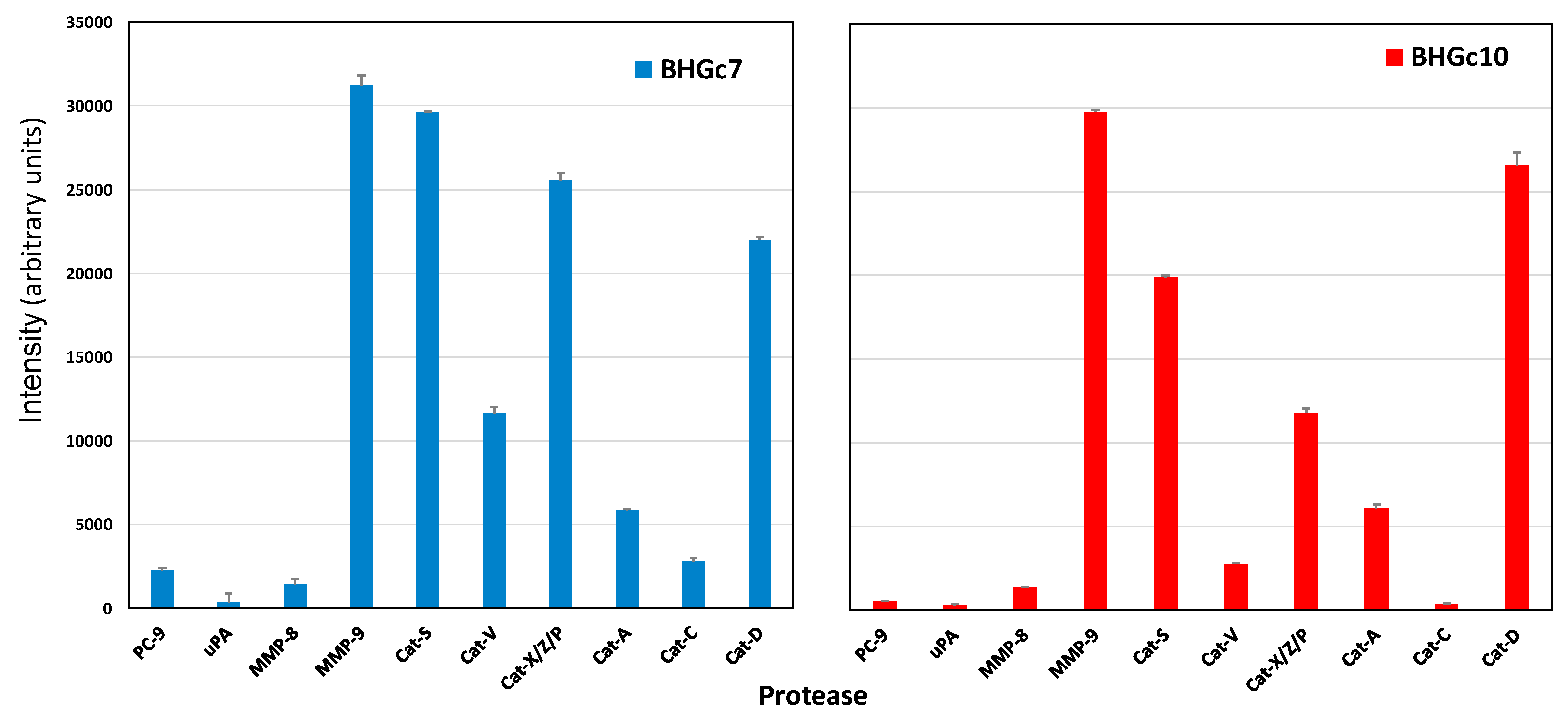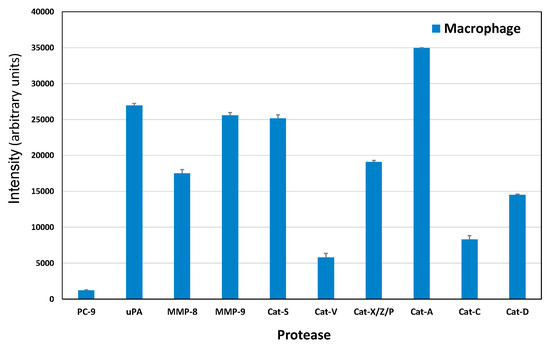 Figure 4. Proteases expressed by macrophages corresponding to the enzymes detected in SCLC lines. Values represent mean ± SD.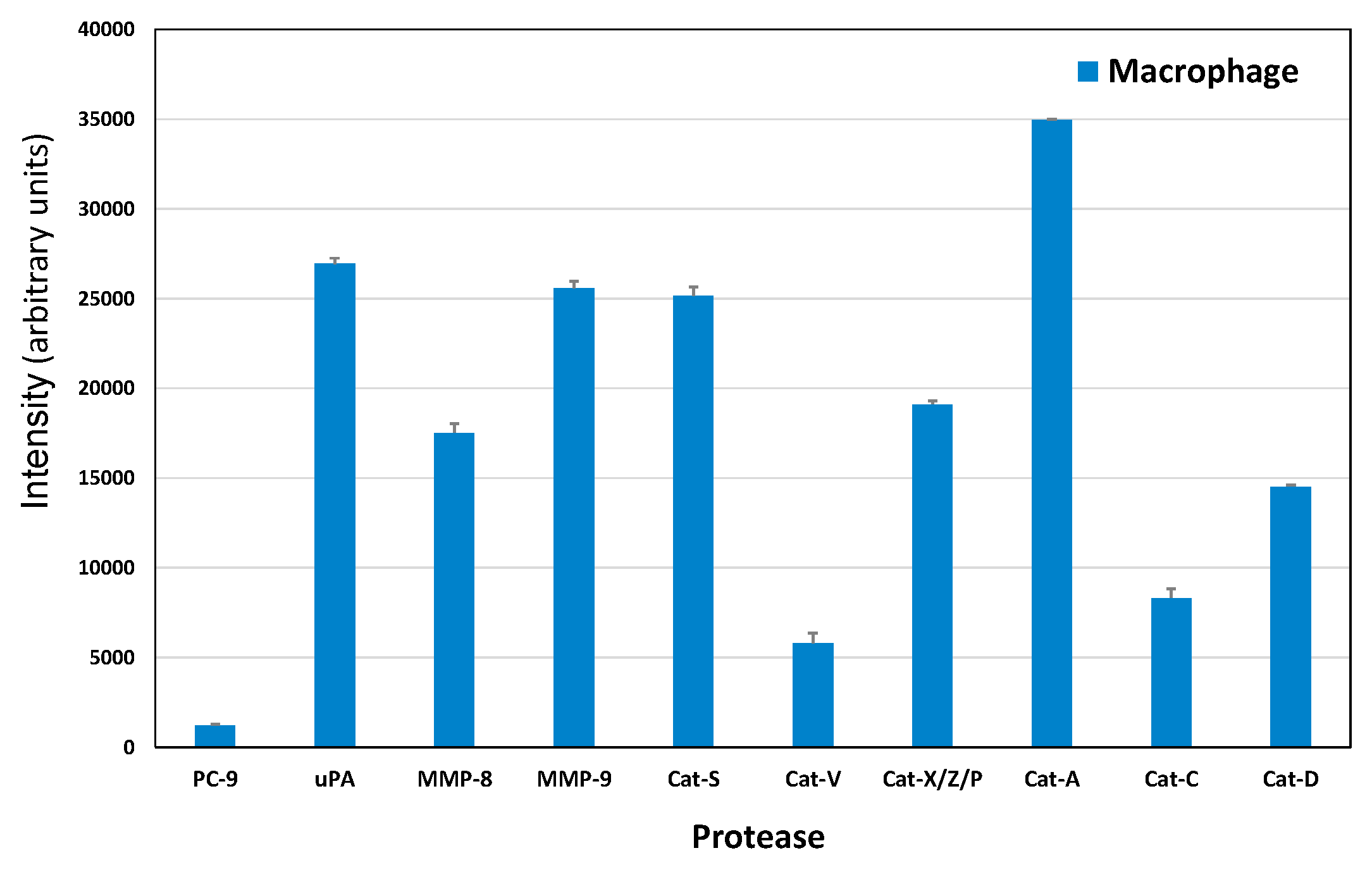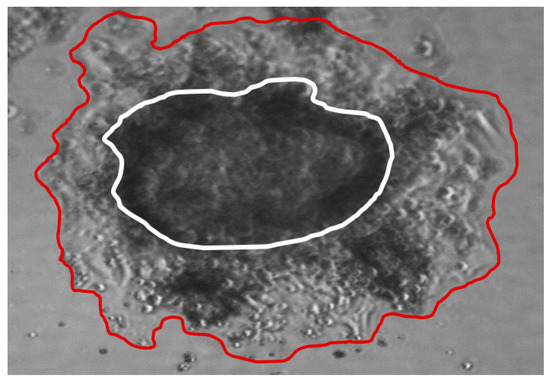 Figure 5. Light microscopic picture of a SCLC tumorosphere embedded in extracellular matrix (ECM) showing invasive outgrowth of cancer cells. The white line indicates the contour of the original spheroid at beginning (magnification 40×).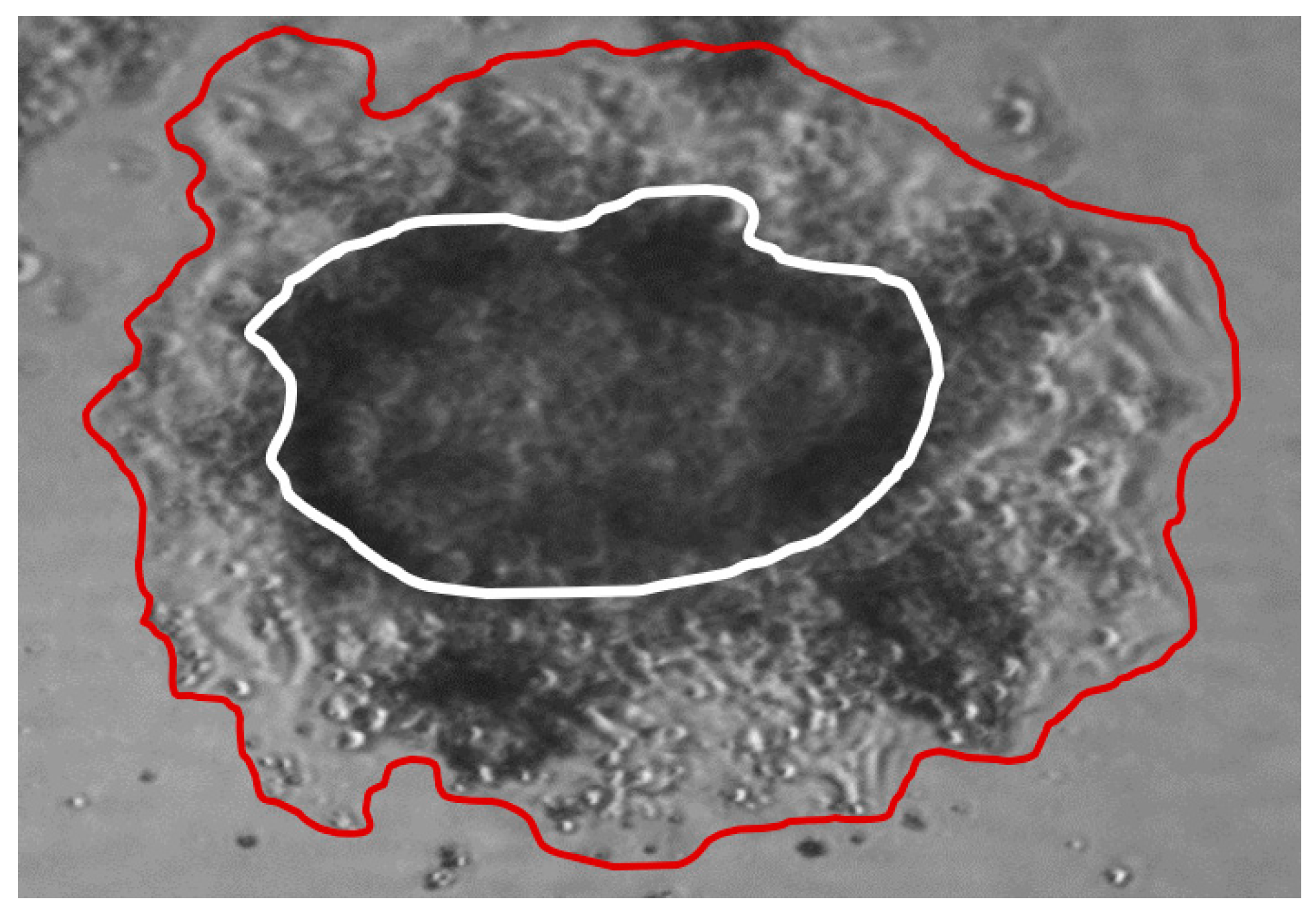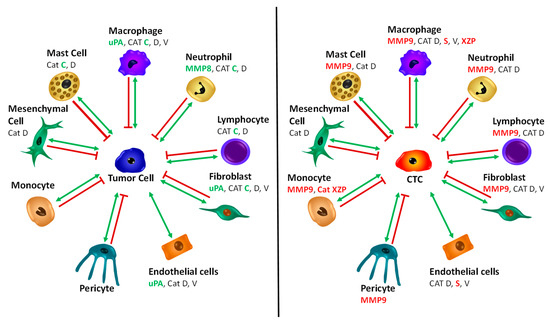 Figure 6. Scheme of involvement of distinct proteases in tumor cell-normal cell and circulating tumor cells (CTC)-normal cell interactions.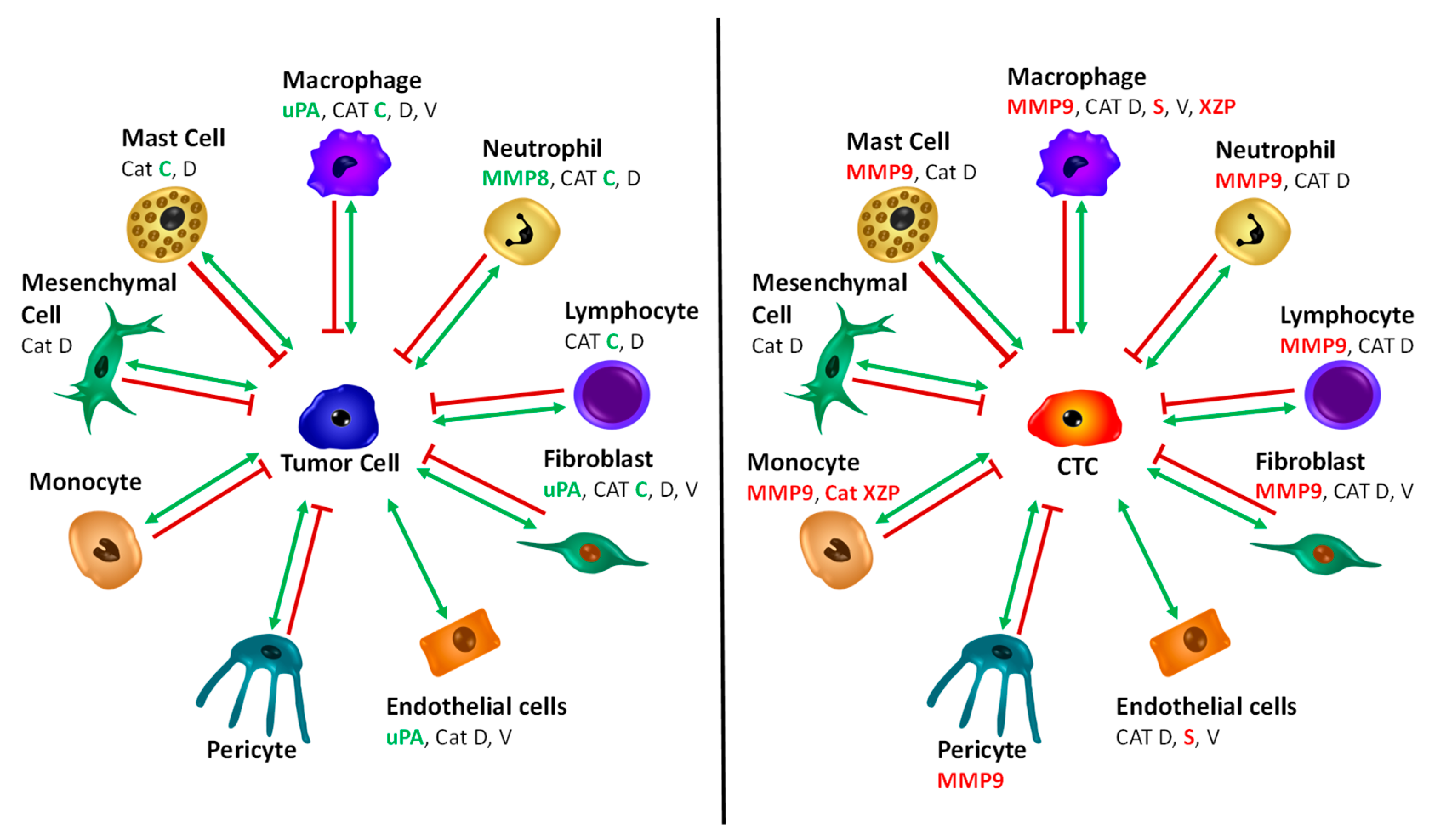 © 2019 by the authors. Licensee MDPI, Basel, Switzerland. This article is an open access article distributed under the terms and conditions of the Creative Commons Attribution (CC BY) license (http://creativecommons.org/licenses/by/4.0/).