Open Access This article is
freely available
re-usable
Review
Cancer-Associated Intermediate Conductance Ca2+-Activated K+ Channel KCa3.1
1
Department of Pharmacology, Toxicology and Clinical Pharmacy, Institute of Pharmacy, University of Tuebingen, 72076 Tuebingen, Germany
2
Dr. Margarete Fischer-Bosch-Institute of Clinical Pharmacology, 70376 Stuttgart, Germany
3
University of Tuebingen, 72076 Tuebingen, Germany
4
German Cancer Consortium (DKTK), German Cancer Research Center (DKFZ), 69120 Heidelberg, Germany
5
Department of Radiation Oncology, University of Tuebingen, 72076 Tuebingen, Germany
*
Author to whom correspondence should be addressed.
Received: 14 December 2018 / Accepted: 13 January 2019 / Published: 17 January 2019
Abstract
:
Several tumor entities have been reported to overexpress KCa3.1 potassium channels due to epigenetic, transcriptional, or post-translational modifications. By modulating membrane potential, cell volume, or Ca2+ signaling, KCa3.1 has been proposed to exert pivotal oncogenic functions in tumorigenesis, malignant progression, metastasis, and therapy resistance. Moreover, KCa3.1 is expressed by tumor-promoting stroma cells such as fibroblasts and the tumor vasculature suggesting a role of KCa3.1 in the adaptation of the tumor microenvironment. Combined, this features KCa3.1 as a candidate target for innovative anti-cancer therapy. However, immune cells also express KCa3.1 thereby contributing to T cell activation. Thus, any strategy targeting KCa3.1 in anti-cancer therapy may also modulate anti-tumor immune activity and/or immunosuppression. The present review article highlights the potential of KCa3.1 as an anti-tumor target providing an overview of the current knowledge on its function in tumor pathogenesis with emphasis on vasculo- and angiogenesis as well as anti-cancer immune responses.
Keywords:
K
Ca
3.1; intermediate conductance calcium-activated K
+
channel; BK; big conductance Ca
2+
- and voltage-activated K
+
channels; TRAM-34; (1-[(2-chlorophenyl) diphenylmethyl]-pyrazole; 1-EBIO; 1-Ethyl-1,3-dihydro-2H-benzimidazol-2-one; E2; 17β-estradiol
Author Contributions
Wrote or contributed to the writing of the manuscript: C.J.M., F.A.S., D.G., and R.L.; contributed to discussion: S.M.H., H.B., W.-Y.L., W.S., and R.H.; edited the manuscript and approved its final version: all authors.
Funding
Work in the authors' laboratories was funded in parts by the Deutsche Forschungsgemeinschaft with grants to P.R. and R.L., the German Cancer Aid with a grant to P.R. and S.M.H. (70112872, 70113144) and the ICEPHA Graduate Program "Membrane-associated Drug Targets in Personalized Cancer Medicine" (to P.R., H.B., W.S., S.M.H., and R.L.). W.-Y.L. has been a fellow of the FP7 Initial Training Network FightingDrugFailure (GA238132). F.A.S received a scholarship from the Studienstiftung des deutschen Volkes for her PhD studies.
Conflicts of Interest
S.M.H has a research collaboration with Novocure, Haifa, Israel.

Figure 1.
KCNN4
mRNA expression levels in breast cancer and their association with patient survival. (
A
) mRNA expression levels of
KCNN1-4
coding for SK1-SK3 and K
Ca
3.1 were compared between healthy and breast tumor tissues, measured by RNA sequencing as fragments per kilobase of transcript per million mapped reads (FPKM). Data obtained from The Cancer Genome Atlas [
30
] revealed no significant difference in a Kruskal–Wallis test with Dunn's test for multiple comparisons (α = 0.05 for
n
= 113 healthy and
n
= 1095 breast tumor tissues). (
B
) In the Kaplan–Meier plotter [
31
], significantly prolonged overall survival (OS) was associated with low
KCNN4
mRNA levels. Groups were statistically compared by log-rank test (hazard ratio = 1.37 (confidence interval 1.08–1.72) for
n
= 1030 low and
n
= 372 high
KCNN4
-expressing tumors).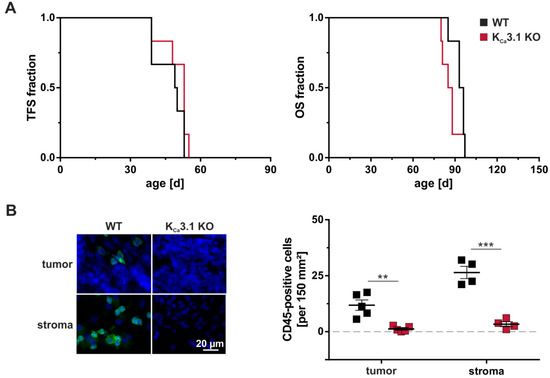 Figure 2.
Tumorigenesis, progression, and CD45 status in MMTV-PyMT WT and K
Ca
3.1 KO mice. Tumor-free survival (TFS) and overall survival (OS) were studied in spontaneous breast cancer-prone MMTV-PyMT wildtype (WT) and K
Ca
3.1 KO mice. At a diameter of 15 mm, tumors were harvested for investigating immune cell infiltration. (
A
) As previously reported [
71
], tumorigenesis and tumor progression measured by TFS and OS, respectively, were not dependent on MMTV-PyMT WT or K
Ca
3.1 KO genotypes (
n
= 6 each). (
B
) Staining against the CD45 pan leukocyte marker revealed moderate immune cell infiltration in WT tumors (green), which was absent in K
Ca
3.1 KO. Immune cells were generally more abundant in the tumor-surrounding stroma of WT mice, but mostly absent in K
Ca
3.1 KO tumor samples. DAPI labelling was performed to visualize nuclei. Results are presented as means ± SEM for
n
= 4 stroma sections and
n
= 5 tumor sections of MMTV-PyMT WT (black squares) or K
Ca
3.1 KO (red squares) genotypes. Unpaired
t
-tests differentiated between groups with **
p
< 0.01 and ***
p
< 0.001.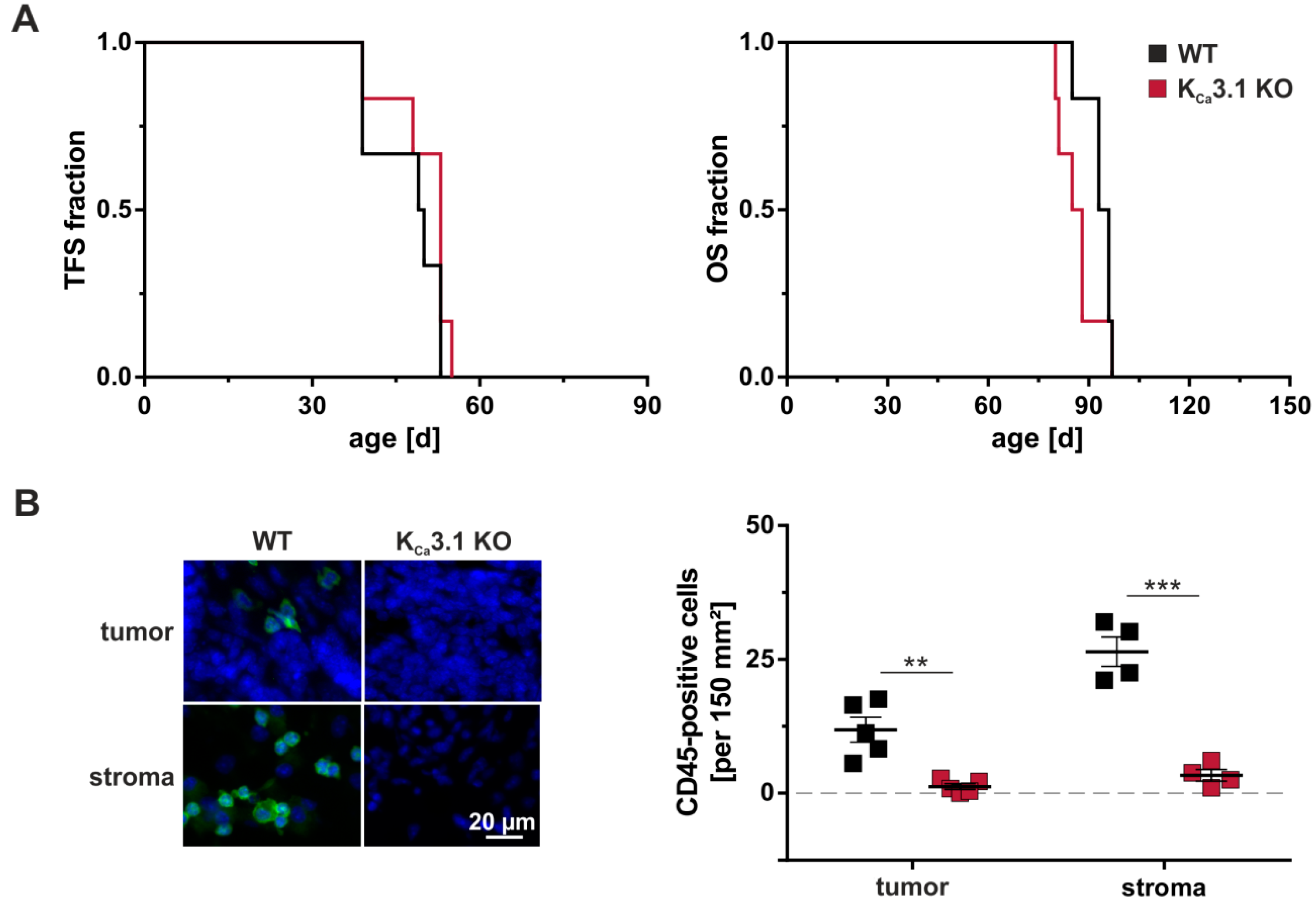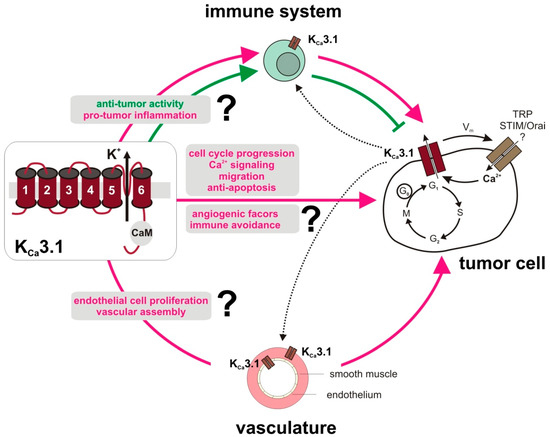 Figure 3.
Role of the K
Ca
3.1 channel in tumor-associated cells. Tumors from different entities and various microenvironmental cell types, i.e., immune cells, vasculature, fibroblasts (not shown) express functional K
Ca
3.1 channels. Physiological roles and tumor behaviors of K
Ca
3.1 are cell type-dependent, but involve proliferation, migration and cancer progression. K
Ca
3.1 channel expression seems to be a crucial determinant of cancer risk and, in established cancers, K
Ca
3.1 upregulation at the end of G
1
phase of the cell cycle was seen in various tumor cell types [
36
]. By its interaction with [Ca
2+
]
i
via its constitutively bound calmodulin (CaM), with other ion channels such as TRP or STIM/Orai, with changes in the membrane potential (V
m
), and with apoptotic pathways, K
Ca
3.1 may further contribute to aberrant tumor cell signaling. Beyond that, tumor-promoting K
Ca
3.1 activity in stromal cells has been described. Several studies find evidence for K
Ca
3.1 expression in endothelial and in activated smooth muscle cells of the vasculature pointing to its role in tumor angiogenesis and/or vasculogenesis. Moreover, growth factor signaling was linked to K
Ca
3.1 in fibroblasts to promote epithelial-mesenchymal transition in breast cancer (not depicted) [
84
]. Proper activation and function of various immune cell subsets requires K
Ca
3.1. Therefore, perturbed K
Ca
3.1 signaling may prevent cancer progression and disturb e.g., the immune cell´s pro-angiogenic program, but also its activity to recognize and eliminate tumor cells. Apparently, the impact of a tumor and stromal versus immune cell K
Ca
3.1 inhibition on tumor progression and therapy success and thus also interaction between the different cell types, as indicated by dotted lanes, requires further investigations.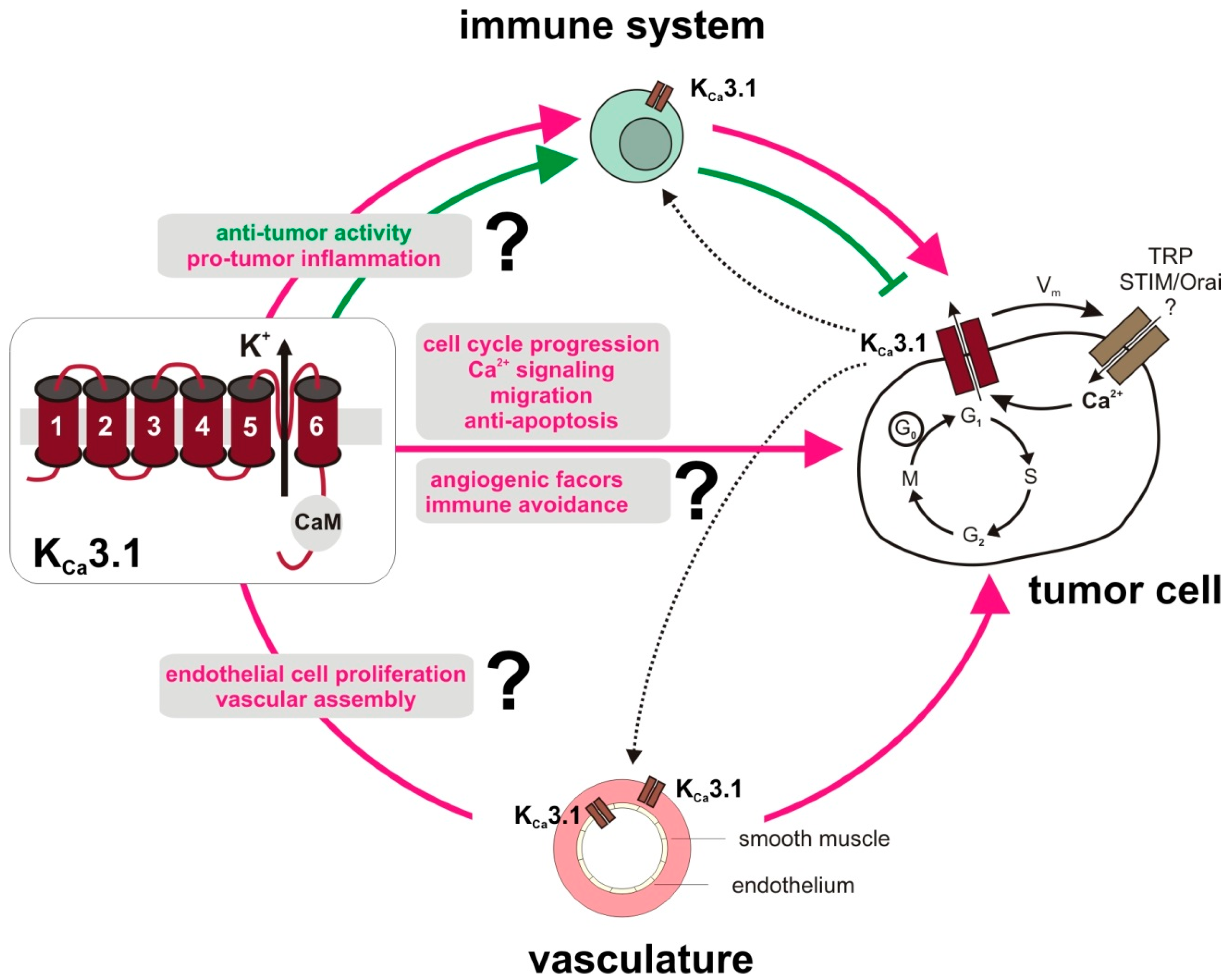 © 2019 by the authors. Licensee MDPI, Basel, Switzerland. This article is an open access article distributed under the terms and conditions of the Creative Commons Attribution (CC BY) license (http://creativecommons.org/licenses/by/4.0/).