Melatonin Sensitizes Hepatocellular Carcinoma Cells to Chemotherapy Through Long Non-Coding RNA RAD51-AS1-Mediated Suppression of DNA Repair
1
Tissue Bank, Chang Gung Memorial Hospital, Tao-Yuan 33305, Taiwan
2
Graduate Institute of Natural Products, Chang Gung University, Tao-Yuan 33303, Taiwan
3
Graduate Institute of Health Industry Technology and Research Center for Industry of Human Ecology, College of Human Ecology, Chang Gung University of Science and Technology, Tao-Yuan 33303, Taiwan
4
Department of Anatomy and Cell Biology, College of Medicine, National Taiwan University, Taipei 10617, Taiwan
5
Liver Research Center, Department of Hepato-Gastroenterology, Chang Gung Memorial Hospital, Tao-Yuan 33305, Taiwan
6
Whole-Genome Research Core Laboratory of Human Diseases, Chang Gung Memorial Hospital, Keelung 20401, Taiwan
7
Department of Anatomic Pathology, Chang Gung Memorial Hospital, Chang Gung University School of Medicine, Tao-Yuan 33305, Taiwan
†
These authors contributed equally to the work.
*
Author to whom correspondence should be addressed.
Received: 20 July 2018 / Revised: 20 August 2018 / Accepted: 7 September 2018 / Published: 10 September 2018
Abstract
DNA repair systems are abnormally active in most hepatocellular carcinoma (HCC) cells due to accumulated mutations, resulting in elevated DNA repair capacity and resistance to chemotherapy and radiotherapy. Thus, targeting DNA repair mechanisms is a common treatment approach in HCC to sensitize cancer cells to DNA damage. In this study, we examined the anti-HCC effects of melatonin and elucidated the regulatory mechanisms. The results of functional assays showed that in addition to inhibiting the proliferation, migration, and invasion abilities of HCC cells, melatonin suppressed their DNA repair capacity, thereby promoting the cytotoxicity of chemotherapy and radiotherapy. Whole-transcriptome and gain- and loss-of-function analyses revealed that melatonin induces expression of the long noncoding RNA RAD51-AS1, which binds to RAD51 mRNA to inhibit its translation, effectively decreasing the DNA repair capacity of HCC cells and increasing their sensitivity to chemotherapy and radiotherapy. Animal models further demonstrated that a combination of melatonin and the chemotherapeutic agent etoposide (VP16) can significantly enhance tumor growth inhibition compared with monotherapy. Our results show that melatonin is a potential adjuvant treatment for chemotherapy and radiotherapy in HCC.
View Full-Text
►

▼

Figures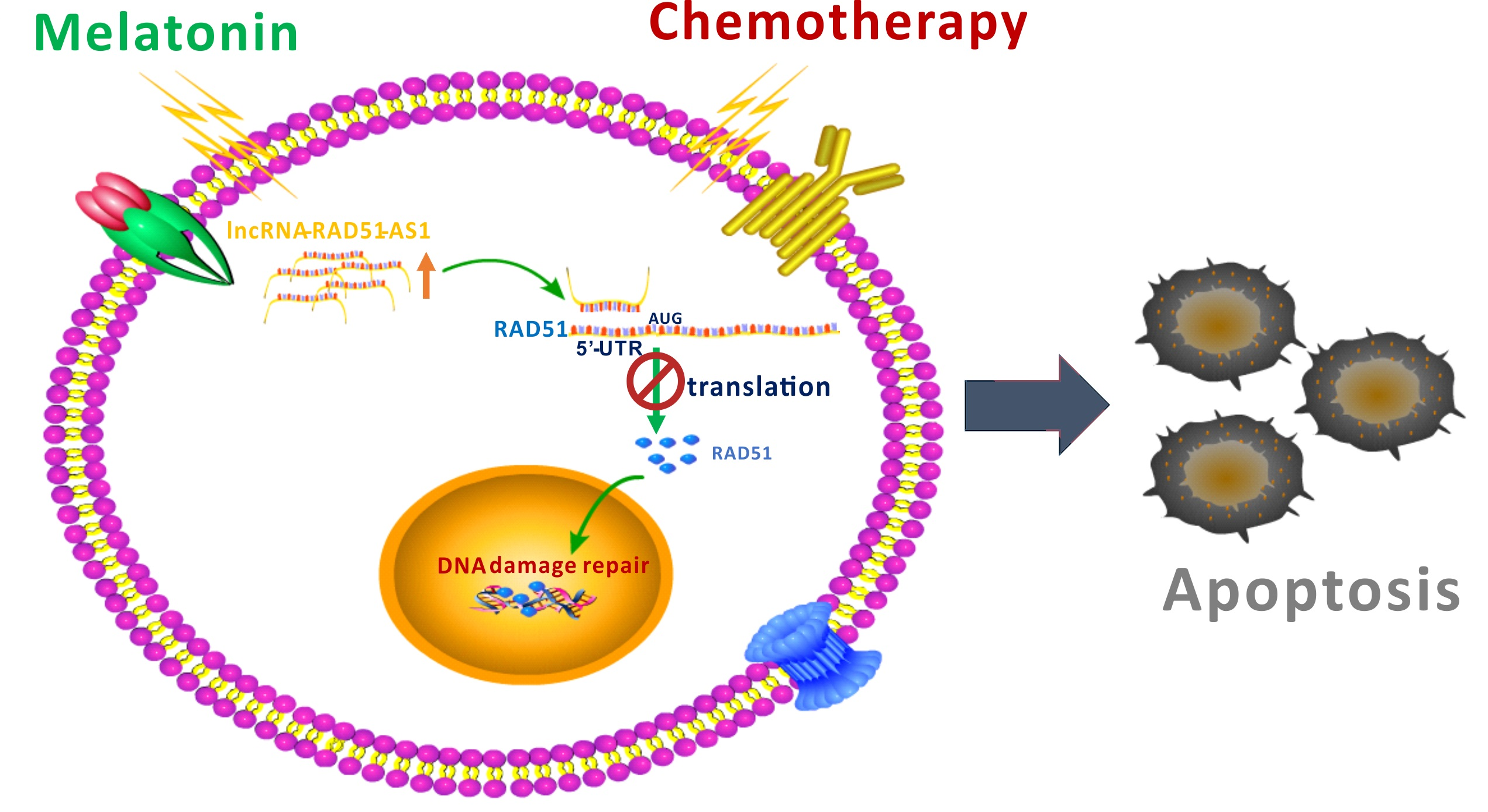 Graphical abstract
This is an open access article distributed under the
Creative Commons Attribution License
which permits unrestricted use, distribution, and reproduction in any medium, provided the original work is properly cited (CC BY 4.0).

Share & Cite This Article
MDPI and ACS Style
Chen, C.-C.; Chen, C.-Y.; Wang, S.-H.; Yeh, C.-T.; Su, S.-C.; Ueng, S.-H.; Chuang, W.-Y.; Hsueh, C.; Wang, T.-H. Melatonin Sensitizes Hepatocellular Carcinoma Cells to Chemotherapy Through Long Non-Coding RNA RAD51-AS1-Mediated Suppression of DNA Repair. Cancers 2018, 10, 320.
Note that from the first issue of 2016, MDPI journals use article numbers instead of page numbers. See further details here.
Related Articles
Comments
[Return to top]