Nutrition Impact Symptoms Are Prognostic of Quality of Life and Mortality After Surgery for Oesophageal Cancer
1
Surgical Care Sciences, Department of Molecular Medicine and Surgery, Karolinska Institutet, Karolinska University Hospital, 171 76 Stockholm, Sweden
2
Department of Biosciences and Nutrition, Karolinska Institutet, 171 76 Stockholm, Sweden
3
Function Area Clinical Nutrition, Karolinska University Hospital, 141 86 Stockholm, Sweden
4
Department of Medicine, Solna, Karolinska Institutet, 171 76 Stockholm, Sweden
5
Department of Surgery and Cancer, Imperial College London, London SW7 2AZ, UK
*
Author to whom correspondence should be addressed.
Received: 22 July 2018 / Revised: 28 August 2018 / Accepted: 4 September 2018 / Published: 7 September 2018
Abstract
We aimed to clarify the influence of nutritional problems after surgery for oesophageal cancer on functional health related quality of life (HRQOL) and survival. A prospective nationwide cohort of oesophageal cancer patients operated 2001–2005 in Sweden with 6 months postoperative follow up was used. Nutritional problems were categorized as low/moderate/severe/very severe based on weight loss and nutrition impact symptoms. An ANCOVA model calculated mean score differences (MD) with 95% confidence intervals (CI) of global quality of life (QOL), social and physical function scores, stratified by preoperative body mass index (BMI) <25 and ≥25. A Cox proportional hazards model produced hazard ratios (HR) with 95% CI for overall 5-year survival. Of 358 patients, 196 (55%) had preoperative BMI ≥25. Very severe and severe nutritional problems were associated with worse HRQOL in both BMI groups. E.g. MD's for global QOL among 'very severe' group was −29 (95% CI −39–−19) and −20 (95% CI −29–−11) for <25 and ≥25 BMI, respectively, compared to the 'low' group. Overall 5-year survival among 'very severe' and BMI ≥ 25 was worse; HR 4.6 (95% CI 1.4–15.6). Intense nutritional problems negatively impact postoperative HRQOL and combined with preoperative BMI ≥ 25 are associated with poorer 5-year overall survival representing a group needing greater clinical attention.
View Full-Text
►

▼

Figures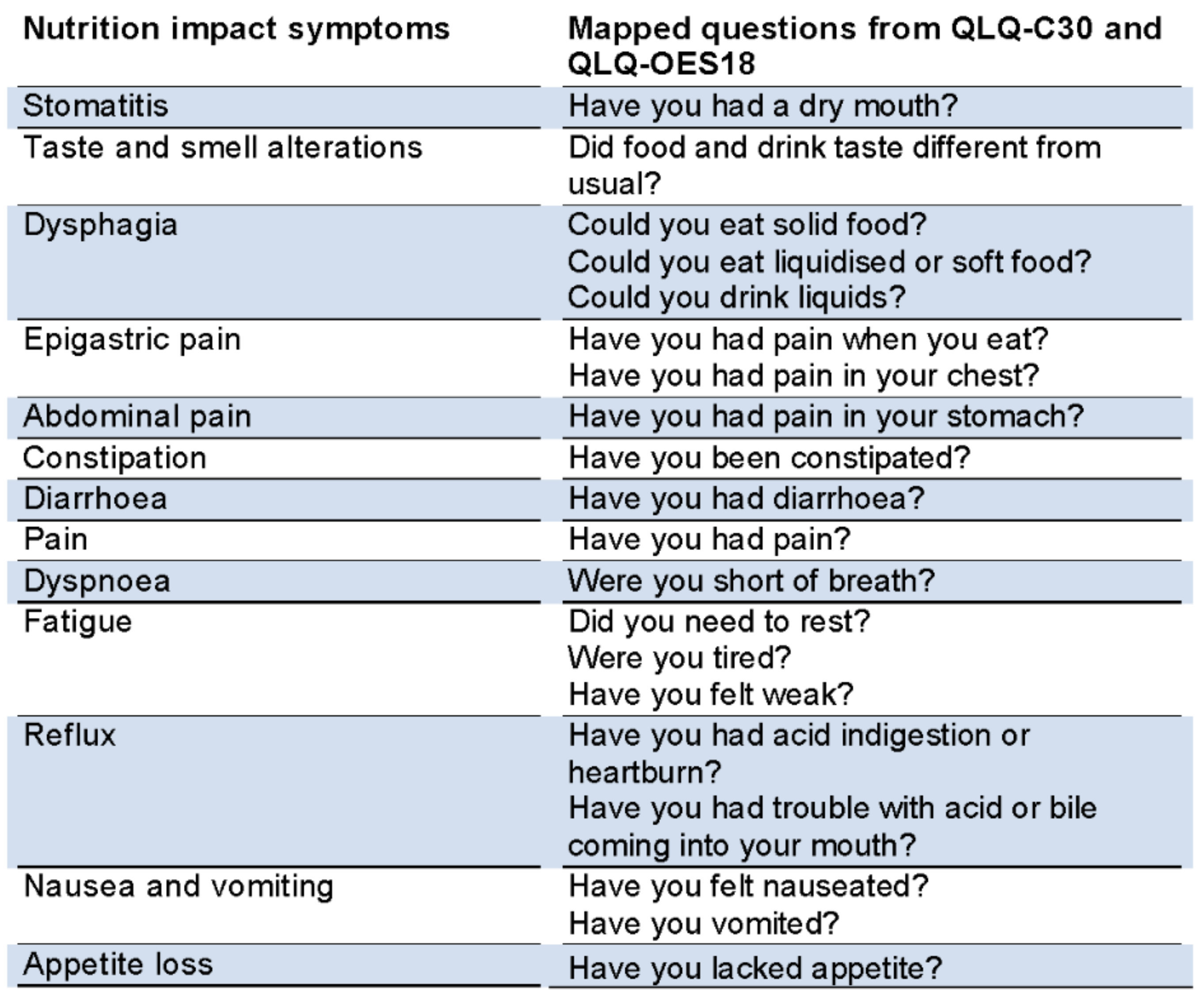 Figure 1
This is an open access article distributed under the
Creative Commons Attribution License
which permits unrestricted use, distribution, and reproduction in any medium, provided the original work is properly cited (CC BY 4.0).

Share & Cite This Article
MDPI and ACS Style
Anandavadivelan, P.; Martin, L.; Djärv, T.; Johar, A.; Lagergren, P. Nutrition Impact Symptoms Are Prognostic of Quality of Life and Mortality After Surgery for Oesophageal Cancer. Cancers 2018, 10, 318.
Note that from the first issue of 2016, MDPI journals use article numbers instead of page numbers. See further details here.
Related Articles
Comments
[Return to top]