Open Access This article is
freely available
re-usable
Review
The Extracellular Matrix and Pancreatic Cancer: A Complex Relationship
Department of Surgery, Massachusetts General Hospital and Harvard Medical School, Boston, MA 02114, USA
*
Author to whom correspondence should be addressed.
Received: 1 August 2018 / Accepted: 2 September 2018 / Published: 6 September 2018
Abstract
:
Pancreatic ductal adenocarcinoma (PDAC) has an extraordinarily dense fibrotic stroma that impedes tumor perfusion and delivery of anticancer drugs. Since the extracellular matrix (ECM) comprises the bulk of the stroma, it is primarily responsible for the increased interstitial tissue pressure and stiff mechanical properties of the stroma. Besides its mechanical influence, the ECM provides important biochemical and physical cues that promote survival, proliferation, and metastasis. By serving as a nutritional source, the ECM also enables PDAC cells to survive under the nutrient-poor conditions. While therapeutic strategies using stroma-depleting drugs have yielded disappointing results, an increasing body of research indicates the ECM may offer a variety of potential therapeutic targets. As preclinical studies of ECM-targeted drugs have shown promising effects, a number of clinical trials are currently investigating agents with the potential to advance the future treatment of PDAC. Thus, the present review seeks to give an overview of the complex relationship between the ECM and PDAC.
Keywords:
collagen; hyaluronan; tissue stiffness; matrisome
2. Composition and Role of the ECM
The ECM is a three-dimensional non-cellular network that is present in every organ and vital for life. Historically, efforts to define the composition of the ECM reach back as far as the 1950s [
29
], and recent genetic and bioinformatic studies [
30
], as well as mass spectrometry analysis [
31
], have led to an improved understanding of this meshwork of large cross-linked proteins [
31
,
32
]. The ECM may be organized either as an interstitial matrix or as specialized forms, such as the basement membrane or vascular endothelium [
33
]. In addition to ensuring tissue integrity, the ECM is crucially involved in cell signaling by supplying components that bind directly to cell surface receptors and ECM-derived peptides (matrikines) that have been liberated after proteolytic cleavage of bioactive fragments of ECM proteins [
34
]. In doing so, the ECM may dictate the fate of cells and organs. Besides biochemical signaling, the mechanical properties of the ECM provide important physical cues to cells that, in turn, influence intracellular signaling cascades [
8
]. The importance of the ECM is highlighted by both cancerous and connective tissue disorders. Mutations in ECM genes are associated with conditions like Marfan and Ehlers–Danlos syndromes [
35
,
36
]. Ehlers–Danlos syndrome comprises a broad range of mutations in genes encoding fibrillar collagens or enzymes that regulate their synthesis. In the classical presentation of this disease, mutations in procollagen V (COL5A1/COL5A2) prevent the assembly of collagen I and V heterotrimers, resulting in joint hypermobility, skin hyperextensibility, and widened atrophic scars [
35
]. Marfan syndrome is caused by mutations in the glycoprotein fibrillin-1 (FBN1) [
36
]. These mutations result in insufficient fibrillin-1 synthesis and loss of ECM architecture, leading to clinical defects dominated by thoracic aortic aneurysms and dissections [
36
]. Furthermore, ECM remodeling has also been identified as a consequence of or increased risk for malignant transformation of hepatic [
37
], pulmonary [
38
], and pancreatic cells [
11
]. More precisely, hepatocellular carcinoma is the most common cause of death in patients with liver cirrhosis [
37
], the incidence of lung cancer is increased fourfold in patients with idiopathic pulmonary fibrosis in comparison to patients with pulmonary emphysema [
38
], and as emphasized before, the abundant amount of ECM is a hallmark of PDAC [
11
].
Collagens are by far the most abundant and well-characterized component of the ECM in PDAC tumors. Currently, 28 different types of collagen have been described [
39
], representing the main thrust of research on ECM proteins. Therefore, this review focuses largely on collagens and their interactions with PDAC cells, highlighting the various mechanisms by which ECM can influence tumor biology. Amongst others, the basement membrane collagens include collagen IV, XV, and laminin [
40
], while collagen I, III, and V are located in the interstitial space [
41
]. In PDAC, collagen I is responsible for the majority of the desmoplastic reaction [
42
,
43
,
44
,
45
]. Importantly, the desmoplastic reaction leads not only to quantitative changes in the total amount of ECM but also to qualitative changes. By disrupting the normal architecture of the basement membrane, PDAC cells are exposed to increasing amounts of interstitial collagens, which may have protumorigenic effects [
42
,
44
]. In this respect, the deposition of high levels of collagen I has been associated with reduced survival [
46
].
While multiple lines of evidence show that interstitial collagens, such as collagen I, foster protumorigenic features, including invasion and EMT, the basement membrane type collagen XV hinders these cell features [
47
]. As a component of the ECM that has antitumor effects, expression of collagen XV is reduced in basement membranes of aggressive colon carcinomas [
48
] and is lost during the progression from carcinoma in-situ to invasive carcinoma in breast cancer [
49
]. Thus, unlike collagen I, expression of collagen XV is decreased during tumor progression. Additionally, overexpression of collagen XV reduces the migratory capabilities of PDAC cells in matrices rich in collagen I [
47
]. Furthermore, two major components of the basement membrane have been demonstrated to have a substantial, yet different impact on survival. Here, laminin content <25% in basement membranes is associated with decreased long-term survival [
50
]. In contrast to the beneficial impact of laminin, patients with high postoperative levels of circulating collagen IV exhibit dramatically reduced survival after curative resection of PDAC [
51
]. Collagen IV shows high expression levels in PDAC stroma and promotes proliferation and migration of PDAC cells [
52
]. Further, PDAC cells produce collagen IV, which protects PDAC cells themselves from serum deprivation-induced apoptosis [
52
]. Thus, collagens have important effects on PDAC cells; however, even within the same group of collagens, these effects may differ.
3. Cell Signaling via Collagens
4. Structural Regulation of the ECM
5. ECM as a Nutritional Source
The proliferation of tumor cells requires a constant supply of nutrients. However, as the dense desmoplastic reaction restrains tissue perfusion, the influx of oxygen and nutrients is restricted [
96
]. As a mechanism to thrive under these precarious conditions, PDAC cells utilize macropinocytosis to acquire nutrients. KRAS-mutant PDAC cells (>90%) are characterized by membrane ruffling, which enables the PDAC cells to form macropinosomes, large vacuoles that may non-specifically take up extracellular molecules and transfer them to lysosomes for degradation [
97
,
98
]. The ability of PDAC to use this mechanism as a source of nutrients is highlighted by the continued growth of PDAC cell lines in the absence of essential amino acids when media is supplemented with albumin [
96
]. Consequently, inhibition of macropinocytosis inhibits the proliferation of PDAC cells [
98
]. Importantly, macropinocytosis may also allow PDAC cells to use the collagen-rich tumor microenvironment as a source of energy. A recent study revealed that PDAC cells metabolize collagen fragments under glucose-limited conditions [
45
]. This work showed that PDAC cells take up collagens using macropinocytosis when deprived of glucose and degrade them into amino acids, of which proline is then metabolized in the tricarboxylic acid cycle.
6. Proteoglycans and Glycoproteins
Proteoglycans and glycoproteins are additional components of the ECM that have an important impact on tumor cells. Proteoglycans and glycoproteins are composed of core proteins that undergo post-translational glycosylation, which substantially shapes their conformation and cell signaling function [
99
]. In cancers, proteoglycans and glycoproteins are frequently subject to aberrant glycosylation resulting in structural and quantitative changes [
100
]. Commonly, cancer cells undergo alterations involving sialylation, branch-glycans, and core fucosylation [
101
]. Additionally, both
N
-glycosylation [
102
] and expression of the core proteins of periostin [
102
], fibulin 1 [
102
], and galectin 1 [
103
] have been found to be upregulated in PDAC [
104
,
105
]. Galectin 1 is expressed in several tumor types. It is involved in proliferation, invasion, angiogenesis, metastasis, and is linked to patient survival [
105
,
106
]. Furthermore, combining loss of galectin-1 with genetically engineered mouse models of PDAC (Ela-myc and Ela-Kras
G12V
p53
−/−
) resulted in diminished stromal activation and tumor cell proliferation, and increased infiltration of cytotoxic T-cells [
107
,
108
]. Thus, in accordance with the multitude of possible pre- and posttranslational modifications, glycoproteins have multifaceted roles in PDAC. This is further highlighted by fibronectin, which both shares similarities with collagens but also has its own distinct impact on PDAC biology. Similar to collagens, fibronectin binds to integrin receptors (α5β1), thereby activating the FAK pathway [
109
]. Furthermore, fibronectin has binding sites for collagens, making it a linker protein between collagens and integrins and supporting the role of collagens [
110
]. Besides these cooperative effects with collagens, fibronectin has been found to be a key factor in the resistance of PDAC to radiotherapy. Irradiation of PDAC cells induces their infiltration of the basement membrane, which is abrogated by application of either integrin α5β1 blocking antibodies or depletion of fibronectin [
111
]. In addition to its role in resistance to therapy, fibronectin supports the malignant biology of PDAC cells by stimulating proliferation [
112
] and production of reactive oxygen species [
113
]. Strikingly, fibronectin plays an important role in amplifying ECM synthesis by PSCs. By binding to the latent TGFβ binding protein, fibronectin allows for the release of active TGFβ, which in turn activates PSCs [
19
,
114
]. Accordingly, fibronectin is a key element of the ECM, both promoting malignant traits of PDAC cells and sustaining fibrogenesis. Similar to fibronectin, vitronectin is a major glycoprotein that binds to both integrins (α5β3) and collagens [
110
,
115
]. Involved in wound healing and hemostasis in health, vitronectin is overexpressed in PDAC and promotes cancer cell migration when combined with collagen I [
116
]. Promoting the malignant characteristics of PDAC cells further, vitronectin stimulates secretion of interleukin 8, promoting proliferation of PDAC cells [
117
,
118
]. Interestingly, vitronectin promotes expression of TGFβ in hepatic stellate cells [
119
], providing another example of how ECM proteins maintain their own synthesis and the overall desmoplastic reaction.
Proteoglycans also play an important role in PDAC biology, but their contribution appears to be both pro- and anti-tumorigenic. While biglycan (proteoglycan-I) negatively correlates with patient prognosis in PDAC [
120
], patients with stromal expression of lumican, a small leucine-rich proteoglycan [
121
], have markedly improved survival and a reduced occurrence of metastasis [
122
]. Several of mechanisms may contribute to these improved biological outcomes. Exposure to extracellular lumican renders PDAC cells into a quiescent state by inducing G0/G1 cell cycle arrest [
123
]. Furthermore, extracellular lumican induces epidermal growth factor receptor internalization, thereby inhibiting AKT and mitogen activated protein kinase (MAPK) signaling [
122
,
123
].
Proteoglycans often bind non-covalently to hyaluronic acid (HA), a non-sulfated glycosaminoglycan that retains significant amounts of water and thereby contributes to the gel-like character of the interstitial fluid [
124
]. First occurring in pre-neoplastic pancreatic intraepithelial neoplasia (PanIN) lesions, HA is expressed in abundant amounts in the ECM [
123
] and following application of PEGPH20, an HA-degrading enzyme, intratumoral tissue pressure is decreased in PDAC mouse models (Pdx1-Cre;Kras
G12D
;Trp53
R172H
) [
125
,
126
]. Further studies using PEGPH20 have demonstrated that depletion or reduction of hyaluronic acid results in improved tumor perfusion and thus improved delivery of cytotoxic therapy in PDAC mouse models [
10
,
126
,
127
]. Moreover, its importance is highlighted by its ability to promote cell survival, proliferation, and invasion via binding to CD44 [
128
,
129
,
130
,
131
,
132
] and the receptor for hyaluronic acid-mediated motility (RHAMM) [
133
]. In addition to PEGPH20, HA may also be targeted using angiotensin inhibitors, which have been shown to reduce stromal HA and collagen production [
134
]. However, HA is likely to require the help of collagen to induce an increase in tissue pressure. As shown by Chauhan and colleagues, the amount of HA does not correlate with vessel compression in collagen-poor tumors, whereas a strong effect is evident in collagen-rich tumor microenvironments [
134
].
Figure 1
illustrates the multiple interactions of PDAC cells with their microenvironment.
7. Strategies to Overcome the ECM as a Barrier to Drug Delivery
8. Future Perspectives
Modulating the PDAC stroma bears the potential to not only ameliorate PDAC cell biology itself but also to increase the amenability of PDAC cells to conventional cytotoxic and radiotherapy. Breaking the chemo- and radiotherapy barrier could therefore possibly result in a significant increase of therapeutic options for patients with PDAC. However, since PDAC is characterized by a multitude of different mutations, pathway alterations, and genetic heterogeneity [
153
], both future clinical trials and therapies will have to be coupled with the thorough molecular characterization of patients to ensure optimal therapeutic efficacy.
9. Conclusions
The ECM possesses fundamental tumorigenic features and is a major factor in both promoting PDAC progression and restricting the delivery of antitumor therapy. Whether by regulating migration, proliferation, antiapoptosis, or cell metabolism, the ECM has a major hand in shaping the hallmarks of cancer in PDAC. Through various biochemical and biomechanical signaling pathways, the ECM creates a niche that directs the fate of PDAC cells. However, the ECM is a complex network of molecules having both pro- and antitumorigenic effects, and depletion of the ECM can have disastrous effects on survival. Therefore, remodeling the balance of these factors as opposed to eradicating the ECM could be a viable strategy for improving outcomes in PDAC. While the initial results of ECM-targeted drugs appear promising, intensified research is required to characterize further therapeutic targets in the ECM.
Author Contributions
Conceptualization, A.S.L. and K.C.H.; Original draft preparation, M.W.; Writing-review and editing, M.W., K.C.H. and A.S.L.; Visualization, M.W.; Supervision, A.S.L.
Funding
M.W. and K.C.H. received funding from the German research association/Deutsche Forschungsgmeinschaft (grant # 401299842 (M.W.); grant # 326985593 (K.C.H.)).
Conflicts of Interest
The authors declare no conflict of interest.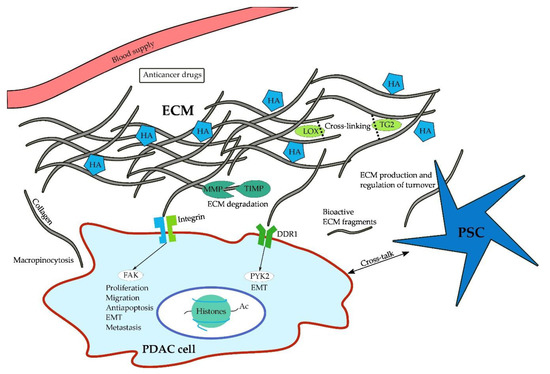 Figure 1.
Interactions between extracellular matrix, cancer cells, and pancreatic stellate cells. Forming a dense meshwork of collagen fibers around pancreatic ductal adenocarcinoma (PDAC) cells, the extracellular matrix (ECM) impairs tumor perfusion and penetration by anticancer drugs. On top of these mechanical effects, collagen fibers bind to cell surface receptors, activating intracellular signaling pathways that induce protumorigenic programs. Here, both the biochemical and biomechanical effects of the ECM may be amplified by collagen cross-linking and hyaluronic acid (HA). In addition to interacting with the ECM itself, PDAC cells also communicate with pancreatic stellate cells (PSCs), which steer the turnover of the ECM.
DDR1, dimeric discoidin receptor 1; ECM, extracellular matrix; FAK, focal adhesion kinase; HA, hyaluronic acid; LOX, lysil oxidase; MMP, matrix metalloproteinase; PSC, pancreatic stellate cells; Pyk2, FAK-related protein tyrosine kinase; TG2, tissue transglutaminase 2; TIMP, tissue inhibitor of matrix metalloproteinases
.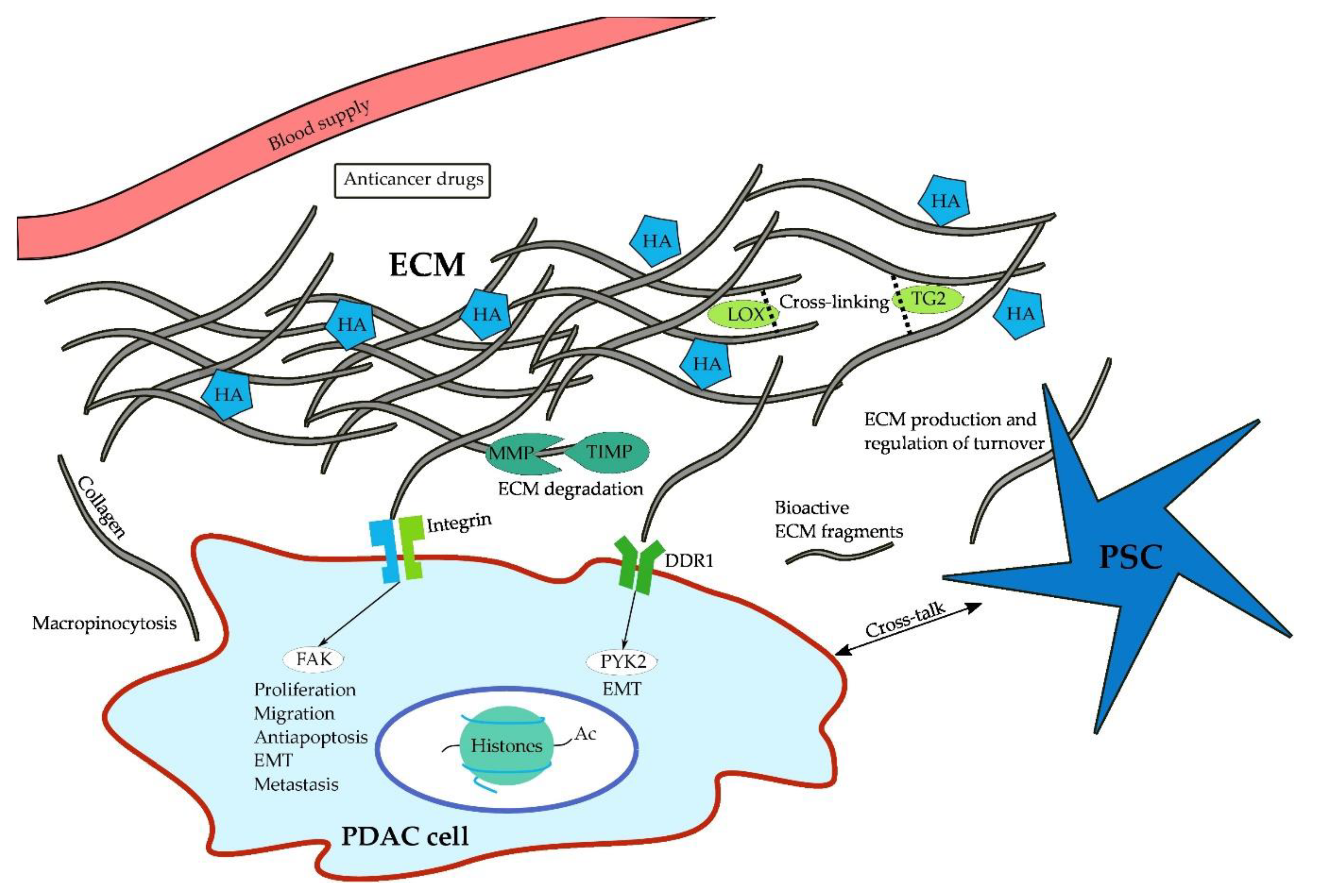 Type of Collagen
Effect on PDAC Cells
Promotion (+)/Inhibition (−)
Collagen I
Apoptosis
−
EMT
+
FAK pathway
+
Histone acetyltransferases
+
Migration
+
MMP
+
Proliferation
+
Collagen IV
Migration
+
Proliferation
+
Collagen V
Adhesion
+
Migration
+
Proliferation
+
Viability
+
Collagen XV
Migration
−
HA Degrading Enzymes
PEGPH20
Phase
Stage
Design
NCT02910882
II
LAPC
PEGPH20 + GEM + Radiation
NCT01959139
I/II
Metastatic
PEGPH20 + FOLFIRINOX vs. FOLFIRINOX
NCT03193190
I/II
Metastatic
GEM/nab/mFOLFOX6 vs. Atezolizumab + Cobimetinib vs. Atezolizumab + PEGPH20 vs. Atezolizumab + BL-8040
NCT03481920
I
LAPC/Metastatic
PEGPH20 + Avelumab (single arm)
NCT01839487
II
Metastatic
PEGPH20+ GEM/nab vs GEM/nab
Angiotensin inhibitors
Losartan
Phase
Stage
Design
NCT01821729
II
LAPC
Losartan + FOLFIRINOX + Proton Beam Radiation (single arm)
Vitamin D receptor agonists
Paricalcitol
Phase
Stage
Design
NCT03520790
I/II
Metastatic
GEM/nab + Placebo vs. GEM/nab + Paricalcitol
NCT03415854
II
Metastatic
Paricalcitol + Cisplatin + GEM/nab (single arm)
NCT02930902
I
Resectable
Pembrolizumab + Paricalcitol vs. Pembrolizumab + Paricalcitol+ GEM/nab
NCT03331562
II
Metastatic
Pembrolizumab + Paricalcitol vs. Pembrolizumab +Placebo
NCT03300921
I
Resectable
Pembrolizumab + Paricalcitol vs. Pembrolizumab + Placebo
NCT03519308
I
Resectable
Nivolumab + GEM/nab + Paricalcitol vs. Nivolumab + GEM/nab
Retinoic acid receptor agonists
ATRA
Phase
Stage
Design
NCT03307148
I
LAPC/Metastatic
ATRA + GEM/nab (single arm)
Macropinocytosis inhibitors
Hydroxychloroquine
Phase
Stage
Design
NCT01978184
II
Resectable
Hydroxychloroquine + GEM/nab vs. GEM/nab
NCT03344172
II
Resectable
GEM/nab + Hydroxychloroquine + Avelumab vs. GEM/nab + Hydroxychloroquine
NCT01506973
I/II
Metastatic
Hydroxychloroquine + GEM (single arm)
NCT01494155
II
Resectable
Hydroxychloroquine + Capecitabine + Radiation (single arm)
NCT01128296
I/II
Resectable
Hydroxychloroquine + GEM (single arm)
FAK inhibitors
Defactinib
Phase
Stage
Design
NCT02758587
I/II
LAPC/Metastatic
Defactinib + Pembrolizumab (single arm)
NCT02546531
I
LAPC/Metastatic
Defactinib + Pembrolizumab + GEM (single arm)
LAPC, locally advanced pancreatic cancer; GEM, Gemcitabine; GEM/nab, Gemcitabine + nab-Paclitaxel; HQ, Hydroxychloroquine.

© 2018 by the authors. Licensee MDPI, Basel, Switzerland. This article is an open access article distributed under the terms and conditions of the Creative Commons Attribution (CC BY) license (http://creativecommons.org/licenses/by/4.0/).