Open Access This article is
freely available
re-usable
Review
Peroxiredoxin II Regulates Cancer Stem Cells and Stemness-Associated Properties of Cancers
1
Laboratory of Animal Genetic Engineering and Stem Cell Biology, Advanced Convergence Technology and Science, Jeju National University, Jeju 63243, Korea
2
Laboratory of Animal Genetic Engineering and Stem Cell Biology, Subtropical/Tropical Organism Gene Bank, Jeju National University, Jeju 63243, Korea
*
Authors to whom correspondence should be addressed.
Received: 20 July 2018 / Accepted: 31 August 2018 / Published: 3 September 2018
Abstract
:
Cancer stem cells (CSCs) represent a sub-population of cancer cells with the ability to regulate stemness-associated properties which are specifically responsible for unlimited growth of cancers, generation of diverse cancer cells in differentiated state and resistance to existing chemotherapy and radiotherapy. Even though, current therapies destroy majority of cancer cells, it is believed to leave CSCs without eradicating which may be the conceptualization for chemoresistance and radio-resistance. Reactive oxygen species (ROS) maintain stem cells and regulate the stemness-associated properties of cancers. Beyond the maximum limit, ROS can damage cellular functions of cancers by subjecting them to oxidative stress. Thus, maintenance of ROS level plays an important role in cancers to regulate stemness-associated properties. Peroxiredoxin II (Prx II) is a member of peroxiredoxin antioxidant enzyme family which considers as a regulator of ROS in cellular environments by modulating redox status to maintain CSC phenotype and stemness properties. Prx II has cell type-dependent expression in various types of cancer cells and overexpression or silenced expression of Prx II in cancers is associated with stem cell phenotype and stemness-associated properties via activation or deactivation of various signaling pathways. In this review, we summarized available studies on Prx II expression in cancers and the mechanisms by which Prx II takes parts to regulate CSCs and stemness-associated properties. We further discussed the potential therapeutic effects of altering Prx II expression in cancers for better anticancer strategies by sensitizing cancer cells and stem cells to oxidative stress and inhibiting stemness-associated properties.
Keywords:
cancer stem cells; stemness; reactive oxygen species; Peroxiredoxin II; oxidative stress
Author Contributions
T.K., N.C. and D.K.J. designed and wrote the whole manuscript. All authors read and approved the final manuscript.
Funding
This research was supported by Basic Science Research Program through the National Research Foundation of Korea (NRF) funded by the Ministry of Education (2017R1D1A1B03028188).
Acknowledgements
We thank Dae-Yeul Yu (Disease Model Research Laboratory, Genome Editing Research Center, Korea Research Institute of Bioscience and Biotechnology (KRIBB), Daejeon, Republic of Korea), Sun-Uk Kim and Young-Ho Park (National Primate Research Center and Futuristic Animal Resource and Research Center, Korea Research Institute of Bioscience and Biotechnology, Ochang, Chungbuk, Republic of Korea), Ying-Hao Han and Hu-Nan Sun (College of Life Science and Technology, Heilongjiang Bayi Agricultural University, Daqing, Heilongjiang, P.R. China).
Conflicts of Interest
The authors declare no conflict of interest.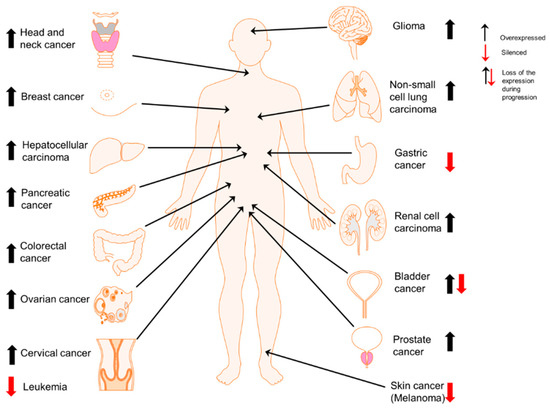 Figure 1.
Cell type-dependent expression of Prx II in cancers. Overexpression of Prx II in majority of cancer types including head and neck [
25
], breast [
35
], liver (hepatocellular carcinoma) [
22
], pancreatic [
36
], colorectal [
12
], ovarian [
37
], cervical [
38
], brain (glioma) [
39
], lung (non-small cell lung cancer) [
21
], kidney (renal cell carcinoma) [
40
] and prostate cancers [
20
] and epigenetically silenced expression of Prx II in gastric cancer [
24
], melanoma [
41
] and leukemia [
5
]. Specially, in bladder cancers, overexpressed Prx II is significantly reduced with the cancer progression [
42
].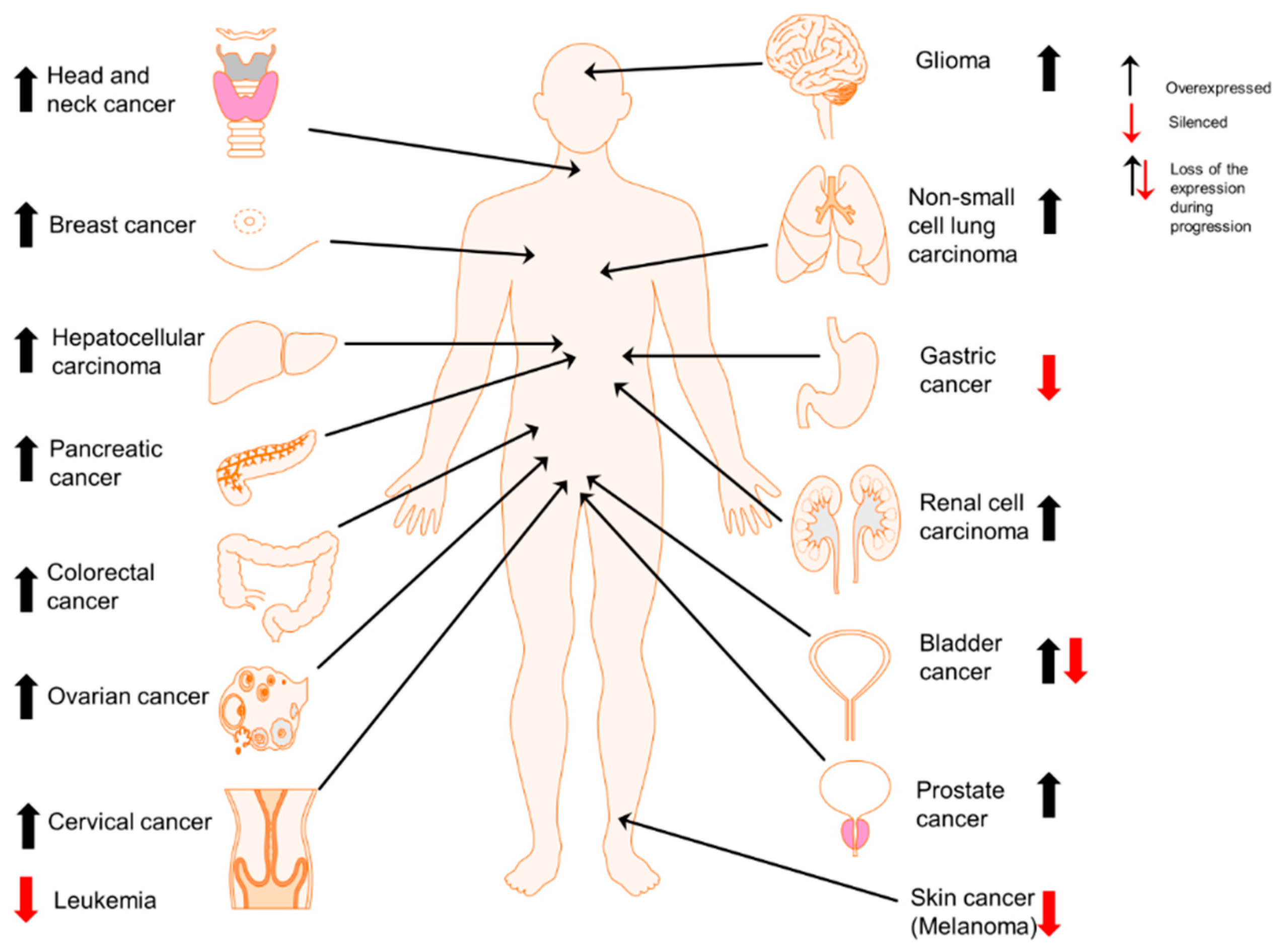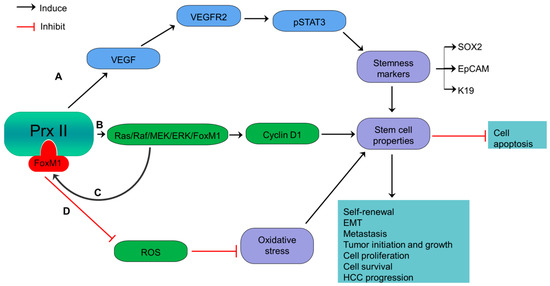 Figure 2. Overexpressed Prx II regulates stemness-associated properties of HCC cells. (A) Activation of VEGF/VEGFR2/STAT3 signaling via overexpressed Prx II-mediated stimulation of VEGF, to induce stemness gene expression such as SOX2, EpCAM and Keratin 19 and maintenance of stem cell properties. (B) Inducing Cyclin D1 by overactivation of Ras/Raf/MEK/ERK/FoxM1 pathway to induce stemness properties of HCC. (C) Additionally, the transcriptional activation of Prx II by overexpressed FoxM1 transcription factor. (D) Inhibition of oxidative stress and upregulation of stemness-associated properties by targeting ROS.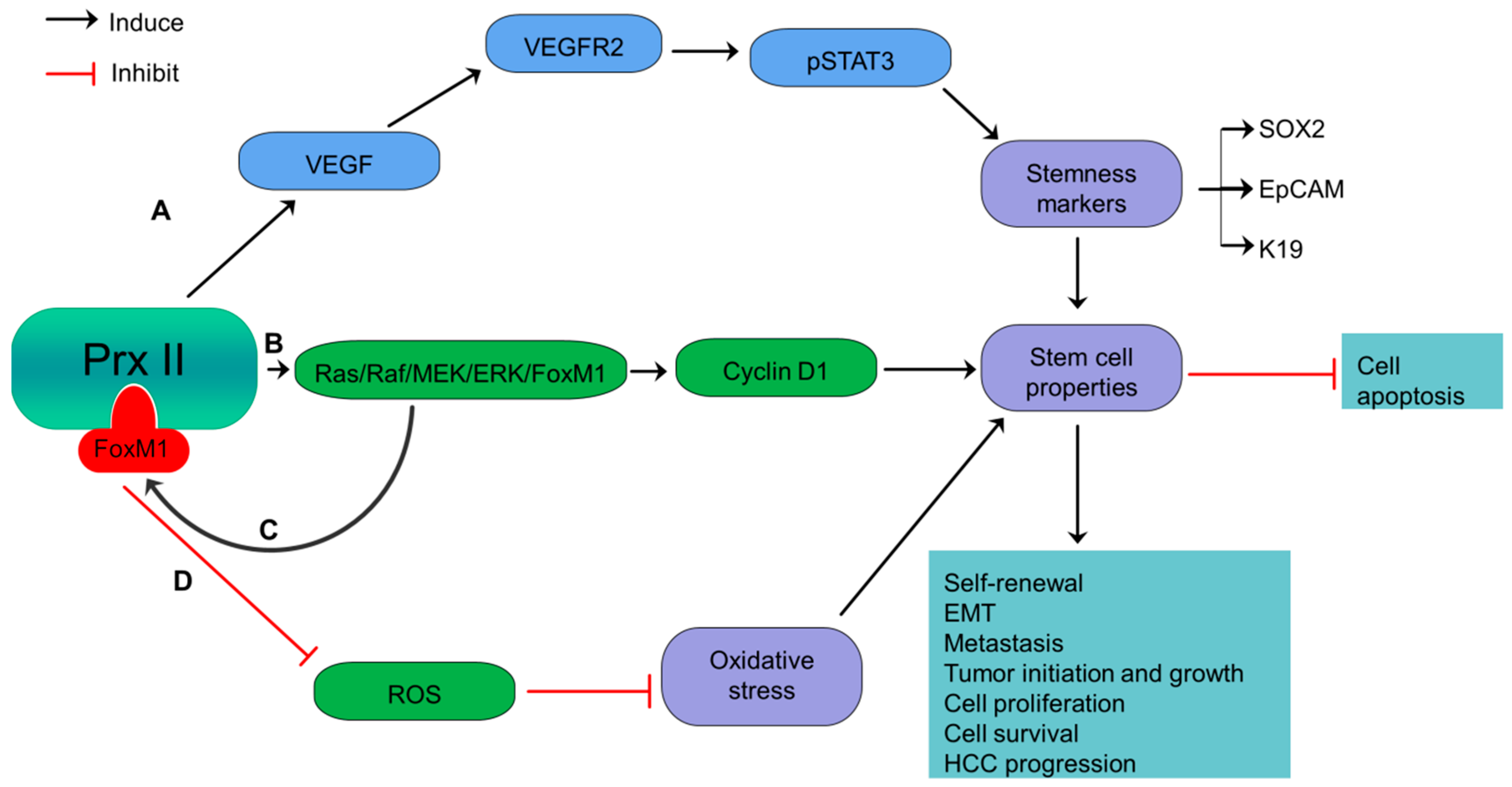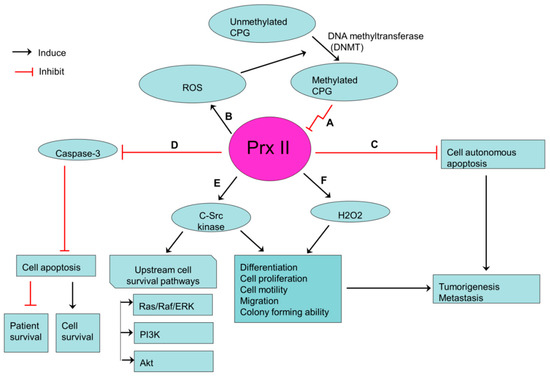 Figure 3. Prx II-mediated stemness-associated properties in gastric cancers. (A) Transcriptionally silenced expression of Prx II in gastric cancer cells by hypermethylation of CPG islands in promoter regions of Prx II. (B) ROS level is increased by silenced Prx II and Increased ROS induces the hypermethylation of CPG islands. (C,D) Reduced cell autonomous apoptosis and apoptosis via inhibiting caspase activities by silenced Prx II. (E,F) Over activation of c-Src kinase and H2O2 level by silenced Prx II, which then promotes the stemness-associated properties.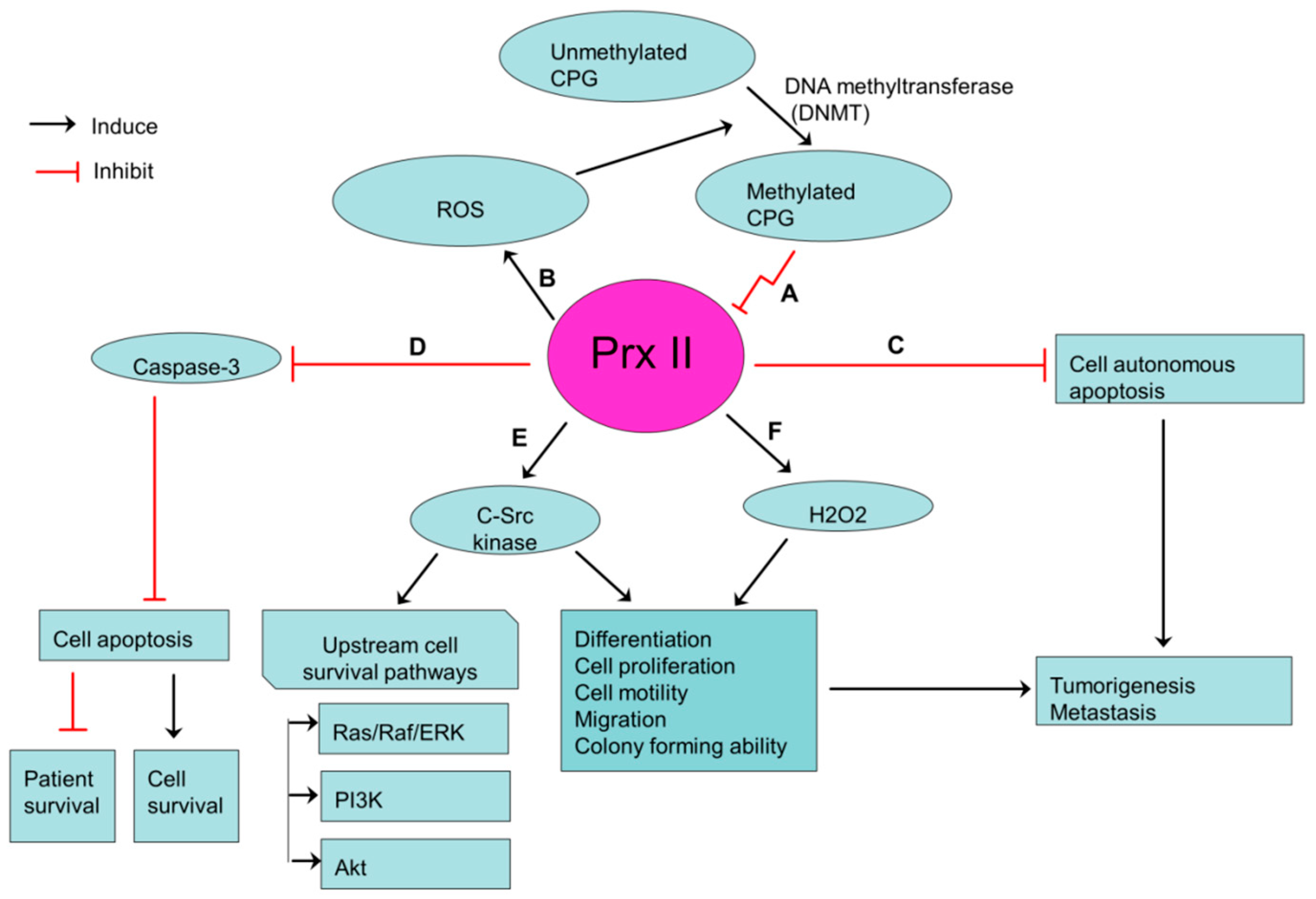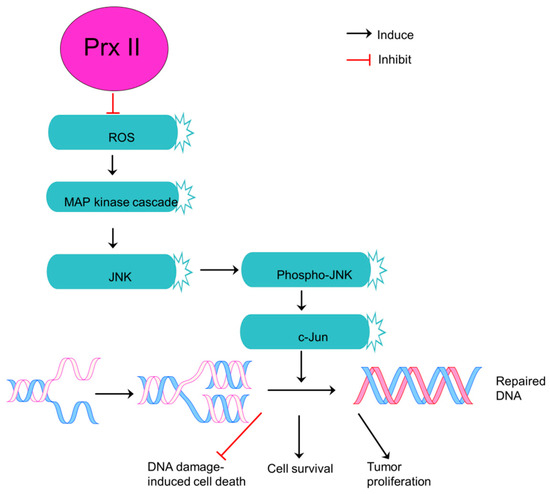 Figure 4. Prx II is an essential component of JNK-dependent survival pathway in non-small cell lung cancers. Downregulation of ROS level in NSCLCs by overexpressed Prx II and thereby activation of MAP kinase cascade to induce phosphorylation of JNK and JNK/c-Jun survival pathway which is essential to repair DNA damages. Repaired DNA-damages protects NSCLC cells from DNA damage-induced cell death and induces cell survival and tumor proliferation.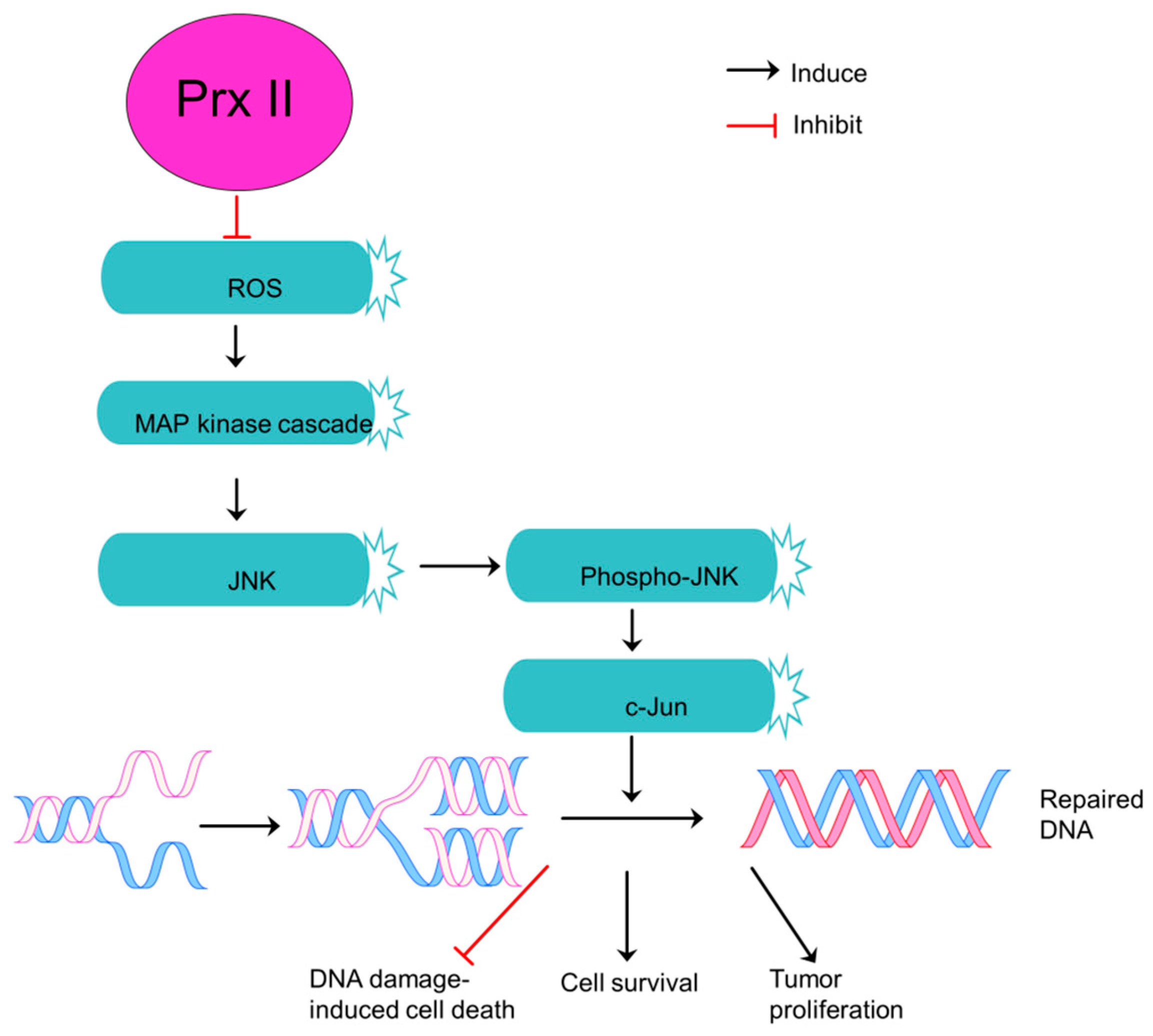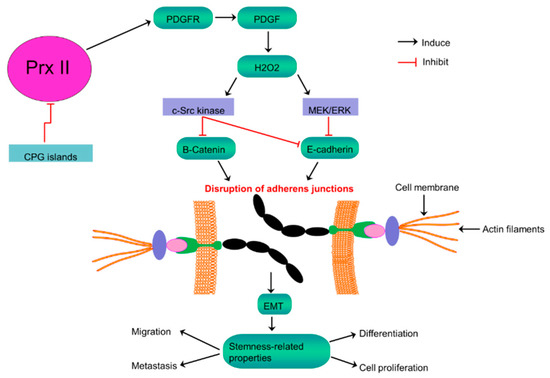 Figure 5. Inversely related Prx II expression and stemness-associated properties in melanoma cells. Activation of PDGF signaling by epigenetically silenced Prx II in melanoma cells to induce H2O2 level results consequent over activation of c-Src kinase and MEK/ERK signaling to inhibit E-Cadherin and the membrane retention of β-Catenin, thereby disrupting adherens junctions to promote EMT and stemness-associated properties of melanoma cells.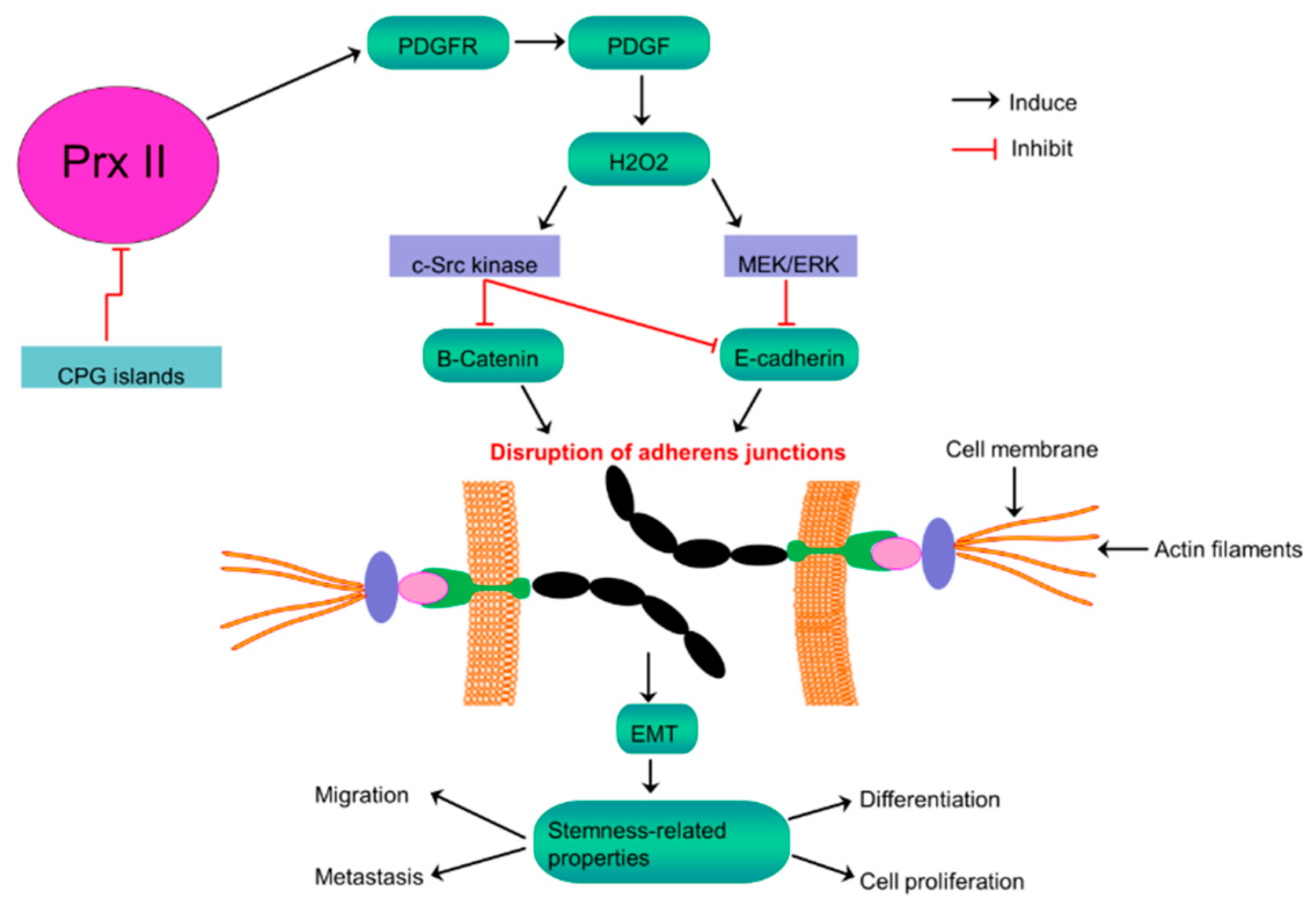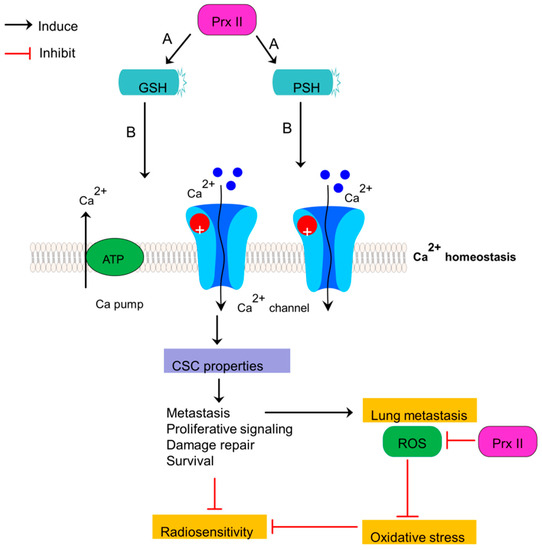 Figure 6. Stemness-associated properties and radiosensitivity are mediated by Prx II in breast cancers. Up-expression of Prx II in breast cancers induces the consequence expression of protein thiol (PSH) and glutathione (GSH). These expressions are associated with decreased cellular toxicity by induced Ca2+ efflux and Ca2+ homeostasis. Cellular toxicity reduction induces the stemness-associated properties of CSCs and decreases the sensitivity to radiotherapies. Prx II also protects lung metastatic breast cancer cells from ROS-mediated oxidative stress in lung microenvironment.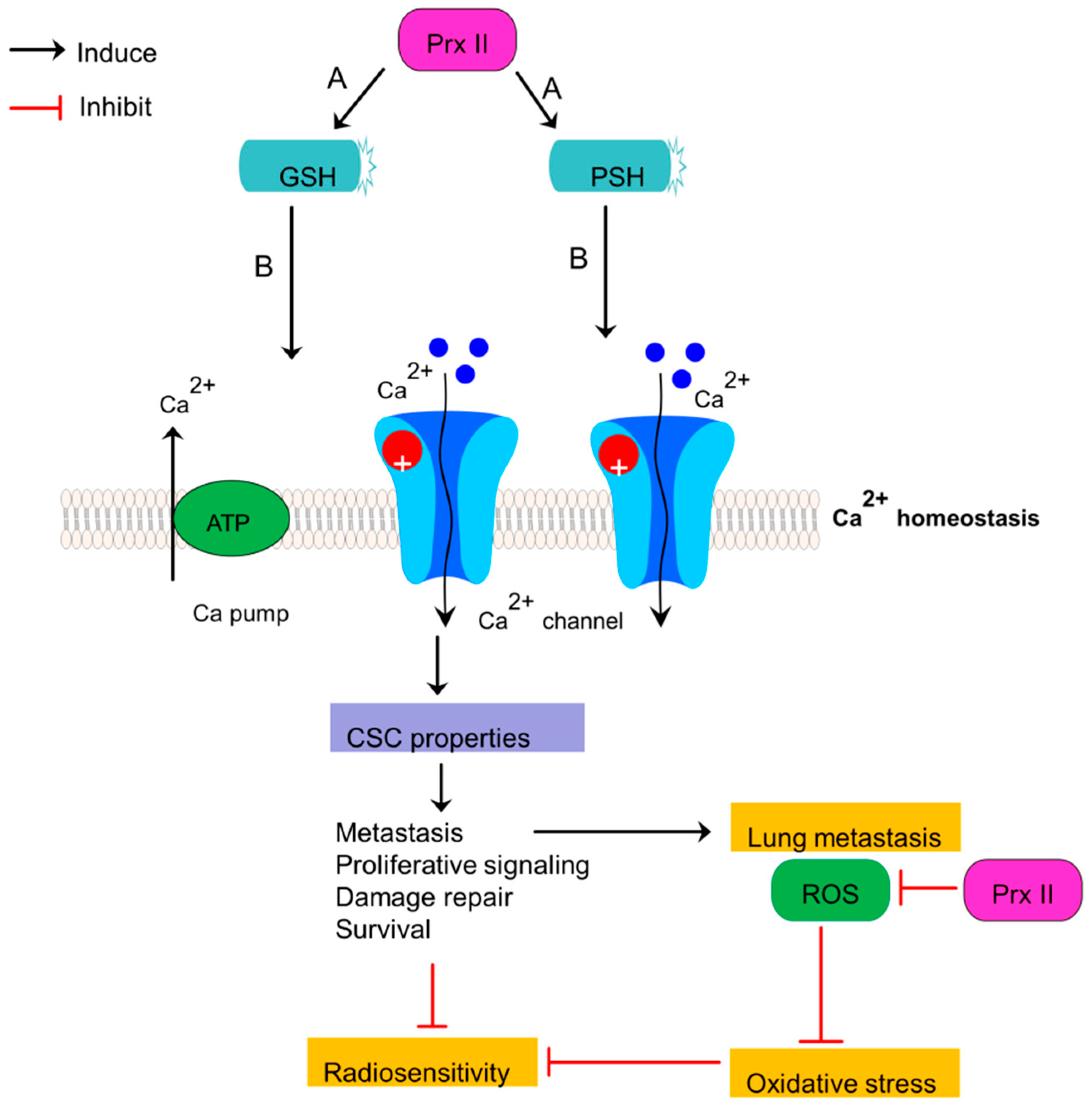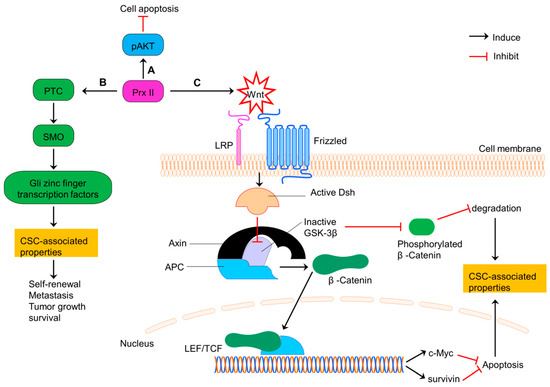 Figure 7. Prx II regulates CSC properties of colorectal cancers via PI3K/AKT, Hedgehog and Wnt/β-Catenin signaling. (A) Induced PI3K/AKT signaling by overexpressed Prx II in colorectal cancer cells to increase cell survival by inhibiting apoptosis. (B) Prx II-mediated overactivation of Hedgehog pathway by increasing the expressions of PTC, SMO and Gli zinc finger transcription factors to promote stemness-associated properties. (C) Activation of Wnt pathway by overexpressed Prx II. Wnt signaling induces translocation of β-Catenin to nucleus by activated Dishevelled and inactivated GSK-3β activities. Translocated β-Catenin induces the transcription of LEF/TCF complex target genes such as survivin and c-Myc. Activation of these genes and deactivation of degradation signals maintains the stemness-associated properties of colorectal cancers.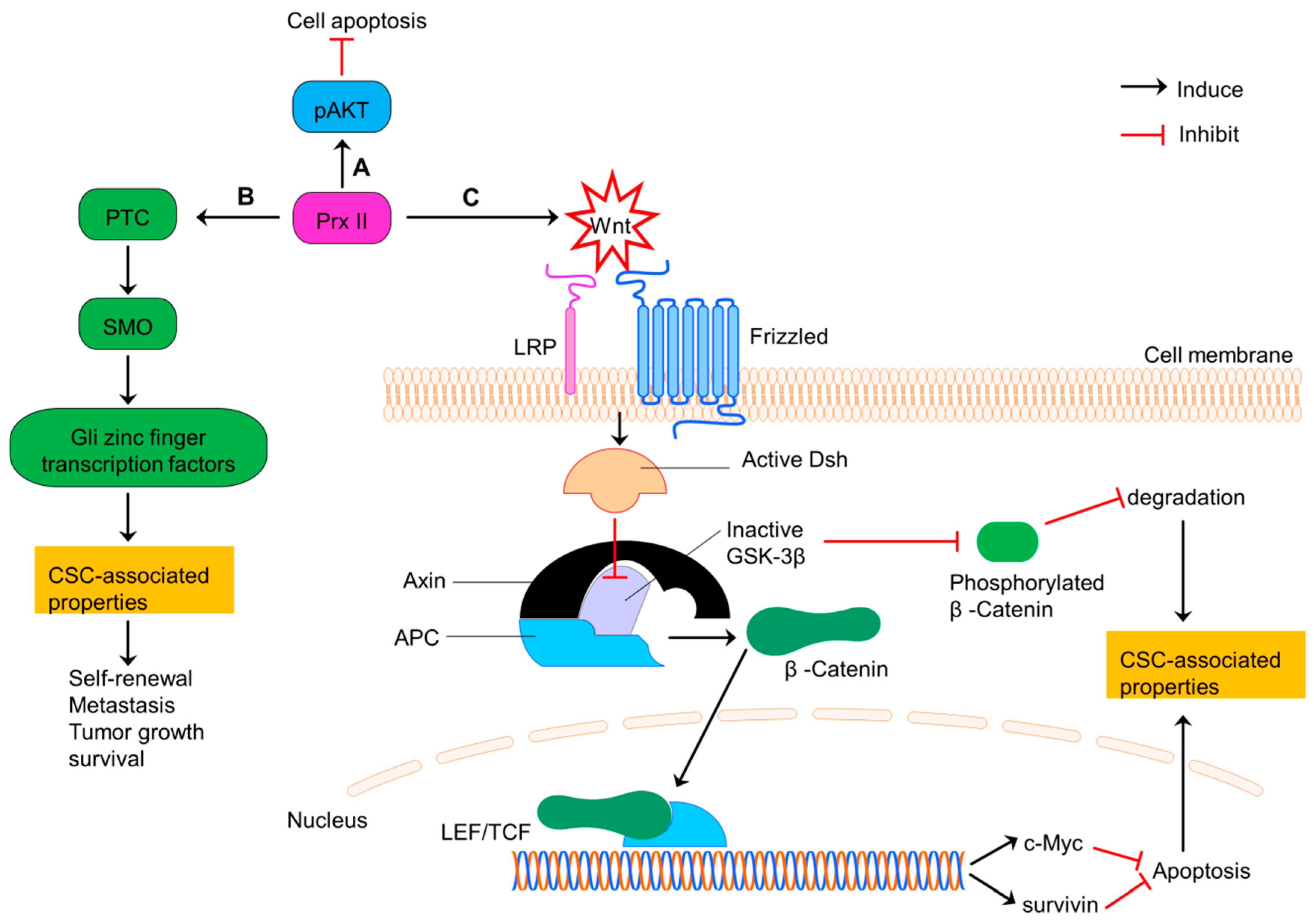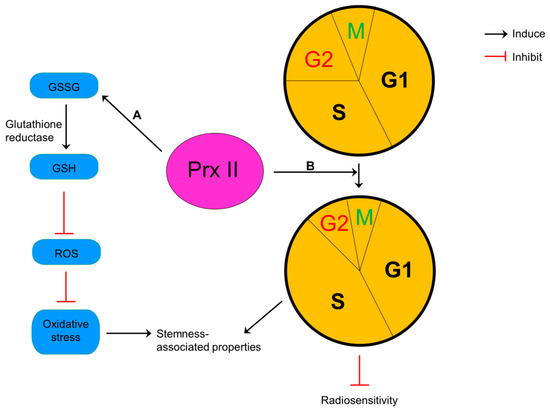 Figure 8. Pivotal role of Prx II in glioma cells. (A) Overexpression of Prx II in glioma cells increases the reduction of oxidized glutathione (GSSG) to reduced glutathione (GSH) by induced glutathione reductase activity thereby reducing ROS level and damages from oxidative stress and inducing stemness-associated properties. (B) Prx II-mediated alteration of cell cycle distribution by decreasing cells in most radiosensitive G2/M phase whereas increasing cells in most proliferative S1 phase. Alterations of cell cycle result poor radiosensitivity and induced stemness-associated properties.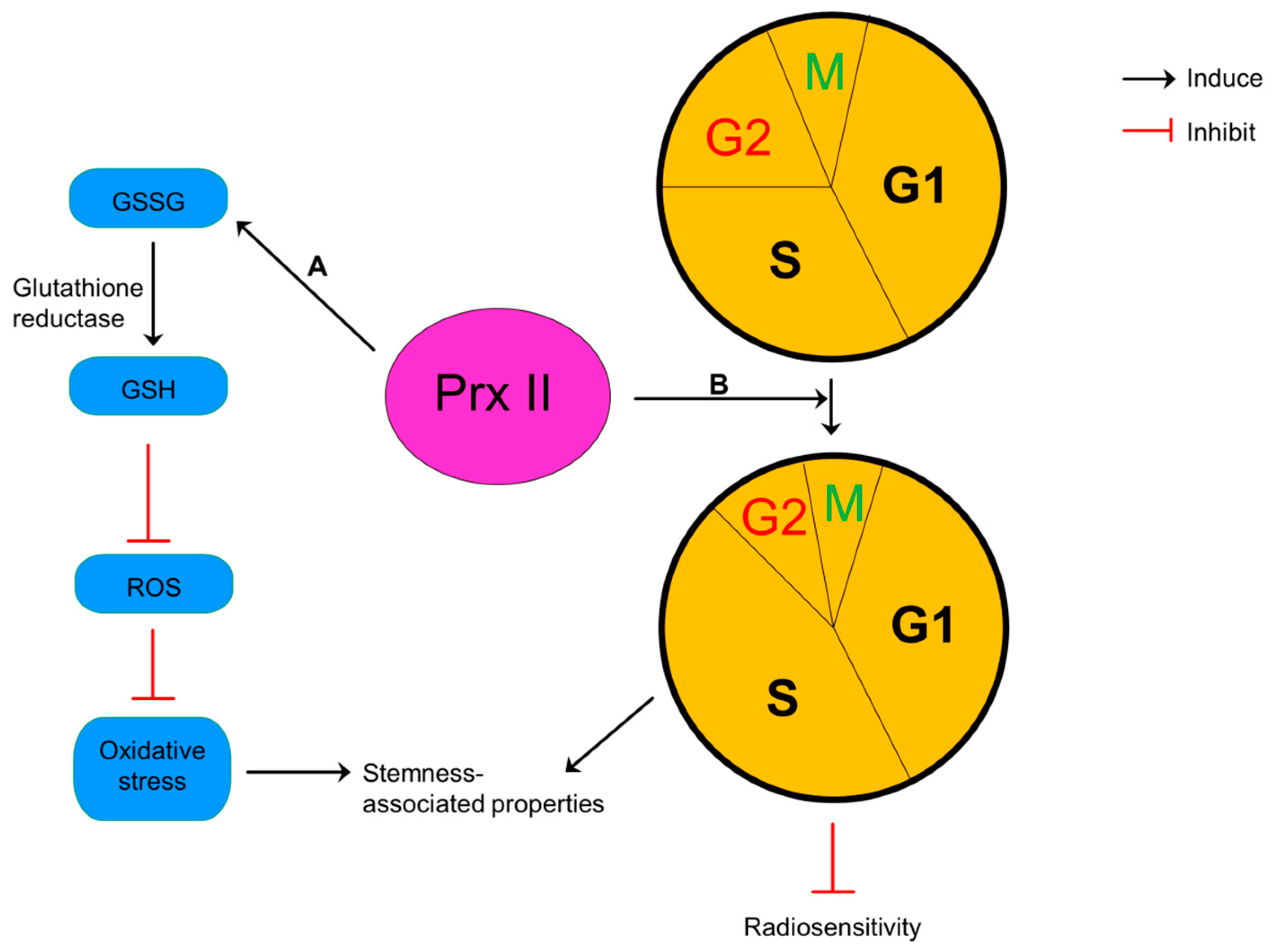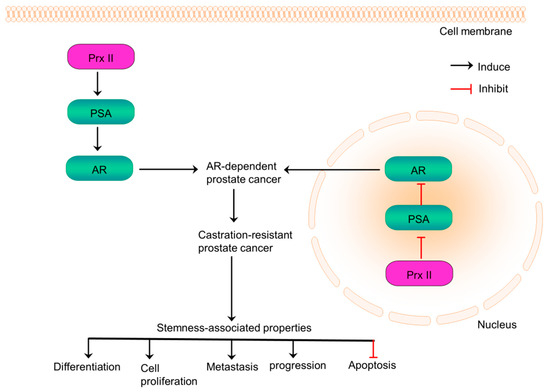 Figure 9. Prx II-mediated prostate cancer progression promotes stemness-associated properties. Prx II is localized both in cytosol and nucleus in AR-expressing prostate cancer cells and castration-resistant prostate cancer (CRPC) cells. Overexpression of Prx II in cytosol induces AR transactivation whereas inhibits in nucleus. Distinct regulation of AR transactivation induces the growth of AR-expressing prostate cancers, stemness-associated properties and formation to CRPCs.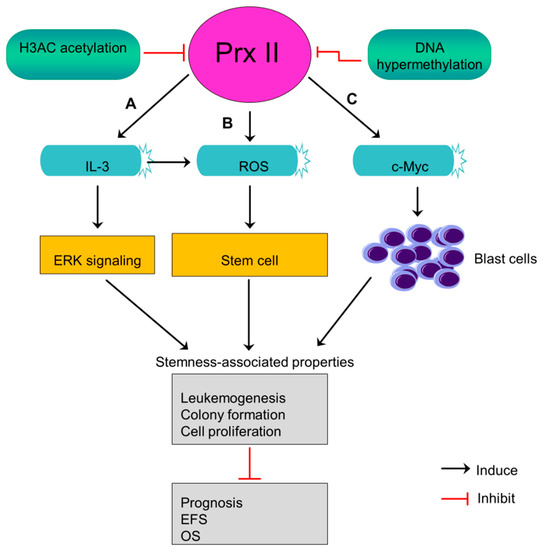 Figure 10. Epigenetically silenced Prx II induces stem cell maintenance in AML. (A,B) Epigenetically silenced Prx II in AML by DNA hypermethylation and histone (H3AC) acetylation increases ROS level and stimulates interleukin 3 (IL-3) to induce stemness-associated properties. (C) Silencing of Prx-induced c-Myc-dependent leukemogenesis by increasing blast cells. Consequent promotion of stemness-related properties thereby reducing prognosis, event free survival (EFS) and overall survival (OS) of AML patients.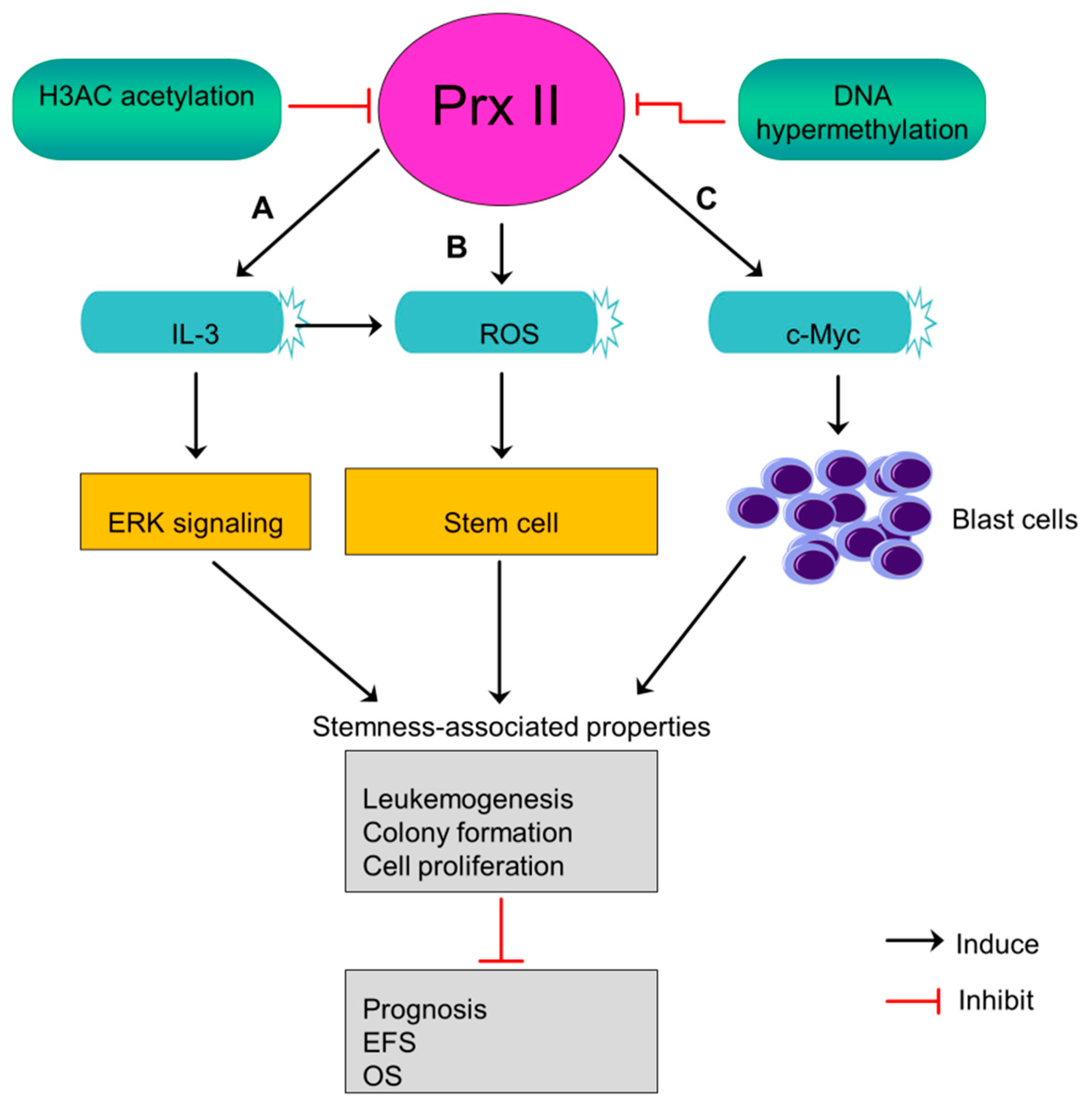 © 2018 by the authors. Licensee MDPI, Basel, Switzerland. This article is an open access article distributed under the terms and conditions of the Creative Commons Attribution (CC BY) license (http://creativecommons.org/licenses/by/4.0/).