Open Access This article is
freely available
re-usable
Review
The SUMO System and TGFβ Signaling Interplay in Regulation of Epithelial-Mesenchymal Transition: Implications for Cancer Progression
Department of Biochemistry and Molecular Biology, The Arnie Charbonneau Cancer Institute, University of Calgary, Calgary, AB T2N 4N1, Canada
*
Author to whom correspondence should be addressed.
Received: 9 July 2018 / Accepted: 6 August 2018 / Published: 8 August 2018
Abstract
:
Protein post-translational modification by the small ubiquitin-like modifier (SUMO), or SUMOylation, can regulate the stability, subcellular localization or interactome of a protein substrate with key consequences for cellular processes including the Epithelial-Mesenchymal Transition (EMT). The secreted protein Transforming Growth Factor beta (TGFβ) is a potent inducer of EMT in development and homeostasis. Importantly, the ability of TGFβ to induce EMT has been implicated in promoting cancer invasion and metastasis, resistance to chemo/radio therapy, and maintenance of cancer stem cells. Interestingly, TGFβ-induced EMT and the SUMO system intersect with important implications for cancer formation and progression, and novel therapeutics identification.
Keywords:
SUMOylation; TGFβ; EMT; cancer
Author Contributions
A.C. and S.B. reviewed the literature and drafted the manuscript. A.S. contributed to editing and discussion, and generated the figures.
Funding
Supported by grants from the Canadian Institutes of Health Research, Canadian Cancer Society, the Natural Sciences and Engineering Research Council of Canada, Alberta Innovates, Alberta Cancer Foundation, and Breast Cancer Society of Canada to S.B., Achievers in Medical Sciences Graduate Scholarship, Eyes High International Doctoral Scholarship and William H Davies Medical Research Scholarship to A.C., and Eyes High Doctoral Recruitment Scholarship to A.S.
Conflicts of Interest
The authors declare no conflict of interest.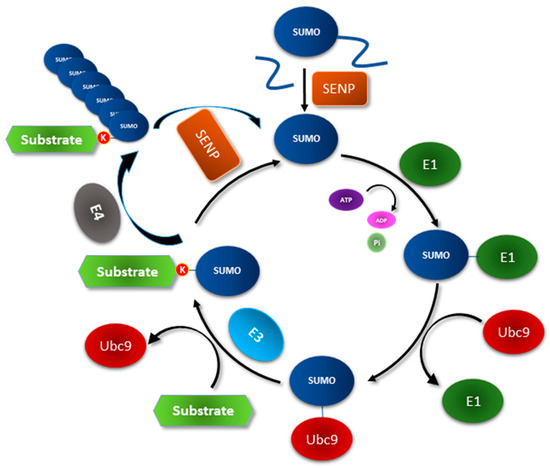 Figure 1. The Small Ubiquitin-like Modifier (SUMO) conjugation system. Members of the sentrin specific protease (SENP) family of endopeptidases can cleave pro-SUMO into a C-terminal peptide and the mature form of SUMO, revealing the C-terminal diglycine motif. With the help of ATP, the SUMO E1 activating enzyme then forms a thioester bond with SUMO's C-terminal carboxyl group of the diglycine motif. The SUMO E2 conjugating enzyme Ubc9 next forms a thioester bond with activated SUMO. SUMO-conjugated Ubc9 binds a substrate and transfers the SUMO group to a specific lysine residue(s) within the substrate. A SUMO E3 ligase by binding to Ubc9 and a specific substrate can promote the transfer of SUMO from Ubc9 to the substrate. A SUMO E4 elongase may promote the sequential conjugation of SUMO molecules to specific lysine residues within SUMO molecules, starting with the one forming the isopeptide bond with the substrate, leading to poly-SUMOylation of the substrate. SENPs can bind to mono and poly-SUMOylated substrates leading to isopeptide bond cleavage and release of deSUMOylated substrates and individual SUMO molecules to the SUMO pool to be re-utilized by the SUMO system.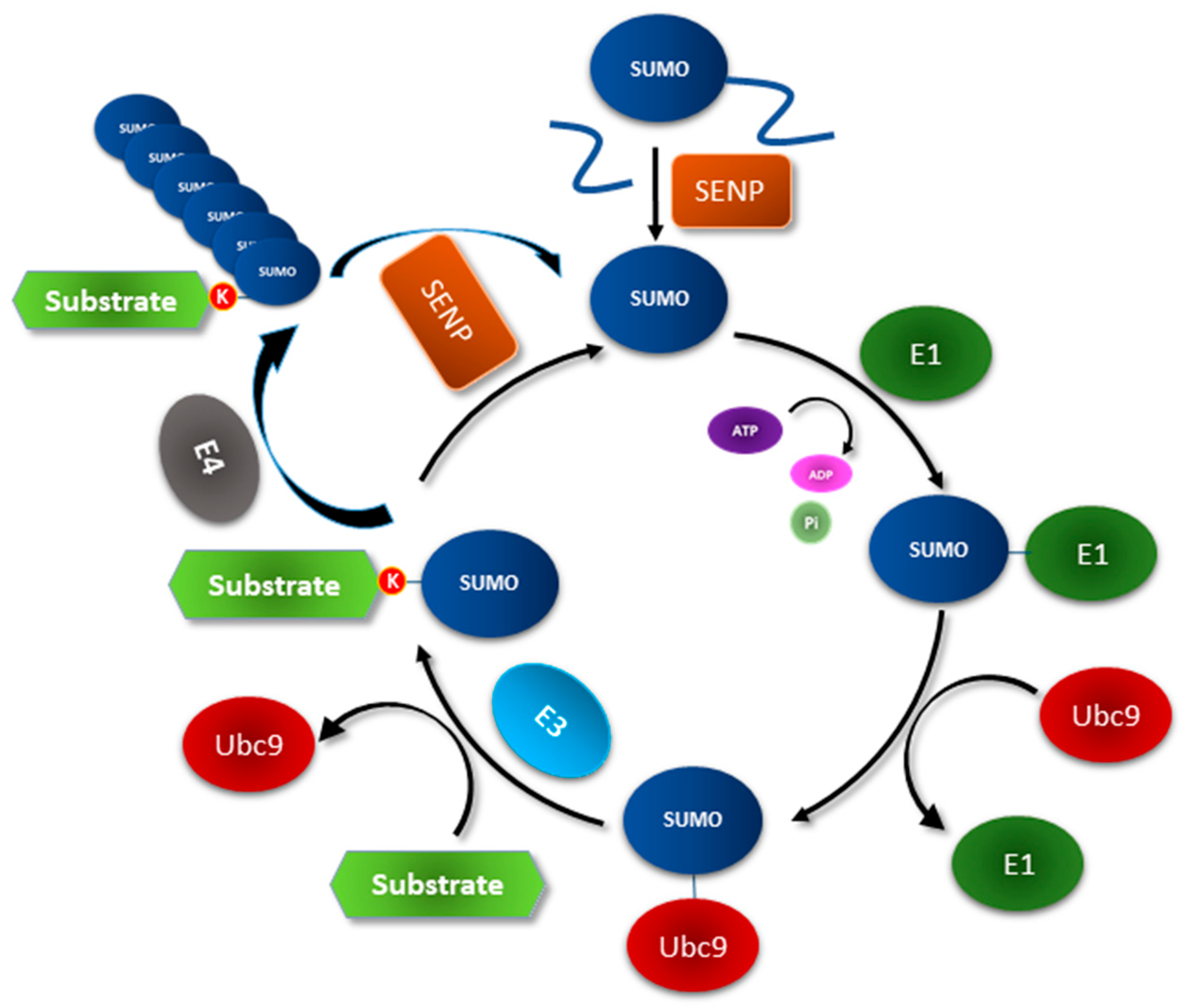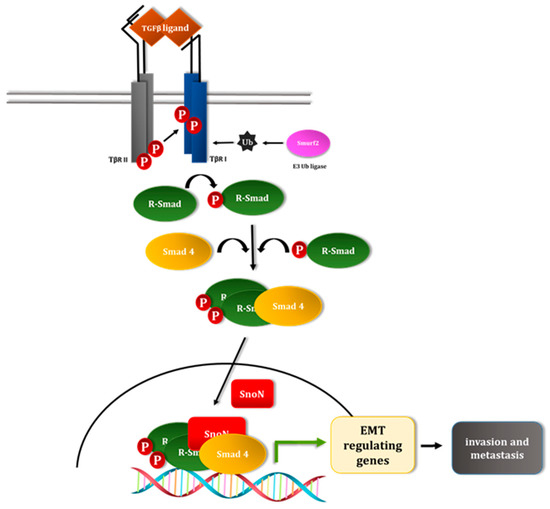 Figure 2. The transforming growth factor beta (TGFβ)-smad signaling pathway. The TGFβ ligand binds the transmembrane type II ser/thr kinase receptor (TβRII) leading to recruitment of type I ser/thr kinase receptor (TβRI). Within this complex, TβRII transphosphorylates the TβRI within the GS domain which in turn promotes the activation of the TβRI's kinase moiety. The activated ligand-receptor heteromeric complex associate with the Receptor-regulated Smad 2 and 3, whereby the last two C-terminal serine residues within these Smads are targeted by phosphorylation by the TβRI kinase. The TGFβ-phosphorylated R-Smad dissociates from the receptor complex and forms a hetero-oligomer complex with the common-partner Smad4, and the complex accumulates in the nucleus. Within the nucleus, the Smad complex binds to specific DNA elements on TGFβ-responsive genes and in collaboration with other transcription factors and transcriptional coregulators, including SnoN, can positively or negatively regulate the expression of these genes and consequent responses including EMT. The ubiquitin E3 ligase Smurf2 is recruited to the activated TGFβ receptors leading to their ubiquitin-mediated degradation and suppression of TGFβ signaling pathway.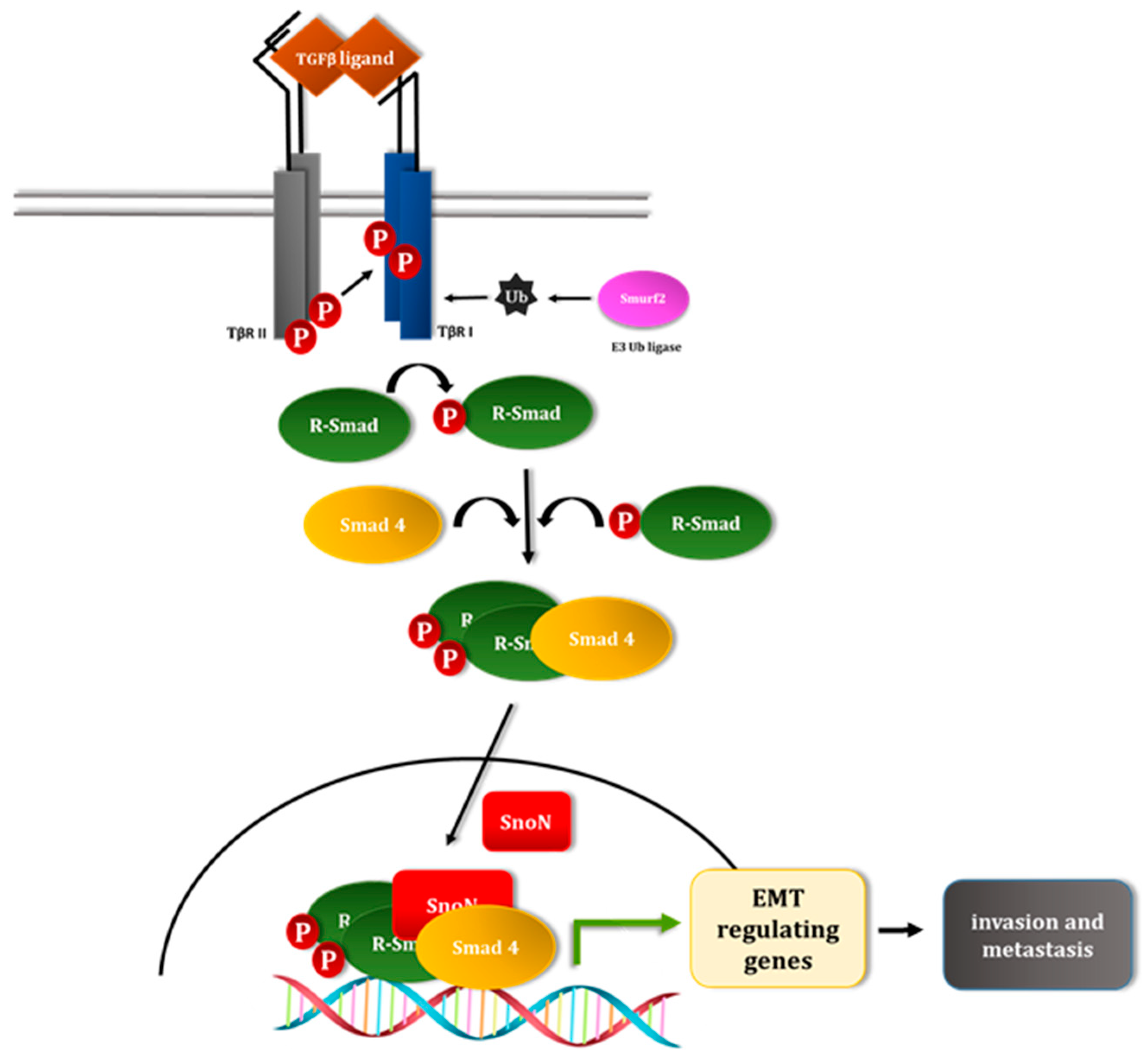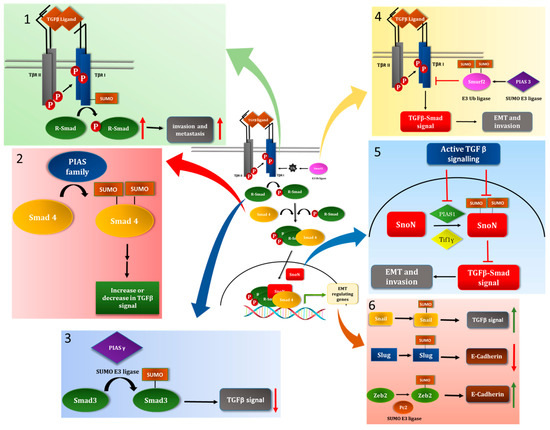 Figure 3.
SUMOylation system and TGFβ-signaling interplay in the context of induction of epithelial-mesenchymal transition (EMT). Six schematic models summarizing how the SUMO system and TGFβ pathway collaborate or antagonize each other in controlling transcriptional responses that are critical for EMT induction. Briefly, multiple components of the TGFβ signaling axis (in centre) as well as EMT-inducing transcription factors (EMT-TFs) can be targeted by the SUMO system with diverse consequences for EMT-related events. TGFβ signaling has also been shown to regulate the ability of the SUMO system in targeting such substrates. (1) TβRI as a target of the SUMO system: Lysine residues downstream of kinase domain of TβRI are targets of SUMOylation which can promote the receptor kinase activity and downstream signaling events including R-Smad phosphorylation and transcriptional activity [
44
]. (2) Smad4 is a target of SUMOylation: The SUMO system targets two Lysine residues in Smad4 for SUMOylation that may lead to diametrically opposite effect on TGFβ signaling depending on cell type and context [
50
,
51
,
52
,
53
]. (3) The SUMO system and Smad3: Studies have suggested that Smad3 is SUMOylated, which suppresses Smad3's ability to mediate TGFβ signaling [
55
]. (4) The HECT-containing ubiquitin E3 ligase Smurf2 as a target of the SUMO pathway: Ubc9, promoted by PIAS3, targets specific lysine residues within Smurf2 for SUMOylation. SUMOylation promotes the ability of Smurf2 to reduce the protein abundance of TβRI. Overall, SUMOylation promotes the ability of Smurf2 to suppress TGFβ-Smad-induced EMT [
56
,
57
]. (5) The transcriptional coregulator SnoN and the SUMO system: Two distinct SUMO E3 ligases, PIAS1 and TIF1γ, promote the SUMOylation of both Lysine residues 50 and 383 on SnoN. SUMOylation is critical for the ability of SnoN to suppress TGFβ-induced EMT. In order to induce EMT, TGFβ signaling suppresses SnoN SUMOylation at least in part by increasing the protein turnover of its SUMO E3 ligase PIAS1 [
14
,
58
,
59
]. (6) SUMOylation regulates the activity of several EMT inducing transcription factors: TGFβ-induced expression of Snail, Slug, and Zeb2 contribute significantly to EMT induction. Snail, Slug and Zeb2 are targets of the SUMO system. SUMOylation promotes the ability of Snail and Slug to induce EMT, while suppressing Zeb2 role in EMT progression [
60
,
61
,
62
].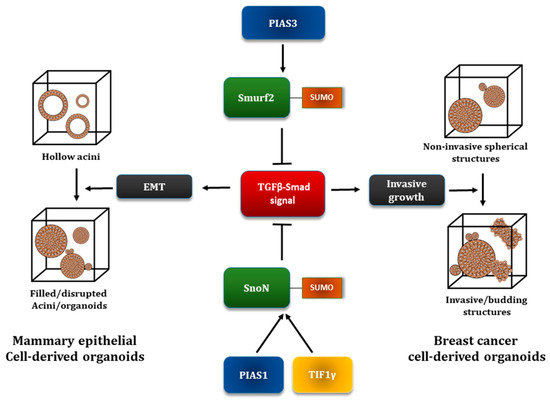 Figure 4.
Three-dimensional (3D) culture system as a model to study EMT and invasive growth. The 3D culture system has been suggested to better mimic the in vivo system, as compared to a conventional 2D culture. This system also provides a robust cellular system to capture morphological changes in response to different cellular events including EMT. Isolated epithelial cells, e.g., NMuMG cells, when cultured in the context of a 3D-matrix, proliferate and assemble into multicellular structures (or organoids) characterized by hollow spheres or acini. Increased TGFβ signaling, and EMT induction can manifest as acinar filling, buddings and a key hallmark of EMT (not shown here)-loss/mislocalization of the epithelial cell marker E-cadherin. Isolated breast cancer cells, e.g., the TNBC MDA-MB-231 cells, can form filled solid spheroids with sometimes invasive edges. TGFβ-induced EMT can manifest as disruption and invasive growth of these organoids. The SUMO system is important for the ubiquitin E3 ligase Smurf2 and the transcriptional coregulator SnoN to suppress TGFβ-induced EMT-like phenotypes in the 3D-mammary epithelial (NMuMG) and breast cancer (MDA-MB-231) cell-derived organoids as manifested by acinar filling and invasive growth, respectively [
14
,
56
,
57
,
58
,
59
].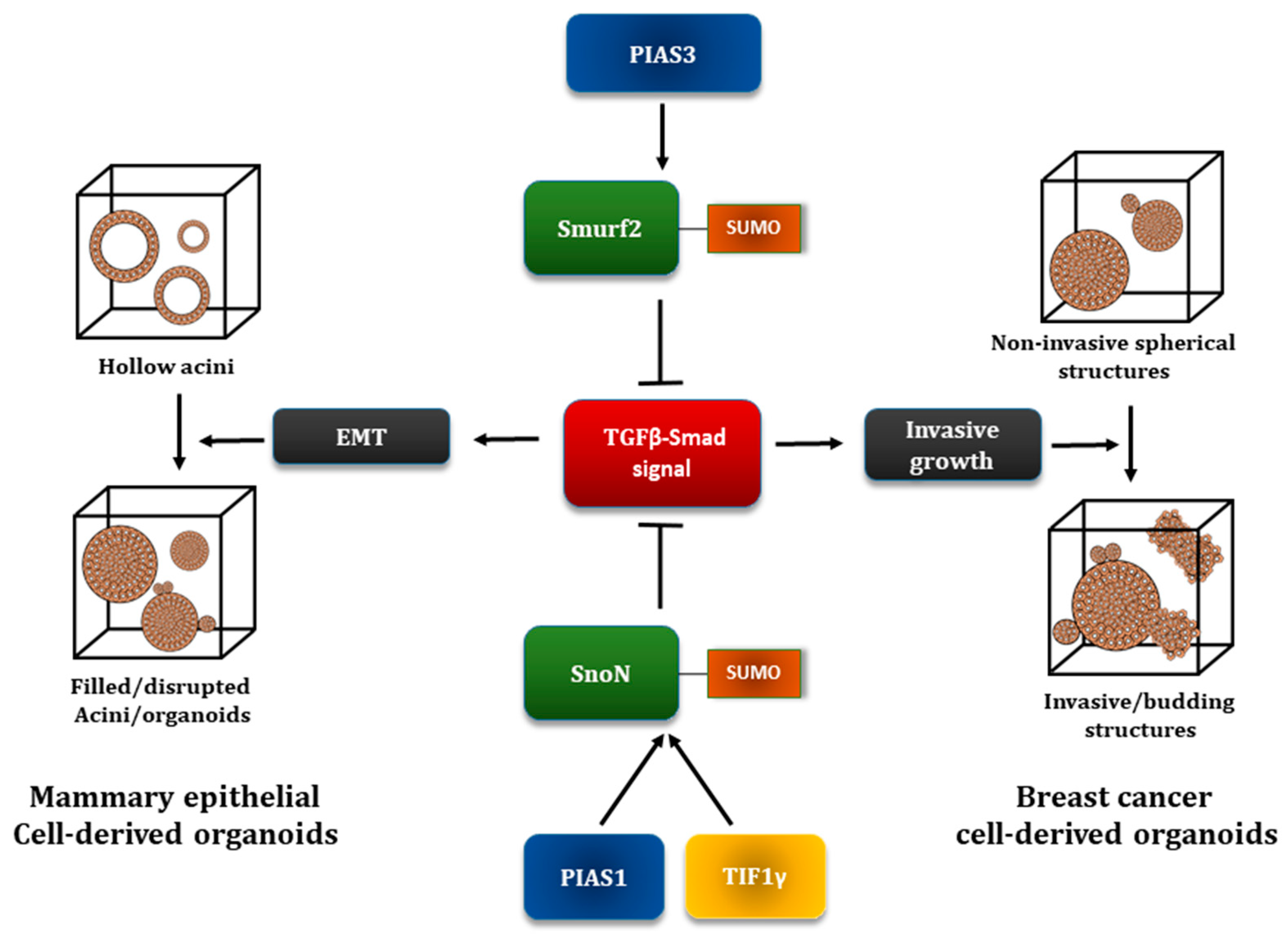 Table 1. Effect of SUMOylation on mediators and regulators of TGFβ-induced EMT and cancer cell invasion and migration.
| SUMO Substrate | Effect on Transcriptional Responses | Effect on Biological Responses | References |
| --- | --- | --- | --- |
| TGFβ Receptor I | Not reported | Promotes TGFβ-induced invasion and lung metastasis of Ras-transformed fibroblasts. | [44] |
| Smad 3 and 4 | Positive or negative in a cell and context dependent manner | Not reported | [50,51,52,53,54] |
| Smurf2 | Not reported | Supresses TGFβ-induced EMT and invasive growth in non-transformed and transformed mammary cells respectively. | [56,57] |
| SnoN | Supresses TGFβ-induced gene expression in multiple cell types | Supresses TGFβ-induced EMT and invasive growth in non-transformed and transformed mammary cells, respectively. Similar effect may occur in bladder cancer. | [14,58,59,84] |
| Snail | Promotes c-Jun-Snail complex induced gene expression in different cancer cells. | Promotes TGFβ-induced migration and invasion of prostate and breast cancer cells. | [60] |
| Slug | Not reported | Promotes TGFβ-induced migration and invasion of prostate cancer cells. | [61] |
| Zeb2 | Suppresses ability to bind to E-cadherin promoter. | Supresses EMT but effect on migration and invasion of tumor cells needs further analyses. | [62] |

© 2018 by the authors. Licensee MDPI, Basel, Switzerland. This article is an open access article distributed under the terms and conditions of the Creative Commons Attribution (CC BY) license (http://creativecommons.org/licenses/by/4.0/).