Open Access This article is
freely available
re-usable
Review
The Tumor Microenvironment of Epithelial Ovarian Cancer and Its Influence on Response to Immunotherapy
1
Cancer Therapeutics Program, Ottawa Hospital Research Institute, 501 Smyth Road, Ottawa, ON K1H 8L6, Canada
2
Department of Cellular and Molecular Medicine, University of Ottawa, 451 Smyth Road, Ottawa, ON K1H 8M5, Canada
*
Author to whom correspondence should be addressed.
Received: 23 June 2018 / Accepted: 20 July 2018 / Published: 24 July 2018
Abstract
:
Immunotherapy as a treatment for cancer is a growing field of endeavor but reports of success have been limited for epithelial ovarian cancer. Overcoming the challenges to developing more effective therapeutic approaches lies in a better understanding of the factors in cancer cells and the surrounding tumor microenvironment that limit response to immunotherapies. This article provides an overview of some ovarian cancer cell features such as tumor-associated antigens, ovarian cancer-derived exosomes, tumor mutational burden and overexpression of immunoinhibitory molecules. Moreover, we describe relevant cell types found in epithelial ovarian tumors including immune cells (T and B lymphocytes, Tregs, NK cells, TAMs, MDSCs) and other components found in the tumor microenvironment including fibroblasts and the adipocytes in the omentum. We focus on how those components may influence responses to standard treatments or immunotherapies.
Keywords:
epithelial ovarian cancer; tumor microenvironment; tumor infiltrating lymphocytes; tumor-associated antigens; ascites; immunosuppression; prognostic factors; cancer-associated fibroblasts; exosomes; adipocytes
Author Contributions
All authors contributed to the research, writing, and editing of this review article.
Funding
The authors' research relevant to this article is funded by grants to BCV from BioCanRx and the Canadian Institutes of Health Research, as well as a fellowship from the Fonds de recherche du Québec—Santé (GMR), and a Vanier Canada Graduate Scholarship (CM).
Acknowledgments
The authors are grateful for the donations and support from the local community of ovarian cancer patients, especially the late Margaret Craig, and the Carol Annibale Ovarian Cancer Foundation.
Conflicts of Interest
The authors declare no conflict of interest.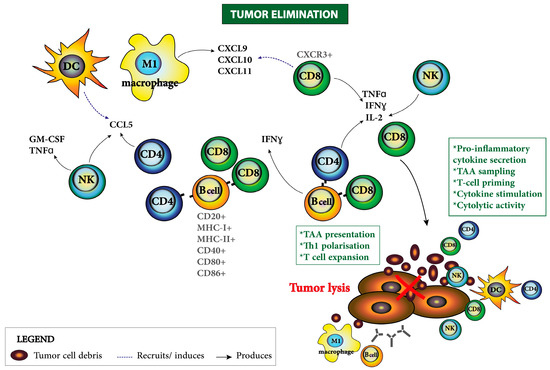 Figure 1. Antitumoral responses in the EOC TME. Immunogenic cell death induces the release of DAMPs mediating the recruitment of innate cells and APCs. Lympho-attracting chemokines produced by APCs such as macrophages enable the recruitment of CD8+ T cells to the tumor niche. DCs are also attracted by the production of CCL5 derived from NK cells and CD4+ T cells. The pro-inflammatory milieu enables TAA sampling and presentation by APCs to T cells to induce their activation and expansion. Pro-inflammatory cytokines released by activated effector T cells, M1 macrophages and DCs allow the amplification of the antitumoral response, enabling the cytolytic death of EOC targeted by CD8+ TILs and NK cells. B cells also participate in antitumor immunity by presenting TAAs to CD8+ T cells, by facilitating Th1 polarization, T-cell expansion and by producing tumor specific antibodies. Danger-associated molecular patterns (DAMPs), Antigen presenting cells (APCs), tumor-associated antigens (TAAs), dendritic cells (DCs), natural killer cells (NKs), CD4+ T helper cell (Th1).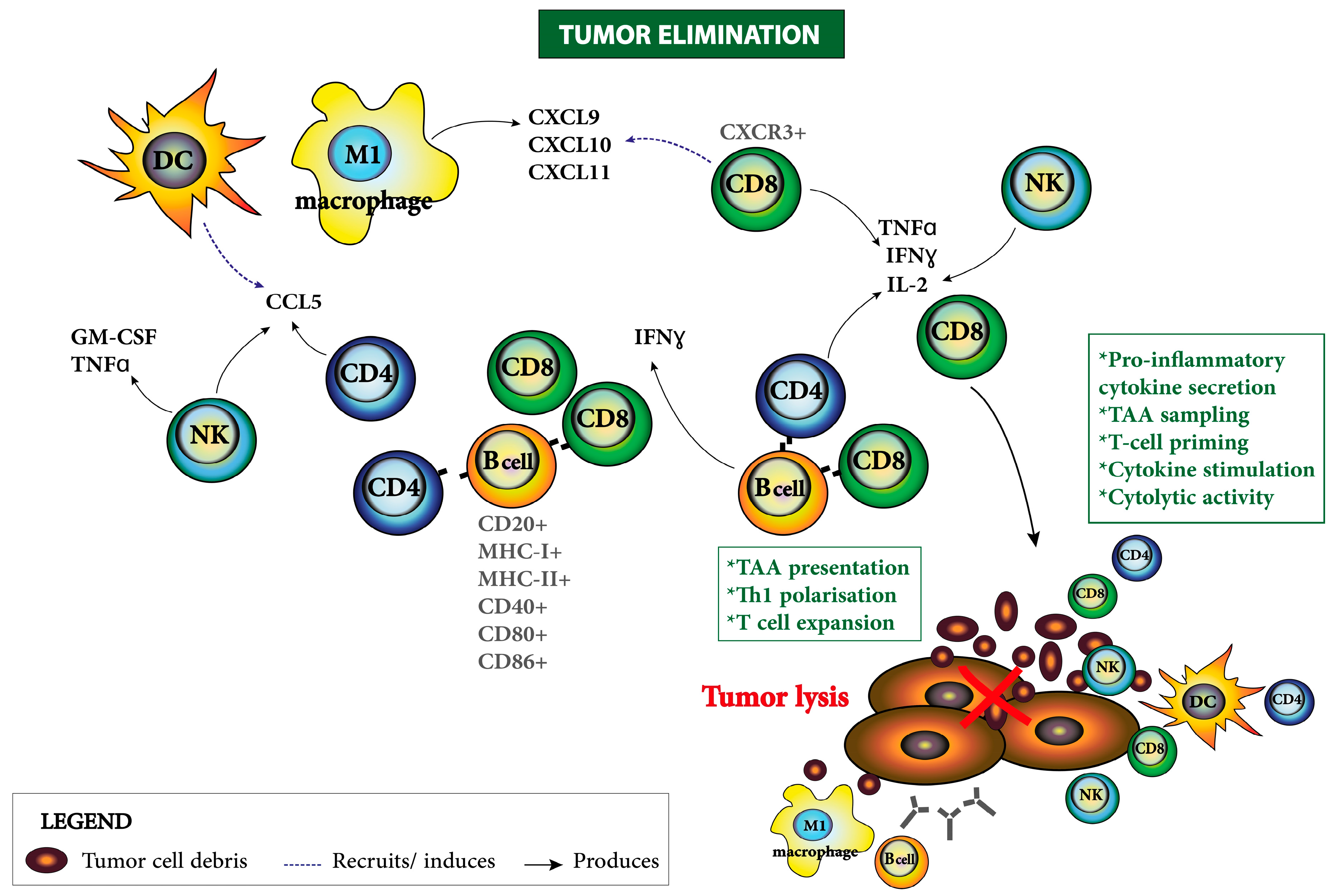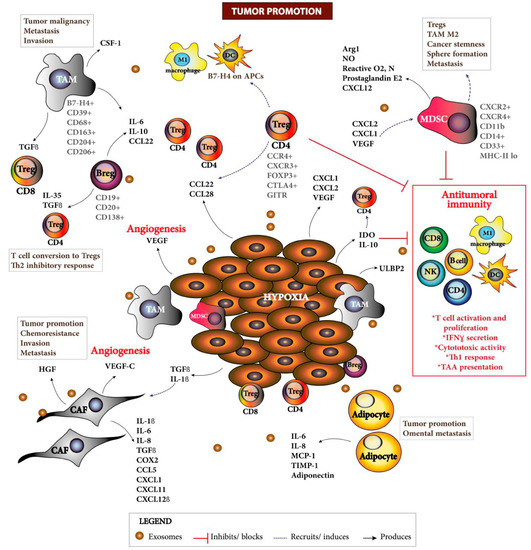 Figure 2. Tumor promoting network in the EOC TME. Outgrowth of EOC provokes hypoxia that induces the expression of chemokines to recruit MDSCs, Tregs, and TAMs. Tregs induce B7-H4 expression on APCs, subsequently blocking cytokine secretion, cytolytic activity, T-cell proliferation and promoting an immunosuppressive TME. EOC cells and MDSCs produce IDO that catabolizes tryptophan, rendering T cells anergic and dysfunctional. MDSCs and TAMs contribute to tumor growth, malignancy, metastasis and stemness. Several tumor promoting cytokines such as IL-6, IL-10 and TGFβ are prominent in the TME. VEGF released by EOC cells and CAFs stimulates angiogenic factors in the TME. CAFs also secrete many factors that mediate tumor cell migration, proliferation, invasion and chemoresistance, and contribute to the immunosuppressive TME. Adipocytes produce FA and cytokines that fuel tumor growth and omental metastasis. Myeloid-derived suppressor cells (MDSCs), tumor-associated macrophages (TAMs), regulatory T cells (Tregs), cancer-associated fibroblasts (CAFs), fatty acids (FA).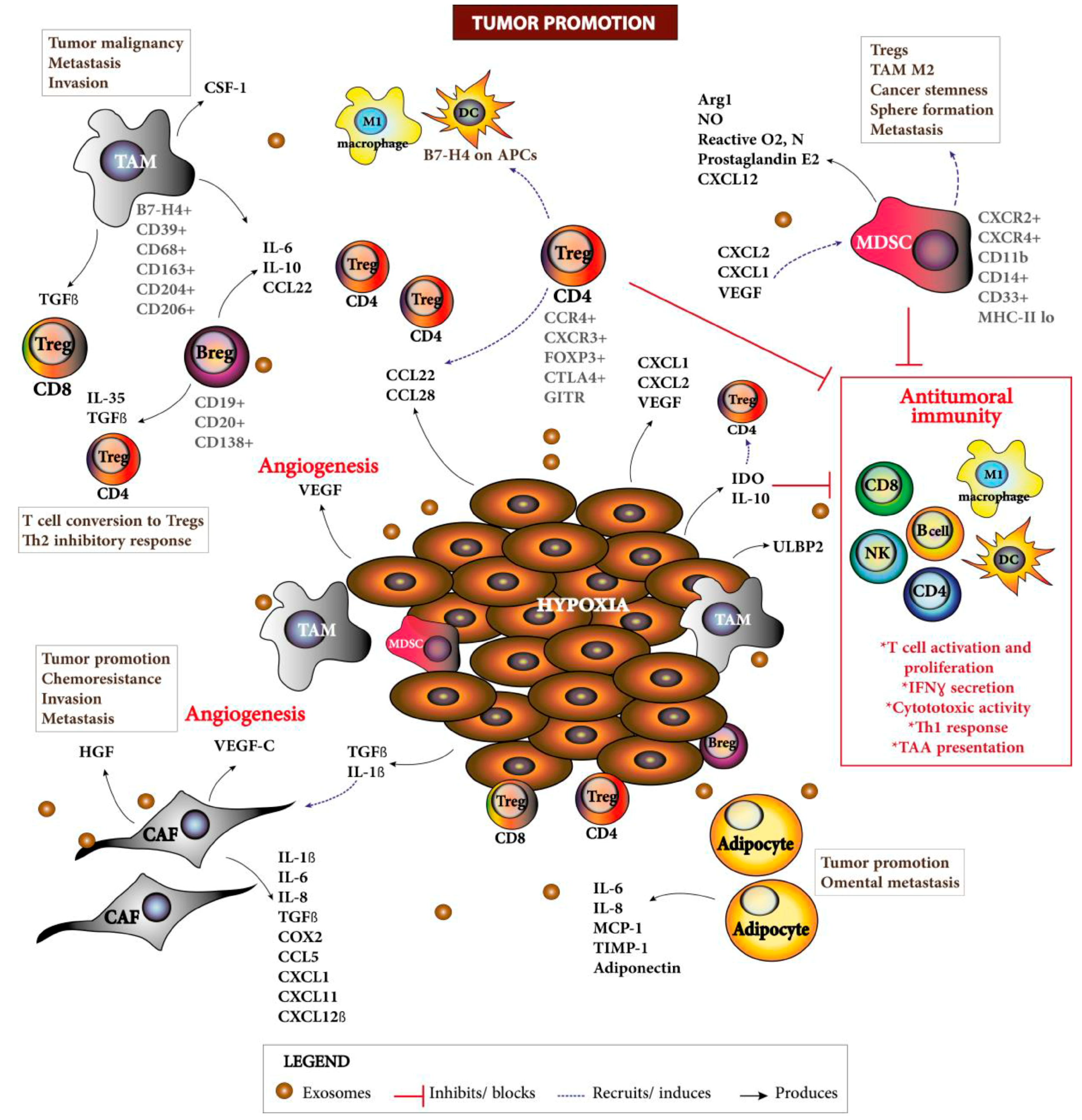 Table 1. Human studies using immune checkpoint inhibitors in epithelial ovarian cancers (EOC) (completed or partially completed studies).
Target
Agent
EOC Characteristic
Antitumoral Responses
Immune Related Parameters
Clinical Study
PD-1
Nivolumab
(Opdivo,

BMS-936558, MDX1106

)
i.v. infusion every 2 weeks (1 or 3 mg/kg)
Advanced or relapsed platinum-resistant ovarian cancer
A quick antitumor response observed by baseline computed tomographic image, decreased CA-125 blood levels. Overall response: 15%, 2 § pts had a durable CR, disease control rate in all 20 pts was 45%. Median PFS 3.5 months.
Expression of PD-L1 in ovarian cancer tissues was not significantly correlated with objective response but 16/20 patients having a high expression of PDL1 on tumors did not respond to treatment (vs. 2/4 responders in the PD-L1-low expression group).
Phase II
UMIN000005714 [14]
Pembrolizumab
(Keytruda,

MK-3475

)
i.v. infusion
every 2 weeks (10 mg/kg) for up to 2 years
PD-L1+ advanced ovarian cancer
1 * pt CR, 2 pts PR; 6 pts stable disease. Duration of response ≥24 weeks.
Overall response was 11.5%. 6/26 (23.1%) had evidence of tumor reduction; 3 had a tumor reduction of at least 30%.
N/A
Phase Ib trial
NCT02054806
Active, not recruiting [15]
PD-L1
Avelumab
(Bavencio,

MSB0010718C

)
every 2 weeks
(10 mg/kg)
Recurrent or refractory ovarian cancer
4/23 (17.4%) pts achieved an unconfirmed best overall response of PR, 11 pts (47.8%) had stable disease, and 2 pts had >30% tumor shrinkage after progression was reported. Median PFS was 11.9 weeks and the PFS rate at 24 weeks was 33.3%.
Exposure to Avelumab significantly increased the ratio of sCD27/sCD40L #. Some antitumor activity of this antibody may be due to ADCC [16].
Phase Ib study NCT01772004
Active, not recruiting [17]
BMS-936559
(

MDX-1105

)
i.v. infusion every 2 weeks (10 mg/kg) in 6-week cycles
Advanced ovarian cancer
1 of 17 pts (6%) had a PR, and 3 (18%) had stable disease lasting at least 24 weeks.
N/A
Multicenter
phase 1 trial
NCT00729664 completed [18]
CTLA-4
Ipilimumab
i.v. infusions (10 mg/kg) once every 3 weeks for 4 doses (Induction Phase). Once every 12 weeks (Maintenance Phase), until disease progression or unacceptable toxicity occurs
Recurrent platinum-sensitive ovarian cancer
N/A
N/A
Phase II study (NCT01611558)
Active, not recruiting
Ipilumimab
Periodic infusions (3 mg/kg) after vaccination with irradiated, autologous tumor cells engineered to secrete GM-CSF (GVAX)
Stage IV ovarian carcinoma
1/9 pts had reduction in circulating CA-125 levels, regression of metastasis, increased humoral reactions to NY-ESO-1. 3 pts achieved stable disease of >6, 4, and 2 months' duration, as measured by CA-125 levels and radiographic criteria.
The extent of therapy-induced tumor necrosis was linearly related to the natural logarithm of the ratio of intratumoral CD8+ effector T cells to FoxP3+ Tregs in post-treatment biopsies.
[19,20]
§ The tumor was histologically identified as clear cell carcinoma in one of the two patients who experienced a CR. * 1 Patient with CR had a PD-L1 gene rearrangement leading to gain of function of the PD-L1 gene secondary to gene amplification, high PD-L1 expression was observed in cancer epithelial cells, as well as high T lymphocyte infiltration (CD4, CD8), some B cells (CD20) and macrophages (CD68) [21]. # sCD27 is a marker of T-cell activation [22], sCD40L is a measure of immune suppression [23]. Complete response (CR), partial response (PR), patients (pts), progression-free survival (PFS), intravenous (i.v.), antibody-dependent cell-mediated cytotoxicity (ADCC), not available (N/A), Granulocyte-macrophage colony-stimulating factor (GM-CSF), forkhead box P3 (FoxP3), regulatory T cells (Tregs).
TAA Category
TAA
Prevalence (% Patients)
FIGO Stage
References
CTA
OY-TES-1
69% (All subtypes)
I-IV
[24]
SCP-1
15% (All subtypes)
I-IV
[25]
SPAG9 1
88% (HGSC)
I-IV
[26]
AKAP4 2
93% (Serous)
I-IV
[27]
NY-ESO-1
43% (All Subtypes)
I-IV
[28]
MAGE-A 3
~7–55% (All subtypes)
I-IV
[29,30,31]
Oncogene
p53
Mutation (95% HGSC)/Amplification (35% HGSC)
I-IV
[32,33]
Her2neu 4
35–45% (All subtypes)
I-IV
[34,35,36,37]
WT1 5
71.4% (LGSC)
~55% (HGSC)
III/IV
[38,39]
Mesothelin
82% (HGSC)
I-IV
[40,41]
MUC16 6 (CA-125)
80% (All subtypes)
[42]
Neoantigen
Patient/tumor site specific
Greater number in HR deficient 7 tumors
I-IV
[12,43]
1 SPAG9: Sperm-associated antigen 9. 2 AKAP4: A-kinase anchoring protein 4. 3 MAGE-A: Melanoma antigen. 4 Her2-neu: human epidermal growth factor receptor 2-neu. 5 WT1: Wilms' tumor 1. 6 MUC16: Mucin-16. 7

BRCA1/BRCA2

, Fanconi anemia genes (

PALB2

,

FANCA

,

FANCI

,

FANCL

, and

FANCC

), restriction site associated DNA genes (

RAD50

,

RAD51

,

RAD51C

, and

RAD54L

), DNA damage response genes (

ATM

,

ATR

,

CHEK1

, and

CHEK2

). High-grade serous ovarian cancer (HGSC), low-grade serous ovarian cancer (LGSC).
TAA Category
TAA
Immunotherapy
References
CTA
NY-ESO-1
Recombinant protein vaccine (Epitope ESO157–170) + Incomplete Freund's Adjuvant
[44]
Overlapping long peptides + Montanide/Poly-ICLC adjuvants
[45]
NY-ESO-1b + Montanide
[46]
Recombinant vaccinia prime-NY-ESO-1 (rV-NY-ESO-1) + recombinant fowlpox boost-NY-ESO-
[47]
1 (rF-NY-ESO-1)
NY-ESO-1-specific engineered T Cells
(NCT03159585,
NCT03017131,
NCT02457650)
NYESO-1(C259) transduced autologous T cells
(NCT01567891)
MAGE-A
Autologous genetically modified MAGE-A4c¹º³²T cells
(NCT03132922)
Oncogene
p53
Modified vaccinia Ankara vaccine vs. wild-type human p53 (p53MVA) + gemcitabine
[48]
Synthetic long peptide (SLP) vaccine
[49]
Her2neu
Her2-neu peptide vaccine
(NCT00194714)
Exvivo Her2-neu specific T-cell expansion
(NCT00228358)
WT1
Autologous WT1 T Cells + Cyclophosphamide + Fludarabine
(NCT00562640)
WT1 peptide vaccine + Montanide + GM-CSF + Nivolumab (PD-1)
(NCT02737787)
WT1 mRNA-loaded DCs2
[50]
WT1 peptide vaccine + Montanide
[51]
Mesothelin
Anti-Mesothelin CAR-T 1 cells
[41]/(NCT02580747)
MUC16 (CA-125)
Antibody therapy (Oregovomab, ACA125/Abagovomab)
[52,53,54,55]
CAR-T Therapy + IL-12
[56,57] (NCT02498912)
Neoantigen
Patient/tumor site specific
Autologous DCs pulsed with oxidized autologous whole-tumor cell lysate + bevacizumab + cyclophosphamide
[58]
Autologous neoantigen engineered T-Cells
(NCT03412877)
1 Chimeric antigen receptor T cell (CAR-T). 2 Dendritic cells (DCs).

© 2018 by the authors. Licensee MDPI, Basel, Switzerland. This article is an open access article distributed under the terms and conditions of the Creative Commons Attribution (CC BY) license (http://creativecommons.org/licenses/by/4.0/).