Open Access This article is
freely available
re-usable
Review
Can Stemness and Chemoresistance Be Therapeutically Targeted via Signaling Pathways in Ovarian Cancer?
1
Harper Cancer Research Institute, South Bend, IN 46617, USA
2
Department of Biochemistry and Molecular Biology, Indiana University School of Medicine-South Bend, South Bend, IN 46617, USA
3
Department of Chemistry and Biochemistry, University of Notre Dame, Notre Dame, IN 46617, USA
4
Indiana University Melvin and Bren Simon Cancer Center, Indianapolis, IN 46202, USA
*
Author to whom correspondence should be addressed.
Received: 15 June 2018 / Accepted: 17 July 2018 / Published: 24 July 2018
Abstract
:
Ovarian cancer is the most lethal gynecological malignancy. Poor overall survival, particularly for patients with high grade serous (HGS) ovarian cancer, is often attributed to late stage at diagnosis and relapse following chemotherapy. HGS ovarian cancer is a heterogenous disease in that few genes are consistently mutated between patients. Additionally, HGS ovarian cancer is characterized by high genomic instability. For these reasons, personalized approaches may be necessary for effective treatment and cure. Understanding the molecular mechanisms that contribute to tumor metastasis and chemoresistance are essential to improve survival rates. One favored model for tumor metastasis and chemoresistance is the cancer stem cell (CSC) model. CSCs are cells with enhanced self-renewal properties that are enriched following chemotherapy. Elimination of this cell population is thought to be a mechanism to increase therapeutic response. Therefore, accurate identification of stem cell populations that are most clinically relevant is necessary. While many CSC identifiers (ALDH, OCT4, CD133, and side population) have been established, it is still not clear which population(s) will be most beneficial to target in patients. Therefore, there is a critical need to characterize CSCs with reliable markers and find their weaknesses that will make the CSCs amenable to therapy. Many signaling pathways are implicated for their roles in CSC initiation and maintenance. Therapeutically targeting pathways needed for CSC initiation or maintenance may be an effective way of treating HGS ovarian cancer patients. In conclusion, the prognosis for HGS ovarian cancer may be improved by combining CSC phenotyping with targeted therapies for pathways involved in CSC maintenance.
Keywords:
ovarian cancer; cancer stem cells; signaling; chemoresistance; metastasis
1. Introduction
In the United States, ovarian cancer is the fifth leading cause of cancer death in women [
1
]. The American Cancer Society (ACS) estimates that this year approximately 22,240 women will be newly diagnosed with ovarian cancer, and ~14,075 women will die as a result of the disease, making it the most lethal gynecologic malignancy (ACS Facts and Figures 2018). The vagueness of symptoms (bloating, abdominal/pelvic pain, difficulty eating/feeling of fullness, and frequent urination) and the lack of early detection methods contribute to the majority of patients (70–75%) receiving diagnoses in advanced stages (stage III or stage IV) when the cancer has metastasized throughout the peritoneal cavity [
1
,
2
]. The five-year survival rate for women with advanced-stage ovarian cancer is ~25% [
3
,
4
].
There are several major ovarian cancer subtypes. Additionally, there is mutational and gene expression heterogeneity within each subgenre. Mutational and gene expression heterogeneity is also found in different subpopulations within a single tumor. Patients with the same pathological diagnosis, such as high grade serous (HGS) carcinoma, often vary greatly with respect to gene expression and specific genetic mutations [
3
,
5
,
6
]. The lack of consistent mutations or mis-expressed genes makes developing novel targeted therapeutics difficult. The current standard of care is a "one size fits all" approach consisting of aggressive debulking surgery to resect visible tumor followed by platinum and taxane combination chemotherapy [
1
,
7
,
8
,
9
]. Residual tumor implants measuring less than 1 cm are considered indicative of optimal debulking [
1
]. Debulking surgery performed by a gynecological oncologist improves the chance of survival; however, many patients are not treated by gynecological oncologists [
1
,
7
,
8
]. Therefore, in some cases, chemotherapy prior to surgery is equally effective as primary debulking [
4
]. Chemotherapy treatment is initially effective in 70–80% of patients [
2
,
10
,
11
]. However, recurrence of the disease will occur in the majority of patients (80–90%) within 5 years, and the tumors often acquire resistance to the chemotherapeutics [
1
,
9
,
11
]. The presence of microscopic tumors left behind during surgical debulking and the limitations of current chemotherapeutics contribute to the likelihood of relapse. The presence or enrichment of cancer stem cells (CSCs), which are defined as tumor cells that survive and/or accumulate after chemotherapy, have activation of self-renewing signaling pathways, and exhibit increased tumor-initiating properties, may contribute to relapse [
11
,
12
,
13
]. We will discuss how CSC properties contribute to chemoresistance and how investigating these properties may lead to novel therapeutics to eliminate ovarian cancer and prevent relapse.
2. Histologic Types of Ovarian Cancer
3. Definition of Ovarian Cancer Stem Cells
Heterogeneity is a common feature in ovarian cancer tumors. Different models are proposed to explain tumor heterogeneity. In the stochastic or clonal model, tumors arise from a group of homogeneous cells (clonal). Tumor heterogeneity then occurs through random (stochastic) events within this population. Any of the cells within this population can be tumor initiating provided they possess the necessary genetic mutations, epigenetic changes, and a receptive microenvironment [
46
,
47
,
48
,
49
,
50
]. The second model (CSC model) recapitulates the stem cell hierarchy found in development of tissues like the hematopoietic system. In this model, tumors are made of groups of heterogeneous cells that all arise from precursor cells with stem-like properties. These "stem-like" precursors differentiate and/or acquire different mutations that lead to diverse activation of pathways. The resultant cells have unique phenotypes and a hierarchical pattern of inheritance from the initiating CSCs [
47
,
49
,
50
,
51
,
52
] (
Figure 3
).
Normal stem cells divide asymmetrically, allowing for self-renewal. One daughter cell retains all the characteristics and programing of the parent cell while the other daughter cell differentiates or acquires new properties [
53
]. To maintain their undifferentiated state and the ability to self-renew, stem cells reside in a "stem cell niche" comprising various stromal cells, vascular support, and soluble factors that provide a permissive environment [
49
,
54
]. CSCs display self-renewal characteristics and retain the ability to produce cells that are highly proliferative and invasive [
47
,
53
]. Other characteristics of CSCs include significant DNA repair capability and resistance to therapy [
49
,
53
]. In fact, ovarian CSCs (CD133
+
and Sca1
+
) persisted following chemotherapy in a mouse model of ovarian cancer and in cells treated with carboplatin in vitro [
45
,
55
]. Moreover, these cells express stem cell markers and maintain tumor initiating potential [
45
]. Additionally, in vitro studies demonstrated that treatment of ovarian cancer cells with chemotherapy enriches the stem cell pool [
56
,
57
,
58
]. These studies imply that CSCs are protected from chemotherapy and may be initiators of tumor relapse.
4. Stem Cell Identification in Ovarian Cancer
In 2005, Bapat et al. described the first example of a putative ovarian CSC. A single cell was taken from the ascites of an ovarian cancer patient. Once propagated, the cell was able to form anchorage-independent spheroids in culture and was able to seed tumors in mice via serial transplantation over several generations, illustrating the stem-like capabilities of the cell [
59
]. Since this initial study, many other investigations have been conducted to identify and validate ovarian CSCS. Identification of CSCs relies on the presence of markers (cell surface and intracellular) that are unique to this particular subset of tumor cells [
46
,
47
,
50
]. In ovarian cancer, a variety of markers are used to denote the presence of CSCs. Cells isolated based on these markers can be tested for "stemness" in vitro via spheroid forming assays, resistance to chemotherapeutics, and in vivo with limiting dilution assays (LDAs) to examine the tumorgenicity of the sample [
52
]. In the LDA, mice are injected with a defined number of cells from a mixed population of cells or cells isolated that express the stem cell markers. The population that is more stem-like will initiate tumors from significantly fewer cells [
60
].
Table 1
contains a list of some putative ovarian CSC markers.
5. Pathways That Promote Stemness and Chemoresistance in HGSOC
We chose to focus on the major pathways that drive both stemness and chemoresistance in HGS ovarian cancer. These properties of highly metastatic HGS ovarian cancer are inextricably linked. Understanding the pathways that are most pertinent to metastatic HGS ovarian cancer will provide us with putative targets to develop efficacious therapeutic agents. As there are numerous pathways involved in stemness and chemoresistance, we will highlight the ones that have a clear role in ovarian cancer and are potentially targetable.
5.1. PI3K/PTEN/AKT Signaling
5.2. Jak2/STAT3
Proliferation, survival, and differentiation are all regulated by the Jak2/STAT3 pathway in several solid tumors [
107
]. In ovarian cancer, the Jak/STAT pathway is constitutively active in most cases [
108
]. Jak/STAT is implicated for having a key role in the development of HGS ovarian cancer. Activation of STAT3 via phosphorylation at Tyr705 and the loss of the STAT3 inhibitor PIAS3 may serve as a tumor-initiating event in the distal fallopian tube for the formation of HGS ovarian cancer [
109
]. Phosphorylated STAT3 is expressed in 86% of ovarian tumors examined (from different histotypes) and constitutive pSTAT3 expression is expressed in 63% of the HGS tumors examined [
110
]. Phosphorylated, nuclear STAT3 is associated with poor prognosis [
110
]. In tissue microarrays (TMAs), patients whose tumors had high nuclear pSTAT3 staining (>10% nuclei stained) had poorer survival rates than women with low nuclear pSTAT3 staining (<10% nuclei stained) [
110
]. These patient findings implicate the Jak/STAT pathway as being highly important for ovarian cancer initiation and progression.
The Jak/STAT pathway also regulates ovarian CSCs. CD24
+
ovarian CSCs require Jak2/STAT3 signaling for growth and metastasis [
111
]. Primary tumors generated in the
Apc−
;
Pten−
;
Trp53
−
(transgenic mouse model in which APC, PTEN, and Trp53 are conditionally deleted in the ovarian surface epithelium) were collected, dissociated, and sorted via fluorescence-activated cell sorting (FACS) using stem cell markers [
111
]. LDAs confirmed that the CD24
+
cells isolated were a CSC population [
111
]. This population of cells expressed elevated pSTAT3 and stem cell marker NANOG, which is required for stem cell renewal [
111
]. CD24
+
cells were injected into mice and the mice were then treated with cisplatin or with cisplatin+TG101209, a Jak2 inhibitor [
111
]. The mice treated with cisplatin+TG101209 showed significantly increased survival and almost no metastases (1 out of 14) [
111
].
Other studies show a role for the Jak/STAT pathway in ovarian CSC maintenance and chemoresistance. Abubaker et al. collected tumor cells from patient ascites or the HEY8 ovarian cancer cell line and treated them with paclitaxel [
108
]. Treatment with paclitaxel induced the expression of CSC markers CD117, OCT4, and EpCAM in ascites and HEY8 cells [
108
]. In both the paclitaxel-treated ascites and HEY8 cells, the Jak2/STAT3 pathway was activated [
108
]. This suggests that the Jak2/STAT3 pathway regulates the expression of stem-like genes necessary for CSC maintenance. Moreover, paclitaxel-treated cells were also treated with the Jak2-specific small molecule inhibitor (CYT387), which resulted in inhibition of the Jak2/STAT3 pathway activation, loss of stem cell marker expression, and increased sensitivity of the cells to paclitaxel treatment [
108
]. When paclitaxel-treated and paclitaxel+CYT387-treated cells were injected into mice, the mice injected with the paclitaxel+CYT387-treated cells showed a reduced tumor burden and enhanced sensitivity to paclitaxel [
108
]. These studies demonstrate that in models of ovarian cancer, Jak2 inhibitors are effective at reducing stem cell characteristics and inhibiting tumor growth. These inhibitors also increase survival and response to therapy. Because the Jak/STAT pathway promotes stemness and chemoresistance in the CSC population, it is a viable target for therapies aimed at reducing ovarian CSC populations.
5.3. NFκB
The NFκB pathway plays a role in normal cellular processes such as survival, proliferation, and apoptosis. In cancer the NFκB pathway is implicated in invasion and metastasis. However, the pathway is also involved in CSC maintenance [
112
]. In ovarian cancer, both the canonical and noncanonical NFκB pathways are active. A CD44
+
ovarian CSC population isolated from patient ascites exhibited constitutive NFκB pathway activation via a luciferase reporter assay, formed spheroids in culture, and formed tumors when injected into mice [
13
]. Another study showed that CD44
+
CSCs from SKOV3 cells (that also express NANOG, SOX2, and OCT4) exhibited increased expression of NFκB pathway members RelA, RelB, and IKKα [
113
]. Inhibition of the NFκB pathway with a dominant-negative form of IκBα resulted in a decrease in the CD44
+
CSC population with a reduction from 65.3% CD44
+
cells to just 27.7% [
113
]. These data suggest that NFκB signaling regulates expression of stemness genes.
The NFκB pathway is also involved in ovarian CSC chemoresistance. CD44
+
ovarian CSCs from patient ascites have constitutively active NFkB [
13
]. When treated with TNFα, the CD44
+
cells showed increased NFκB activity and cytokine production as well as resistance to TNFα-induced apoptosis [
13
]. The resistance to apoptotic pathway activation suggests a mechanism for ovarian CSC survival when treated with chemotherapeutics. Treatment of ovarian CSCs with Eriocalyxin B (EriB) inhibits the NFκB pathway and induces cell death in ovarian CSCs [
114
]. EriB inhibited the TNFα-induced NFκB activity and cytokine production and sensitized the cells to TNFα- and FasL-induced cell death [
114
]. This suggests that inhibition of the canonical NFκB pathway could sensitize ovarian CSCs to therapy [
114
].
While many studies focused on the canonical NFκB pathway, the noncanonical pathway is also active in promoting stemness and chemoresistance in ovarian cancer. RelB in particular is important for ovarian CSC regulation. RelB is overexpressed in ovarian CSC populations including CD44
+
SKOV3 cells and ALDH
+
/CD133
+
OV90 and ACI23 cell lines [
113
,
115
]. In the OV90 and ACI23 cells, ALDH1 activity and expression of RelB both increase with carboplatin treatment [
115
]. This suggests a role for the noncanonical NFκB pathway and RelB in promoting stemness and chemoresistance. Knockdown of RelB with shRNA reduced the number of ALDH
+
/CD133
+
CSCs in vitro in both cell lines and in xenografts by 50% [
115
]. The RelB knockdown decreased expression of other stem cell markers (NANOG and CD44) and increased sensitivity to carboplatin [
115
]. In addition, ACI23 and OV90 cells, when stably transfected with inducible shRNA for RelB, showed reduced spheroid formation and reduced tumorgenicity [
115
]. The noncanonical pathway through RelB promotes tumor growth as well as the expression of stemness genes [
115
]. RelB also regulates chemoresistance in ovarian CSCs [
115
]. Thus, both the canonical and noncanonical NFκB pathways are excellent targets for therapeutics to reduce the CSC population.
5.7. Developing Therapeutics Targeting Ovarian Cancer Stem Cells
There are multiple pathways involved in promoting a stem cell phenotype and chemoresistance in ovarian cancer. Each pathway has the potential to be therapeutically targeted. However, a major challenge is defining which population of cells needs to be targeted with pathway inhibitors.
If a therapeutic goal is to eliminate the CSC population, more studies are needed to define CSC populations, markers, and critical pathways that are required for stem cell maintenance (
Table 2
: Summary of targetable genes).
6. Future Studies
Ovarian CSCs in HGS ovarian cancer are an attractive target for therapeutics in order to prevent relapse following chemotherapy. Prior to targeting these insidious cells, a number of issues should be considered. One complication in treating patients with HGS ovarian cancer is the amount of heterogeneity found within the tumors. Additionally, HGS is characterized by genomic instability rather than specific driving mutations. This level of heterogeneity makes identifying drug targets that help a wide population of HGS ovarian cancer patients difficult. More phenotypic, genetic, and epigenetic studies of patient CSCs need to be conducted to assess which CSC populations are the most critical ones to target. Hierarchical lineage tracing efforts will allow us to decipher if different CSC populations arise from a common progenitor cell. Detailing the mechanisms that are required for CSC maintenance is critical. Delineating the role of the microenvironment in CSC maintenance is also important. Do these varying marker profiles denote differing niches for the CSCs and, therefore, different survival and renewal pathways that are active in different populations of CSCs? Are different CSC subpopulations present at different times during cancer progression? These questions underscore the need for personalized medicine in the treatment of ovarian cancer. Three potential targets for new therapeutics include stem cell markers, stem cell signaling pathways needed for renewal and/or survival, and the stem cell niche. Careful studies examining the contribution of CSC subpopulations and signaling pathways to CSC survival and maintenance will lead to directed therapeutic target design.
Author Contributions
L.R. contributed to the conceptualization, data curation, writing—original draft preparation, and writing—review and editing. K.D.C.D. contributed to conceptualization and writing—review and editing.
Funding
This research received no external funding.
Acknowledgments
We would like to acknowledge Elizabeth Fisher for her help in gathering sources, Paige Dausinas for proofreading, and Jeffrey Kurkewich for the flow cytometry data. We would also like to acknowledge the Department of Defense Ovarian Cancer Research Program (W81XWH-15-1-0071) and the Indiana CTSI Research Enhancement Grant for their support of KDCD.
Conflicts of Interest
The authors declare no conflict of interest.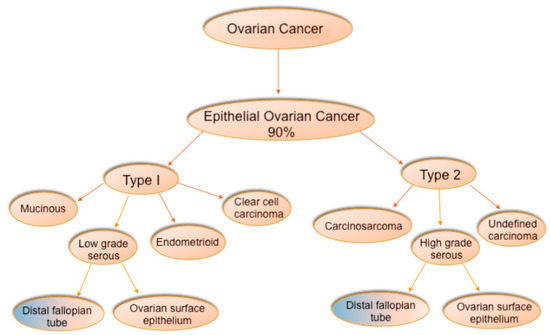 Figure 1.
Classification of the Epithelial Ovarian Cancer histological subtype according to the two tier system. Type I tumors include endometroid, clear cell carcinoma, mucinous, and low grade serous. Type II tumors are mostly comprised of high grade serous but also include carcinosarcoma and undefined carcinomas [
5
,
15
,
18
,
20
].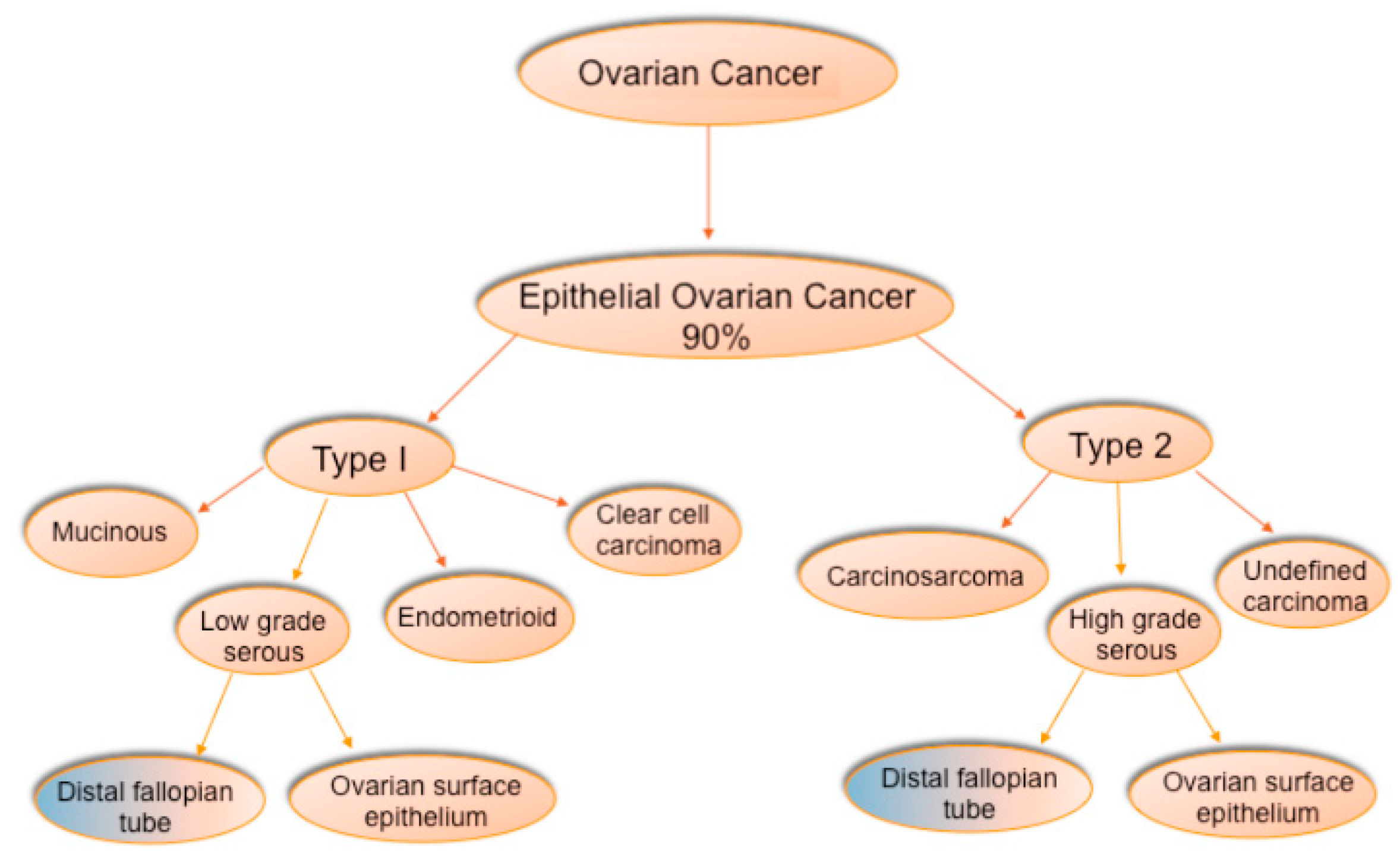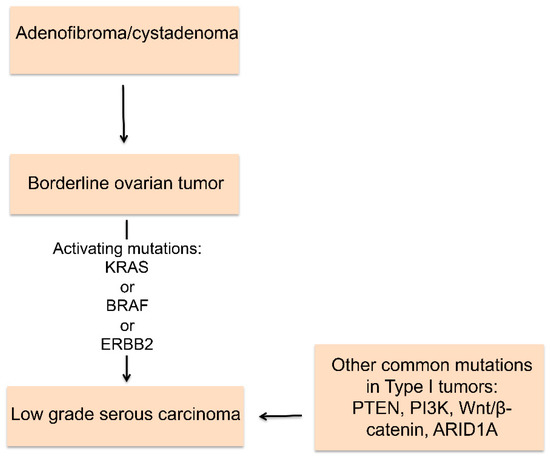 Figure 2. Pathway for Type I tumor formation. Type I tumors appear to form in a stepwise manner from benign precursor lesions. Progression from a borderline ovarian tumors to low grade serous carcinoma commonly includes activating mutations in one of the following members of the MAPK pathway: KRAS, BRAF, or ERBB2.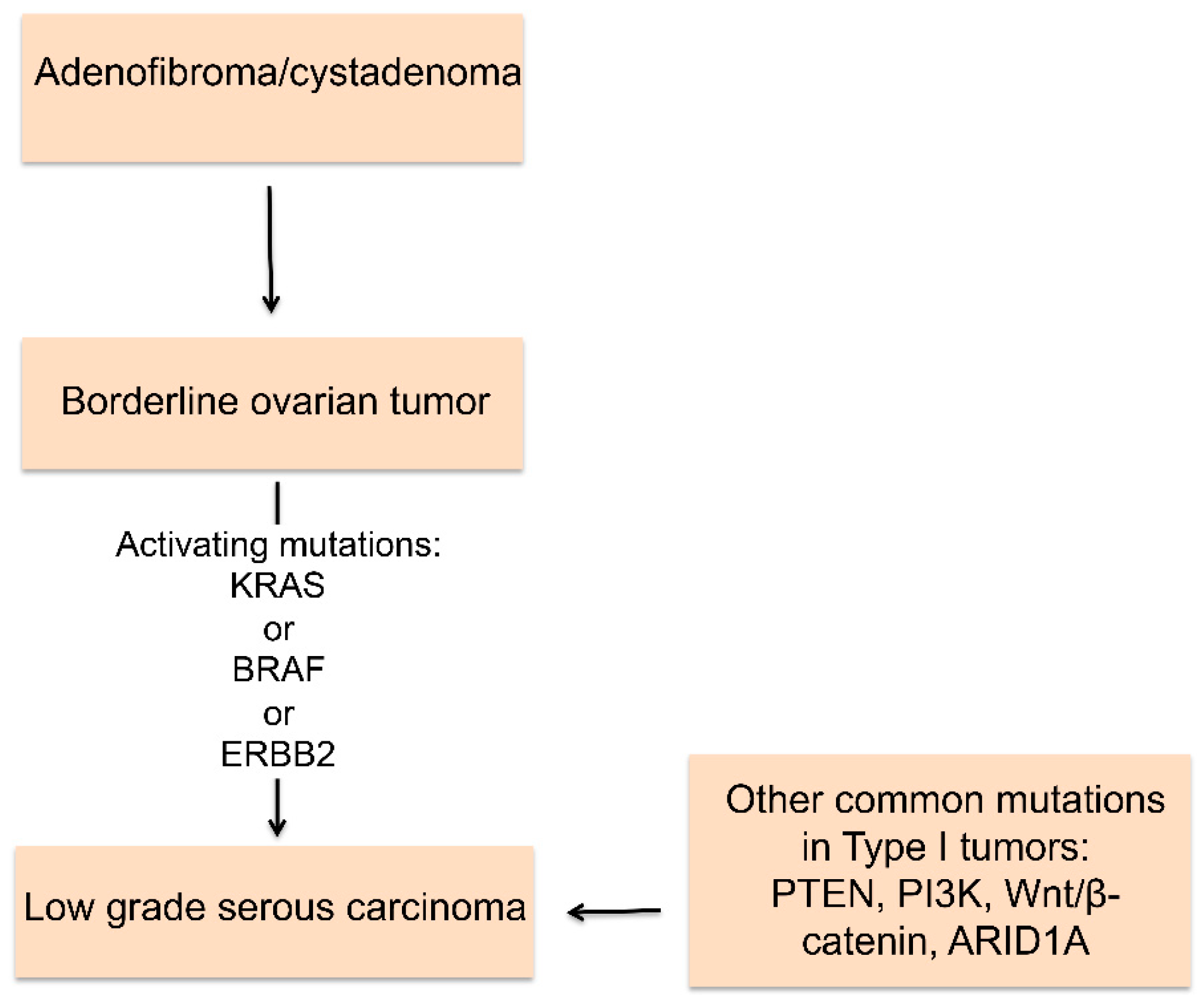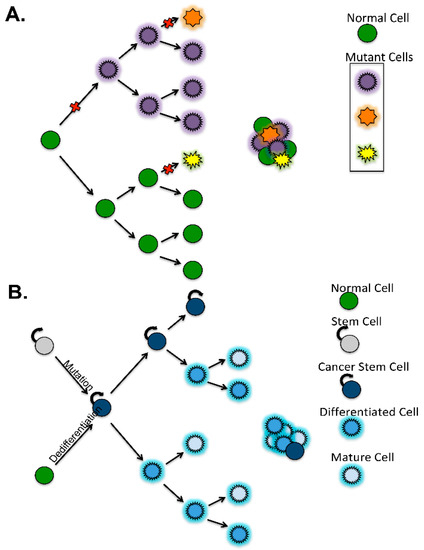 Figure 3. Models of tumor development and heterogeneity. (A) The clonal evolution model for tumor initiation. A genetic event occurs in a cell giving rise to a mutant cell population. Any cell is capable of becoming a tumor cell if there is an initiating genetic event. Tumor heterogeneity is due to propagation of cells carrying mutations that are the result of multiple genetic events. (B) The cancer stem cell model for tumor initiation. Either a normal stem cell has a genetic event resulting in a cancer stem cell capable of indefinite self-renewal and/or differentiation or a differentiated cell has a genetic event that activates a stem like program within the cell resulting in a cancer stem cell. Tumor cells have a hierarchical inheritance pattern from their cancer stem cell but develop different phenotypes as they acquire further mutations as they differentiate resulting in tumor heterogeneity.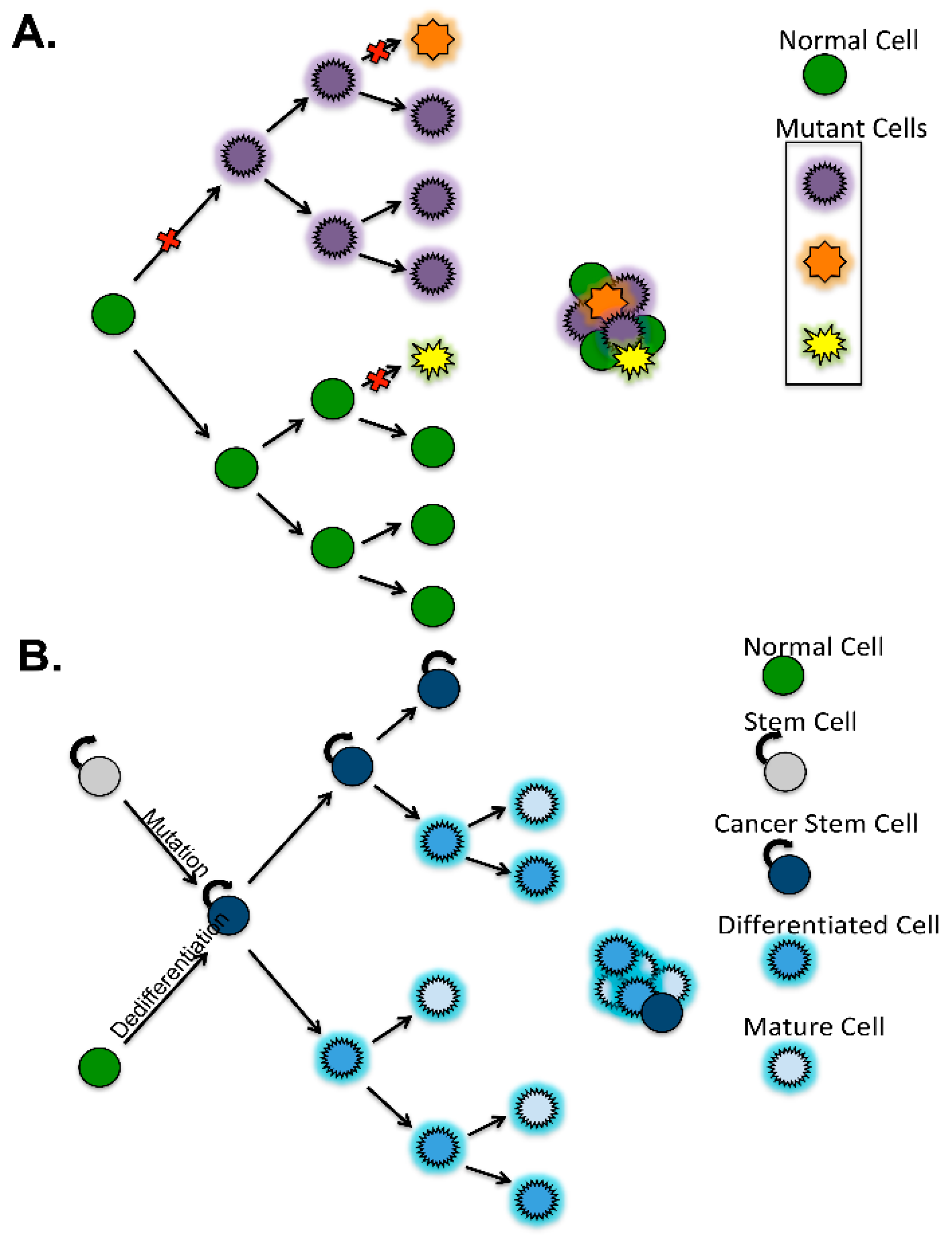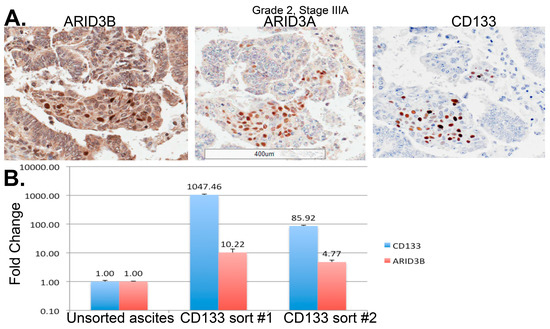 Figure 4.
ARID3B expression correlates with CD133-stem cell niche. (
A
) IHC shows nuclear ARID3A and ARID3B co-localize with CD133+ regions in serial HGSOC sections. (
B
) HGSOC patient ascites was sorted for CD133+ cells. RT-qPCR was conducted for Prom1(CD133) and ARID3B on unsorted and independent sorts [
98
].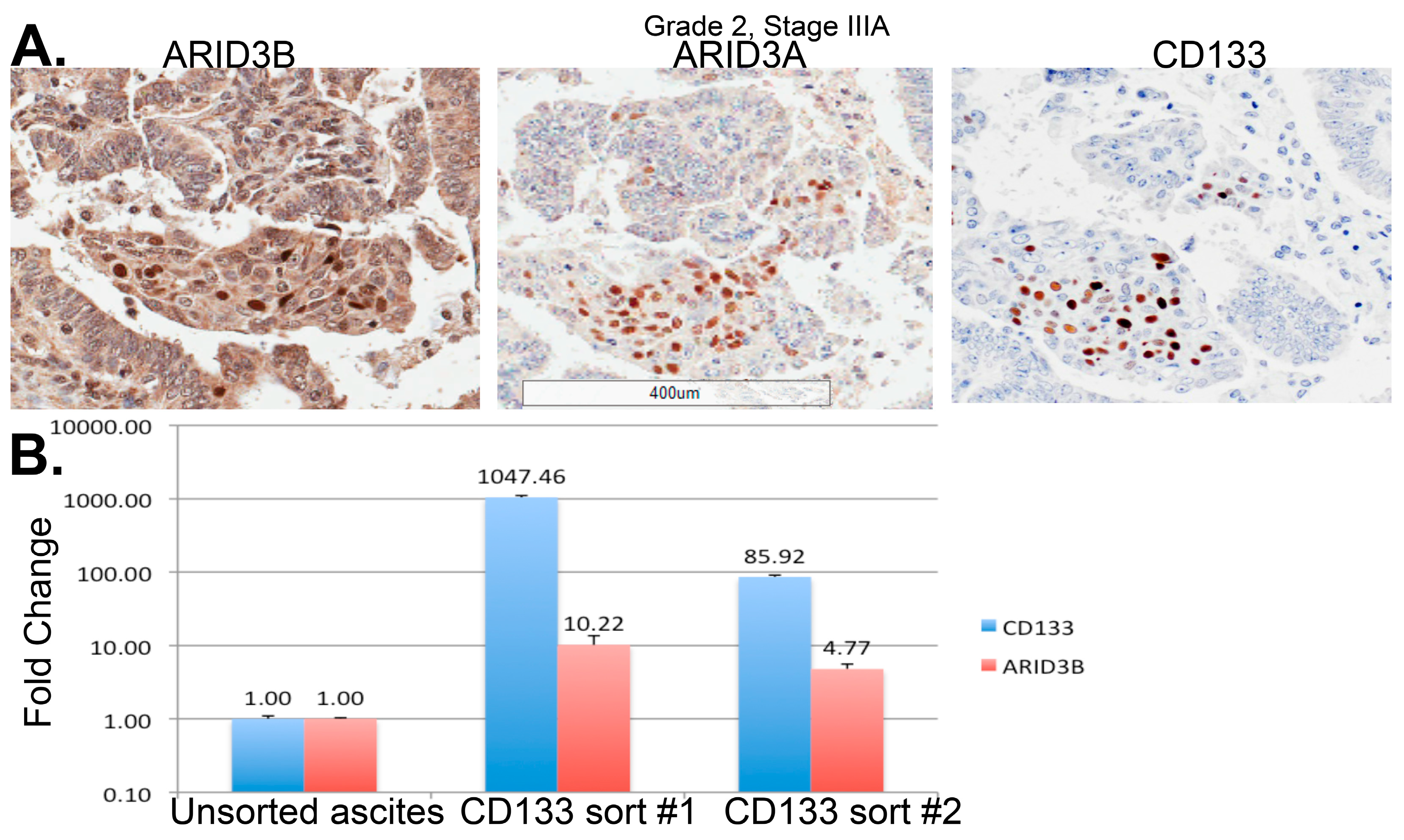 Figure 5.
Flow cytometry for the stem cell markers CD117 and CD133 on ovarian cancer cells before and after CSC enrichment. Untreated OVCA429 and Kuramochi cells or cells enriched for CSCs (by treatment with cisplatin and paclitaxel followed by culturing CSCs in stem cell media on ultra low adhesion plates) [
56
] were stained for stem cell markers CD117 (cKIT is the gene that encodes CD117) (X-axis) and CD133 (Y-axis).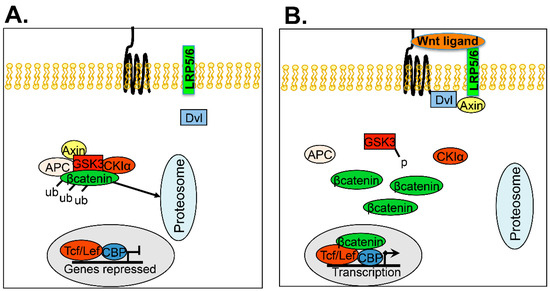 Figure 6. Wnt Signaling Cascade. (A) Basal state without the presence of Wnt ligand activation. β-catenin is ubiquitinated and sent to the proteosome for destruction. (B) Activation of the Wnt pathway via binding of a Wnt ligand to the Frizzled receptor and LRP5/6 resulting in recruitment of Disheveled (Dvl) and axin to the cell membrane. β-catenin is released from the destruction complex and translocates to the nucleus to act as a co-transcription factor.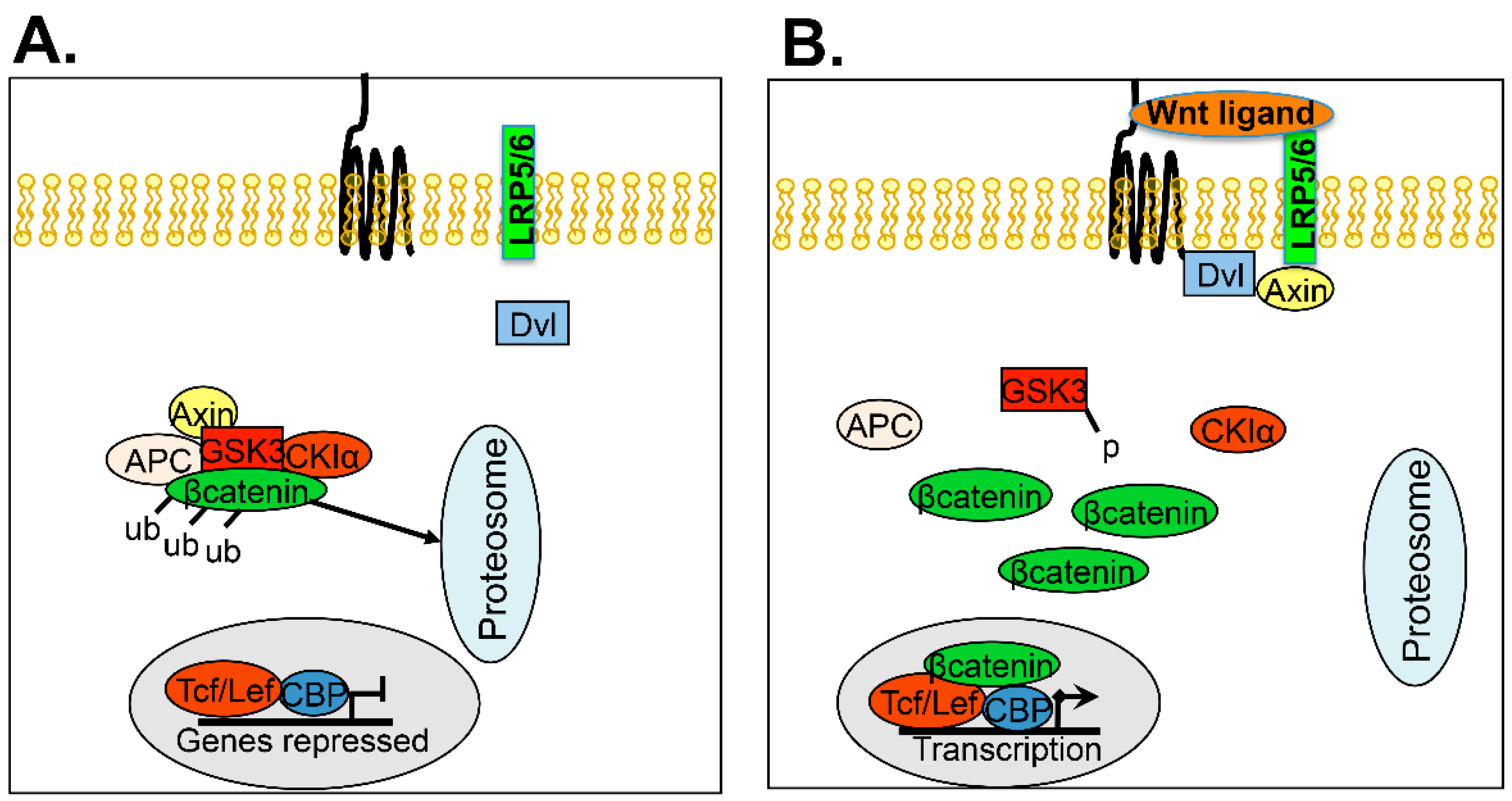 | Marker | Type of Protein | Suspected Role in Stem Cells | References |
| --- | --- | --- | --- |
| CD24 | Cell surface transmembrane glycoprotein | Stem gene expression, tumor initiation, chemoresistance, stem cell maintenance | [46,53,61,62] |
| CD44 | Cell surface transmembrane glycoprotein (hyaluronic acid receptor) | Chemoresistance, tumor initiation, stem gene expression, spheroid formation | [13,46,53,61,62,63,64,65,66,67] |
| cKit/CD117 | Tyrosine kinase receptor | Chemoresistance, stem cell maintenance, tumor initiation | [11,53,59,61,68,69] |
| PROM1/CD133 | Cell surface transmembrane glycoprotein | Tumor initiation, chemoresistance, spheroid formation, high cell proliferation | [13,46,53,61,62,70,71,72,73,74,75,76] |
| ALDH1 | Cytosolic aldehyde dehydrogenase enzyme | Tumor initiation, chemoresistance, spheroid formation | [46,53,61,75,77,78] |
| ROR1 | Tyrosine kinase receptor | Spheroid formation, tumor initiation, proliferation | [79,80] |
| SOX2 | Transcription factor | Stem cell maintenance, self-renewal | [8,81,82,83,84] |
| NANOG | Transcription factor | Stem cell maintenance, self-renewal, chemoresistance | [8,53,61,66,81,82,83] |
| POU5F1/OCT4 | Transcription factor | Tumor initiation, chemoresistance | [8,53,61,81,82,83] |
| MYC | Transcription factor | Tumor initiation, chemoresistance | [85,86] |
| EpCAM | Cell surface membrane glycoprotein | Tumor initiation, spheroid formation, proliferation | [13,46,53,61,62] |
| MDR1/ABCB1 | ATP binding cassette transporter | Chemoresistance | [46,49,53,61,66,87,88,89,90,91] |
| ABCG2 | ATP binding cassette transporter | Chemoresistance | [46,49,53,61,87,88,90,91] |
Pathway
Gene
Potential Therapeutics in Trials
PI3K/PTEN/AKT
AKT1
BKM120, Everdimus, Perifosine
PTEN
PPMID
Jak/STAT
STAT3
JAK2
NFκB
RelA
RelB
IKK
IκBα
TNFα
Notch
Notch3
γ-secretase inhibitors, γ-secretase modifiers, Notch soluble decoys, negative regulatory region monoclonal antibodies
Jagged1
Wnt
β-catenin
NSC668036, FJ9, Frizzled receptor antibodies, Thiazoldinedone, Suldinac
Wnt5A
Disheveled
Frizzled
Hedgehog
Patched
HPI-1, HPI-2, HPI-3, HPI-4, GDC-0449
Gli1

© 2018 by the authors. Licensee MDPI, Basel, Switzerland. This article is an open access article distributed under the terms and conditions of the Creative Commons Attribution (CC BY) license (http://creativecommons.org/licenses/by/4.0/).