Ensuring the Safety and Security of Frozen Lung Cancer Tissue Collections through the Encapsulation of Dried DNA
1
Hospital-Integrated Biobank (BB-0033-00025), Université Côte d'Azur, CHU de Nice, 06001 Nice CEDEX 1, France
2
Team 4, Institute of Research on Cancer and Aging of Nice (IRCAN), Inserm U1081, CNRS UMR7284, Université Côte d'Azur, CHU de Nice, 06107 Nice CEDEX 2, France
3
Laboratory of Clinical and Experimental Pathology, Université Côte d'Azur, CHU de Nice, University Hospital Federation OncoAge, 06001 Nice CEDEX 1, France
4
FHU OncoAge, University of Nice Sophia Antipolis, 06001 Nice CEDEX 1, France
5
Université de Lyon, UMRS 449; Laboratoire de Biologie générale, Université Catholique de Lyon; Reproduction et développement comparé, EPHE, 69002 Lyon, France
6
Biobank of Grenoble (BB-0033-00069), 38043 Grenoble, France
7
Department of Pulmonary Medicine and Oncology, Université Côte d'Azur, CHU de Nice, University Hospital Federation OncoAge, 06001 Nice CEDEX 1, France
8
Department of Thoracic Surgery, Université Côte d'Azur, CHU de Nice, University Hospital Federation OncoAge, 06001 Nice CEDEX 1, France
9
INSERM INRA, NuMeCan, Rennes University, CRB Santé, CHU Rennes, 35000 Rennes, France
10
INSERM, 75654 Paris, France
†
These authors contributed equally to this work.
*
Author to whom correspondence should be addressed.
Received: 15 May 2018 / Revised: 8 June 2018 / Accepted: 8 June 2018 / Published: 11 June 2018
Abstract
Collected specimens for research purposes may or may not be made available depending on their scarcity and/or on the project needs. Their protection against degradation or in the event of an incident is pivotal. Duplication and storage on a different site is the best way to assure their sustainability. The conservation of samples at room temperature (RT) by duplication can facilitate their protection. We describe a security system for the collection of non-small cell lung cancers (NSCLC) stored in the biobank of the Nice Hospital Center, France, by duplication and conservation of lyophilized (dried), encapsulated DNA kept at RT. Therefore, three frozen tissue collections from non-smoking, early stage and sarcomatoid carcinoma NSCLC patients were selected for this study. DNA was extracted, lyophilized and encapsulated at RT under anoxic conditions using the DNAshell technology. In total, 1974 samples from 987 patients were encapsulated. Six and two capsules from each sample were stored in the biobanks of the Nice and Grenoble (France) Hospitals, respectively. In conclusion, DNA maintained at RT allows for the conservation, duplication and durability of collections of interest stored in biobanks. This is a low-cost and safe technology that requires a limited amount of space and has a low environmental impact.
View Full-Text
►

▼

Figures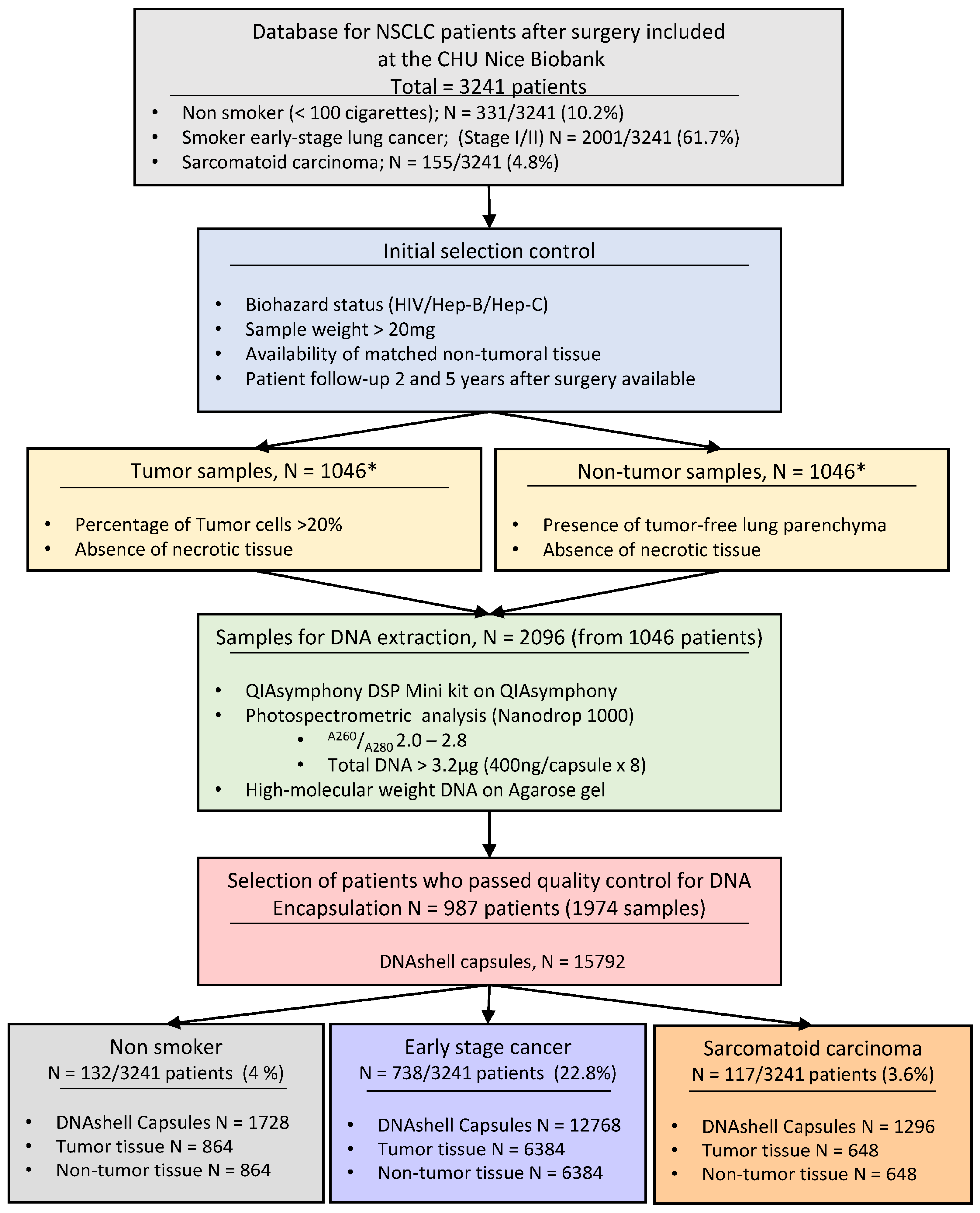 Figure 1
This is an open access article distributed under the
Creative Commons Attribution License
which permits unrestricted use, distribution, and reproduction in any medium, provided the original work is properly cited (CC BY 4.0).

Share & Cite This Article
MDPI and ACS Style
Washetine, K.; Kara-Borni, M.; Heeke, S.; Bonnetaud, C.; Félix, J.-M.; Ribeyre, L.; Bence, C.; Ilié, M.; Bordone, O.; Pedro, M.; Maitre, P.; Tanga, V.; Gormally, E.; Mossuz, P.; Lorimier, P.; Marquette, C.H.; Mouroux, J.; Cohen, C.; Lassalle, S.; Long-Mira, E.; Clément, B.; Dagher, G.; Hofman, V.; Hofman, P. Ensuring the Safety and Security of Frozen Lung Cancer Tissue Collections through the Encapsulation of Dried DNA. Cancers 2018, 10, 195.
Note that from the first issue of 2016, MDPI journals use article numbers instead of page numbers. See further details here.
Related Articles
Comments
[Return to top]