Temozolomide Enhances Triple-Negative Breast Cancer Virotherapy In Vitro
1
The Hiram C. Polk Jr., MD, Department of Surgery, School of Medicine, University of Louisville, Louisville, KY 40202, USA
2
Department of Histology, School of Medicine, Autonomous University of Nuevo Leon, Monterrey 64460, NL, Mexico
3
Department of Surgery, School of Medicine, Wake Forest University, Winston-Salem, NC 27109, USA
4
Department of Cancer Biology, Wake Forest Comprehensive Cancer Center, Wake Forest University, Winston-Salem, NC 27109, USA
5
James Graham Brown Cancer Center, School of Medicine, University of Louisville, Louisville, KY 40202, USA
*
Author to whom correspondence should be addressed.
†
These authors contributed equally to this study.
Received: 17 April 2018 / Revised: 2 May 2018 / Accepted: 15 May 2018 / Published: 17 May 2018
Abstract
Triple-negative breast cancer (TNBC) is one of the most aggressive types of cancer, and treatment is limited to chemotherapy and radiation. Oncolytic virotherapy may be a promising approach to treat TNBC. However, oncolytic adenovirus (OAd)-based mono-therapeutic clinical trials have resulted in modest outcomes. The OAd potency could be increased by chemotherapy-induced autophagy, an intracellular degradation system that delivers cytoplasmic constituents to the lysosome. In this study, the ability of alkylating agent temozolomide (TMZ)-induced autophagy to increase OAd replication and oncolysis in TNBC cells was evaluated. Human TNBC MDA-MB-231 and HCC1937 cells and mouse 4T1 cells were infected with an OAd expressing the red fluorescent protein mCherry on the virus capsid (OAdmCherry) alone or in combination with TMZ. TNBC cells treated with OAdmCherry/TMZ displayed greater mCherry and adenovirus (Ad) early region 1A (E1A) expression and enhanced cancer-cell killing compared to OAdmCherry or TMZ alone. The combined therapy-mediated cell death was associated with virus replication and accumulation of the autophagy marker light chain 3 (LC3)-II. Overall, this study provides experimental evidence of TMZ's ability to increase oncolytic virotherapy in both human and murine TNBC cells.
View Full-Text
►

▼

Figures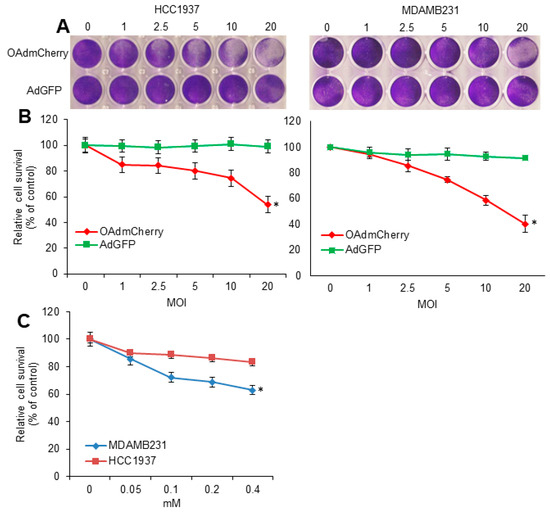 Figure 1
This is an open access article distributed under the
Creative Commons Attribution License
which permits unrestricted use, distribution, and reproduction in any medium, provided the original work is properly cited (CC BY 4.0).

Share & Cite This Article
MDPI and ACS Style
Garza-Morales, R.; Gonzalez-Ramos, R.; Chiba, A.; Montes de Oca-Luna, R.; McNally, L.R.; McMasters, K.M.; Gomez-Gutierrez, J.G. Temozolomide Enhances Triple-Negative Breast Cancer Virotherapy In Vitro. Cancers 2018, 10, 144.
Note that from the first issue of 2016, MDPI journals use article numbers instead of page numbers. See further details here.
Related Articles
Comments
[Return to top]