Differentiation Therapy Targeting the β-Catenin/CBP Interaction in Pancreatic Cancer
1
Norris Comprehensive Cancer Center, University of Southern California, Los Angeles, CA 90033, USA
2
Center for Molecular Pathways and Drug Discovery, University of Southern California, Los Angeles, CA 90033, USA
3
Department of Pathology, City of Hope National Medical Center, Duarte, CA 91010, USA
4
Department of Molecular Medicine, Beckman Research Institute of City of Hope, Duarte, CA 91010, USA
5
City of Hope Comprehensive Cancer Center, Duarte, CA 91010, USA
6
Southern California Research Center for Alcoholic Liver and Pancreatic Diseases and Cirrhosis, Department of Pathology, University of Southern California, Los Angeles, CA 90033, USA
7
Department of Medicine, University of Southern California, Los Angeles, CA 90033, USA
8
Department of Surgery, University of Southern California, Los Angeles, CA 90033, USA
9
Pancreatic Research Program, Cedars-Sinai Medical Center, Veterans Affairs Greater Los Angeles Healthcare System, and Department of Medicine, University of California, Los Angeles, CA 90048, USA
10
Health Sciences Libraries, University of Southern California, Los Angeles, CA 90033, USA
11
Department of Biochemistry and Molecular Medicine, University of Southern California, Los Angeles, CA 90033, USA
12
Department of Molecular Pharmacology and Toxicology, University of Southern California, Los Angeles, CA 90033, USA
*
Author to whom correspondence should be addressed.
†
These authors contributed equally to this work.
Received: 14 February 2018 / Revised: 26 March 2018 / Accepted: 27 March 2018 / Published: 29 March 2018
Abstract
Background: Although canonical Wnt signaling is known to promote tumorigenesis in pancreatic ductal adenocarcinoma (PDAC), a cancer driven principally by mutant
K-Ras
, the detailed molecular mechanisms by which the Wnt effector β-catenin regulates such tumorigenesis are largely unknown. We have previously demonstrated that β-catenin's differential usage of the Kat3 transcriptional coactivator cyclic AMP-response element binding protein-binding protein (CBP) over its highly homologous coactivator p300 increases self-renewal and suppresses differentiation in other types of cancer. Aim/methods: To investigate Wnt-mediated carcinogenesis in PDAC, we have used the specific small molecule CBP/β-catenin antagonist, ICG-001, which our lab identified and has extensively characterized, to examine its effects in human pancreatic cancer cells and in both an orthotopic mouse model and a human patient-derived xenograft (PDX) model of PDAC. Results/conclusion: We report for the first time that
K-Ras
activation increases the CBP/β-catenin interaction in pancreatic cancer; and that ICG-001 specific antagonism of the CBP/β-catenin interaction sensitizes pancreatic cancer cells and tumors to gemcitabine treatment. These effects were associated with increases in the expression of let-7a microRNA; suppression of
K-Ras
and survivin; and the elimination of drug-resistant cancer stem/tumor-initiating cells.
View Full-Text
►

▼

Figures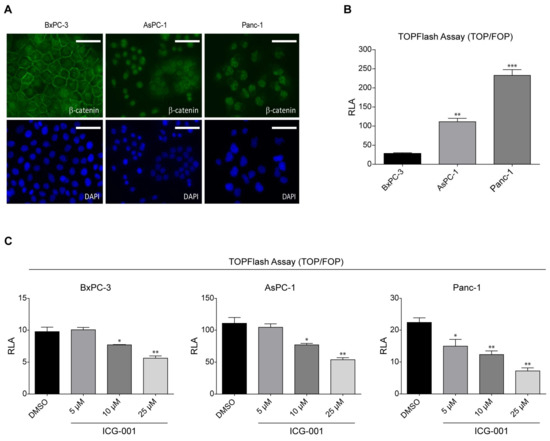 Figure 1
This is an open access article distributed under the
Creative Commons Attribution License
which permits unrestricted use, distribution, and reproduction in any medium, provided the original work is properly cited (CC BY 4.0).

Share & Cite This Article
MDPI and ACS Style
Manegold, P.; Lai, K.K.Y.; Wu, Y.; Teo, J.-L.; Lenz, H.-J.; Genyk, Y.S.; Pandol, S.J.; Wu, K.; Lin, D.P.; Chen, Y.; Nguyen, C.; Zhao, Y.; Kahn, M. Differentiation Therapy Targeting the β-Catenin/CBP Interaction in Pancreatic Cancer. Cancers 2018, 10, 95.
Note that from the first issue of 2016, MDPI journals use article numbers instead of page numbers. See further details here.
Related Articles
Comments
[Return to top]