Open Access This article is
freely available
re-usable
Review
The Role of Activator Protein-1 (AP-1) Family Members in CD30-Positive Lymphomas
1
Ludwig Boltzmann Institute for Cancer Research, 1090 Vienna, Austria
2
Unit of Laboratory Animal Pathology, University of Veterinary Medicine Vienna, 1210 Vienna, Austria
3
Clinical Institute of Pathology, Medical University of Vienna, 1090 Vienna, Austria
4
Department of Pathology, University of Cambridge, Tennis Court Road, Cambridge CB21QP, UK
Received: 22 February 2018 / Accepted: 25 March 2018 / Published: 28 March 2018
Abstract
:
The Activator Protein-1 (AP-1) transcription factor (TF) family, composed of a variety of members including c-JUN, c-FOS and ATF, is involved in mediating many biological processes such as proliferation, differentiation and cell death. Since their discovery, the role of AP-1 TFs in cancer development has been extensively analysed. Multiple in vitro and in vivo studies have highlighted the complexity of these TFs, mainly due to their cell-type specific homo- or hetero-dimerization resulting in diverse transcriptional response profiles. However, as a result of the increasing knowledge of the role of AP-1 TFs in disease, these TFs are being recognized as promising therapeutic targets for various malignancies. In this review, we focus on the impact of deregulated expression of AP-1 TFs in CD30-positive lymphomas including Classical Hodgkin Lymphoma and Anaplastic Large Cell Lymphoma.
Keywords:
Activator Protein-1 (AP-1); Transcription Factors (TFs); Anaplastic Large Cell Lymphoma (ALCL); CD-30; Classical Hodgkin Lymphoma (CHL); Peripheral T-cell Lymphoma (PTCL)
Acknowledgments
Ines Garces de los Fayos Alonso, Huan-Chang Liang, Suzanne D. Turner, Sabine Lagger, Olaf Merkel and Lukas Kenner are members of the European Research Initiative for ALK-Related Malignancies (
www.erialcl.net
). This work was supported by the European Union's Horizon 2020 Marie Sklodowska-Curie Innovative Training Network, ALKATRAS, under grant agreement No 675712 (Ines Garces de los Fayos Alonso, Huan-Chang Liang, Olaf Merkel, Suzanne D. Turner and Lukas Kenner). Sabine Lagger is a fellow of the University of Veterinary Medicine Postdoc programme. The authors would like to thank Josef Harl (Institute of Pathology and Forensic Veterinary Medicine, Vienna, Austria) for the construction of the phylogenetic tree and members of the Kenner lab for critical review of the manuscript.
Conflicts of Interest
The authors declare no conflict of interest.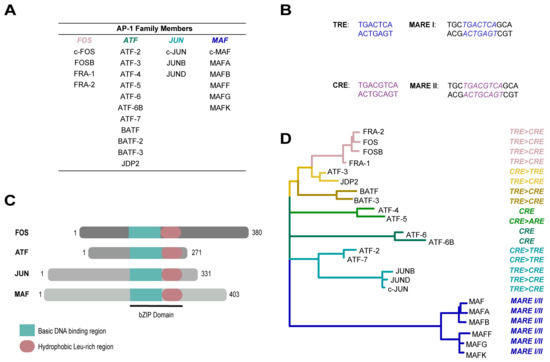 Figure 1.
The AP-1 transcription factor family members. (
A
) Table of the different AP-1 transcription factor family subgroups FOS, ATF, JUN and MAF; (
B
) The different DNA response-elements (REs) that AP-1 TFs recognise and to which they bind. The 12-
O
-tetradecanoylphorbol-13-acetate response element (TRE) is the most common; however, depending on dimer configuration, AP-1 TFs can bind to additional elements, such as CRE, MARE I, and MARE II. Note MARE I is an extension of TRE, whereas MARE II is an extension of CRE; (
C
) Schematic representation of the structure of AP-1 proteins including FOS, ATF, JUN, and MAF. AP-1 TFs share two common regions, the basic motif and the leucine zipper; together these regions form the bZIP domain. Sequence data was exported from Nextprot; (
D
) Phylogenetic tree of AP-1 transcription factor family members and their binding REs. The amino acid sequences were aligned with ClustalW implemented with MEGA 7.0.21. The alignment was manually rearranged in Bioedit 7.0.8.0. In order to find the best-fit amino acid substitution model for the alignment, a model test was performed with MEGA 7.0.21. The Maximum Likelihood tree was also calculated with MEGA 7.0.21, applying the parameters obtained from Modeltest.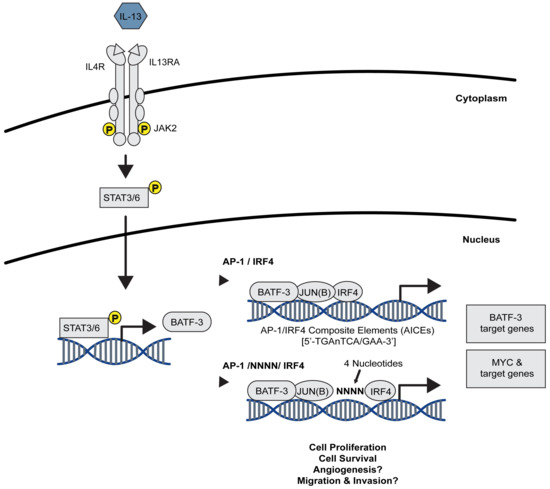 Figure 2.
The described JAK/STAT/BATF/MYC signalling cascade in Classical Hodgkin Lymphoma (CHL) and Anaplastic Large Cell Lymphoma (ALCL). JAK2 activation, via IL-13 stimulation, results in the phosphorylation (yellow) of STAT3/6. STAT3/6 translocates into the nucleus where it promotes the expression of
BATF-3
, which dimerizes with c-JUN or JUNB to form stable and active AP-1 TFs. BATF-3/c-JUN dimers directly bind to the
MYC
gene promoter resulting in an increase in MYC and BATF-3 target gene expression, promoting proliferation and survival in CHL and ALCL. Figure adapted from [
88
].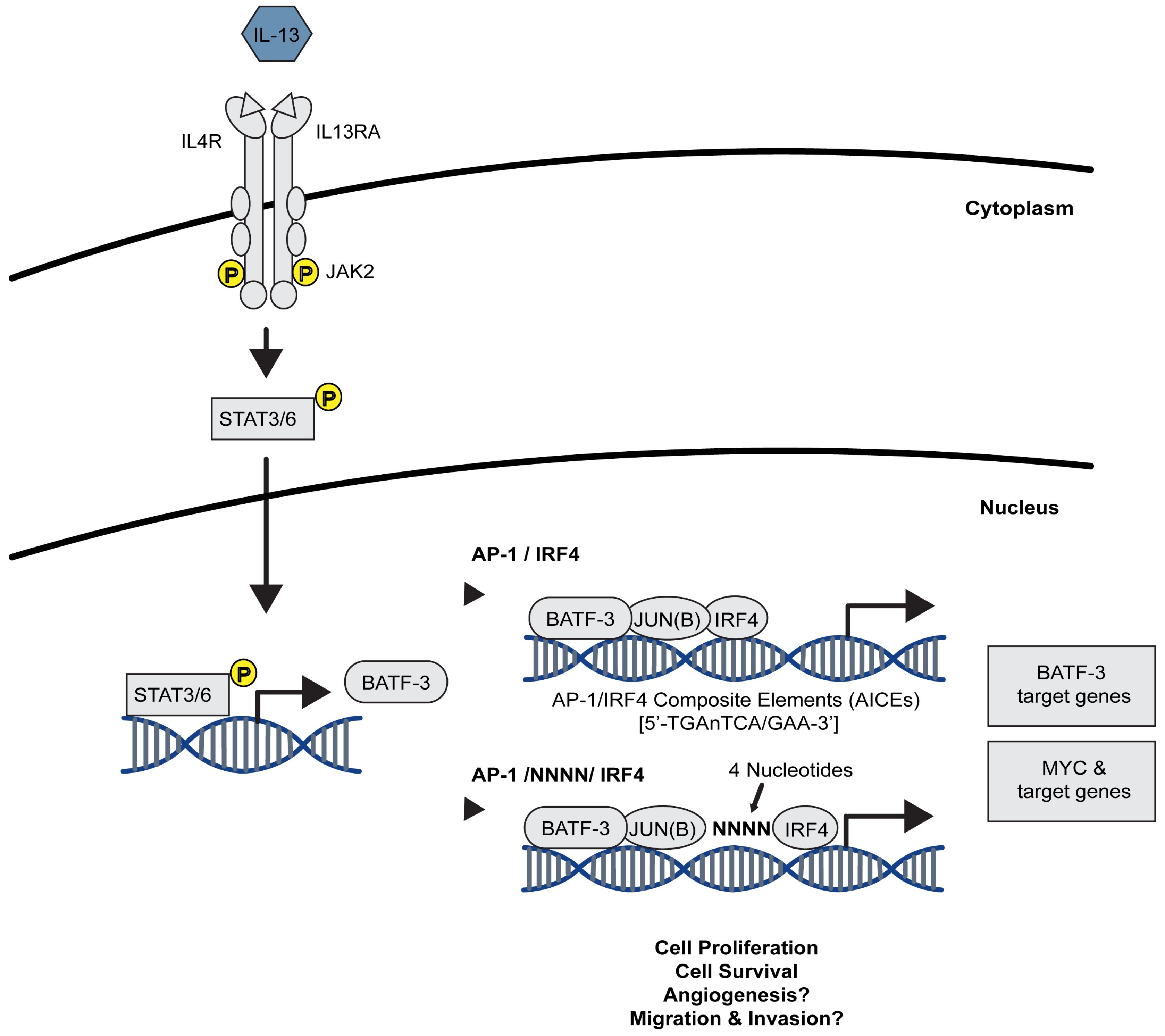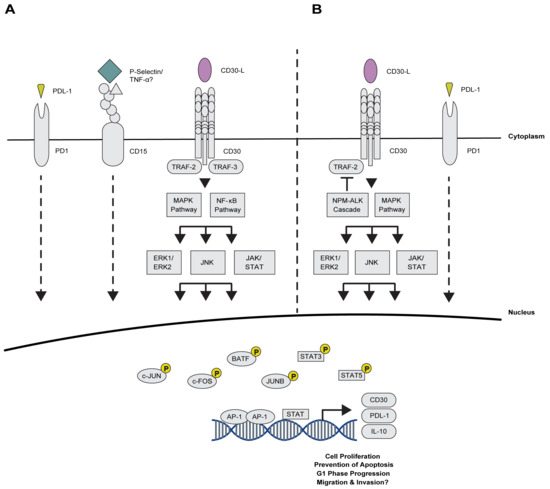 Figure 3.
The intricate relationship between CD30 and AP-1 in Classical Hodgkin Lymphoma (CHL) and Anaplastic Large Cell Lymphoma (ALCL). (
A
) Cell surface protein signalling involved in CHL. In CHL, the PD-L1 enhancer binds AP-1 TFs resulting in an increase in
PD-L1
promoter activity. Similarly, binding of P-Selectin (green) to CD15 (Lewis X) induces the translocation of c-JUN into the nucleus and an increase in AP-1 DNA binding activity. CD30 activation, mediated via CD30-ligand (CD30-L) (purple), results in the formation of a homo-trimer. The receptor, which lacks a kinase domain, recruits TNFR-associated factors (TRAF), which activate NF-κB and MAPK/ERK downstream signalling pathways. The activation of NF-κB and MAPK/ERK results in the phosphorylation of AP-1 and STAT TFs. Following activation, JUNB translocates to the nucleus where it binds to the unmethylated
CD30
promoter and maintains elevated CD30 levels; (
B
) In ALCL, Nucleophosmin-Anaplastic Lymphoma Kinase (NPM–ALK) controls CD30 expression via the phosphorylation of downstream targets, such as STAT and AP-1. Once activated, the STATs and AP-1 complexes cooperate to enhance CD30 transcription, fuelling a positive feedback loop. Thus, when activated in ALCL, CD30 stimulates the activation of both the canonical and alternative NF-κB pathways in addition to indirectly stimulating its upregulation. Additionally, NPM–ALK is believed to upregulate PD-L1 directly via phosphorylation of STAT and AP-1 TFs, or indirectly via the induction of interleukin-10 (IL-10), which in turn is known to activate the JAK/STAT signalling pathway.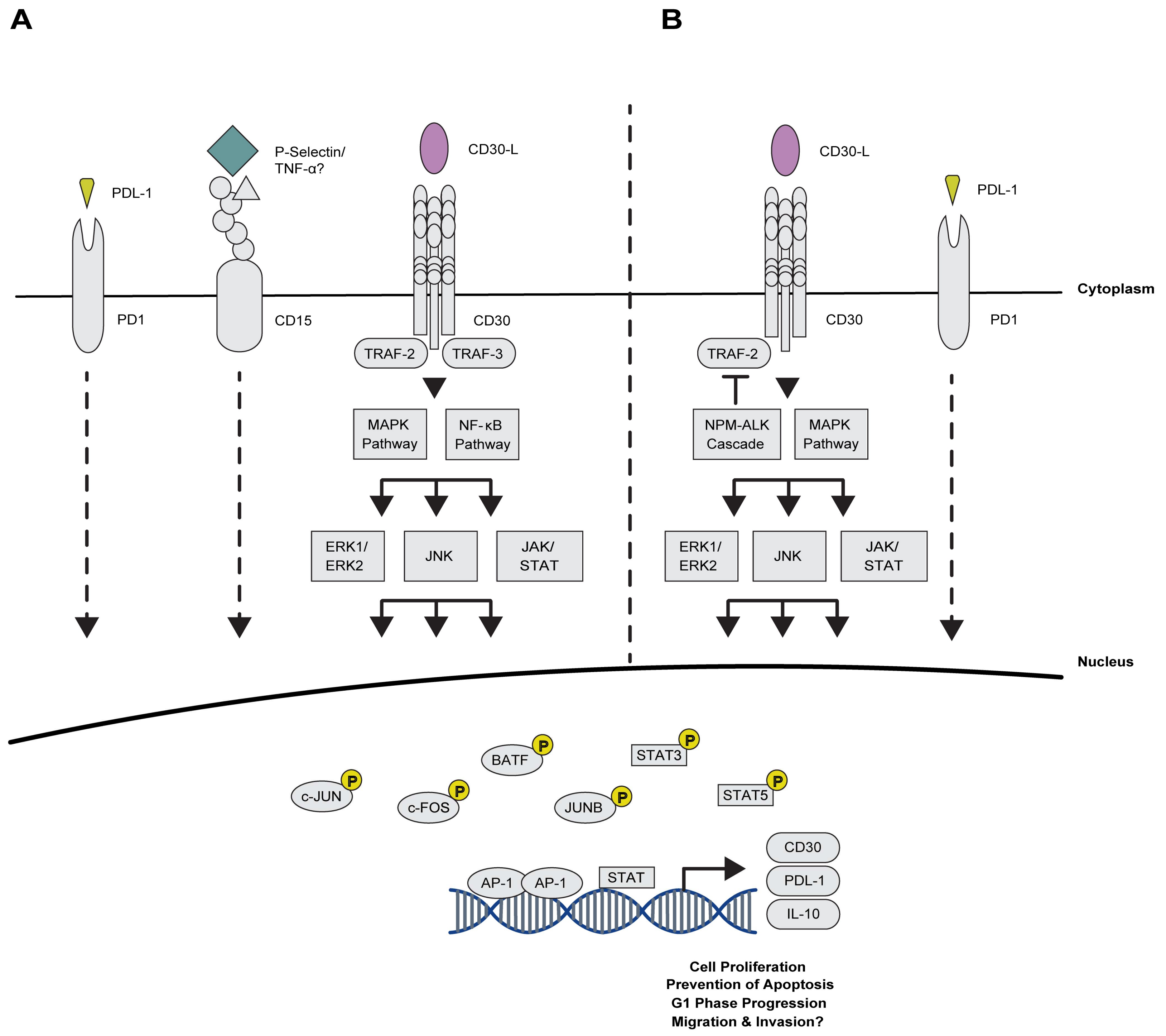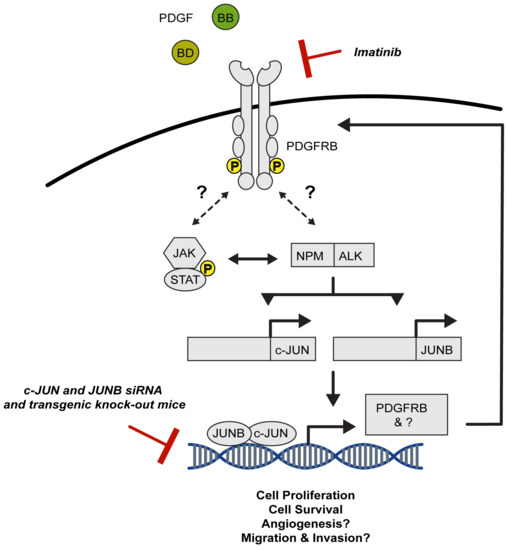 Figure 4.
Blockade of the PDGFRB/STAT/NPM-ALK/JUN signalling cascade in Anaplastic Large Cell Lymphoma (ALCL). Stimulation via PDGF-BB or –DD results in the dimerization and trans-phosphorylation of PDGFRB. The receptor phosphorylates the JAK/STAT signalling cascade, which is known to interact with the oncogenic NPM–ALK fusion. The downstream effector targets of NPM–ALK, c-JUN and JUNB, directly bind to the
Pdgfrb
promoter resulting in an increase in PDGF expression, overall propagating a malignant signalling cascade. Treatment with Imatinib, a tyrosine kinase inhibitor, results in a decrease in tumour burden and increased survival of c-JUN and JUNB transgenic knock-out mice harbouring the constitutively active NPM–ALK fusion in CD4
+
T cells [
131
]. Targeting PDGFRB or TFs that regulate PDGFRB expression is thus a rational and effective therapy for NPM–ALK-driven lymphomas.

Table 1.
Table of lymphoproliferative disorders. Lymphoid neoplasms were sub-grouped according to the World Health Organisation 2016 classification [
62
].
Cancer Family
Neoplasms
Major Groups
Sub-Groups
Lymphoproliferative Disorders [62]
Hodgkin Lymphoma (HL) [63,64]
Classical Hodgkin Lymphoma (CHL) [64]
Peripheral T-cell Lymphoma/Non-Hodgkin Lymphoma (NHL) [56,57,58,59,60,61,62]
Nodal Lymphoma [56,57,62]
Anaplastic Large Cell Lymphoma (ALCL)
Angioimmunoblastic T-cell Lymphoma (AITL)
PTCL-Not Otherwise Specified (PTCL-NOS)
Extranodal Lymphoma [58,59,62]
Enteropathy-associated T-cell Lymphoma (EATL)
Hepatosplenic Υδ T-cell Lymphoma
Natural Killer (NK)/NK—like T-cell Lymphoma
Extranodal-cutaneous Lymphoma [58,60,62]
B-cell Cutaneous Lymphoma
T-cell Cutaneous Lymphoma
NK-cell Cutaneous Lymphoma
Leukaemic and Disseminated Disease [61,62]
Adult T-cell Leukaemia/Lymphoma (ATLL)

© 2018 by the authors. Licensee MDPI, Basel, Switzerland. This article is an open access article distributed under the terms and conditions of the Creative Commons Attribution (CC BY) license (http://creativecommons.org/licenses/by/4.0/).