Use of the Ion PGM and the GeneReader NGS Systems in Daily Routine Practice for Advanced Lung Adenocarcinoma Patients: A Practical Point of View Reporting a Comparative Study and Assessment of 90 Patients
1
Team 4, Institute of Research on Cancer and Aging of Nice (IRCAN), Inserm U1081, CNRS UMR7284, Université Côte d'Azur, CHU de Nice, 06107 Nice Cedex 2, France
2
Laboratory of Clinical and Experimental Pathology, Université Côte d'Azur, CHU de Nice, University Hospital Federation OncoAge, 06001 Nice Cedex 1, France
3
Hospital-Integrated Biobank (BB-0033-00025), Université Côte d'Azur, CHU de Nice, University Hospital Federation OncoAge, 06001 Nice Cedex 1, France
4
Department of Pulmonary Medicine and Oncology, Université Côte d'Azur, CHU de Nice, University Hospital Federation OncoAge, 06001 Nice Cedex 1, France
5
Department of Thoracic Surgery, Université Côte d'Azur, CHU de Nice, University Hospital Federation OncoAge, 06001 Nice Cedex 1, France
*
Author to whom correspondence should be addressed.
Received: 13 February 2018 / Revised: 19 March 2018 / Accepted: 20 March 2018 / Published: 21 March 2018
Abstract
Background
: With the integration of various targeted therapies into the clinical management of patients with advanced lung adenocarcinoma, next-generation sequencing (NGS) has become the technology of choice and has led to an increase in simultaneously interrogated genes. However, the broader adoption of NGS for routine clinical practice is still hampered by sophisticated workflows, complex bioinformatics analysis and medical interpretation. Therefore, the performance of the novel QIAGEN GeneReader NGS system was compared to an in-house ISO-15189 certified Ion PGM NGS platform.
Methods
: Clinical samples from 90 patients (60 Retrospectively and 30 Prospectively) with lung adenocarcinoma were sequenced with both systems. Mutations were analyzed and
EGFR
,
KRAS
,
BRAF
,
NRAS
,
ALK
,
PIK3CA
and
ERBB2
genes were compared and sampling time and suitability for clinical testing were assessed.
Results
: Both sequencing systems showed perfect concordance for the overlapping genes. Correlation of allele frequency was
r
2
= 0.93 for the retrospective patients and
r
2
= 0.81 for the prospective patients. Hands-on time and total run time were shorter using the PGM system, while the GeneReader platform provided good traceability and up-to-date interpretation of the results.
Conclusion
: We demonstrated the suitability of the GeneReader NGS system in routine practice in a clinical pathology laboratory setting.
View Full-Text
►

▼

Figures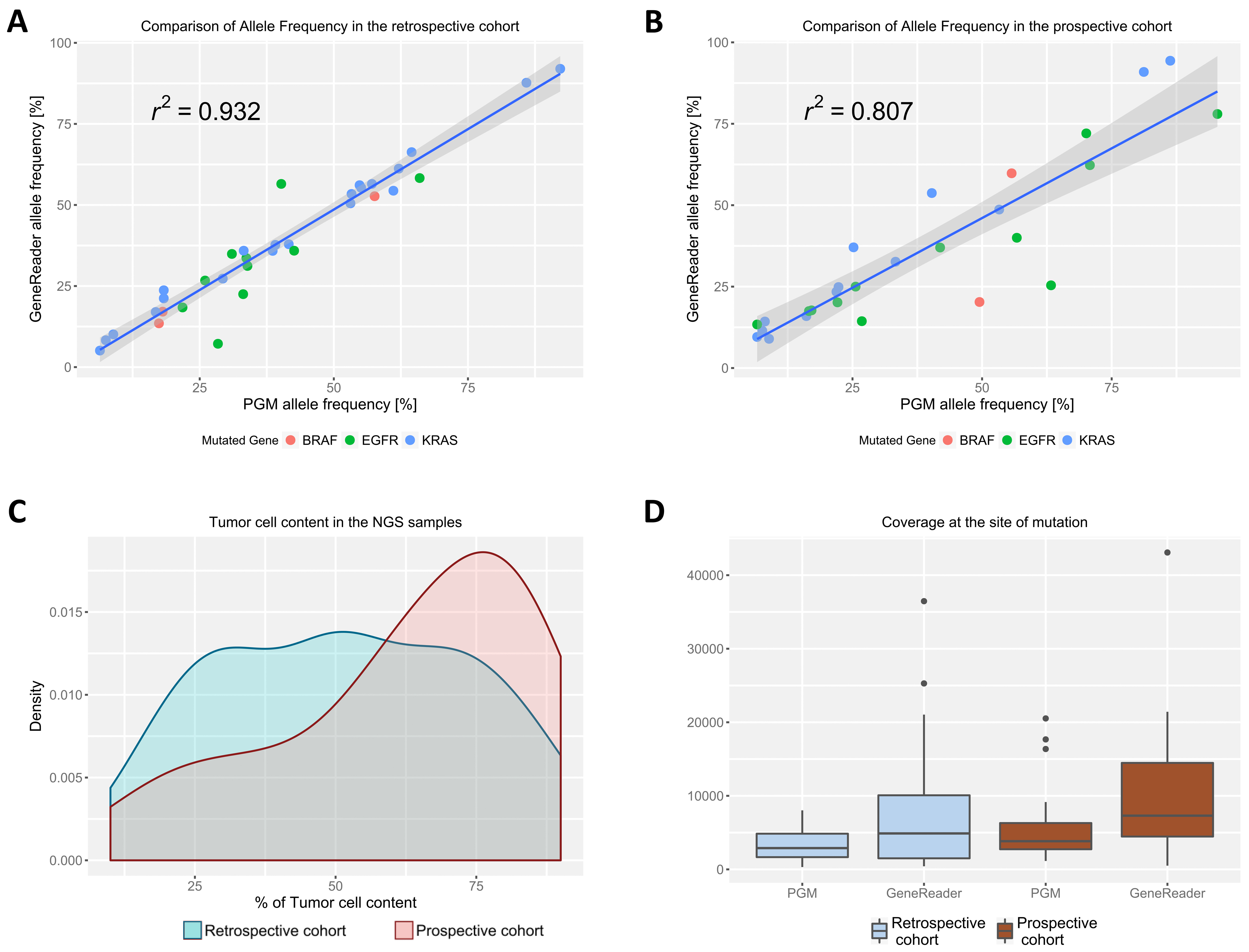 Figure 1
This is an open access article distributed under the
Creative Commons Attribution License
which permits unrestricted use, distribution, and reproduction in any medium, provided the original work is properly cited (CC BY 4.0).

Share & Cite This Article
MDPI and ACS Style
Heeke, S.; Hofman, V.; Long-Mira, E.; Lespinet, V.; Lalvée, S.; Bordone, O.; Ribeyre, C.; Tanga, V.; Benzaquen, J.; Leroy, S.; Cohen, C.; Mouroux, J.; Marquette, C.H.; Ilié, M.; Hofman, P. Use of the Ion PGM and the GeneReader NGS Systems in Daily Routine Practice for Advanced Lung Adenocarcinoma Patients: A Practical Point of View Reporting a Comparative Study and Assessment of 90 Patients. Cancers 2018, 10, 88.
Note that from the first issue of 2016, MDPI journals use article numbers instead of page numbers. See further details here.
Related Articles
Comments
[Return to top]